A traveller from Rome looking to dine at Anikò, a gourmet Japanese-Italian fusion restaurant in the small commune of Senigallia, would have to first take a four hour train up to Ancona, a city on the Adriatic coastline. Then, surviving contradictory directions from locals and a regional ticketing app from which it is impossible to actually buy tickets, the traveller would have to endure a forty-five minute bus ride along a journey route that doesn't appear on Google Maps, and, finally, a six-minute walk from Senigallia Station.
Situated in a lively piazza shaded by pines, Anikò — "all," in the local dialect — is a wood-panelled hut around which stand seven rows of outdoor seating. Masked, black-uniformed waitresses wash down white tables before opening time, and the menu offers local seafood specialties with a modern twist, such as the "Shrimp hot dog," invented by the restaurant's twice-Michelin-star awarded chef-in-residence, Moreno Cedroni. 
But the menu isn't a normal menu, and the traveller — after a nightmare journey of dated public transport services and a confused digital infrastructure — will be relieved to find that this time, the tech works seamlessly. In place of the old paper menu is a printed QR code, framed in protective, easy-to-clean plastic and supplied by Dishcovery, a newly popular Italian startup. You've probably seen a similar thing elsewhere: you scan the code with your phone, and the menu shows up on your screen. 
"We've had no trouble adapting to this at all," said Cedroni in a recent phone call. "Except for a few of the older customers."  
Anikò's embrace of Dishcovery's Covid-ready technology is illustrative of the extent to which Italy's tech sector has blossomed since March's lockdown. Even with a continent-wide downturn in VC funding, certain Italian startups whose technology is now critical have begun to experience greater uptake across the country, while an increased appetite for risk among investors has led to brisker business, or "hectic digitalisation." 
For these companies, contracts are being inked more quickly, innovation is surging, and capital is flooding in at a faster rate from a variety of sources: government funds new and old; corporate investors; venture capitalists and angel investors; and consumers, who are now more receptive to paying with debit cards, ordering takeaways online, or, indeed, using a QR code menu.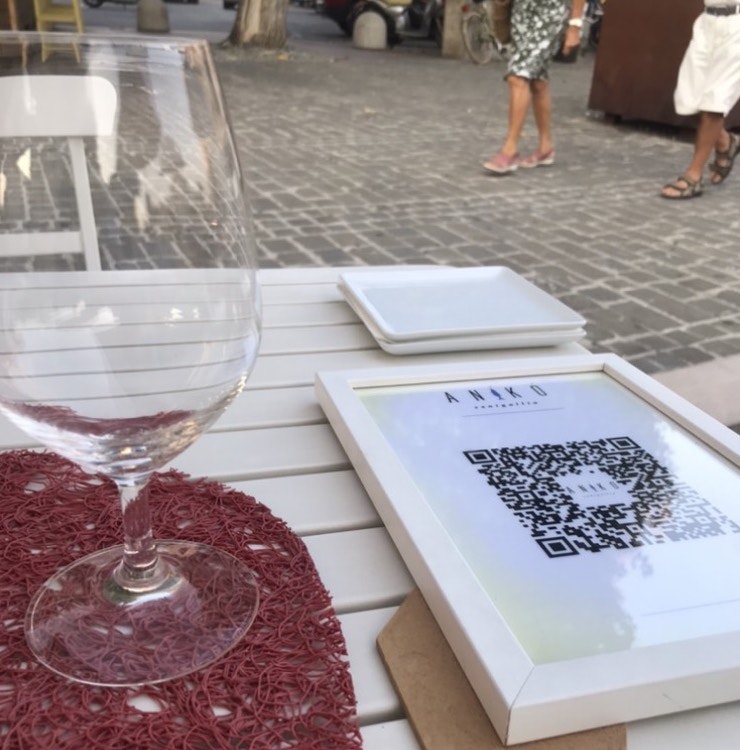 The tech renaissance
Italy's digital infrastructure has long been among the least advanced in western Europe, caused, to an extent, by a preponderance of small businesses who, unlike chains, cleave more to a traditional way of doing things. In Rome, for instance, bus tickets are purchased from high-street tobacconists. Though a way of purchasing them online exists, it is not advertised, and doesn't work. (Making matters worse, the buses themselves have a unnerving tendency to self-immolate.)
Such institutional apathy causes a "vicious cycle," says Alessandro Seina, the CEO of Rome-based startup Radical Storage. Seeing little opportunity in an economy where luddism is more or less entrenched, investors are unwilling to take risks, constricting the flow of cash and thus fulfilling the prophecy. Italian venture capital, in particular, has been negligible: startups in Milan, Italy's supposed tech hub, attracted €311m worth of venture funding in 2019, according to NGP Capital. In Amsterdam, by comparison, startups raised €975m. To be sure, investment in Italy has sharply risen over the past few years — but that's not saying much. 
Sifted Newsletters
Startup Life
Every Wednesday
How (and how not) to run a startup.
Startups in Milan, Italy's supposed tech hub, attracted €311m worth of venture funding in

2019.
Over the past decade, the Italian government has begun to step in and encourage VCs to invest more fearlessly. In 2012, then Minister of Economic Development Corrado Passera launched "Growth 2.0," a programme that offered millions of euros, as well as tax incentives, to startups that met certain benchmarks. 
With the onset of the pandemic, the government began explicitly pursuing a strategy of "digitalizzazione," offering boons to tech startups and VCs, while pouring money into businesses in the poorer south, and digital public services like PagoPA, which lets people pay taxes online. The government-controlled CDP Venture Capital's "National Fund for Innovation" has placed €765m under management, €100m of which has gone out to 160 startups. In May, meanwhile, the Italian government authorised several rounds of stimulus for the technology sector: €200m for VCs, €10m for incubators and innovation hubs, another €100m in subsidies, €4m for video games, €50m for digitising public services. 
All of this — and some of the €209bn recovery fund soon to arrive from the European Union — is earmarked for the country's 11,000 startups. Tech is evidently a major priority: the government has called for "complete digitalisation." 
Corporates taking note
For some, the strategy has borne out, with institutional investors showing interest in products they had previously ignored. Among those to have profited is P101, an Italian venture fund which launched in 2012 and received half its initial funding from the government. For five years, P101 had been trying to get legendary Spritz purveyor Campari Group to buy a stake in Tannico, a wine-on-delivery startup on its portfolio. Tumbleweeds blew by.
"At that time," recalled P101 director Andrea di Camillo, "they said, 'OK, but we do €2.5bn in revenue — why should we acquire something so small?'"
One day before lockdown began, however, the pace picked up: Campari acquired a 49% stake in the company. "We closed a deal without having any in-person meetings in the space of two months," said di Camillo. "They'd never really had anything digital in their offering, but they did it very quickly." (He won't say how much Campari invested. "It wasn't the merger of Fiat and Renault, but it wasn't a tiny deal either.")
Di Camillo believes Campari was impressed not only by Tannico's business model — during lockdown, quarantined alcoholics grew into a reliable demographic — but also by its ability to track its performance in real time, and it wanted a similar technology for itself. The heavy financial toll exacted during lockdown "wasn't immediately visible to them, because they relied on third-party distributors," said Di Camillo. "With digital, they could get instant feedback."
Di Camillo also secured a €25m investment for Milkman, an online delivery company, from Poste Italiane, the country's postal service, a creaky behemoth founded in 1862. Poste Italiane, said Di Camillo, sought to digitise and simplify its parcel service. 
That acquisition, too, appears to have brought dividends. A few months ago Milkman was little heard of; now, when this reporter was unavailable to collect an Amazon delivery, Milkman was the app through which the delivery was postponed. 
We can't wait for big corporations to change themselves from the outside. We have to do it from the

inside.
"With these big innovations, we can't wait for big corporations to change themselves from the outside," said di Camillo. "We have to do it from the inside." 
Deals that used to take five years, he added, now take "five months," and large companies are more willing to take risks. With the "massive shift of people online that most of Italian corporations didn't perceive until now," he said, there are now "very large, traditional companies, perceived as conservative, that have started to invest in small companies."
Boom time for startups
The companies whose products fit the moment are seeing a similar amount of growth. "The VCs are giving us more money," said Dishcovery cofounder Giuliano Vita. "A lot of new competitors were born in the last four or five months, and VCs are scared of competitors receiving new funding from other VCs." 
Launched originally as a way for restaurants to offer foreign language translations of their menus for tourists, Dishcovery was forced to evolve during lockdown. Two weeks into March it added delivery and takeaway functions; two months later, when Italy reopened, it added a feature allowing restaurants to upload digital menus, in line with government requirements. The changes were to the good. "We had 500 locations using our service pre-lockdown," said Vita. "Today, we are working with almost 3,000 restaurants, and have about 2 million users every month." 
And the quality customers came, too. Alongside sophisticated modernisers like Cedroni, Vita says he has worked with upmarket institutions that before the pandemic would have baulked at anything but the long-observed rites of hospitality: the waiter's obsequious smile (now concealed by a mask), and "black leather menus" (now in QR form and laminated). Such businesses, he said, "would never have used this kind of tool before the lockdown."
"It's practical, popular, fast, and doesn't waste paper," said Cedroni. "We'll use it at Aniko' forever." He allowed, however, that he might not continue to use it at his other restaurant, La Madonnina. "With two Michelin stars, as you know, touching a paper menu is a thing of importance."
Still others have emerged healthier from the pandemic. Since the virus first struck, Satispay, an online payments startup, has seen an increase in new daily users from 1,000 to 2,000, and an increase in new monthly merchants from 2,500 to 6,000, according to its CEO, Alberto Dalmasso. It was helped by a good business model and institutional investment — largely from unnamed banks and angel investors, of which there are far more than venture capitalists — as well as government funds. 
"We received €3m and it was useful," said Dalmasso. He says he was able to use the money to build a feature allowing users to top up their mobile credit. He also expects to benefit from a €3bn government fund intended to reward consumers who pay with credit and debit cards instead of cash, which will roll out shortly. "It's going to be massive," he said. "We've never seen anything similar." 
Subsidy land?
Questions have nevertheless been raised over the use of government funds to prop up thousands of potentially at-risk — or, in the case of startups, unproven — businesses. Carlo Bonomi, the president of Confindustria, an influential employers' federation, has warned that an over-reliance on public money would transform Italy into "Sussidistan," or "Subsidy-land." (Bonomi was swiftly criticised, ironically, for having benefited from much of the money himself.)
But one can see Bonomi's point: Alongside the victors, a number of startups have also collapsed catastrophically. The gross sum of VC funding in Milan, meanwhile, has precipitously fallen, with only €160m invested this year. Startups whose products conspicuously didn't fit the moment, such as room-sharing company Sweetguest, have also suffered. 
And it may be the case that the government loans, generous though they are, do little to address the root causes of Italy's problems, such as its unattractive regulatory environment. The goal ought to be to seduce large foreign investors, said Ignazio Rocco, the CEO of payments startup Credimi. He cites Microsoft's famous move to Seattle and the city's subsequent regeneration. 
"If you want to create a hub of innovation in a new place, it's very difficult," he said. "You have to create a critical mass of investment into that place, and you can't do that by simply seeding new startups; you can't do that if you don't have something big. These latest loans are definitely good in terms of increasing investment into innovation — but they're not enough." 
But large companies like Amazon are finally making inroads into the country, for good or ill, so that sort of foreign investment may not be far off. "International investors have finally understood that Italy is a big enough market with enough GDP per capita to invest in Italian companies," said Dalmasso, of Dishcovery, noting that Italy's economy remains the eighth largest in the world. 
We're finally at a tipping point for Italian tech in terms of growth — and it's much

needed.
"The digitalisation process has started — yes, 10 years behind some sectors, like insurance and payments, compared to the UK, but it's clear we're going to get to that point. We're finally at a tipping point for Italian tech in terms of growth — and it's much needed."
That said, if you're returning to Rome from Senigallia, you might still want to bring some cash: the contactless card machine on the hourly shuttle bus is broken.