Up the escalator in a swanky high rise of shiny new office space and through what looks like your standard startup HQ furnished with a stocked kitchen and colourful wall decor, there are six rooms equipped to carry out some serious science. They're kitted out with made-on-site bioreactors, stem cell incubators and other equipment you'd expect to see in a life science campus out in the sticks — not down the road from central London's infamous Old Street roundabout, edgy coffee shops and the hipsters of Shoreditch.  
The 14k square foot converted office and lab facility hybrid is the home of Hoxton Farms — a UK-based startup using stem cell culturing and machine learning to develop a cultivated pork fat substitute that aims to make plant-based meat taste more like the real thing. 
Converting an old office space into a high tech lab doesn't come cheap, but cofounder Max Jamilly says that the benefits of being in the heart of the city, rather than on the outskirts or in the countryside, "outweigh the cost". He also reckons that in the face of a lab space shortage across the continent, other biotechs are slowly cottoning on to the opportunity. 
"The last thing you expect is a farm in Hoxton"
Real estate developers are moving to redefine the purpose of inner city office space. There are currently plans to convert corporate offices near London's King's Cross railway station into a life science hub, and in Canary Wharf, the city's finance hub, plans are underway to build Europe's largest lab space by 2026. 
High on the list of requirements when Hoxton was looking for space was a goods lift — in its previous space employees regularly carried heavy boxes of science equipment up several flights of stairs, says Jamilly. 
Turning the new office into a lab — which should be fully operational by 2025 — also came with its own headaches. What will eventually be an interconnected network of lab spaces all need to feed back into a utilities room containing a waste management system and oxygen tanks for cells, without which the lab couldn't run.
Setting up gas lines and connecting everything to that room affects other tenants in the building more than bringing in a traditional desk-based company — "the last thing you expect is a farm in Hoxton," says Jamilly, and as such "the landlord needed some convincing that what we are doing would have no impact on other occupiers or residents."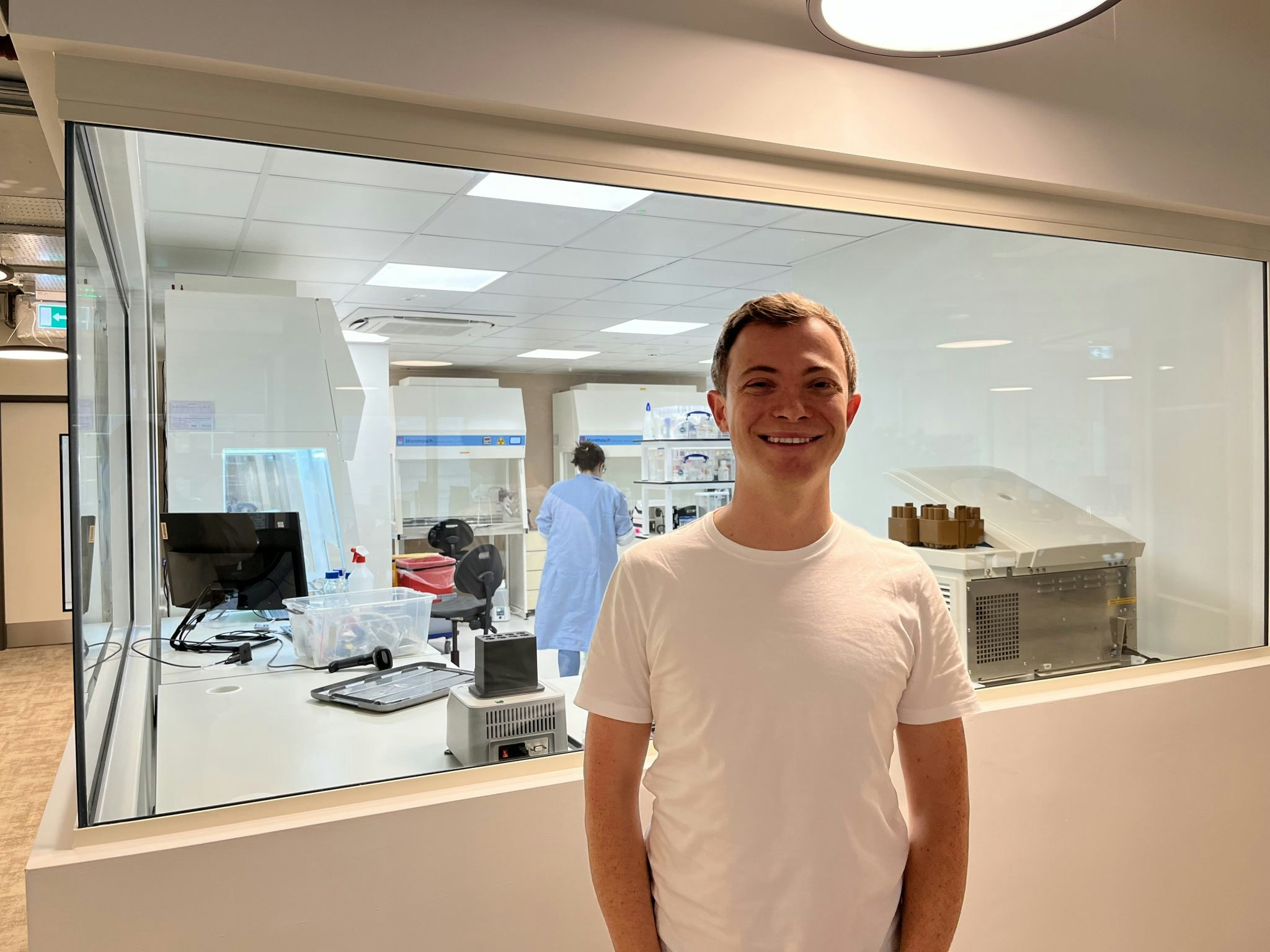 But landlords of facilities like Hoxton Farms' also see the value from tenants like them long term. Moving in and out of a converted lab space incurs higher costs than a conventional office, and Jamilly says more landlords are recognising that life science and biotech tenants are likely to stay longer as a result.
The decision to remain in central London and not relocate to a biopark in a more rural area is a tick for investors, Jamilly says —  existing backers BACKED VC and Systemiq Capital work in the city, and potential new investors passing through London have been able to pop into the office without planning a trip to the outskirts of the city; Jamilly tells me that I happened to walk past one on my way into the office. 
Cultivated fat and alternative meat is also a relatively novel industry, and the cofounder says the best way for customers and investors to learn is to experience it. Being close to potential customers — like chefs and local eateries — was important. 
It's also in a prime location to attract the best talent from universities and other biotechs working in the Golden Triangle of Oxford, Cambridge and London. According to LinkedIn, seven of the company's machine learning engineers and scientists graduated from universities in these areas. 
Inside the lab
Two-thirds of the company's total office space is dedicated to science, with the other third an open plan office that currently hosts around 40 employees, but has space for up to 100.
In a room that Jamilly calls "the cleanest room at Hoxton Farms" the company creates its plant-based medium that is then fed to stem cells that become its cultivated fat product. I'm not allowed in, as anyone who enters has to be kitted out in protective gear to avoid contamination: the company doesn't use antibiotics in its process, so has to safeguard against any bacteria. 
Next to that is a tissue culture lab, where machine learning is used to scan and filter the stem cells taken from animals like cows and pigs to find the "juiciest fat cells", a process that would take a scientist much longer to do by hand and ensures that the best cells are identified for the product quickly. 
Those cells are then fed the medium and transferred to one of two incubators in another room — one of which is currently at work and shielded from view with a covering of black sheets — which make cells think they're still inside the animal they came from, to encourage them to develop into fat cells the same way as they would inside the animal. 
Next door, Hoxton Farms is building its own bioreactors to grow the fat cells into its cultivated fat product. The bioreactors are designed to "optimise fat cell growth with much lower capital costs than industry-standard bioreactors", and although the company plans to keep this machinery for itself for now, Jamilly says it could consider licensing it out to other businesses in the future.  The nice thing about having the space for these bioreactors, he adds, is that you can "build a reactor in the morning and grow cells in it by the afternoon," speeding up the process by having everything produced onsite.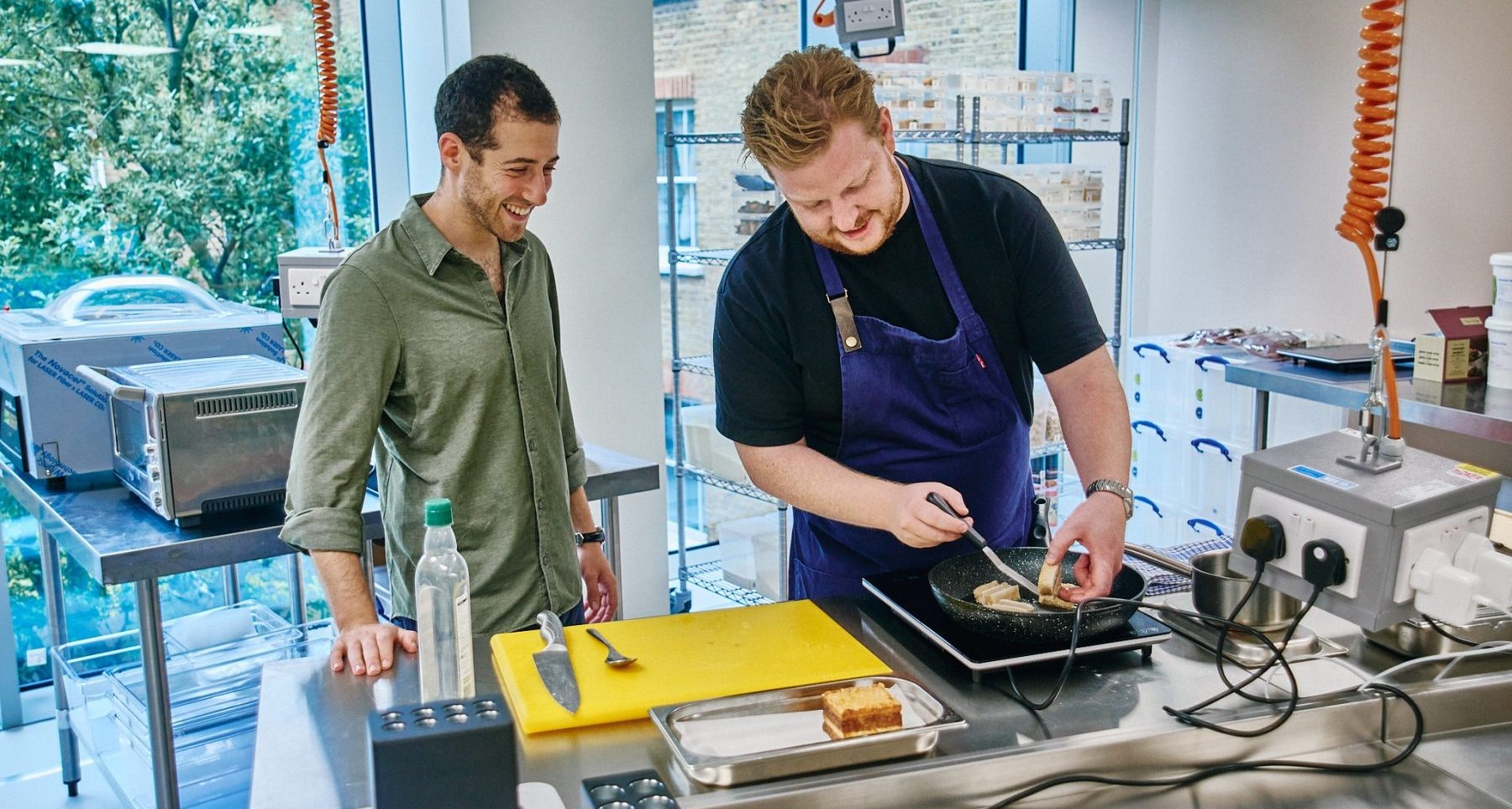 Over in the kitchen — or "food science" room — the cultivated fat in its final form is cooked and experimented with to test its taste. Its in-house chef, who was previously a development chef for Gordon Ramsey's chain of restaurants, is often rustling up new concoctions for the team to try — one employee tells me that the room often smells quite "porky, like bacon", a feature they tend to see as an office perk.
What's next?
Once the pilot facility is up and running, the team will start thinking about a bigger, commercial lab to scale up efforts — but this next step may not happen so close to home. 
While Jamilly says that Hoxton Farms works closely with UK regulators, he says that the US and Singapore are on his mind, with "by far" the most progress when it comes to regulation in the alt meat space — they're the only places in the world to have approved cultivated meat for the general public so far.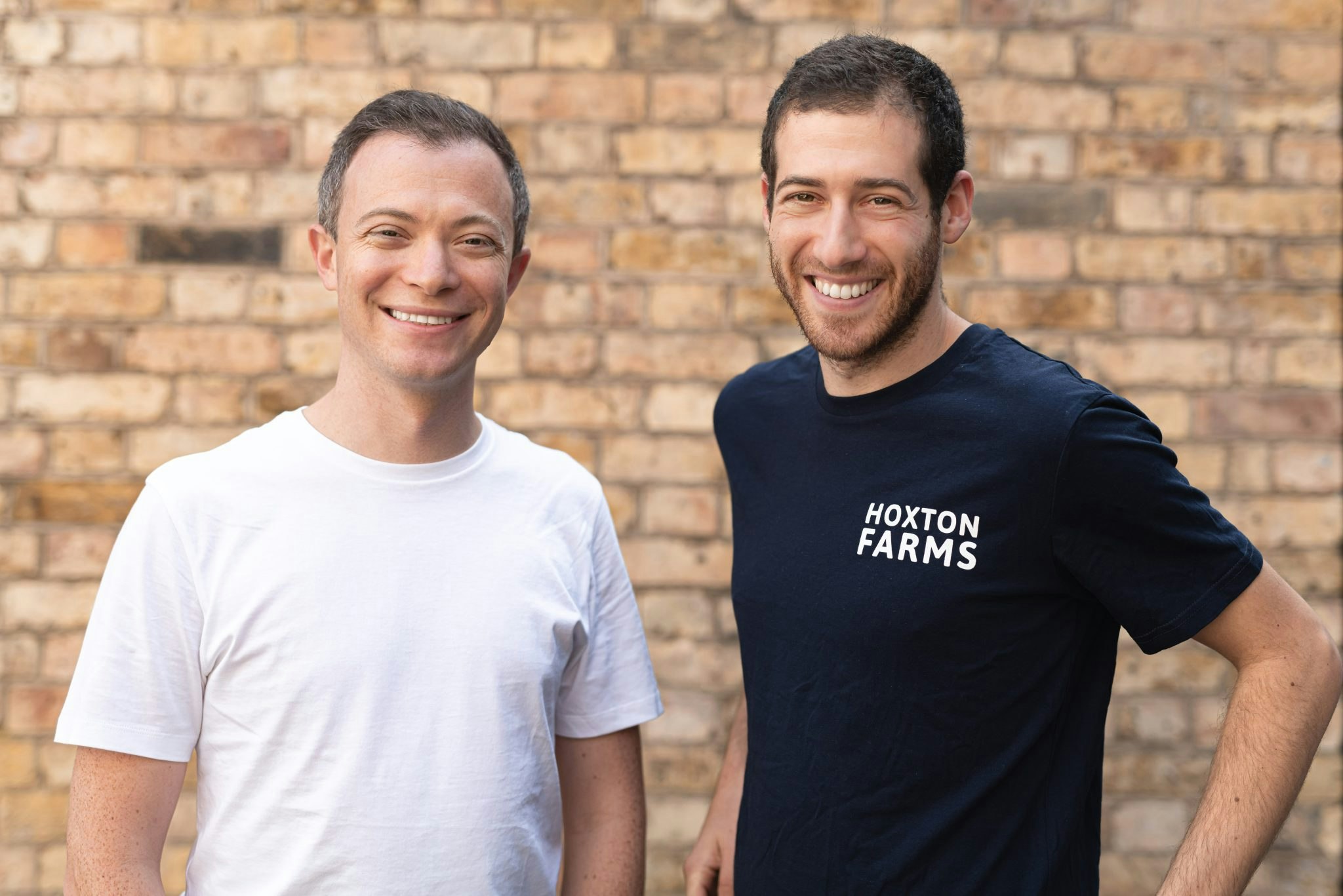 Jamilly says that he wishes the UK's Food Standards Agency (FSA) — which regulates the food and drink industries in the country to make sure food is safe for consumption and prepared hygienically — offered a "pre-approval consultation process" akin to America's Food and Drug Administration (FDA), where companies can get feedback on their process and applications to sell to consumers before the point of submission. Currently, there is no formal feedback from the FSA before a company has submitted its dossier. 
But while the team have set their sights on global markets, Hoxton's cofounders' don't plan on abandoning London altogether. "We won't ever leave Hoxton for good," says Jamilly. "What we do here [at the pilot facility] will evolve."