In a room in a building tucked behind a building site in west London, copper gas lines weave across one wall, test tubes and loose bolts crowd the tabletops and a collection of white lab coats hang in the corner, under a slightly alarming biohazard first aid kit. The space, in one corner of the building's 56k square metres, is occupied by direct air capture startup Airhive. Out of the 30 available lab and office spaces, just one unit (around 3% of the space) is currently unoccupied.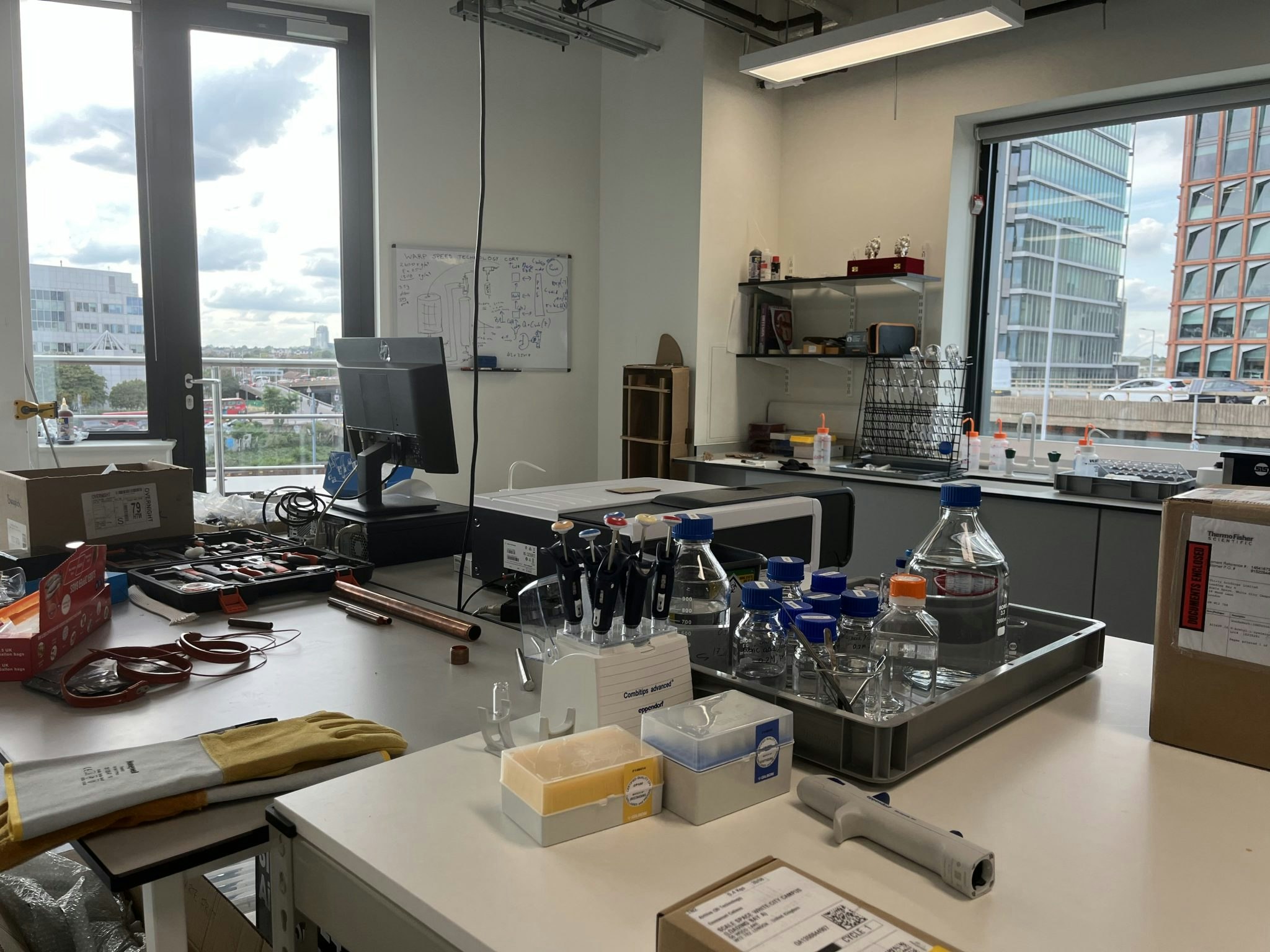 The emergence of lab spaces like it is part of a real estate boom in Europe that is trying to keep up with demand from science-based startups working on everything from drug discovery and novel treatments to new materials and climate solutions. 
According to real estate company JLL, there are currently plans to develop 73 new "life science clusters" with lab spaces across the UK — 75% of which are in the Golden Triangle of Oxford, Cambridge and London. Fifty nine established spaces in the country also have concrete plans to expand with new developments in the near future.
But despite this, investors and startups Sifted spoke to cite finding suitable lab space, and paying for it, as one of the key issues still holding back scientific innovation in Europe.
The fight for square footage
One of the major issues around lab space is the growing imbalance between demand and availability. 
One development underway in London's Canary Wharf will offer 750k square feet of lab space over 22 floors, making it Europe's largest lab space, but it won't be completed until 2026.
Gene therapy platform AviadoBio is the first tenant in the development's London Innovation Centre — an incubator-style block for smaller tenants such as startups — which is currently open. Around 40% of the Innovation Centre space is already spoken for, secured before development had finished. James Sheppard, managing director of UK and Ireland at Kadans, the lab and office manager that choreographed the space, expects it to be 80% booked by the end of the year.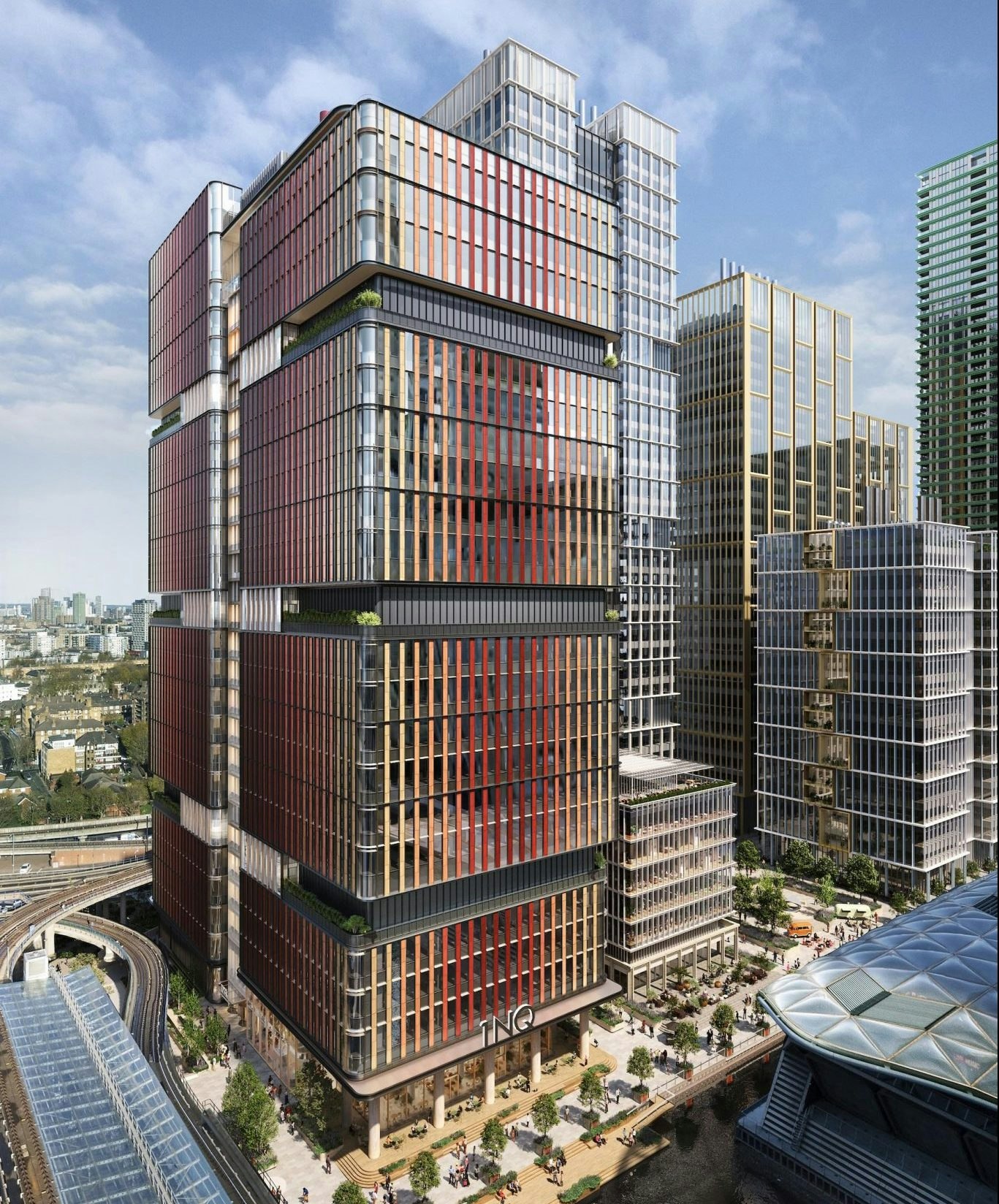 Part of the appeal, says Sheppard, is that companies have the flexibility to rent anything from a single bench for 30 days, to a whole floor and fitted lab for longer fixed terms. Most of those who have expressed interest in the Innovation Centre have been early-stage startups, he says, and many are also spinouts from universities that struggled to provide them with the lab space to grow.
Lab space in the UK is largely concentrated in the Golden Triangle, and estate agent Savills found that 1.39m square feet of lab space was being used across these locations in 2022, the highest in five years. But there isn't an infinite amount of ground. Seb Denby, associate at R&D real estate consultancy Creative Places, estimates that there is currently around 25k square feet of space available in Cambridge for more than 1m square feet in demand.
The battle for that space is only set to grow. Savills estimates that every €1bn of VC investment creates 46k square metres of life science real estate demand. For context, European biotech startups — which are typically heavily reliant on lab space — raised €5.32bn in 2022.
In France, whose biotech startups have raised the third highest amount of funding in Europe so far this year (after the UK and Germany), startups are facing the same issue. 
It's "very complicated" to find wet lab spaces, says Fanny Jaulin, CEO and chief science officer of Paris-based drug discovery acceleration startup Orakl. A major source of lab space in France is located in life sciences technology and research parks, she says, but while "rent is cheap, space is rare". 
Lab space FOMO
The scarcity of space is panicking some founders. As a very early-stage startup with a small amount of funding, Airhive wasn't yet planning to look for lab space — but cofounder Rory Brown says that the rarity of space creates pressure to snap up anything that becomes available. The company took the Scale Space lab — which sets it back almost £9k a month — because "the bigger risk was being locked out of lab space opportunity". If it hadn't taken it, the startup ​​"could've been in a situation where we were hunting for a sublet from another startup" when it needed the space.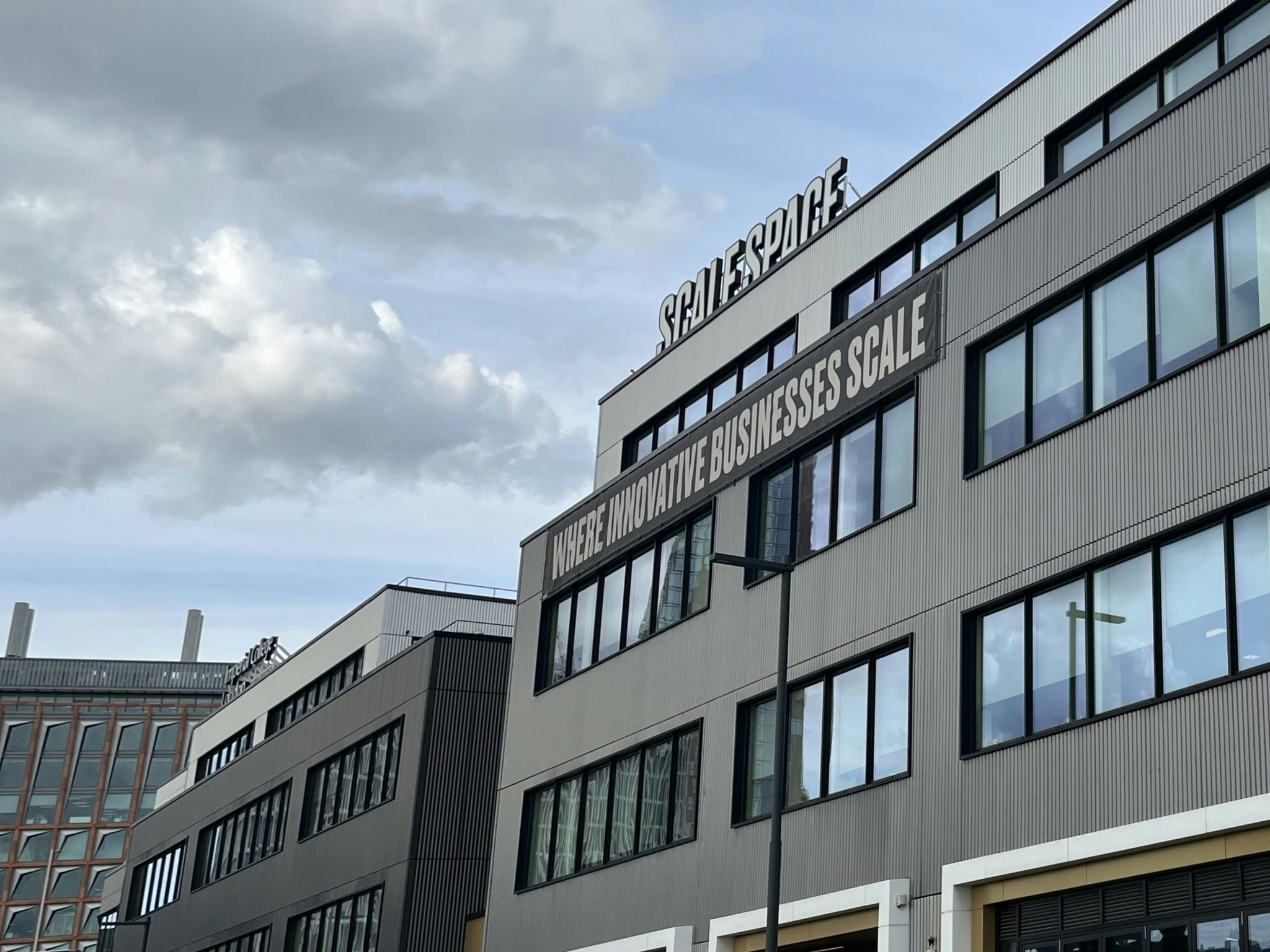 The team currently sublets a portion of its lab to a small pharmaceutical company, which is a configuration that many companies in the building have agreed to just to access a space suitable for their startups — in some rooms, says Brown, you can find up to three different teams sharing a lab. 
Finding new space once you start scaling can also be down to luck and timing. Brown says that when Airhive is ready for a bigger space, the team hopes that one of the Scale Space tenants in a bigger lab will upsize at the same time, leaving a vacancy it can move into. Jaulin highlights the same problem in France: many lab spaces, particularly in France's bioparks, don't offer the flexibility that high-growth teams need. The lab that Orakl is currently in won't accommodate the size of the company once it grows beyond Series A. 
Though specialised and scalable lab spaces are available in France, companies have to travel "much further than downtown Paris" to find them, adds Jaulin. While there are also emerging lab spaces in areas outside of oversubscribed hubs in the UK, like in Bristol and Manchester, Denby highlights that some startups struggle to convince employees to relocate or stomach a lengthy commute.  
Priced out of scaling
While some startups may have the money to rent a space now after raising recently, funding has slowed in 2023. H1 saw Europe's biotech companies raise around €2.3bn, according to Dealroom, a 28% drop compared to the same period last year. There's a possibility, says one investor, that increased VC funding in 2021 "led to an overestimation of biotech company growth" and so an overestimation of the lab space that will be needed long term and of the reliability of startups being long-term tenants. 
One lower-cost solution could be to convert existing office blocks rather than build ground-up developments, suggests Denby. "The best thing for startups is developers looking at existing buildings and repurposing them." Denby says that with the price of financing a rental compared to the rent startups expect to pay for labs, "ground-up developments aren't viable at the moment", caveating that these developments are often too large for startups. 
This was a barrier that Airhive had to consider in its search. When the team grew too large for Brown's garage, where the startup was first set up, it originally considered West London's ARC — a purpose-built scientific campus with fitted labs — but the last remaining space was both too big and way out of budget.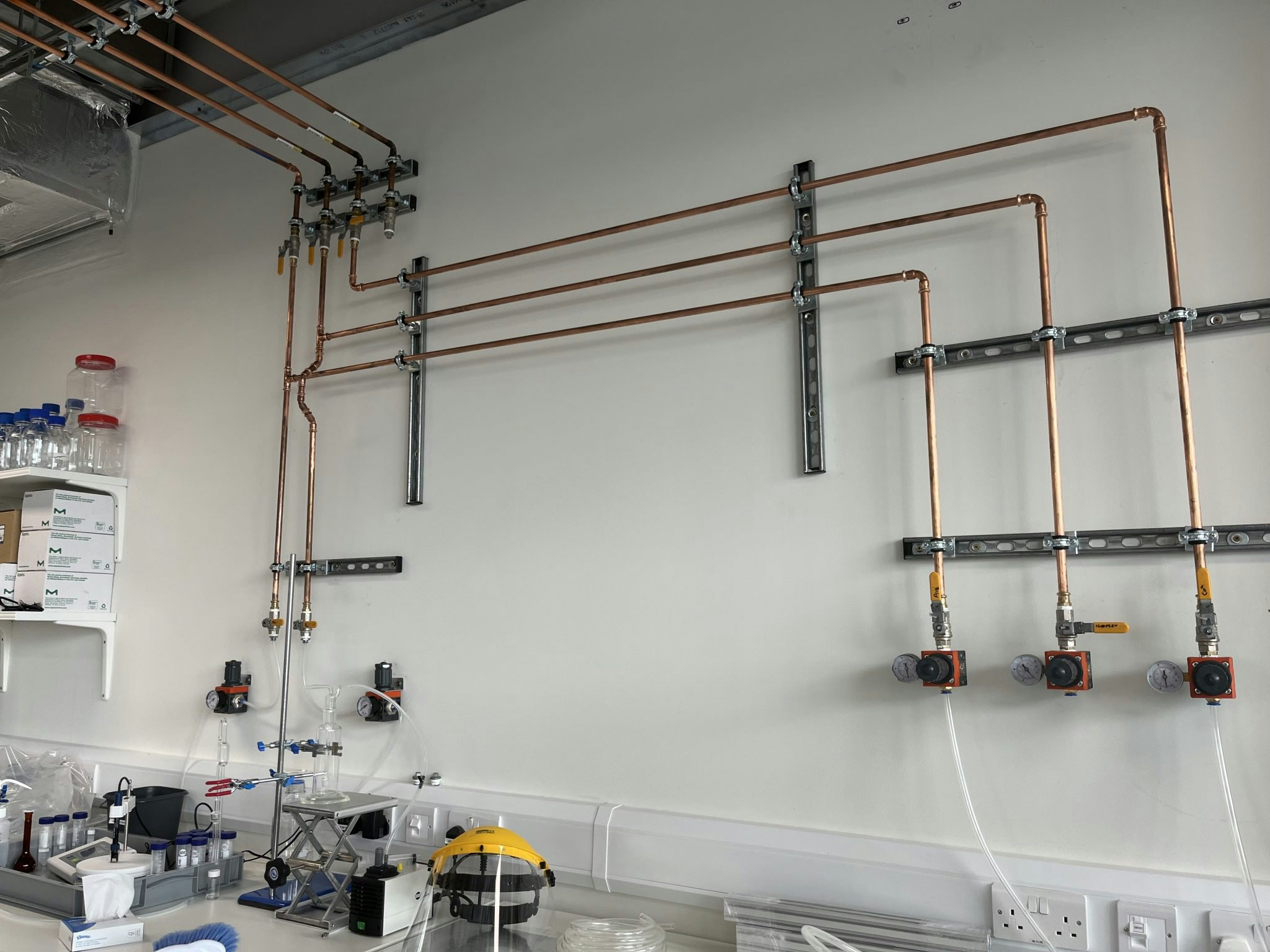 Despite this, Sheppard reckons that there's still demand for purpose-built lab spaces, as he says converted office blocks are restricted in how high-tech they can be. They're also unsuitable for the "high performance, high specification spaces" that are "critical" for the success or failure of a lot of science-based companies.
So, what's next?
The investor predicts that the demand-versus-supply issue may lead to lab space providers revising their rental yields to attract desirable tenants like scalable startups. But, he says, there's little incentive for developers: "This is market led and is great for biotech companies, but bad for real estate companies making a return." 
The alternative is that commercial real estate companies start to "push the price up artificially" in response to demand, making spaces even less accessible. 
Either way, it's a problem that needs to be solved if Europe is to retain the promising science being developed across the continent — and incentivise startups to stay on its shores when they begin to scale. While Sheppard recognises that the Canary Wharf development isn't a miracle solution to keep startups in Europe, he hopes that it will at least "give them an option to stay" that they didn't have before, and potentially remove one barrier to developing more homegrown scientific successes.