Nestled in the foothills of the Alps, Grenoble has long been France's deeptech secret weapon. But a series of massive fundraisings has turned the international spotlight on a city that French media has long called "France's Silicon Valley".
The most eye-catching deal was the €2bn in financing — including €850m in equity — raised in September by low-carbon battery startup Verkor to build a gigafactory for mass production in 2025. But beyond that, it's been a big year for Grenoble startups: Aledia raised $120m for its microscreen tech; GreenWaves $20m for its fabless semiconductor; Quobly $19m for its quantum computing tech; and Renaissance Fusion raised $19m for nuclear fusion.
Grenoble ranks fourth (tied with Munich) for deeptech funding among European cities in 2023, behind Stockholm, Paris and London, according to Dealroom. The technological breadth of those startups speaks to the wide range of scientific expertise that can be found in a city where research and industry collaborate across its constellation of universities such as CEA-Leti and Université Grenoble Alpes, public-private innovation hubs like the MINATEC micro and nanotechnology innovation campus, and scientific talent.
The one asset Grenoble has been missing is venture capital. But with VCs and French policymakers hyper-focused on backing deeptech champions, there are signs that Grenoble is the right place, at the right time.
"It's like California," says Verkor cofounder and CEO Benoit Lemaignan. "It's a mix of intellectual stamina and entrepreneurship. Plus, there is more time to have fun after work and there are mountains. It's a place that has a lot of energy."
Talent magnet
Lemaignan's personal and professional journeys are emblematic of why deeptech entrepreneurs have long found Grenoble to be fertile ground.
After a career as an aerospace engineer, a growing interest in the environment led him to Grenoble. He was attracted by the green tech community where advanced researchers worked seamlessly with private industry. He eventually cofounded a biogas startup that went public, before leaving to start Verkor.
He says setting up in Grenoble was a no-brainer: there was already a community of researchers working on battery research, and lots of eager collaborators and talent to develop the early versions of Verkor's battery. "We have really been able to leverage a bunch of people that are bringing unique expertise," he says.
It's hard to walk down the street in Grenoble and not trip over someone in deeptech. The city has 30k people working in research labs — half in public labs and half in private labs, says Invest in Grenoble Alpes, the region's economic development agency. According to INSEE, France's statistics agency, 7.6% of all jobs in Grenoble are in R&D — the highest in France. Engineers account for 9.2% of all jobs in Grenoble, second only to Toulouse.
These jobs are sprinkled throughout public institutions such as the Université Grenoble Alpes, one of France's top engineering schools with 60k students and considered a leader in nanoscience and nanotechnology, and CEA-Leti, one of the world's most prestigious research institutes for electronics and micro-technologies.
Then there are the branches of major tech players like Google, Salesforce, Oracle, HP and Apple, rubbing shoulders with each other in several innovation parks and campuses scattered around the region.
Nicolas Beroud, director of Invest in Grenoble, says researchers in the community don't care whether their research is academic or corporate. The main motivation is having an impact by finding practical uses.
"The real question is: what can we do with this innovation?" he says. "It's not just research for the sake of research. The most important thing is to find the right application."
An electric history
Local boosters will tell you that Grenoble's development as a major European deeptech hub began back in the 19th century, when its proximity to the mountains led to the development of hydroelectric plants that attracted electricity researchers. Later, Nobel prize-winning physicist Louis Néel left Paris during the Nazi occupation and set up in a friend's lab in this southern city. After the war, Néel decided to stay and convinced the government to create a nuclear research centre here, which evolved into CEA-Leti. He also persuaded France's top research organisation, Centre national de la recherche scientifique (CNRS), to open its first major laboratory outside of Paris.
As Grenoble grew, the ties between academia and industry became unusually strong.
In France, university researchers have historically been reluctant to collaborate with private industry, viewing entrepreneurs as Silicon Valley cowboys and disdaining the idea of profiting from public research, according to Paul-François Fournier, head of Bpifrance Innovation. To change this mindset, French national bank Bpifrance has made evangelising such ties and encouraging more commercialisation of public research a pillar of its broader €3.5bn deeptech investment plan.
"We need to extract this value from the research centres and to create new businesses," Fournier says. "That's the ambition of the Deep Tech plan: to take this new wave of innovation and to connect the large research centres with the startup ecosystem."
That mindset has always been part of Grenoble's DNA — and is a big part of why it's becoming such a deeptech powerhouse.
"The model we have is called 'Lab to Fab'," says Jean-René Lèquepeys, deputy director of CEA-Leti. "We develop jointly with partners the technology that is needed for them. A huge part of our revenue is coming from projects with industry and some institutional entities."
Consider the example of Soitec. The semiconductor company was founded in 1992 by two researchers from CEA-Leti who'd developed a new method for producing silicon wafers. It soon became an international success.
In late September, Soitec cut the ribbon to open its new €400m factory just outside Grenoble in a ceremony that attracted French politicians including Thierry Breton, European Commissioner for the internal market, and Roland Lescure, France's minister of industry. The event was hailed by politicians as another step toward ensuring France's technological sovereignty.
Soitec's silicon wafers are used by other companies to produce semiconductors; an example of how a growing cluster of microelectronics companies creates a virtuous circle that attracts more companies. That includes partners like STMicroelectronics, which opened one of its major R&D facilities in Grenoble more than 50 years ago. In June, STMicroelectronics announced a partnership with US semiconductor manufacturer GlobalFoundries to build a new €7.5bn semiconductor plant just outside of Grenoble, a figure that includes €2.9bn in financing by the French government.
"This is the largest industrial investment in recent decades, outside of nuclear," French economy minister Bruno Le Maire said at a ceremony to sign a deal with company executives. "This project will increase European production capacity by 6%."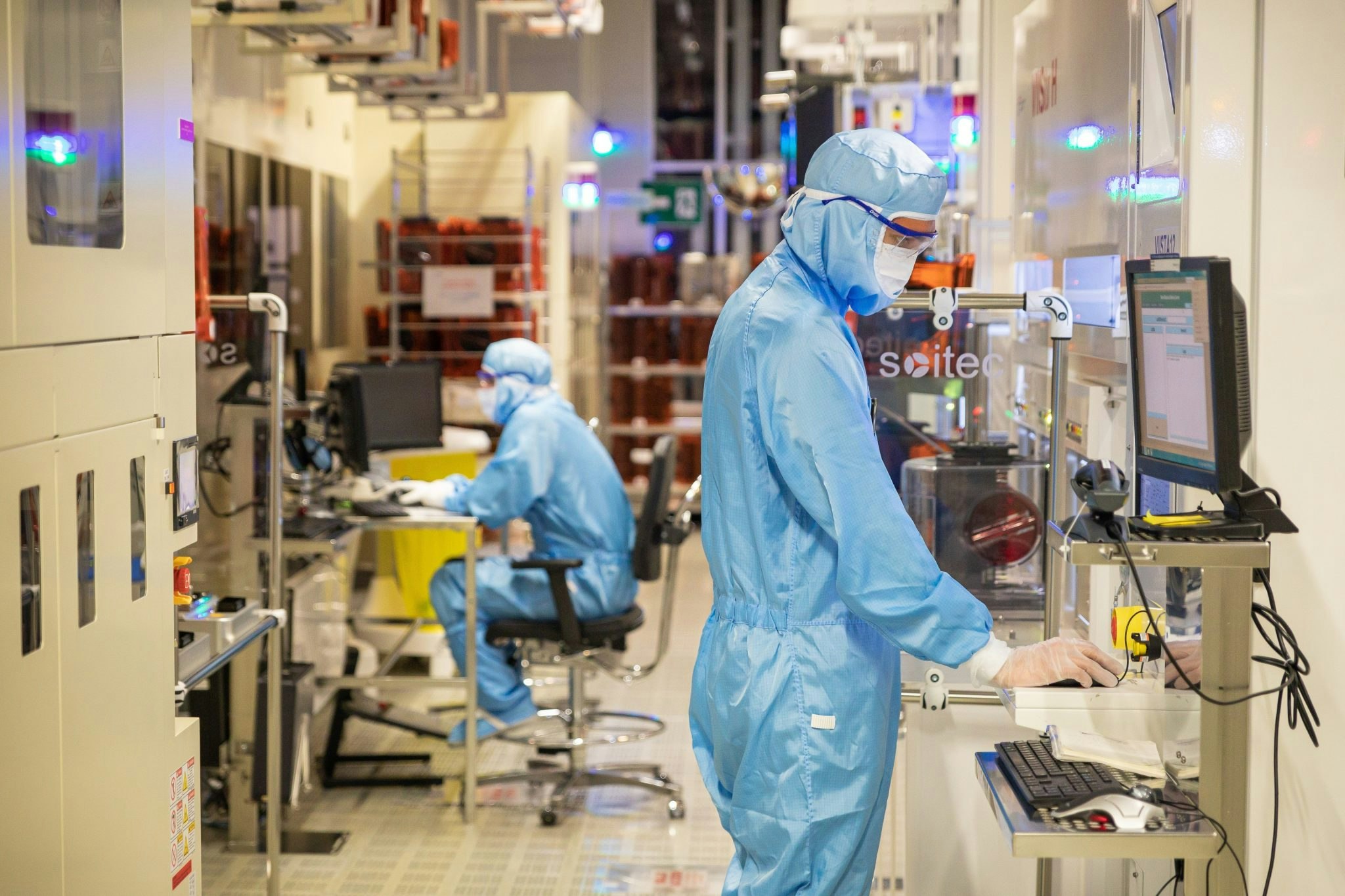 Taking centre stage
The kind of deeptech developed at Grenoble's labs hasn't traditionally been a draw for venture capital; it's instead been financed by banks, other corporations, or the state.
"The fundraising goals are much bigger given the types of startups and the development of industrial components," says Romain Gentil, president of French Tech Alpes Grenoble. "You need massive capital to support long-term research. We have mostly industrial startups that emerge from laboratories and it's very capital intensive."
A variety of factors are changing that in Grenoble's favour. This includes the €43bn EU Chips Act launched this year to boost public and private investment in European semiconductor production.
Closer to home, there is the €54bn France 2030 Plan the government created in the wake of Covid, to invest in advanced technologies considered strategic for the nation's economic future — from semiconductors to hydrogen to AI to quantum computing. Grenoble is home to major research centres in all these categories.
"We were already an import spot for deeptech," says Bernoud. "But everything is accelerating after Covid. We've had so many startups already working on these topics. But they were not in the industrialisation phase 10 years ago. Now they are moving to production and so this activity is much more visible."
Meanwhile, VCs across Europe have been placing a greater focus on deeptech as a major investment theme, betting that research-based products offer a big opportunity to create new markets not dominated already by US or Chinese companies.
According to Dealroom, Grenoble deeptech startups have attracted €1.2bn in 2023, tied with Munich for fourth among all European cities and just behind Paris and London. Stockholm tops that list with €3.2bn, thanks to €1.2bn raised by Northvolt and €1.5bn raised by H2 Green Steel.
The deeptech products emerging from Grenoble are now starting to turn the heads of VCs.
Grenoble's haul includes a €21m round raised in July by MICROOLED, which makes high-resolution, low-power-consumption OLED microdisplays for devices like smartphones and tablets.
Cofounders Eric Marcellin-Dibon and Gunther Haas met while working for electronics giant Thomson in Paris, developing OLED technology for large-screen TVs. In 2007, they decided to spin out the technology and adapt it for smaller form factors like cameras and smartphones.
The founders moved to Grenoble so they could work with CEA-Leti researchers to develop the technology. Because the displays are built on silicon wafers, they partnered with other semiconductor companies to refine the technology. For much of its history, the company was funded by partners like STMicroelectronics, which acquired a minority stake in 2012.
As MICROOLED's business boomed in recent years, VCs took notice. The most recent funding, led by Jolt Capital and Bpifrance, is meant to help MICROOLED develop and commercialise a version of its tech for smart glasses.
Marcellin-Dibon says being in Grenoble has been key to the company's development over the years. In the earliest days, the startup was able to rent cleanroom space — the sophisticated, contaminate-free rooms designed for microelectronics work — at Grenoble's MINATEC innovation campus, a joint venture between CEA-Leti and the Grenoble Institute of Technology.
"The infrastructure is available in Grenoble, which is key," Marcellin-Dibon says. "When you are a small company, you can't build a cleanroom because it's too expensive. With MINATEC, we were able to develop the company. And then in Grenoble, we have all this expertise in semiconductors and microelectronics. Most of our employees came from this ecosystem."
Quantum computing startup Quobly also raised €19m this summer. The Grenoble startup evolved out of research done at CEA-Leti before being spun out. Quobly CEO and cofounder Maud Vinet says the company continues to run a joint lab with CEA-Leti while creating a startup to pursue commercial applications.
The company was originally called Siquance but rebranded with the latest funding. Vinet explains that "Qu" refers to quantum, while the "obl" is for Grenoble. They added the "y" because, well, it sounded better.
"My friends in the semiconductor industry call Grenoble the best-hidden secret," Vinet says. "With the new name, we wanted to carry a message about the values of Grenoble, where you go from research to innovation to commercialisation. We wanted to make quantum a symbol of everything that's happening in Grenoble so people will know what this city means for innovation."