Gorillas CEO Kağan Sümer talked about firing a worker who was trying to unionise, according to leaked internal Slack messages, in revelations that will add to tensions between management and staff at the $3bn speedy grocery company.
In the message, dating back to March, Sümer wrote: "We have an emergency… We had to terminate one of our riders… Apparently, he was unionizing, now they make a big buzz on Twitter… Good morning 😞."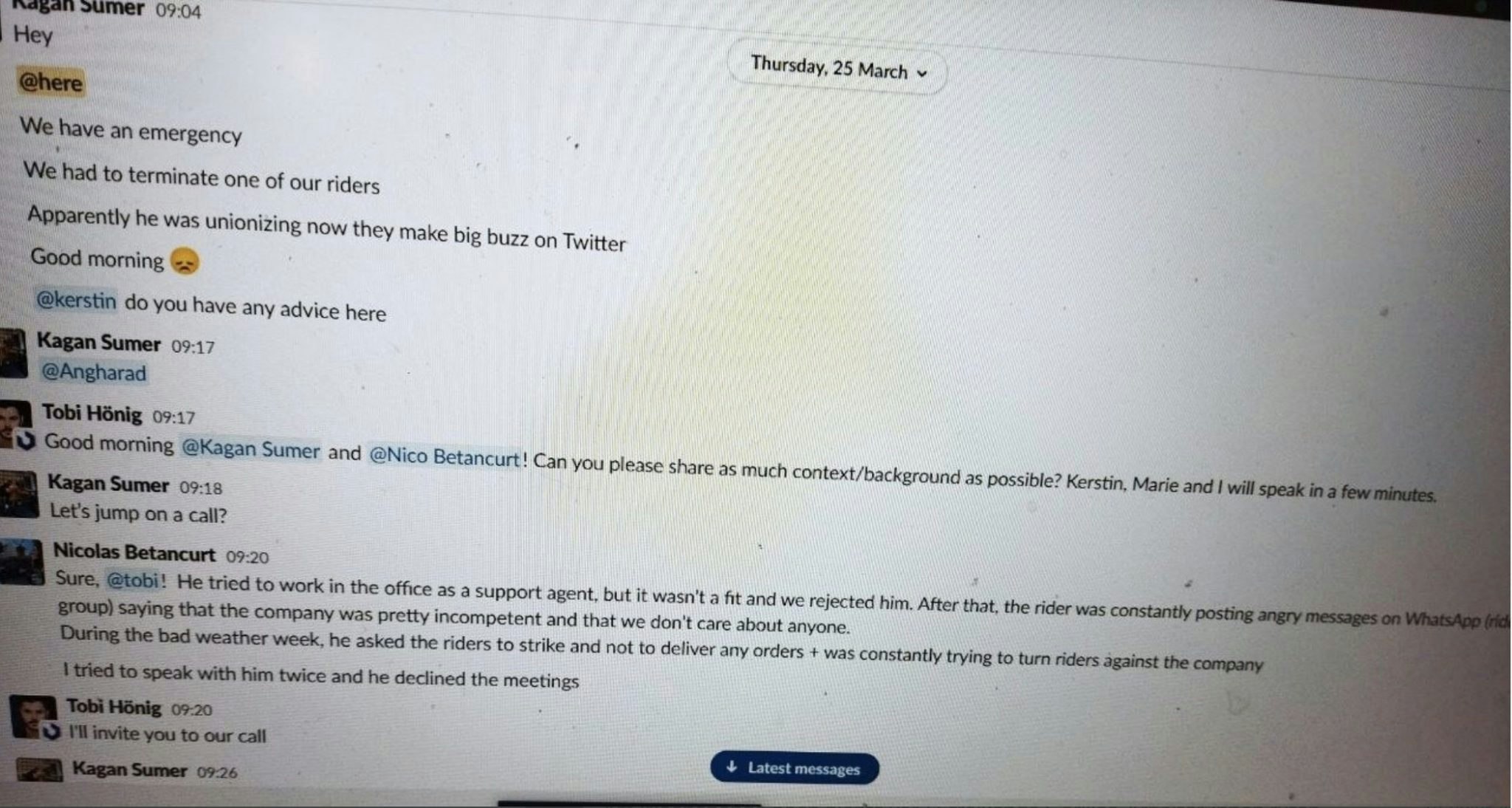 Gorillas told Sifted that while the leaked message was real, the employee was not dismissed because they were trying to unionise. The employee was dismissed for other reasons, which the company did not specify. 
A spokesperson for the company said: "It goes without saying that we do not issue any dismissals on the basis of our employees' commitment to the works council. Nor have we done it in the past."
Still, the leaked message has been taken in some corners as signs of anti-union sentiment by Gorillas management and comes amid a tumultuous year for the company, which was founded in May last year and quickly scaled to unicorn status within nine months.
Rumblings of discontent among riders have been brewing since Gorillas first launched in May last year — and came to a head in February. Since then, workers have been regularly striking for better pay and working conditions.
The rider
Sifted spoke to the rider who was being talked about in the Slack messages, and who is part of a group of workers trying to form a works council at Gorillas.
He told Sifted that he was fired a few weeks before reaching the end of his probation period — which in Germany is six months. He says that he believed he had been fired for unionising, since he always performed well on the job and conducted himself appropriately at work, although he could not be sure.
Sifted Newsletters
Sifted Newsletter
3x a week
We tell you what's happening across startup Europe — and why it matters.
The rider, who preferred not to be named, has since been reinstated after the Gorillas Workers' Collective — of which he is a part of — contested his termination via legal means. 
While it is not clear why the worker was fired, in the Slack messages the head of rider operations Nicolas Betancurt provides further context, stating that the rider in question was posting "angry messages" on the riders Whatsapp group and encouraging other workers to strike. 
The Slack message was put up on the Gorillas Workers' Collective Twitter channel over the weekend as four Gorillas warehouses began striking. Speaking about why the message has only now been leaked, the rider explained: 
"The leak is there for people to see that what we write about organising and unionising — although important and necessary — also comes with real dangers. Workers need to always organise with people they trust, without showing their names to bosses on Whatsapp groups, for example."
Continued strike action
The leaked message comes amidst continuing protests from Gorillas workers in Berlin, which started on Friday October 1 and are continuing today in some areas. 
On Friday, the Bergmannkiez warehouse was the first to stop operations, followed by the warehouse in Schöneberg and then Mitte.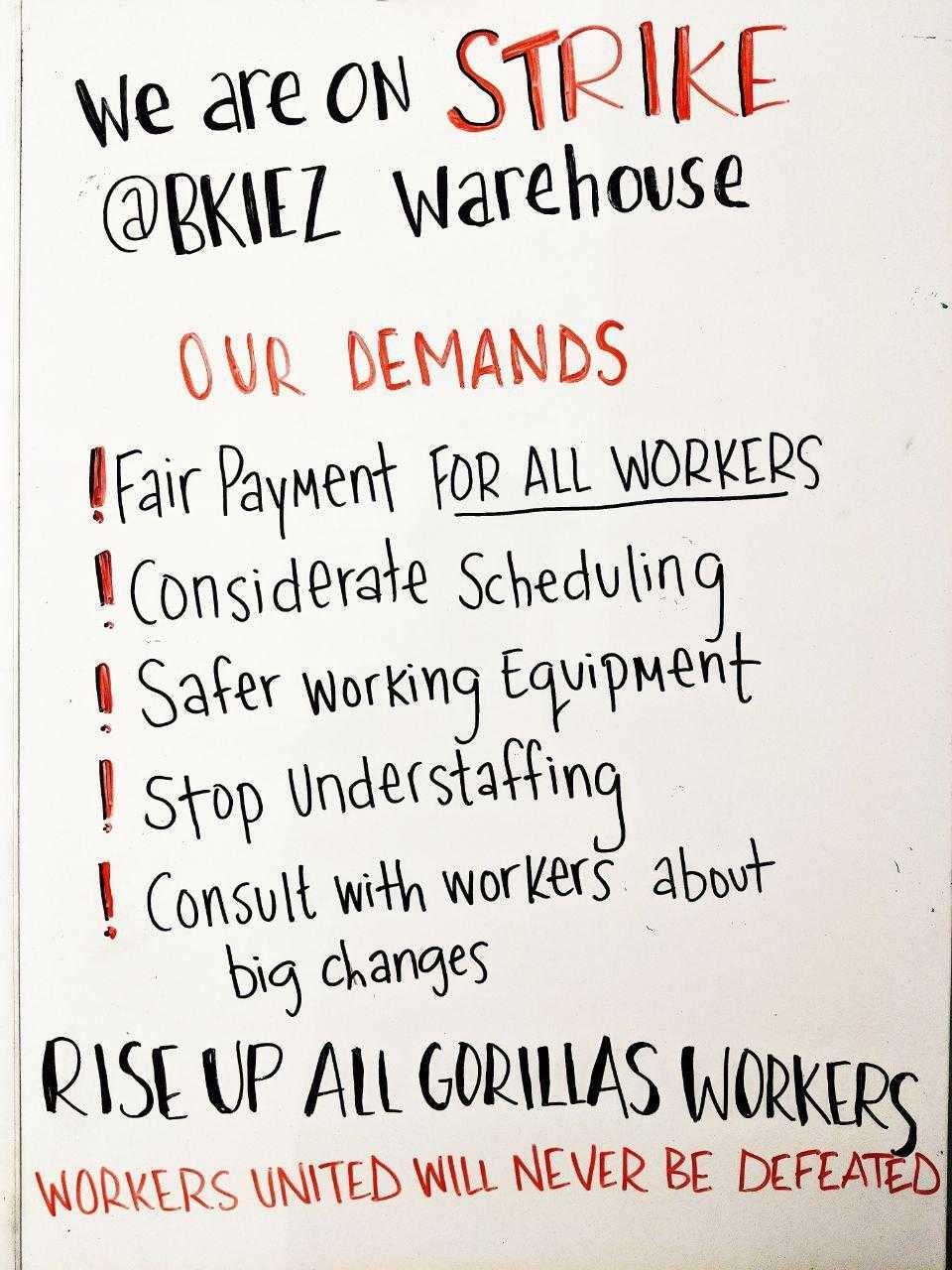 Riders in Schöneberg turned their bikes upside down and wielded banners stating their demands for better, and more consistent pay, considerate working schedules and higher safety at work, among other things. 
Yesterday, riders at the Gesundbrunnen warehouse began striking too and published their list of demands on Twitter.
"The strikes need support in becoming visible — so any kind of pledge or action, as little as it may be from people — is welcome," a member of the Gorillas Workers' Collective told Sifted. He explains that support at strikes or on social media is especially important because "the way our work is set up does not encourage union membership."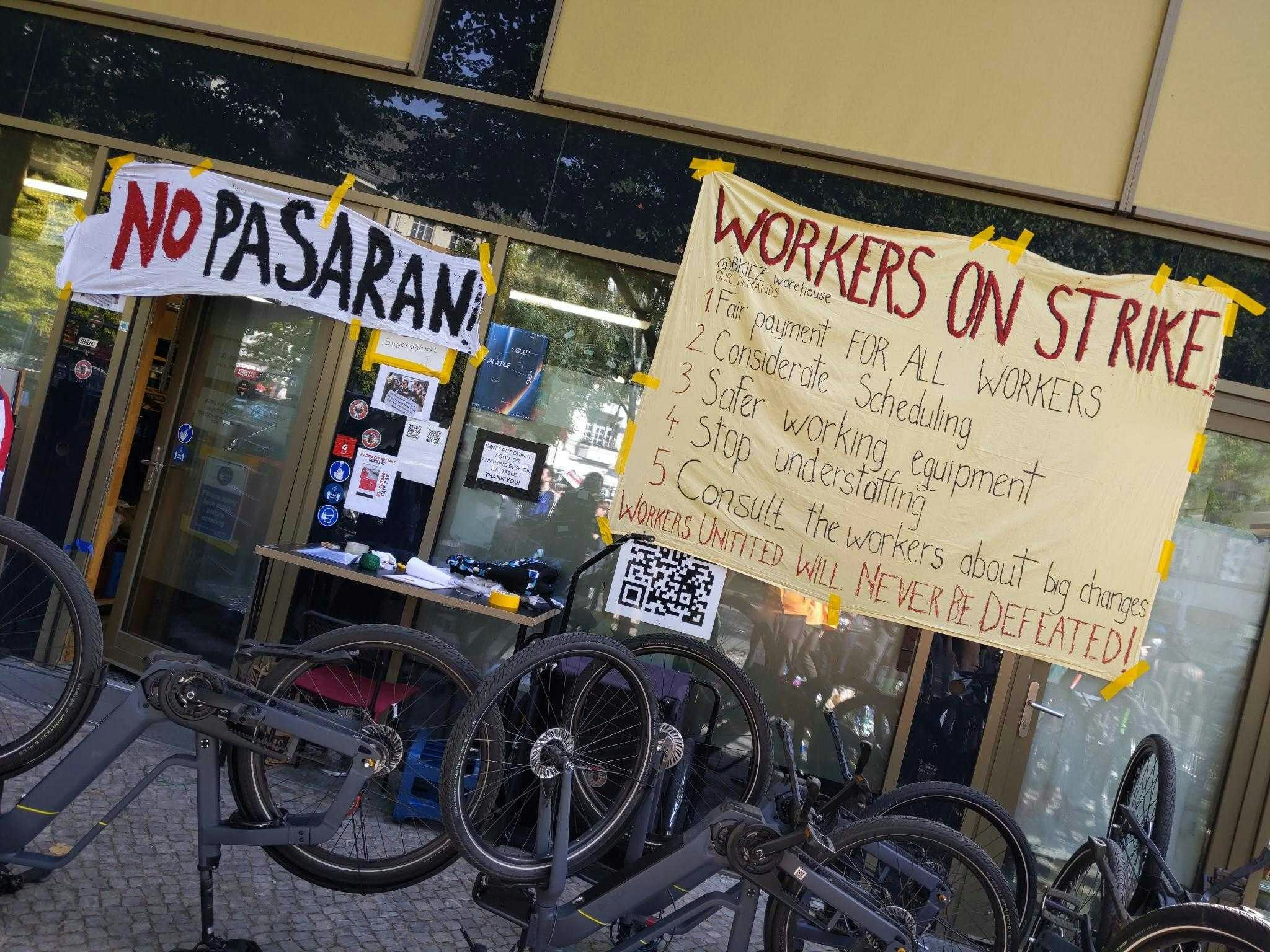 The Gorillas Workers' Collective has already attracted widespread support on Twitter and Instagram — with Gorillasriderslife, an account replete with memes and pictures about the day-to-day hardships of working at Gorillas, being particularly popular. 
However, three riders told Sifted that the four Instagram accounts started by workers keep getting removed by the platform once they hit a certain number of followers. 
Some workers suspect that Gorillas' management is involved in removing the accounts.
In response, Gorillas said: "In the past, we have witnessed individual accounts repeatedly publish internal information and, more importantly, give a platform to encourage offensive behaviour and attacks towards our employees. In these instances, we asked Instagram for a review of this behaviour. The nature of these messages and posts violated Instagram's Community Guidelines."
Miriam is Sifted's Germany correspondent. She tweets from @mparts_.