Speedy grocery company Gorillas shot to fame in the depths of the pandemic in 2020, with the promise of delivering food to home-bound customers in less than 10 minutes. Starting in Berlin, the company quickly racked up thousands of users and grew its team to over 10k employees.
As one of the first speedy grocery companies in Europe, Gorillas quickly caught investors' attention — and within nine months, the startup had set a record for reaching unicorn status. To this day, it has raised $1.3bn in VC funding from big names like Tencent, DST Global, Coatue and Delivery Hero.
Not everything has been rosy, however. Last year, Gorillas was rocked with a series of protests by workers, who claimed that the company had a toxic work culture. And, like many of its competitors, its path to profitability has been uncertain since launch.
Now, with news that Gorillas has laid off over 300 employees at its HQ amid the global market slowdown, could it all be about to turn in a very different direction? We looked at some of the signs that could indicate this might be the case. 
Gorillas declined to comment for this article. 
Gorillas is 'burning cash'
"Trillions of dollars have been pumped into the economy in the last 24 months," Gorillas' founder and CEO Kagan Sumer wrote in an email to employees yesterday. "Everyone was a winner, everyone had access to capital and all companies had high valuations. This was also favourable for Gorillas. Two months ago, in March, the markets collapsed and since then things have continued to deteriorate."
The downturn is bad news for Gorillas in several ways. Like its competitors, the business has been reliant on a seemingly endless flow of venture capital to fund its growth while failing to make a profit. Amid the downturn, that flow of VC cash is slowing down significantly. 
Sumer has reached out to existing investors to ask for more funding, three sources confirm.
"The investors had a conversation with Kagan where they said, you need to get your stuff in order or we simply won't invest anymore," a former employee tells Sifted.
Gorillas was burning through €90m a month at the end of last year, they add. A second person familiar with the matter puts the burn rate at €60m per month and says that Gorillas has €300m left in the bank. 
Gorillas last raised a $1bn Series C in September — eight months ago — at a $2.1bn valuation.
Far from profitability
Gorillas has been rapidly expanding since it emerged in March 2020. It's operating in nine markets — although it announced on Monday that it would only be focusing on growing in five of them from now on: Germany, France, the UK, the Netherlands and the US.
It currently has 230 warehouses, and in a meeting with Sifted in January, Sumer said Gorillas was only profitable at 25-30% of these. 
A lack of profitability isn't unusual for this sector. Speedy grocery delivery startup Getir is only profitable at a market level in Turkey, its founder Nazim Salur told Sifted in March. Getir is also expecting to make a $1bn loss for 2022, Bloomberg reported, which equates to the amount it raised in its Series E and much of its Series D combined. 
Customer acquisition for speedy grocery delivery startups
There are also huge marketing costs associated with acquiring customers within the speedy grocery model. 
Manager Magazin recently reported — after analysing bills received by Gorillas in the post — that 41% of orders placed with Gorillas are subsidised with special offers. In comparison, 15% of orders at Flink — another Berlin-based player — are placed using discounts, an insider told the publication.  
Despite its marketing efforts, Gorillas has fallen behind its competitors when it comes to app downloads. 
Data from Apptopia shows that last month the global number of downloads of the Gorillas app on Google Play and iOS was just over 540k. This month, it was just over 320k. This is compared to Getir, Gorillas' Turkish competitor, which had more than 2.5m downloads globally in April, and just over 1.5m in May. 
Gorillas is also seeing user sessions in its home market of Germany steeply decline.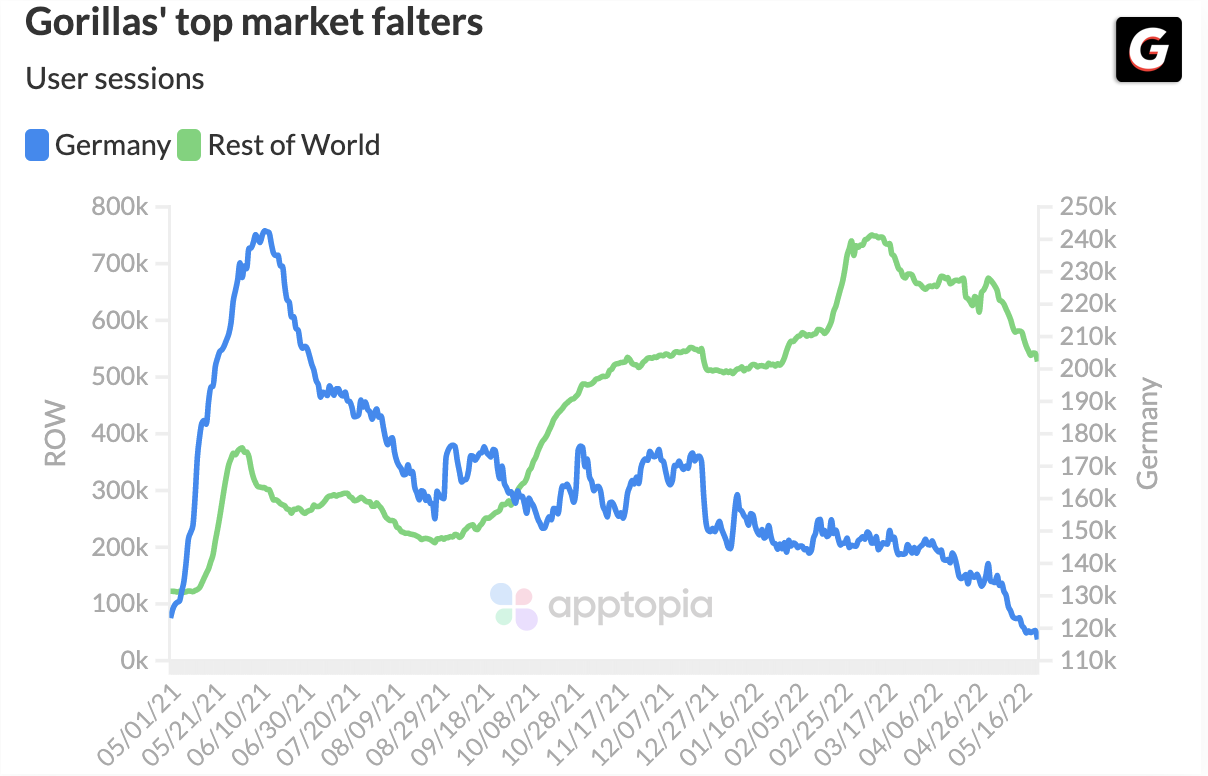 It isn't looking good for any player in the industry though — app downloads are now declining across the board.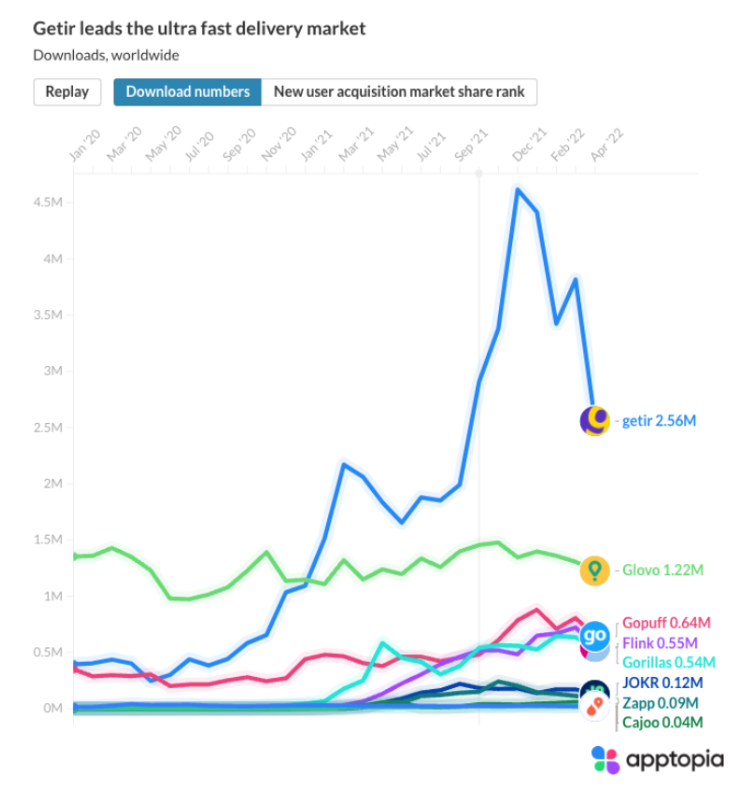 Tech company layoffs in Europe
This week, along with Gorillas, Getir and Zapp have announced chunky layoffs. Zapp is in talks to cut 10% of its roles, while Getir plans to cut 14% of its employees globally. That's a dramatic turnaround for Getir.
LinkedIn data shows that Gorillas' global headcount has only increased by 4% in the past six months, while Getir and Flink have grown their teams 55% and 52% respectively. 
Miriam Partington is Sifted's DACH correspondent. She also covers future of work, coauthors Sifted's Startup Life newsletter and tweets from @mparts_
Freya Pratty is a reporter at Sifted. She tweets from @FPratty and writes our sustainability-focused newsletter — you can sign up here.