When a town hall was suddenly scheduled over the summer, Dija employees gathered to hear the fate of their seven-month-old London grocery delivery startup.
An unfamiliar, pixellated face appeared on the Zoom screen.
It belonged to Rafael Ilishayev, the cofounder of US rival Gopuff. Ilishayev was dialling in from Philadelphia to welcome Dija's 100+ employees to the Gopuff family — confirming the much-anticipated acquisition.
​​"This is fucking awesome news... we're going to take over the world," Ilishayev reportedly told staff. "We want to build a trillion-dollar company."
Rocket emojis flooded the comments section as Dija employees congratulated management for the speedy exit, rumoured to have cost Gopuff anywhere up to $150m.
But three months later, the mood inside Dija UK has deteriorated, according to half a dozen sources interviewed by Sifted. They say the acquisition has fallen short of their expectations and been poorly managed, leaving some Dija employees feeling "sidelined".
We were all led to believe this was a talent acquisition... It was 100% not for talent, that much is clear

now
At least four Dija directors have left since August, Sifted can confirm, alongside numerous junior colleagues. Among them is Chad West, Revolut's former director of communications and marketing, who joined Dija in May after four years at the fintech. Sam Harper, Dija's general counsel, has also left.
In response, Gopuff told Sifted that "the vast majority of our employees have stayed put and are happy with the integration". They confirmed, however, that "some people choose to move on", blaming the "current talent market, and... non-acquisition circumstances".
Several insiders, meanwhile, insist that employees are quitting out of frustration.
"There are quite a lot of people leaving [or planning to]. The majority are unhappy with what they signed up for," says one former Dija employee who remains close to the company.
Some degree of turmoil is normal after any acquisition. But it can also be a harbinger of difficulties to come — especially in a climate of hypergrowth.
This is particularly relevant to the future of the delivery space, which is seeing rapid consolidation. Finnish food delivery scaleup Wolt was recently acquired by US competitor DoorDash for €7bn. And last week, Gopuff's rival Getir announced it was buying UK-based Weezy.
We've taken a look inside Dija post-acquisition and asked what's next for Gopuff.
Sidelined and disheartened
Gopuff officially "launched" across the UK and France this month. A press release flagged that the company was active in 12+ cities and is hiring fast with nearly 1,000 employees, leveraging its two acquisitions in Dija and Fancy to kickstart its European operation.
But according to half a dozen current and former employees, the Dija UK HQ has been effectively "sidelined" by the new management and snubbed for the top jobs at Gopuff.
"​​There are many senior Dija team members who have been significantly demoted in terms of scope and responsibilities," says a former Dija employee who remains close to the company.
Instead, Gopuff Europe is being led by three ex-Amazon chiefs — Steve Harman, Darin Manney and Alex Ootes. Various execs also came over from Fancy, the speedy grocery startup that Gopuff acquired three months before it bought Dija.
Only one of Dija's cofounders — Alberto Menolascina — was appointed to a leadership role, as Gopuff's UK general manager. Fellow cofounder Yusuf Saban's role "was unclear" for weeks, a source with direct knowledge says. Saban has since been made UK growth and competitive intelligence lead.
This whole integration thing is pretty messy," says a current employee. "It's a

clusterfuck
Dija sources say this restructuring has left some teams inactive and demoralised.
"Product are just fixing bugs. The business intelligence team has dissolved… We've gone from executing to strategising," says one current employee.
A former Dija teammate agrees: "People I know there are doing no work, literally no work. Expansion, tech development, product, partnerships… those operations have all been handed over to Gopuff people."
Another grievance is that Gopuff has been slow to grant staff their new stock options, having agreed to transfer their Dija equity into those of the new parent within 90 days. Staff also did not get accelerated vesting.
Several insiders warned that the combination of these frustrations was creating a "flight risk" — especially as the one-year cliff for vesting approaches.
"This whole integration thing is pretty messy," says a current employee. "It's a clusterfuck… Generally, people are just not happy. They're wondering what they're meant to be doing and questioning how worth it is to stay."
Another current employee said: "We were all led to believe this was a talent acquisition... It was 100% not for talent, that much is clear now."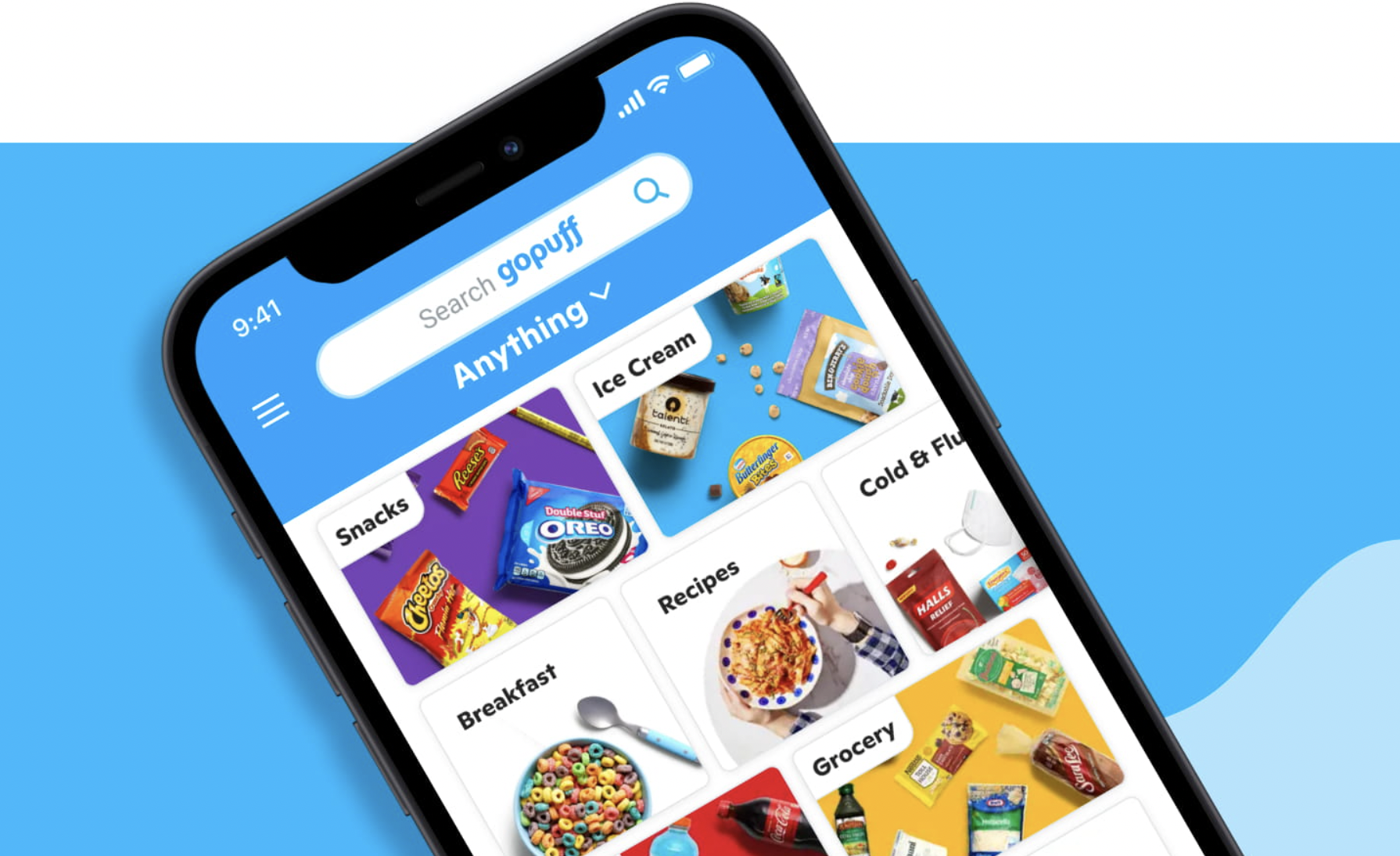 A third current employee says the main issue is that Dija staff were "promised the world" during the acquisition, and those commitments have not yet materialised. Still, they remain hopeful that Gopuff will eventually deliver (sources confirmed that staff at Fancy have now received their shares in Gopuff — months after the May acquisition).
A Gopuff spokesperson noted that Dija staff had been selected to head up the Spanish and French markets.
They also said that Gopuff had recently provided an update about the "favourable" equity agreement and confirmed they had "a plan in place". They added that Dija employees would "participate in the Gopuff bonus plan, including for… 2021".
Gopuff also told Sifted that Dija's "talented leadership team" was a key motivator for the acquisition.
Perks of the deal
Dija was only seven months old when it was bought. Founded by two ex-Deliveroo employees, it had minimal brand awareness and a tiny customer base.
According to data on app downloads from SensorTower, Dija was struggling to catch up with its main competitors.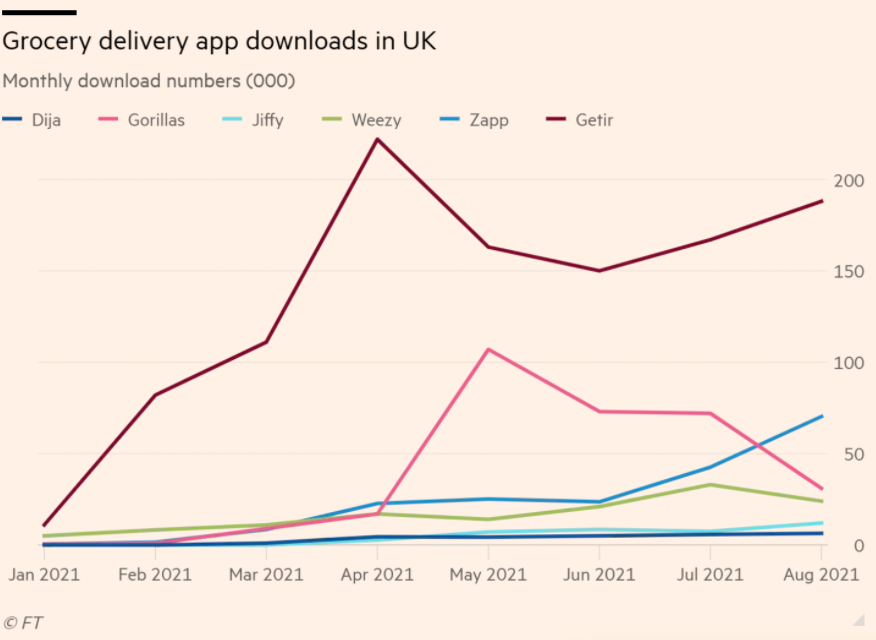 But what Dija couldn't offer in terms of large market share, it delivered in assets. Dija had about 20 depots (DMarts) across three markets. 
The good news is Dija's presence in continental Europe has now given Gopuff international reach. 
Gopuff also seems to be winning over Dija's roughly 30 staff in France and Spain. There has been next to zero attrition so far in these geographies, according to two sources, having been sheltered from the UK obstacles.
"The complication has been most intense in the UK. There are two companies converting into Gopuff [Fancy and Dija]. But in France, it's just Dija to convert into Gopuff, so there is less tension," explains a Dija operating manager.
One junior Dija member stationed in France tells Sifted they were actually grateful to have steady investment coming in from Gopuff. 
It's also worth stressing that other grocery startups have had problems of their own. Berlin's Gorillas has faced a union backlash from couriers and allegations of founder drug use.
Gopuff's big bet
For Gopuff, the tensions in Dija UK are likely to be just a small bump in the road.
The company, founded in 2013, has an experienced leadership team and a giant war chest to invest in Europe, propped up by SoftBank, Accel and Hedosophia.
Nonetheless, Gopuff is betting that its European expansion can live up to its $15bn valuation. To do that, it'll need to differentiate itself.
Insiders say that execs are now considering making Gopuff the most varied and cheapest of the European grocery apps, aiming to have over 4,000 items, from groceries to sweets to "artisanal local produce". The app has a 20-40 minute wait time in some London areas, while other apps are offering all deliveries within 10 minutes.
Gopuff will also play far beyond London; by mid-2022, Gopuff says it plans to operate in 33 UK cities.
Now I've seen how Gopuff is run, I'm not really impressed by the architecture or tech or

capabilities
On the hiring front, Gopuff appears to be focused on poaching Amazon staff with logistics experience, according to LinkedIn data.
There's also a big push to standardise the warehouses and operating systems.
"Gopuff want it to be a flawless system. They're tracking everything," according to one Fancy employee, adding Gopuff had made things "much smoother" operationally compared with Fancy's early days.
They also noted that Gopuff had shaken up the delivery staff (some "had taken the piss" before Fancy's acquisition, the person said). 
But the Dija team aren't so convinced.
"Now I've seen how Gopuff is run, I'm not really impressed by the architecture or tech or capabilities," complains one current UK employee. 
Indeed, they claim that Gopuff's product team is "primitive" for an eight-year-old startup, still often relying on Google Sheets and lacking rollout "playbooks". One insider also explained that the Gopuff app isn't native — "It's a web app within the mobile app… that's very unusual for an eight-year-old company."
When Sifted downloaded the Gopuff app to assess these claims, we found it was plagued by "out of stock" warnings on fresh items.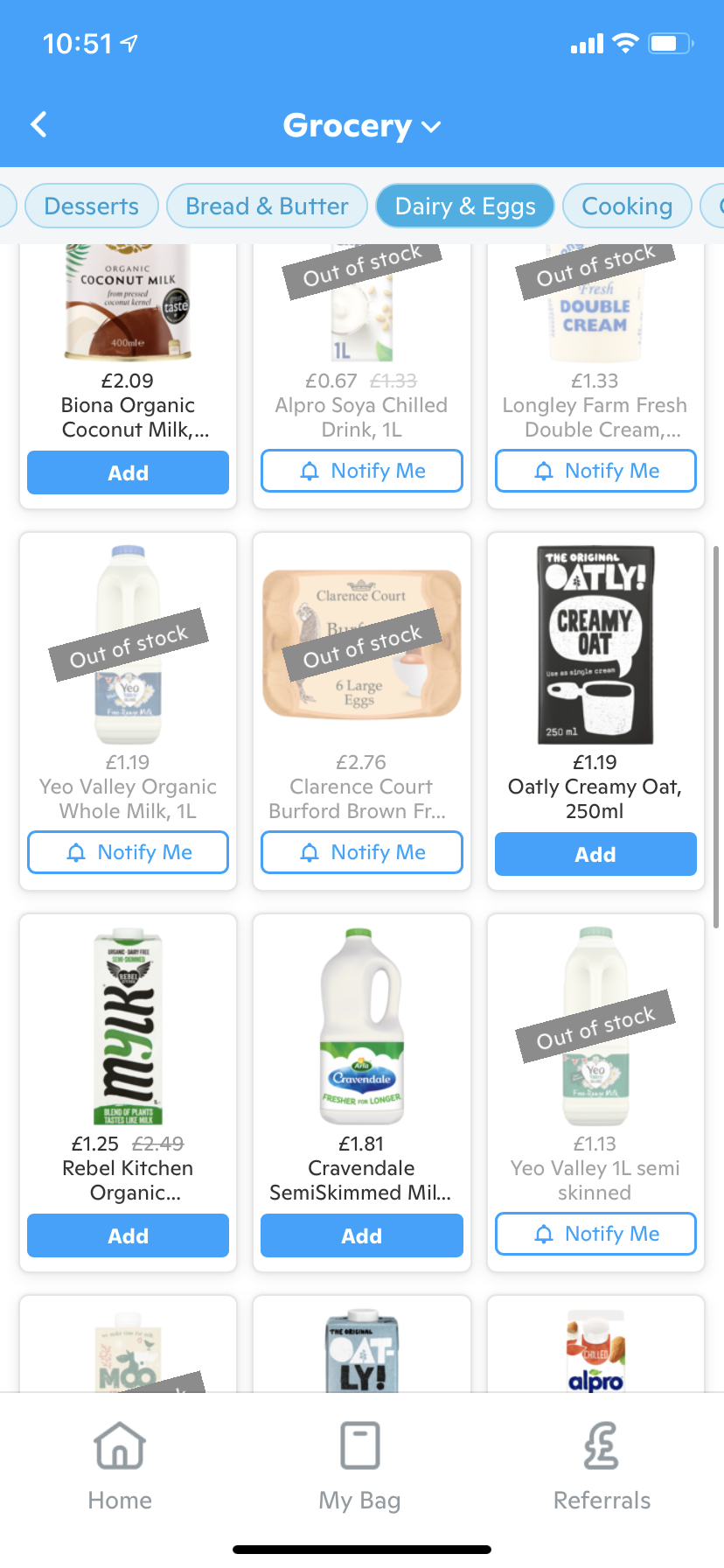 Gopuff said in a statement that it had "spent years developing proprietary warehouse management technology; EU markets use technologies developed by both Gopuff and Dija."
It's still early days for Gopuff in Europe. But it'll need to invest heavily to catch up with the competition. Rival Getir already has nearly 14m users, while Gorillas has nearly 1m customers (as well as a fresh $1bn in funding). Elsewhere, DoorDash led a $600m funding round into Berlin upstart Flink in September — one of the 10 new European entrants arriving in 2021 alone.
That begs big questions for Gopuff: are these all small teething problems? Or has it bitten off more than it can chew?
Additional reporting by Amy Lewin. Isabel Woodford is Sifted's fintech correspondent. She tweets from @i_woodford and coauthors our fintech newsletter. Sign up here