Gopuff, the US delivery app, has bought London-based on-demand grocery startup Dija, for an undisclosed amount.
It's Gopuff's second acquisition in Europe — and could be a sign that homegrown on-demand grocery startups should watch out. (Or, if they're struggling to raise funding, perhaps contact Gopuff's M&A team.)
Dija's investors and founders will gain equity in Gopuff and employee shares will transfer over to Gopuff shares, according to a source close to the company. The founders will stay on and no employees will lose their jobs, according to Dija. 
Negotiations — which Sifted first reported on in July — were drawn out as Dija founders Yusuf Saban and Alberto Menolascina haggled over the strategy Dija would take after the acquisition. Another source close to the company told Sifted that the Dija founders are keen to stick to the 10-minute grocery delivery model, while Gopuff has so far had a longer average delivery time of 30 minutes.
"After closing, Dija [...] will continue to operate under the Dija name in the near-term as the two companies create an integration plan to enhance the customer experience across Europe and the UK," said the company in a statement.
Gopuff in Europe
Gopuff, which last raised $1bn in July, at a $15bn valuation, plans to invest a chunk of that capital into European expansion.
The company, which launched in the US in 2013, delivers grocery and convenience goods to customers for a $1.95 fee from a network of 'dark stores'. It has 450+ of these microfulfilment centres in the US and UK and with the Dija acquisition, will add 20 more across the UK, Spain and France. 
The move brings Gopuff's European employee numbers up to around 200 and dark store count up to around 40. (For comparison, in July German on-demand delivery startup Gorillas had 100 dark stores, London-based Zapp had 30 and Turkey-based Getir had 28 in London alone.)
Sifted Newsletters
Sifted Newsletter
3x a week
We tell you what's happening across startup Europe — and why it matters.
Dija is Gopuff's second acquisition in Europe; in May, it agreed to buy UK-based on-demand delivery startup Fancy for an undisclosed amount. 
Outside of Europe, it has also acquired US alcohol retailer BevMo (for $350m in November 2020) and San Francisco-based logistics tech company rideOS.
Not a $100bn+ company
It's not the outcome Blossom, the London-based VC firm which led Dija's $20m seed round in December 2020, was hoping for.
In March, Ophelia Brown, partner at Blossom, told UKTN that "Dija has the potential to be a $100bn+ company".
Several of Dija's competitors, like Getir and Flink, have raised multimillion euro rounds at unicorn valuations (Getir hit a $7.5bn valuation in its latest fundraise in June) and are continuing to expand — fast — across Europe. Others, like Gorillas, are struggling to raise.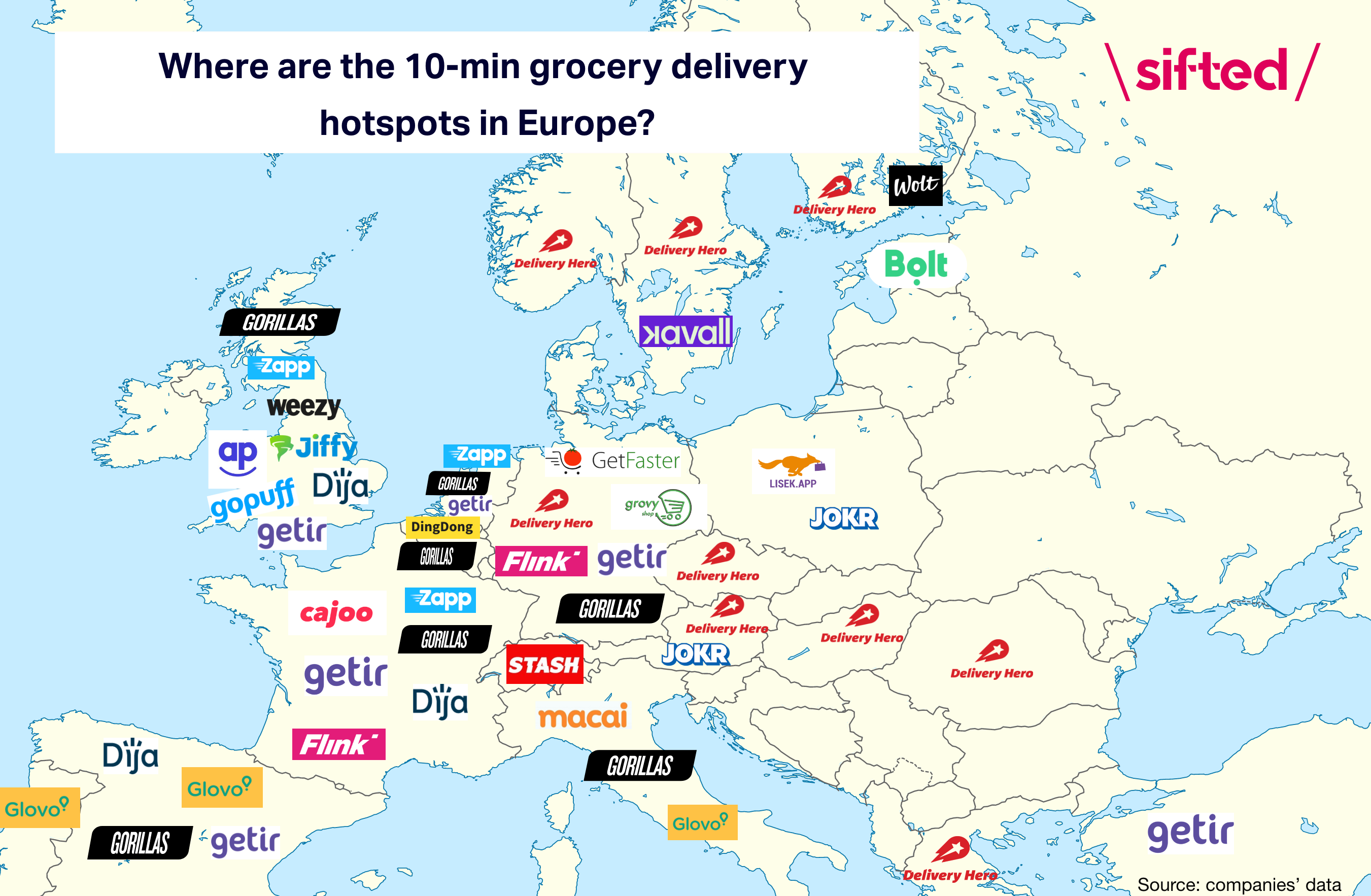 The Dija acquisition won't be the last in this sector. Question is whether Gopuff is still out hunting for more businesses to buy in Europe.