Glovo needs no introduction in the Spanish tech sector, and after raising the country's biggest ever round, it's becoming recognised as an international leader in the food and grocery delivery industry.
Founded in 2015 in Barcelona by Oscar Pierre and Sasha Michaud, the company has expanded from food delivery into Q-commerce and dark stores. 
And while it's currently dealing with a huge legislative change from the Spanish government that could force all of its riders to be given employment contracts, the company shows no signs of slowing.
Six years on from its launch, we meet the former Glovo employees going on to found their own ventures.
Diego Arroyo — laagam
Glovo days: Arroyo joined Glovo in summer 2015, back when it was a small startup making 30 orders per day. After a call with founder Oscar Pierre, he was appointed as Madrid city manager, in charge of launching the service in the city. After eight months in Madrid, Arroyo moved to Barcelona to launch the corporate development department.
What he's doing now: Arroyo left Glovo in summer of 2016, and that autumn launched laagam, a zero-waste fashion brand. The company sells made-to-order clothing, with the vision of cutting down on wasteful overproduction of garments.
How it's going: Five years in, laagam now sells to more than 60k clients in 50 countries, telling Sifted it has been growing by 100% year on year, on average. The startup has raised more than €1m from investors that include Cabiedes & Partners and was featured by Vogue as one of its "brands of the future". 
What's next? The startup hopes to become profitable and cash flow positive in 2021, and increase its international orders share from 30% to 50%. The startup closed an investment round in December 2020 and doesn't have immediate plans to raise another. Laagam will also be working to fully realise it's stockless production vision, by developing a platform that connects orders and fashion producers.
Matteo Pichi — Poke House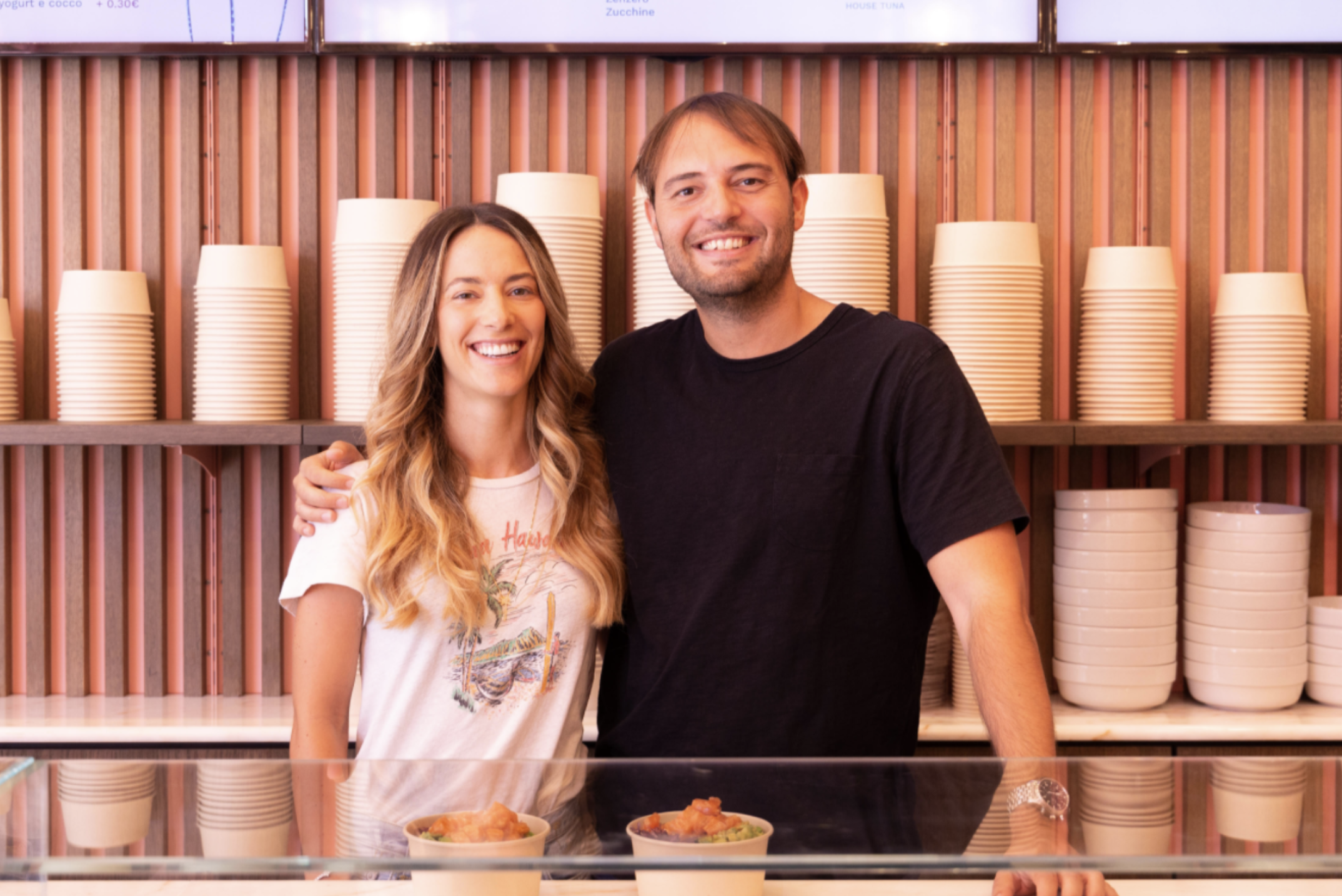 Glovo days: Pichi joined Glovo in March 2016, and served as Italy general manager before leaving in October 2018.
What they're doing now: Since November 2018, Pichi and cofounder Vittoria Zanetti have been working on Poke House, a Hawaii-inspired restaurant chain that now has 30 locations across Spain, Portugal and Italy.
How it's going: Poke House says it has opened 30 restaurants in little more than two years. The startup employs 35 office staff, and more than 400 people in its restaurants and raised a €5m round from Milano Investment Partners in April 2020.
What's next? Poke House is now hiring in France ahead of a planned launch in summer, and is working on a third funding round as it eyes expansions in the UK and US.
Pablo Vivas — Delitbee
Glovo days: Vivas joined Glovo in October 2015, and worked in a variety of roles across sales and operations. Before leaving the company in 2019, he was a "launcher" in the LatAm market.
What he's doing now: In March 2020 Vivas cofounded Delitbee, a B2C app which aggregates local food delivery services into a single feed. The app also serves as a price comparison tool, allowing the user to see differences in delivery costs from providers like Glovo, UberEats, Deliveroo and Just Eat.
How it's going: Delitbee closed a €100k pre-seed round in January 2021.
What's next? The startup is working on a new funding round and is looking at expanding into new geographies and new verticals within the food delivery market.
Emma Malha and Alex Fitussi — Beanstock
Glovo days: Malha joined Glovo in 2017, working as a growth manager for France, and later moved to the Barcelona HQ to take up a position as product growth manager. Fitussi joined in 2016, as the startup's country manager for France and 31st employee. He was also the first ex-Uber employee at Glovo, and quickly became an angel investor in the startup.
What they're doing now: Malha and Fitussi left Glovo at the start of 2020 to found Beanstock, a Paris-based real estate fintech which allows users to invest in property. The company launched in May last year and is aiming to widen accessibility to real estate investment, with an average investor age of 30.
How's it going: Beanstock now has nearly €1.5m of assets being acquired through its platform per month and expects to double this volume by the end of Q2. The startup told Sifted this had been achieved with zero marketing spend.
What's next? Beanstock will launch in 20 French cities this year, and other European countries in 2022.
Ivan & Eric Nikolic — Last.app
Glovo days: Ivan joined Glovo in September of 2015 when the startup was less than a year old with a team of less than 20. He joined as a senior software developer and ended up being one of the four lead software engineers. Eric joined in March 2018 as a data analyst and the first employee in Glovo's dark kitchens team.
What they're doing now: Eric and Ivan left Glovo in March 2019 to found Last.app, a software platform for restaurants to manage delivery orders from multiple platforms, table bookings and allows them to launch their own online store. 
How's it going: Last.app raised a €250k seed round in September 2019, launching two software products in their first year. The startup told Sifted it had seen tenfold growth in customers in its second year, with monthly recurring revenue growing by 12 times. Last.app has spent nothing on marketing and relied on organic growth through customer and partner referrals, which it says has accounted for 70% of growth.
What's next? Last.app will be growing its sales and marketing team this year, with an aim to begin international growth in 2022. The startup will also expand its suite of software products to cover new needs in the restaurant industry.
Enric Duran and Fernando Dellepiane — VermutAppGlovo days: Duran joined Glovo in 2016 as an operations manager, and Dellepiane joined in 2018 as global head of rider user experience.
What they're doing now: The pair launched experience curation platform VermutApp in June 2020. The service is aimed at "people with life experience" and allows users to book group activities like hikes, talks, and of course — vermut drinking meetups.
How's it going: VermutApp launched its product in July 2020 and the startup told Sifted that, as of March 2021, the service has more than 1.5k users and seen 500 activities planned through the platform. VermutApp joined the Valencia-based incubator Lanzadera in January and in February raised its first investment round, a €150k pre-seed. The team is currently made up of six people.
What's next? The startup told Sifted they will continue to prove the business model until July, and then look to close a seed round in September, to allow expansion to more cities in Spain. Longer term, VermutApp plans to expand internationally by the end of 2022, with a focus on Latin European countries. As the community of users builds, the startup says it will look to expand to other verticals that serve the "senior" community.
Vignesh Anand — Nuna
Glovo days: Anand joined Glovo in March 2018 and worked as the director of partner operations, where he helped set up a team of more than 30 people working to bolster the company's relationship with restaurants and stores.
What he's doing now: Anand left Glovo in 2020 to found Nuna, an online therapy platform which launched its beta service in July. Nuna hopes to make therapy affordable, while helping users find the right type of therapist for them.
How it's going: Nuna raised a pre-seed round of €200k from JME Ventures and K Fund in October last year, and the startup says it has grown by 5x since then.
What's next? Nuna intends to expand into new markets soon, and says it is seeing significant interest both in Europe and LatAm.
Matias Gath — Shop Your Fit
Glovo days: Gath joined Glovo in October 2017 and worked as country general manager for Argentina and Uruguay, launching the company's operations in each country. His previous startup Kadabra, a delivery service in Argentina, was acquired by Glovo the same year.
What he's doing now: Gath began work on his new venture, Shop Your Fit, in January 2019. The New York-headquartered startup claims to be the first fashion meta search engine, allowing shoppers to personalise their online shopping experience by only showing them items that will fit them and match their style.
How it's going: Shop Your Fit told Sifted it has raised $1.5m in seed funding, and has been part of the Endeavour and Startupbootcamp accelerators.
What's next? Shop Your Fit is planning to raise a Series A in 2022 and intends to start opening offices in European cities before then.
Martín Lela — Regality
Glovo days: Lela joined Glovo in April 2019 and became head of sales before leaving in March 2020.
What he's doing now: Lela began work on his current venture, Regality, in 2017 and is now working on the project full time. Regality is an ecommerce platform that helps users buy "the perfect gift".
How it's going: Lela and his team launched Regality's first minimum viable product in Argentina and established the company in October 2020. In December the startup launched in Spain and says it saw better results than expected, and is now closing a first investment round, estimated to be between €150k and €200k. 
What's next? After closing the investment round, Regality plan to open in one or two more European countries and expand the team size. The startup predicts it will raise its next round in February 2022.
Marc Pierre — Renty
Glovo days: Glovo cofounder Oscar Pierre's brother, Marc, joined the company in September 2018, and worked in the Iberia sales team. 
What they're doing now: In December 2020 Pierre started working on Renty, a sharing economy site that allows users to rent the things they need, rather than buy them.
How it's going: Pierre tells Sifted that he managed to secure a pre-seed round of €200k back in January, after convincing investors that replicating models of companies like Grover (in Germany) and RentTheRunWay (in the US) would work in Spain. Renty has now launched a minimum viable product.
What's next? Renty are working to validate their product and build a stronger team. After proving the model in Barcelona, the startup plans to expand to other Spanish cities, and afterwards neighbouring countries.
Chinmay Adhvaryu — EarthLab.AI
Glovo days: Adhvaryu joined Glovo in April 2018 and worked as a Product Manager in the 'Logistics and Glovo Experience' team before leaving in March 2020.
What they're doing now: In March 2020, Adhvaryu began work on EarthLab.AI, a company that aggregates and analyses satellite climate data for clients in the energy, finance and logistics sectors.
How it's going: EarthLab.AI told Sifted it's already working with paying pilot customers in Asia and the US, including the Asian Development Bank. Adhvaryu and his cofounder Dr. Michael Seitz are currently the only team members.
What's next? The startup plans to raise a pre-seed round and start building a team specialised in advanced climate risk modelling.
Koen Goudriaan — Qoala
Glovo days: Goudriaan joined Glovo in April 2019 and worked as global growth lead of the groceries team (now called the Q-commerce team). 
What he's doing now: Goudriaan launched browser extension Qoala in January 2020. The plugin generates coupon codes for online shoppers, saving users money via discounts.
How it's going: Qoala tells Sifted the startup broke the record on crowdfunding site Startupxplore, raising its pre-seed round of €415k in less than two hours. The team has now grown to 15 people.
What's next? Qoala plans to expand to LatAm, and is in the process of raising a seed round of €1.5m, which it says is half closed.
Guillermo Ortiz — Wetechfood
Glovo days: Ortiz joined Glovo in July 2018 and worked in the international expansion department, helping launch operations in seven countries in 13 months.
What he's doing now: Ortiz cofounded Wetechfood in the second quarter of 2020, with the mission of automating the dark kitchen sector through robotics. The startup has developed a robot from scratch that it says improves the efficiency of dark kitchens. The robot can do the washing up, and work with 16 ingredients and six sauces to make food.
How it's going: The company recently raised an investment round of €300k and currently runs a dark kitchen in Madrid, where it is testing its robot.
What's next? Wetechfood is seeking further investment of €1m by the second quarter of 2022, and is looking to hire 10 engineers and five operations managers by the end of 2021.
Others
Barcelona-based Q-commerce startup Blok was founded by former Glovo employee Vishal Verma this year. Before Glovo, Verma spent three years at Uber and is now on a hiring spree as Blok looks to scale its rapid grocery delivery service.
jayu by laura was founded by Laura Grandy in 2020. It's a site for alternative therapy, specialising in treatments like reiki and essential oils.
Edgar Vicente was an early employee in the Glovo operations department in 2017. He went on to cofound social sharing app DiHola, which was acquired by Social Labs in 2020. This year he launched Enzo Ventures, a microfund for Gen Z founders.