Barcelona-founded delivery startup Glovo has something of a love-hate relationship with its home nation of Spain. The company is the current poster child of the country's tech community: valued at over a billion euros and active in 19 countries, it is often cited as proof of Spanish startups' potential to go big and go global.
Outside of the tech community, however, Glovo has been blamed by politicians and activists alike for a decline in workers' rights and a rise in precarious labour. Earlier this month, Spain's Supreme Court ruled against Glovo's classification of its delivery riders as "autonomous", or self-employed, asserting that they are employees of the platform.
The verdict from Spain's highest court is the latest decision in a long line of cases in the country, which have ruled both for and against Glovo.
It's a blow for gig economy platforms, which are facing mounting legal challenges around the world from opponents who say tech companies are exploiting loopholes in the law, to avoid payroll taxes and legal liability. (California's decision to class Uber and Lyft drivers as employees earlier this year has more or less descended into an all-out battle between big tech and government.)
While Glovo says it respects the Supreme Court's decision, the company still views the legal debate as ongoing, and points to a European Court of Justice verdict, in favour of courier platform Yodel, as evidence of European precedent in Glovo's favour.
So how does Glovo see the controversy around gig economy workers' rights? Sifted sat down with the company's cofounder Sacha Michaud to hear his thoughts.
Trouble at home
"It's a tough one because one of the reasons the platforms like ourselves have grown so quickly, over the past five, six years, is precisely [because of] the model, and how it can adapt to surges in demand," he says, in reference to the Supreme Court's decision. Glovo, like most of its competitors, uses an army of delivery riders who can choose when they work, but get just as much work as Glovo gets orders.
Michaud says that an obligation to treat riders as employees in Spain would "drastically" affect Glovo's business model, and would raise serious questions about expansion plans in its home market.
Sifted Newsletters
Sifted Newsletter
3x a week
We tell you what's happening across startup Europe — and why it matters.
"We had a plan to roll out to 400 cities in Spain, which would obviously include some very small cities. If a regulation came in that made it economically unviable to do that, then we wouldn't do it and we'd probably invest that money in new cities in Poland or Ukraine, or somewhere where it made more sense," he explains.
Michaud says that Glovo won't stop operating in Spain, and hopes that an agreement can be reached between policy makers, riders and unions, to find common ground.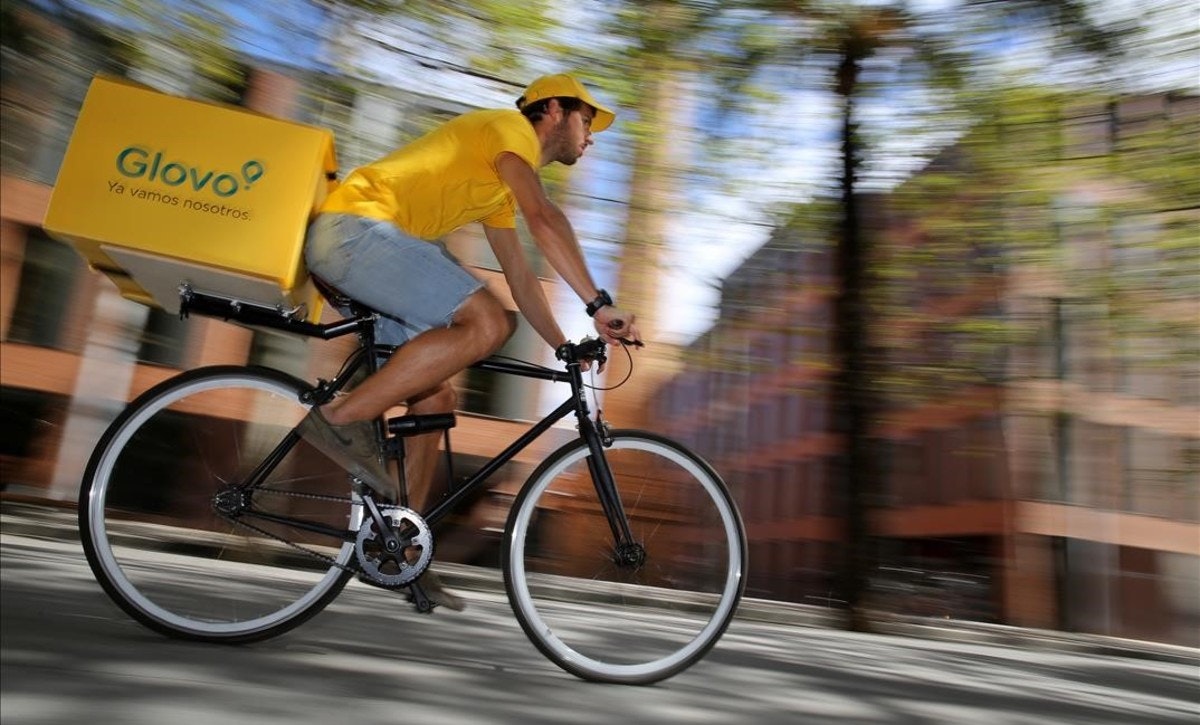 The Italian job
"Ideally it would be what happened in Italy," he says, pointing to a law made last year, that gives delivery riders protections such as social security and sick pay, while maintaining self-employed status.
The law gave Glovo and other delivery platforms 12 months to reach an agreement with riders and trade unions, to avoid strict regulation classing riders as employees.
"We got together and we spoke to all the trade unions and in the end we found a trade union which was willing to find this common ground and we signed a collective bargaining agreement with them," Michaud explains.
So what does that agreement look like? 
This agreement claims to grant workers a gross minimum wage of €10 per hour, provide riders with safety equipment and damages insurance, and offer bonuses for working at night or in bad weather. There is also a pledge to prevent riders being penalised by platforms for not accepting jobs, and to give a €600 bonus for riders who complete 2,000 deliveries in a year.
But the chances that this agreement will end the debate in Italy look slim.
Italy's three biggest unions have called the deal a "fake improvement". Meanwhile, a letter from the Italian Labour Ministry to delivery companies, obtained by Politico, said that the agreement with the single union doesn't sufficiently represent delivery workers.
The letter also raised questions about whether the promised minimum hourly wage holds up under scrutiny. Critics of the agreement say that €10 is only promised if the whole hour is spent making deliveries, meaning it isn't guaranteed if, for instance, there aren't enough jobs available on the platform in a given hour.
The agreement will be formally reviewed in November, and could end up in the courts if rejected by the government.
"What the hell have I invented?"
Glovo's rapid growth mirrors the rise of other gig economy giants like Uber and Deliveroo, all of which have faced controversy over their relationships with riders and drivers.
It's a debate which Michaud says he was unprepared for when he founded his company in 2014.
"I didn't have a clue about most of this when we started Glovo," he remembers. "As entrepreneurs we were pretty naive, like, 'Hey, wouldn't it be great if people could get anything in their city through an app and you can give all these stores extra income and all these guys with free time can just do the deliveries and everyone's happy and it's rainbows?'"
"And then you suddenly wake up a year and a half later and, oh god you're at the point that everyone on the left wing is saying you're involved in precarious working, you're taking advantage of slave labour. What the hell have I invented?" he says.
So, does Michaud ever worry that he's on the wrong side of history, for his part in contributing to a "convenience economy" where regular workers lose out?
"No, I wouldn't agree with that. Society is evolving and I think there's different sides of this," he responds.
The Anti-Amazon?
Michaud is a firm believer that companies like Glovo, in making its customers' lives easier, are freeing up people's time for the things that matter to them.
"Whatever's most important to people, the more they have time to dedicate to that, whatever empowers them, the better. That to me is a better life," he says.
He also believes that companies like Glovo are helping partner businesses, those shops and restaurants that can be found on the app, to stay afloat as the economy digitises.
"90% of our partners are SMEs, who are probably suffering more than anyone in the last five years with the influx of e-commerce. We've sometimes been called the anti-Amazon," he says. "We're giving them an advantage to compete in this digital world."
Sifted couldn't find any mention online of anyone describing Glovo as the "anti-Amazon", apart from the startup's chief executive Oscar Pierre, but it is certainly true that Glovo has helped small businesses continue to serve customers, particularly during the pandemic.
And Glovo isn't alone in describing itself as the friend of the small business. Miki Kuusi, founder and chief executive of Finnish delivery firm Wolt, also told Sifted: "Companies like us give brick-and-mortar retailers a way to compete with Amazon."
"I think we're doing the right thing"
Michaud also believes that Glovo is positively contributing to job creation in the countries it operates in. 
"What's not good is when you have extremely high unemployment and people can't have access to income or work," he says. "If we can facilitate that in our little way, then I think we're doing the right thing. And as long as people are getting a decent income and they have enough protection, I feel super happy with what we're doing."
But the question of a "decent income" is another hot button topic in the debate around Glovo in Spain. 
Michaud points to the fact that Glovo riders in Barcelona and Madrid are earning €10 per hour on average (which is more than in smaller Spanish cities), a sum he describes as "fairly OK".
But some riders and critics of the platform say that after factoring in costs like social security payments, bike maintenance and personal insurance, real earnings can be below €6 per hour.
Michaud maintains that most Glovo riders are happy with the deal they're getting, citing internal surveys suggesting that 75% of riders would recommend the job to a friend. 80% are also happy to remain self-employed, according to Michaud.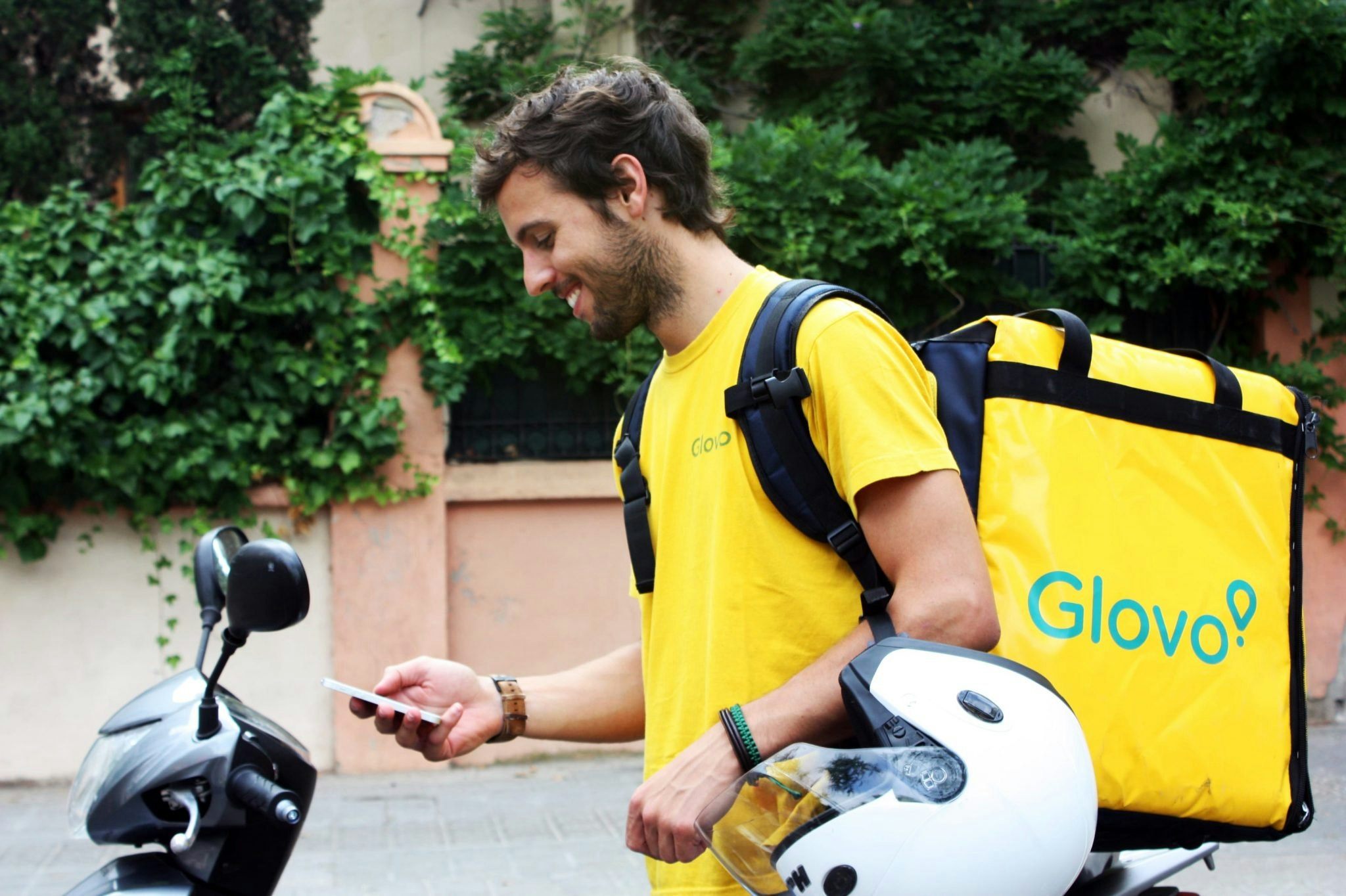 Learnings
While staunchly defending the societal benefits of Glovo, Michaud is aware that the gig economy is not working for everyone, all the time.
"There are learnings, right. We've become very big so we have a responsibility, and that's why we're trying to create dialogue," he says.
Michaud believes the biggest issues that need to be ironed out across the gig economy are guarantees of hourly income; payment of social security costs; and collective voice for riders.
"I'm definitely in agreement with a collective voice among platform workers, so you talk to the companies one to one as an equal. As one of thousands and thousands of individuals, as one voice, you're not an equal."
Michaud hopes that dialogue with unions, riders and government will lead to some common ground in the gig economy debate in Spain. At a European level, the European Commission has expressed intent to reform gig economy regulation under its Digital Services Act:
"The Commission has committed to improving the working conditions of platform workers during this mandate. [...] in today's labour market the concept of "worker" and "self-employed" have become blurred. As a result, many individuals have no other choice than to accept a contract as self-employed. We therefore need to provide clarity to those who need to negotiate collectively in order to improve their working conditions."
Michaud will be hoping that EU regulations go some way to achieving what Uber chief executive Dara Khosrowshahi has described as a "third way" — bolstering rights for riders, without taking away the autonomous model, which allows for flexible hours.
Whether founders like Michaud like it or not, the platform economy has become a defining issue in policy makers' attempts to keep up with the pace of technological change in society. And, as the worlds of food delivery, taxi rides and logistics have all changed dramatically due to platform apps, there's every chance that the current model might soon have to adapt again.