The European Commission has raided the offices of Spanish delivery company Glovo, and its new majority shareholder Delivery Hero, amid concerns that the two companies may have operated in a "cartel". 
The ongoing investigation is looking into whether the two companies had entered an "agreement or concerted practice to share national markets for the online ordering and delivery of food, groceries and other consumer goods in the European Union," according to the EU antitrust agency.
If found guilty, the food delivery giants could be fined 10% of global turnover.
A leaked internal message from Glovo CEO Oscar Pierre and testimony given to Sifted by senior employees paint a picture of a management culture at Glovo that may have "cut corners" when it came to competition regulation, and met internal concerns with "irritation" rather than due care.
In the message, Pierre tells Glovo's staff of the company's ambitions to dominate markets "wherever possible" — a strategy that raised alarm bells with the company's legal team.
How not to communicate about market dominance 
Europe's food delivery sector has always involved a fair dose of mergers and acquisitions. Companies like JustEat and Takeaway.com spent years buying up smaller food delivery businesses to enter new markets or consolidate their positions in existing markets — and sometimes they also ended up selling those businesses to one another. In 2020, the two takeaway food delivery giants merged.  
Under EU law, it's not illegal for companies to dominate an industry. But businesses that enjoy such economic strength in a market are subject to greater scrutiny from anticompetition watchdogs, which check if they compete according to the rules and don't abuse their position of power to discourage fair competition.
Two former senior employees at Glovo who spoke to Sifted believe that the company did not always take these matters seriously enough.
"Internal language, from the CEO and from other senior executives, did not seem to take competition law into account," says Ryan*, who was present in meetings where Glovo's approach to antitrust was discussed. "They would say things like, 'We have to dominate the market, we need to reach the maximum market share, we need to destroy competition' and so on." 
Sifted Newsletters
Sifted Newsletter
3x a week
We tell you what's happening across startup Europe — and why it matters.
In a leaked message that Glovo CEO Oscar Pierre sent to staff following a round of acquisitions in central and eastern Europe (CEE) in 2021, Pierre demonstrated the company's desire to be "dominating wherever is possible".
This attitude seriously concerned people at senior levels in the company, according to former employees that spoke to Sifted, who said that Pierre was reluctant to listen to advice on antitrust.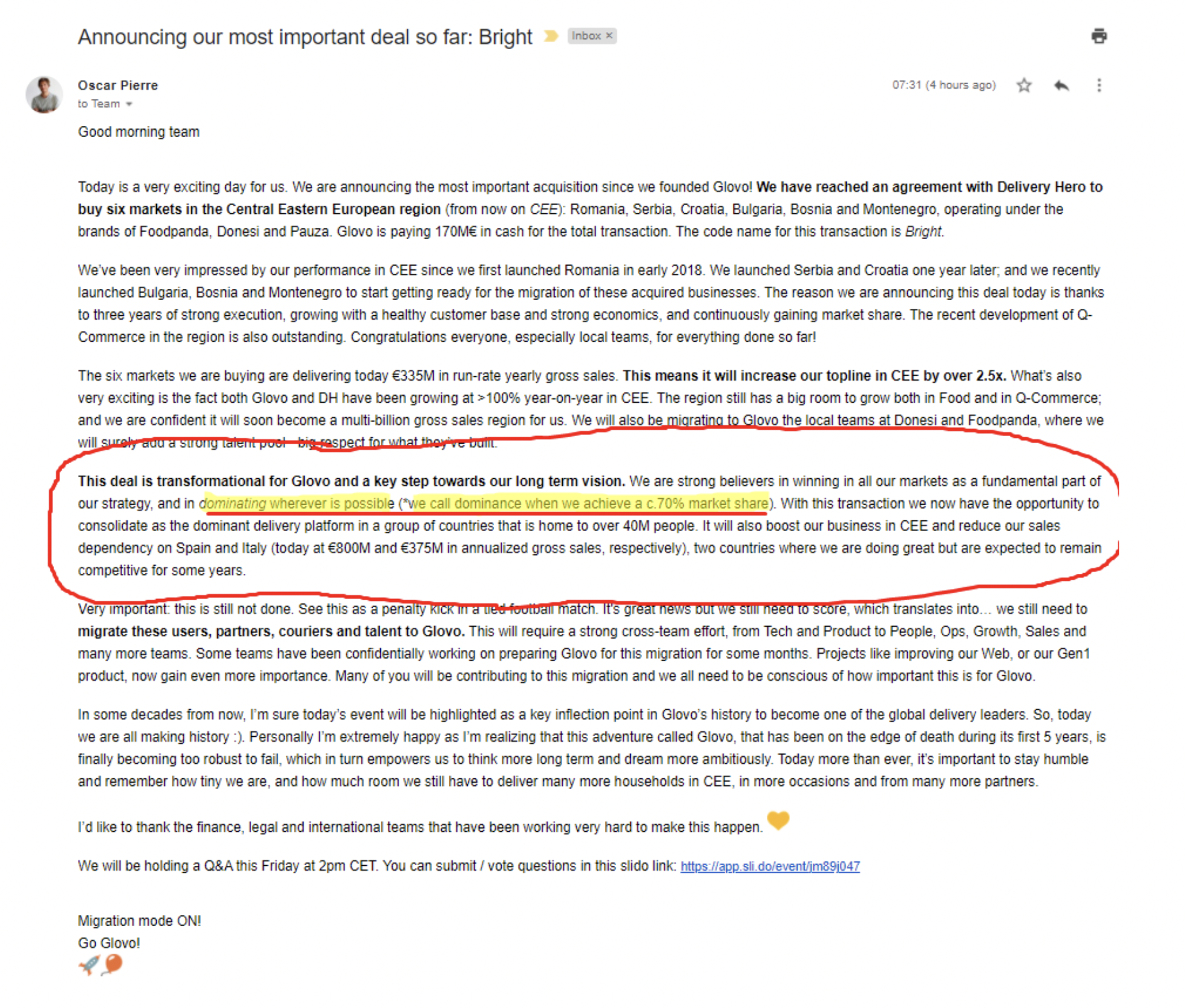 "The CEO was very reluctant to comply. He would ask during these meetings, 'Why should I need to cancel this?' Or, 'Why should I avoid these terms?'," says Ryan. "He didn't really understand the importance of competition. And he made us understand that he didn't want this competition to happen. But the lawyers were really trying to make him understand that it was something really important."
In response to these claims, Glovo tells Sifted that this characterisation is incorrect, and that "an email to Glovo's management and the legal team, dated May 27, acknowledged full clarity and understanding of the matters by Oscar Pierre".
Grace*, another former senior employee who reported directly to Glovo's C-suite, agrees with Ryan that management did not take anti-competition regulations seriously.
"Glovo had a culture of cutting corners when it came to issues of competition in markets," she says. "There was irritation [from management], which is diplomatically putting it, when questions on this stuff were raised."
Glovo tells Sifted that the company "takes all legal and compliance matters very seriously" and runs regular training sessions on compliance with its management team and employees. It adds that Glovo's board approves the company's compliance policy on an annual basis "and ensures it is in line with global regulations including antitrust matters". 
Previous antitrust cases
The current EU investigation isn't the first time that Glovo and Delivery Hero have run into trouble with competition regulators.
In 2019, Glovo pulled out of Egypt, where Delivery Hero was active, but was later ordered to resume its operations there by the Egyptian competition watchdog. Glovo and Delivery Hero were accused of restricting competition in the country when Glovo started directing users in Egypt to another app owned by Delivery Hero (Glovo was eventually able to exit the Egyptian market in early 2020).
In January, Delivery Hero's Foodpanda brand was targeted by Hong Kong's competition watchdog over concerns it was restricting partner restaurants by putting exclusivity agreements in place.
In the latest investigation, Brussels is checking if the two companies may have struck an illegal agreement to unofficially divide geographical markets between themselves to avoid competition.
Such activity, often referred to as forming a cartel, usually leads to higher prices and fewer choices for consumers.
"The presumption, as proven in many studies, is that cartel behaviour typically leads to higher prices of between 10% and 15% to customers," says ​​Alan Davis, a partner at Pinsent Masons, a law firm. 
Possible cartels
The current EU investigation was preceded by a series of acquisitions between Delivery Hero and Glovo.
In 2020, Delivery Hero bought Glovo's operations in eight Latin American countries. A year later, Glovo acquired six companies from Delivery Hero's portfolio in CEE. 
Before this, the two companies were competing in six countries in CEE (Romania, Bulgaria, Serbia, Croatia, Bosnia and Herzegovina and Montenegro), and three in Latin America (Argentina, Panama and the Dominican Republic). 
Glovo currently operates in 25 markets, Delivery Hero in 49 — and none of them overlap.
"I would say it's quite clear or obvious that there was a 'market sharing coincidence'," says Sophie*, another former senior employee of Glovo who had close experience of the CEE acquisitions.
Glovo tells Sifted that "back in 2020, Glovo and their management team decided to sell all LatAm operations to focus on other regions. There were three different potential acquirers, and in the end, the best offer came from Delivery Hero.
"In regards to the CEE transaction, we were already present in several countries in the Balkans and Central European region. From a geographical perspective, business rationale, and offering in these markets, we wanted to be present in more countries in the region."
Delivery Hero tells Sifted that it does not comment on speculation.
After Delivery Hero bought a 94% stake in Glovo at the very end of last year, the two businesses are now considered to be one company. But the acquisitions in LatAm and CEE markets happened months before the acquisition. 
"What the antitrust [regulator], I think, is chasing is the fact that this split of markets happened before Delivery Hero became majority shareholder of Glovo," adds Sophie. "And if it happened before… they can potentially think that there was an arrangement to split the markets."
The Commission stresses that the raids — when authorities enter companies' premises to secure documents, folders and emails as evidence — are a preliminary step in the investigation and don't mean any of the involved companies are guilty of anticompetitive behaviour. However, the Commission only starts such a procedure if it already has some grounds for investigating a case against a business. 
"They carry out raids where they've already got some evidence, which enables them to form a reasonable suspicion that there's been a breach of competition," said Davis from Pinsent Masons. "It's not a fishing expedition."
If there's enough evidence against a company, Brussels might start legal procedures in the European courts. If the company is found guilty, it could be fined up to 10% of its annual global turnover. 
In response to the EU investigation, Glovo tells Sifted that the company is "confident that Glovo meets all antitrust and compliance requirements, as defined by the law and the initial investigation does not prejudge the outcome of the investigation itself".
Delivery Hero says that the inspection itself doesn't mean that the Commission has concluded that there has been any infringement of competition law. Both companies tell Sifted they are committed to cooperating fully with the Commission.
Tim Smith is Sifted's Iberia correspondent. He tweets from @timmpsmith. 
Zosia Wanat is Sifted's central and eastern Europe reporter, soon to be based in Warsaw but currently in Brussels. She tweets from @zosiawanat