The looming global recession poses a difficult question for startups. Do you consolidate your marketing efforts and limit spending — or push into new markets and open up new channels to grow your brand? 
We put that question, along with others, to a panel of experts in our latest Sifted Talks. 
Our experts were: 
Hannah Wickes, chief marketing officer at Ecosia
SzeKi Sim, senior VP for brand, marketing & communications at Singapore Economic Development Board
Sarah Kiefer, chief marketing officer at Pitch
Claire Grinton, director of brand and creative at Wise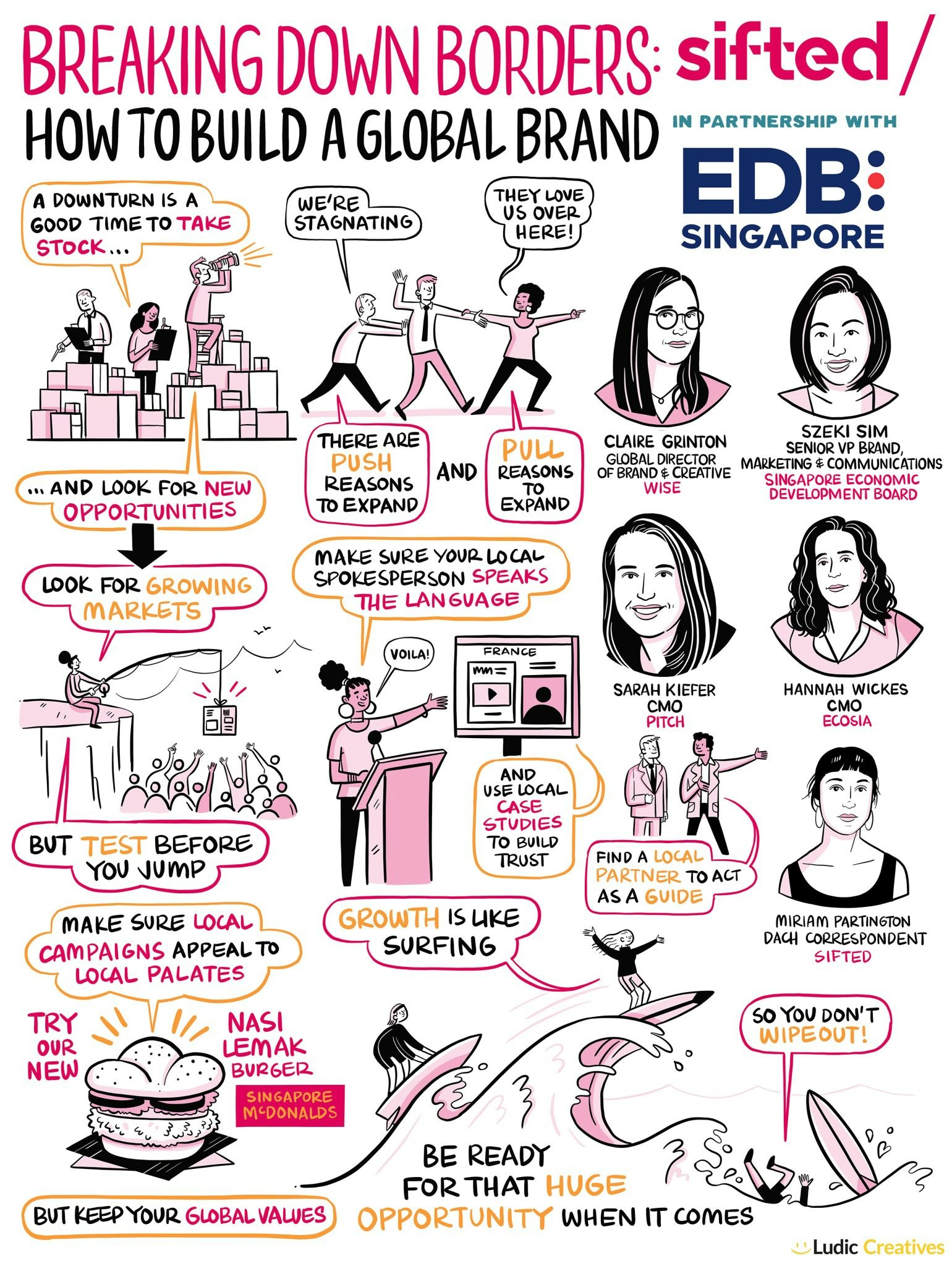 1/ Brave brands will continue to spend, but must re-prioritise
All of our panel agreed that there were opportunities to grow brands, even during periods of economic stress. 
Grinton pointed out there's often a harsher cost associated with not spending on your brand. She said companies that tighten the pursestrings can be outmanoeuvred and displaced by braver operations that build loyal followings in new markets. 
To mitigate some of the risks of expansion, she suggested that founders prioritise markets where their brand already has a good fit — established through research and the testing of marketing materials.
However, Grinton was also clear that businesses working on tighter budgets would have to work on their priorities, or risk spreading themselves too thin chasing instant profits. 
You need to reconsider what success looks like today and what success looks like when we come out of an economic downturn. A brand might feel comfortable as long as healthy brand metrics are still in place and sales take a little bit of a dip" — Claire Grinton,

Wise
2/ Leverage partnerships to understand your new market
Before entering a new market, startups should familiarise themselves with that country or city's ecosystem. Reaching out to VCs, other companies or accelerators that are operating in a new market can open valuable opportunities — and give a better understanding of the needs of your new target audience.
Lim said establishing the right connections can quickly help grow your network. 
Grinton added this knowledge could also help with content creation. By accessing the data and expertise of an established player in a market, you can tailor your content almost instantly.
When you land in a new market, you need to build those networks… You also build and leverage the networks that they have. And you then also learn what's unique in that particular country" — SzeKi Lim, Singapore Economic Development

Brand

3/ Use data to build local strategy

Wickes said that for tech brands, growth can often happen in markets before you've put together a proper strategy. 
She cited two examples: firstly, before Netflix had even launched in Australia, it already had 3m users claiming to be based in the US to access the platform. The other is that Ecosia recently saw a surge of users in the Philippines following the typhoons in May. Many users turned to the green search engine to research tree planting schemes. 
While this sudden growth might not be part of your original plan, it does give you the data to effectively build a strategy in that market. Are users interacting with the product in the same way as in your already-established markets — or do they need it to be tailored more effectively? 
But for companies that don't necessarily have that head start, it's about conducting thorough market research. Then testing campaigns can help you understand the activities of your target audience.  
They might not use the product in the same way. They won't have the brand awareness, they might churn faster, and you have paid the same amount… It varies so much between markets" — Hannah Wickes,

Ecosia
4/ Think globally, but act (and hire) locally
One of the most delicate balancing acts in building a global brand is the ability to retain a clear tone of voice and brand identity while tailoring it to a new market. 
Kiefer used an example from her time with Spotify. Adverts were often created using imagery that would be known universally, before individual marketing teams were given the freedom to tailor copy to their locations. This meant certain turns of phrase or idioms that didn't translate well could be rewritten by native speakers, creating campaigns that spoke to locals and retained the brand voice. 
This example led to a question from the audience: when is the right time to hire marketing teams in new markets? 
Kiefer said the pandemic had made things easier, as research into markets can take place remotely. But ultimately, you will have to empower an expert who understands their market intrinsically to help lead your growth in a new location. 
You don't need to necessarily be physically located in a market in order to start getting into that market. What you need is somebody who understands the market deeply and understands how to operate within that market" — Sarah Kiefer,

Pitch
Like this and want more? Watch the full Sifted Talks here: