We've seen challenger banks for teens; we've seen pocket money apps for tweens; and now, Europe's youngsters are getting a "messenger bank" — an encrypted chatbot that manages users' finances and sends money via Facebook, WhatsApp, Telegram and Viber.
The fintech behind the venture is called Zelf and is on the cusp of launching, having signed up 350,000 users to its waiting list across France and Spain since April.
Unlike its fellow neobanks, Zelf has no app and no physical card. It also has no "offboarding" — meaning users can't withdraw funds once inside. Instead, users will be able to transfer money to other 'Zelfers' or shop via a virtual Mastercard, which integrates with Apple Pay and Google Pay (allowing both online and offline shopping).
Unorthodox as this many sound, the company's executives are no amateurs. Founded by an alumnus of Deutsche Bank, Barclays Capital and BNP Paribas, its team understands traditional finance — they simply want to rewrite the rules to meet the needs of a generation it reportedly 'gets'.
So is this the new future of banking? Or is this a long-shot, that's overly reliant on the goodwill of Big Tech and security short-cuts?
Friction-free banking
There's no doubting Zelf's speed.
It takes seconds — literally — to open an account. After clicking on a launch link, a new conversation with Zelf pop opens on WhatsApp or Facebook and promptly issues users their own IBAN account number and virtual card, which they can transfer money to and 'top up'.
Users don't even need to prove their identities until they've spent or received over £150, in what the company calls a "light KYC [know you customer]" approach. Zelfers can, therefore, get up and running almost immediately — even if they aren't over 18 — without leaving their favoured app.
In comparison, setting up a new bank account requires a visit to the app store, an average of three days, and at least 24 clicks to onboard and receive a working card.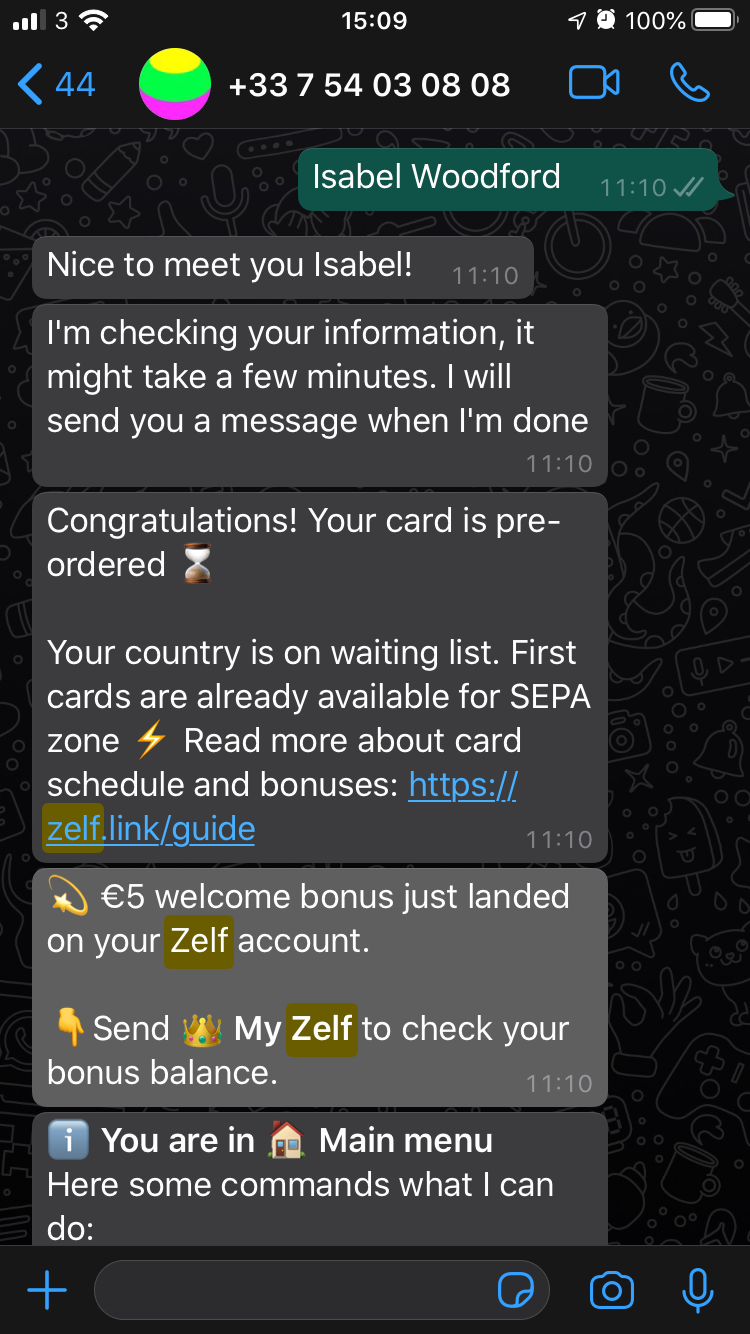 Zelf is not only speedy to sign up to, however. It also fixes the burden of having to jump across multiple financial apps to send money.
"These [social media] apps are where people spend 65%-84% of their screen time... so we haven't built our own app by design. We want to make it more frictionless, just like sending a message," Zelf founder Elliot Goykhman told Sifted in an interview, speaking from his native Russia.
"Let's say you were talking to your sister on Facebook, you can send the money you owe her straight on there... She can even sign up directly on Facebook," he notes. Even modern banking apps like France's Lydia create new pain-points by prompting a download and a lengthy signup process, he argues. 
Indeed, as long as users can convince all their peers to sign up to Zelf, there's no doubt it could make peer-to-peer money transfer in Europe far easier - inspired by China's 'messenger bank', WeChat. It also possibly speaks to Gen Zs and millennials' short attention spans — an average of 8 seconds and 12 seconds respectively (apparently).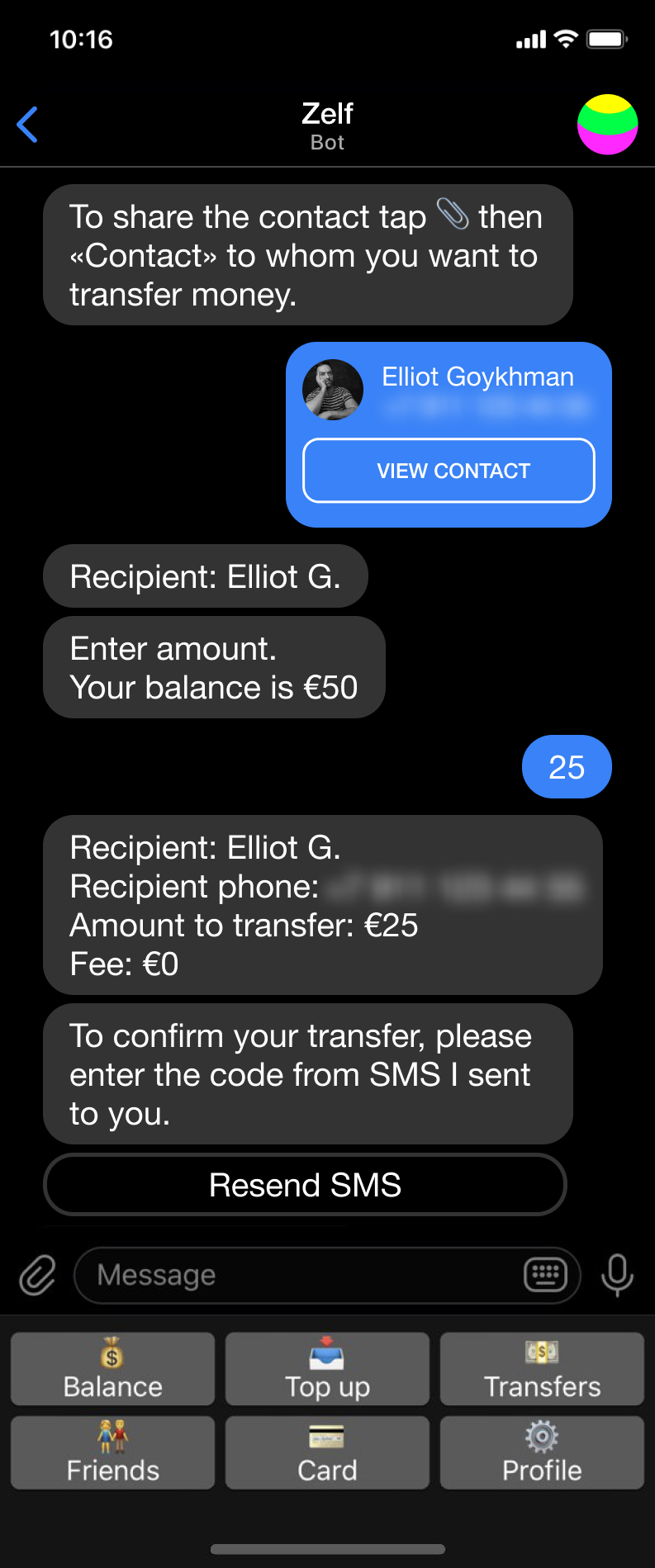 Fintech consultant Aman Kohli argues there's likely a winning banking model lying within.
"From a 'go to where your customers are' perspective, this is right, and allows simple and direct interaction with customers. The more powerful [social media] platforms can give interaction as good as an app... [So] it will free up banks and others from doing half-hearted, limited functionality app," he told Sifted. "I would consider [using] it."
A fully virtual experience could certainly hold appeal for digital innate millennials — especially in the gaming world. 
Zelf also acknowledges the fact that not everyone uses Facebook and our contacts are spread across different platforms, says Oxford University professor Pinar Ozcan, who teaches on fintech innovation at the Said Business School.
"This is probably a good attempt. It takes advantage of the fact social media are owned by different entities. So if it works seamlessly without opening different accounts, that would be interesting," she tells Sifted.
Notably, India's Kotak Mahindra Bank and ICICI have already introduced a basic WhatsApp chatbot so clients can check their balance. Meanwhile, Zelf also began as a white-label provider for Russia's MTS bank before branching out itself — suggesting this space is proving popular even among big institutions.
Trusting a faceless bank
Zelf's enviably low cost-base is a badge of honour for the company.
"[We have] no delivery costs, no app support, no branches," Zelf noted in an email to Sifted, adding it is was "built with profitability in mind".
Still, it's unclear if this extraordinarily 'light touch' will prove too light for its users. Gen Z — classified as those born after 1996 — are no fools and still require companies to win their trust, says next-generation fintech specialist and investor Yann Ranchere.
"You still need to convince them that you can be trusted. We've seen that across some apps, users do still have a genuine care for 'is it safe," he tells Sifted.
To guarantee users' privacy, Zelf also put its faith in social media platforms' claims to encryption — despite none being independently regulated or validated.
Nonetheless, Zelf — which is currently based in Latvia — has tried to establish its credentials by partnering with external banking platform Treezor, which is connected to Societe Generale. All users' funds will be housed there, providing a layer of familiarity for those who read the fine print.
Zelf has also focused on implementing a high level of security, offering two-factor-authorisation and SMS-messaging confirmation for payments.
Additionally, although it's a grey area, it's within European legislation to do light KYC up to £150. Beyond that, users must text a photo of their ID and proof of address, which Treezor will process on Zelf's behalf within 24 hours ("We would not be a good tool for illicit activity"). The company, therefore, won't yet be able to provide full services to under 18s, who need their parents' permission to complete KYC.
Third-party obstacles?
Another concern for Zelf is competition; indeed, Facebook is planning its own global peer-to-peer payment solution in Libra.
Ranchere argues that this could remove the need for external players — even ones that can cut across several mediums, given many Gen Zs only rely on one messenger platform.
Zelf is also dependent on Facebook and WhatsApp's survival and permission to operate; yet these platforms could suddenly close down or evict Zelf.
Nonetheless, founder Goykhman is not worried about that prospect, arguing the social media giant would be abusing its monopoly and wouldn't want to attract the attention of a lawsuit.
"We are not worried about being kicked off. What we are doing is fair use — they let other banks on there [to communicate with clients]... Facebook has been under a lot of scrutiny," he told Sifted.
He also points out Facebook hasn't been overly successful in its payment plans to date, having scrapped previous efforts in the UK last year. Telegram, another messenger app, also abandoned plans to launch its own crypto-based money service this year.
Lofty ambitions
To avoid further comparisons with Facebook Pay, Zelf is quickly moving beyond the peer-to-peer service.
By year-end, it hopes to offer full-use virtual cards, loans and ready-made invoices for Premium users — a nod to the younger generation's financial drive and ability to earn money as influencers or online.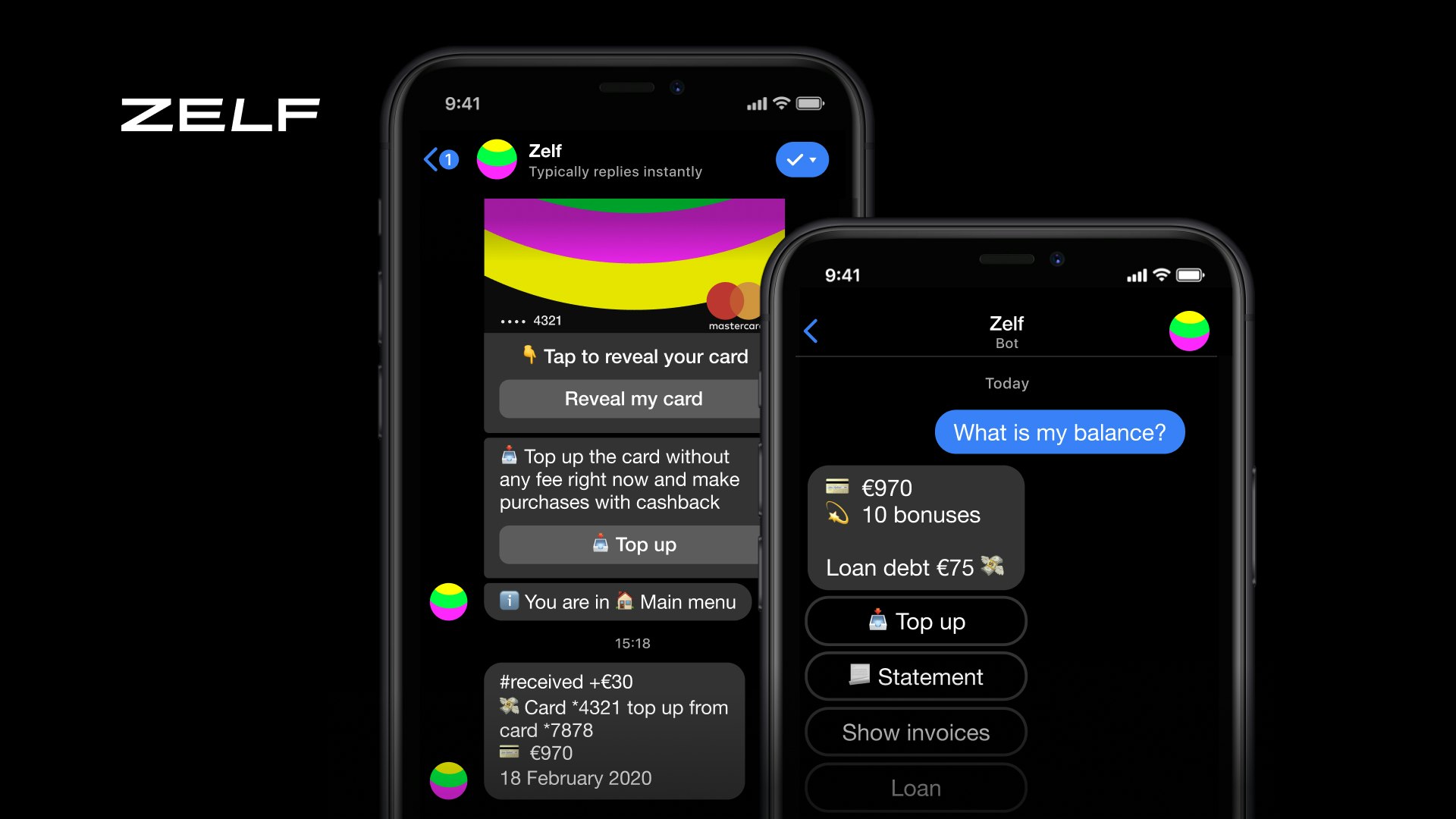 Zelf's launch will come complete with buzzy influencers and a competition for the Zelfer who can refer the most signups and help build the community. The prize is a bright green Tesla.
The goal for Zelf now is to onboard 1m users within 12 months. And crucially, these new "Zelfers" should be reasonably active - they'll only secure their free credit once they make their first top-up and transfer, rather than upon signup as other neobanks have done.
The 12-person team is now also set for growth, as Zelf looks for €1.5m in external investment. It is currently self-funded.
It then plans to expand into Italy, Portugal, Poland and Germany, leveraging the legislation that cuts across EU's "Single Euro Payments Area."