There are generally two types of venture capitalists: those who jump for publicity — turning to Twitter as a personal megaphone — and those who are so discreet you barely know they exist.
UK investor Ian Osborne unequivocally falls into the latter camp, running a billion-dollar venture fund called Hedosophia so shrouded in secrecy that few know it's one of Europe's most serious fintech investors.  
The fund's website is a stand-alone homepage without any portfolio details, external links or contact information; it makes no appearance on fundraising press releases, and it can only be identified on public investment records by its initials (HS). 
Osborne himself enjoys a mysterious status too. The 37-year old Londoner has a similarly scarce digital footprint and rarely speaks at public gatherings or startup conferences. He is described by one acquaintance as a strangely elusive "Gatsby-esque" figure, known in elite circles for hosting prestigious private dos where guests reportedly include the likes of Bill Gates.
Yet despite sitting in the shadows, Osborne's fund Hedosophia has built a remarkable portfolio of some of Europe's best-known financial technology startups. These include Transferwise in the UK; Billie, Raisin and Wefox in Germany; and Alma, Lydia and Qonto in France, Sifted has learned.
Remarkably, Hedosophia is also the largest investor in $3.5bn German fintech N26 with 15% of the company, closely followed by Valar Ventures, Peter Thiel's VC, and Earlybird. Hedosophia partner Philippe Teixeira da Mota sits on the advisory board. This was first reported in January by German trade-publication Finance Forward.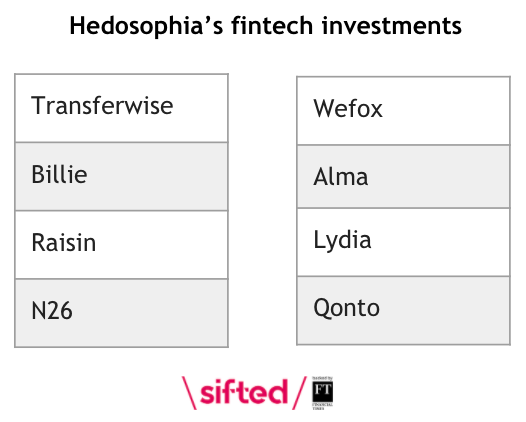 Founded in 2012, and typically investing between $10m and $30m at the Series B level, Hedosophia also has a notable portfolio in China with standout fintechs Ant Financial — now worth over $100bn — and Lufax, a local credit broker, valued at around $40bn.
Hedosophia has also invested in several later-stage fintechs in the US, including Oscar (an insuretech valued at $3bn), Acorns and Stash.
It's unclear in what geography its next investments will be, but one founder told Sifted the fund has recently looked at tech deals in Italy and Spain. Beyond finance, Hedosophia has also already invested in Spanish food-delivery company Glovo.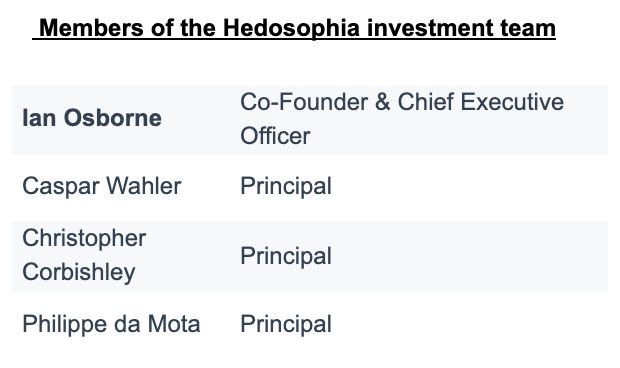 Osborne: the man behind the money
Given the weight of its investments, it's natural to ask who is financing Hedosophia. 
Public SEC filings in the US show that Hedosophia now manages around $1bn in equity investments, but its investors are unnamed. VC investors are usually made up of pension funds and family offices, but sources close to Osborne assume his enviable, international network of politicians and billionaires are also among the fund's LPs.
"Ian works more on the fundraising side [of the fund], and Philippe [de Mota] is more the investment brains," one founder close to the fund told Sifted, adding that the close-hub of partners work "really well as a team" and are "more flexible than other VCs."
Indeed, Osborne — who declined to comment for this piece — is known to have unofficially advised the likes of former British PM David Cameron as well as having had business-mogul-turned-Presidential-candidate Michael Bloomberg as a client.
Osborne's powerful network has grown rapidly in just over a decade. He started building his now-formidable Rolodex of contacts aged 26 in 2009, when he cofounded Osborne & Partners (O&P), a strategic and reputational advisory firm, described by peers as something of a "fixer-slash-PR" company for high-net-worth individuals in tech, politics and business.
His consultancy brought him into contact with some of the biggest names in tech. By 2013, he was hosting a lavish party in Davos alongside billionaire entrepreneur Sean Parker and Salesforce.com CEO Marc Benioff.
The party, according to reports at the time, was themed like a "taxidermy" emporium with stuffed animals and animal heads on the walls. John Legend was playing, bartenders called "Liquid Chef" juggled drinks and the president of Goldman Sachs and Wikipedia inventor Jimmy Wales were some of those in attendance.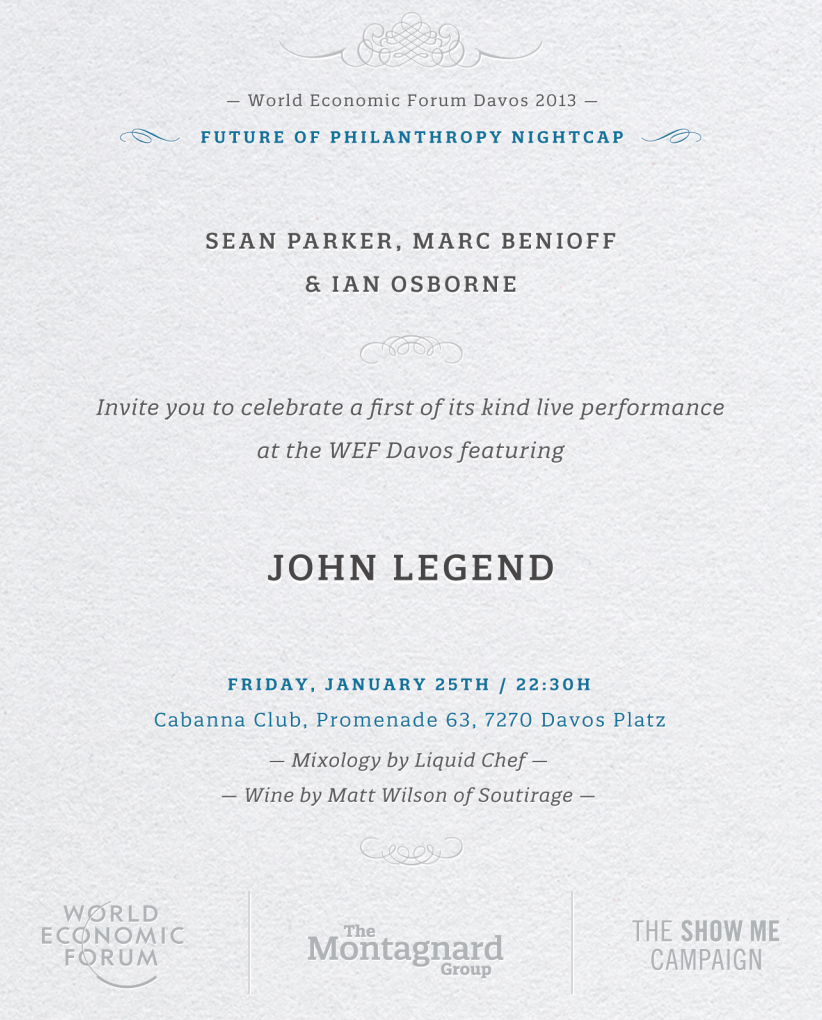 "His access is pretty extraordinary," one of Osborne's party-attendees told Sifted. "He does lots of high-level introductions, like celebs who want to get into tech," but added that "it's weird in terms of how little you know about him [personally]."
A year later in 2014, it was Osborne who organised a now-infamous dinner between senior executives at Uber and some of the biggest media figures in the US such as Huffington Post's Arianna Huffington, the New Republic's Chris Hughes and iHeartMedia's Bob Pittman. At the dinner, the Uber SVP of Business Emil Michael reportedly made threatening remarks about mounting a smear campaign against journalists who wrote negative stories about Uber.
That same year, Osborne co-founded boutique investment bank Connaught. The company, which offers financial advice and shares the same registered address as O&P, later made headlines when it transpired it had muscled into taking a piece of the Snap IPO alongside big investment banks Morgan Stanley and Goldman Sachs in a remarkable coup.
Osborne & Partners was formerly closed down at the end of last year, but it was rebranded into a private office called O&P Management.
Today, alongside running a venture fund and international consultancy, Osborne is also privately an angel investor. He has backed the likes of Babylon, Thread and Dice alongside DeepMind founders Demis Hassabis and Mustafa Suleyman. Osborne's latest seed investment is in Garrison, a UK cybersecurity start-up, Sifted has learned.
This powerful social circle puts Osborne and his fund inconspicuously at the heart of some of Europe's biggest startups — whether you know it or not.