"What's it like being a food delivery courier during the middle of a heatwave?" That was the question I WhatsApped to Ashan Ali, a food courier working for Barcelona-based food delivery company Glovo, as temperatures soared across Europe in July.
"I can explain to you today," he replied. "If you've got a helmet you can come with me for two or three hours over lunch to see what it's like."
Next thing I know, I'm leaving the safety of my air-conditioned office and stepping out at midday into 35C heat and 60% humidity with a backpack full of water and a face covered in SPF 50 suncream.
Ahsan, who lives a couple of streets from me, meets me on his moped with a grin on his face. 
"Ready to get hot?" he asks, chuckling. I am, most definitely, not.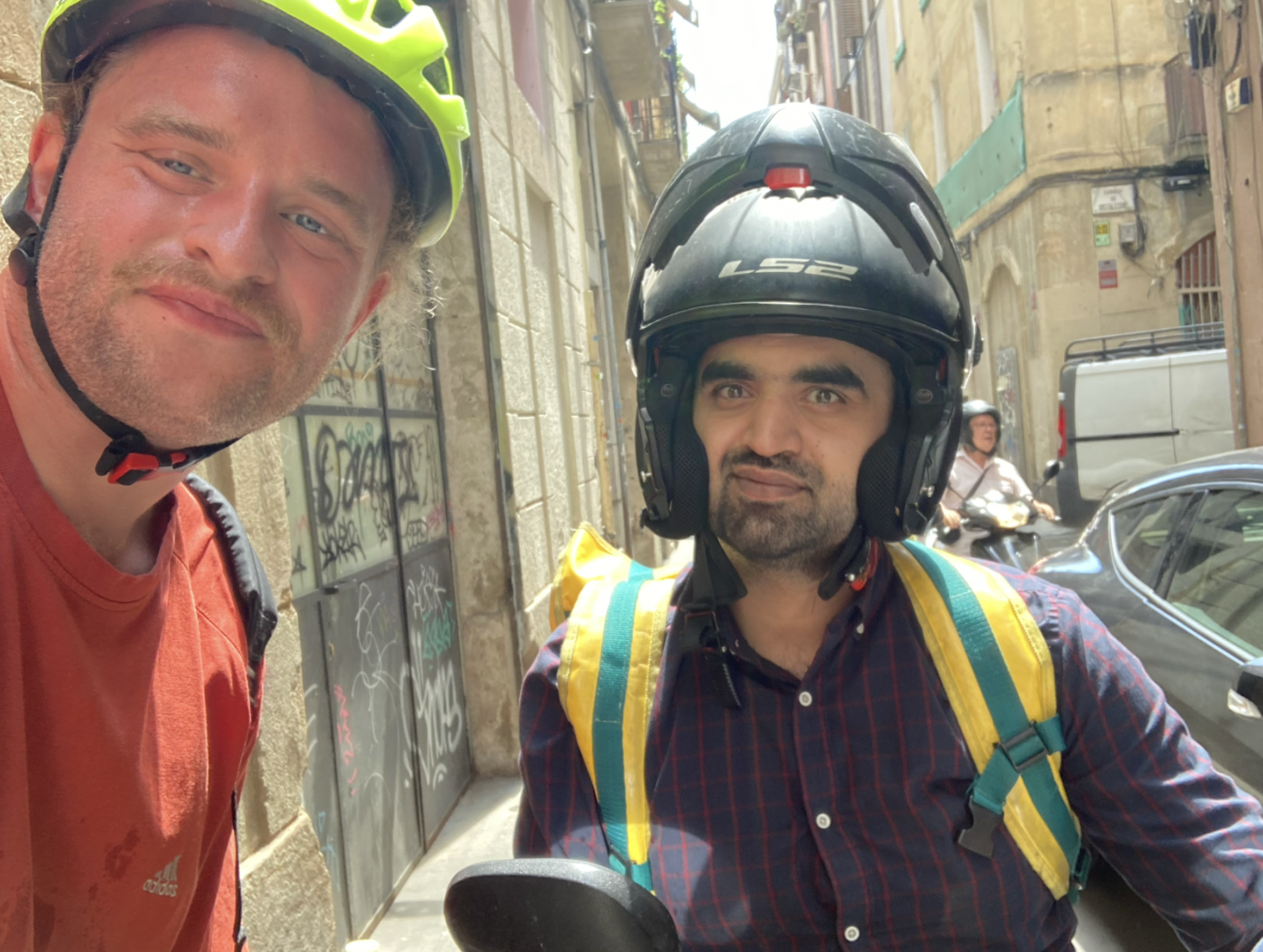 Doing the rounds
While temperatures in Barcelona haven't quite reached 40C yet this summer, the humidity can often make you feel like you're moving around in a steam room, even in the shade. Normally I'd avoid strenuous activity at this time of day like the plague. 
Ahsan has other plans for me today though.
I'm using an old-fashioned pedal bike to follow him around, so I'm delighted when he tells me we'll have to head uphill, to a more affluent end of town, to give ourselves the best chance of getting some orders. 
As I pant and heave my way up the incline, it's not long before the sweat begins to stream down my face, mixing with the suncream and stinging my eyes.
It's worth adding here that my experience of two hours spent following Ahsan over lunch is in no way physically comparable to a real shift for a food delivery rider. Ahsan tells me that couriers will generally work minimum eight-hour days to try and earn a decent wage, while carrying their own water on their back. There's also the added weight of the food they're transporting (orders weigh an average of 800g, according to Glovo, and couriers can ask to have a heavy order split with another courier). 
That said, it's still a good opportunity to meet riders and hear what they have to say about working a midday shift in the height of summer.
"It's oppressive and exhausting, working all day under a raging sun," says one rider outside a trendy vegetarian restaurant who didn't want to be named. "You hear about people like street cleaners who are dying, people fainting with heat strokes. Thank God that hasn't happened to me, I try to take precautions, but it's still a bit scary."
Another courier, Muhammad Juanaid, tells me that he'd suffered from heatstroke and dizziness while out doing orders.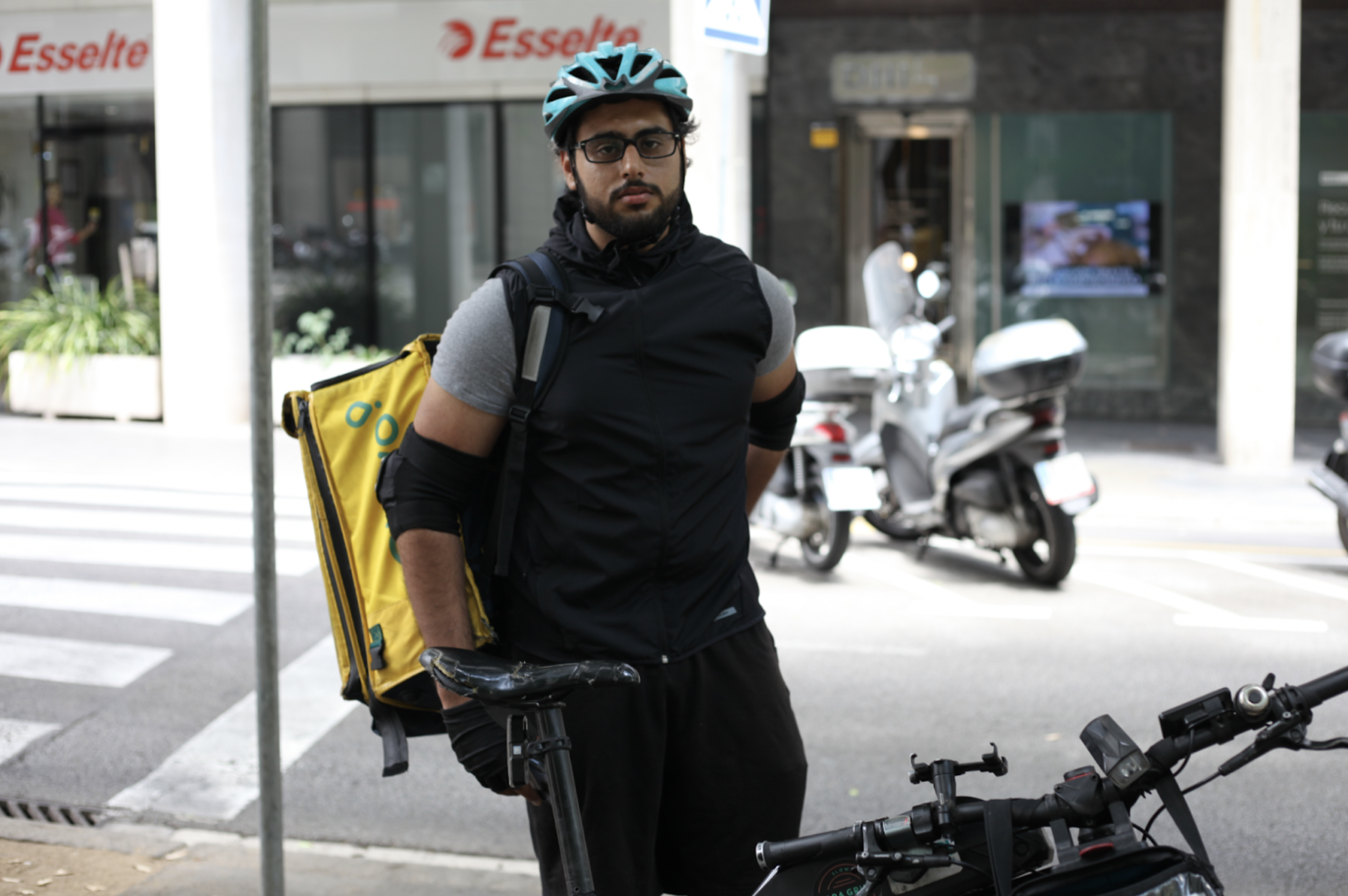 "It's dangerous. There's a big chance that you'll get heatstroke. Recently I was delivering an order and I suddenly felt dizzy and nearly fell off my bike," he says. "I always get home feeling tired and dizzy after working 14 hours in the heat."
In response to these comments, Glovo told Sifted that the company takes the health and wellbeing of its couriers "very seriously", encouraging them not to work longer than 10-hour days in extreme heat. It also says that riders in need of medical attention are covered by the company's insurance.
Thankless
Apart from the indecent levels of sweat running from my pores, following Ahsan around is a big lesson in another of the harsh realities of working for a gig economy app: the algorithm.
We're out on the road for two hours, going between the restaurants that are known to be busiest at this time of day. At each, we find groups of riders waiting outside on benches, hoping for an order.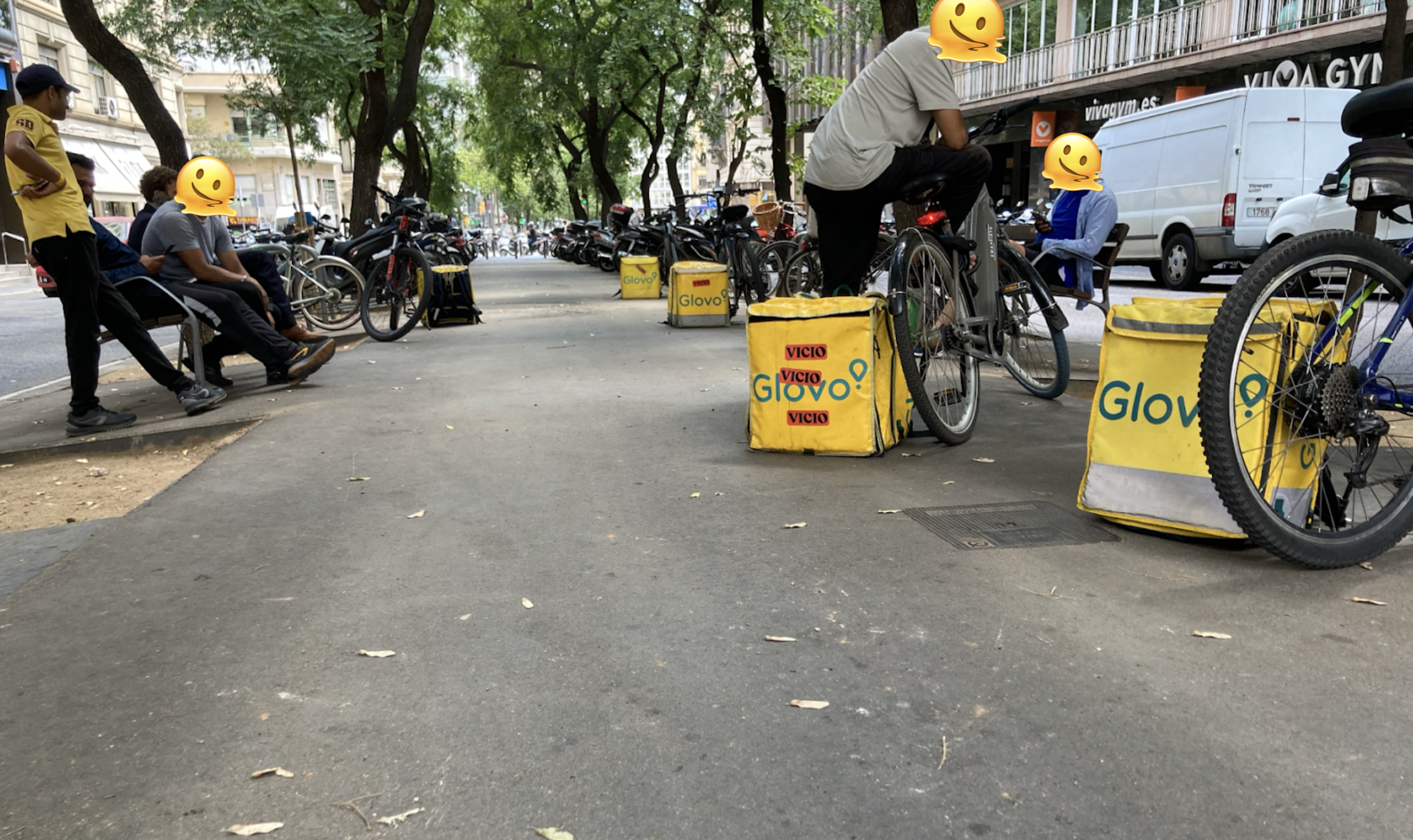 "They don't tell us how the algorithm works. All we can do is try and be in the right place and wait, but it's not like the first one who arrives here will get the job," he explains.
Another rider, Munawwar Iqbal, believes the value of drivers' waiting time isn't acknowledged.
"They take this waiting time from us," he says. "They are benefitting from us being out here. Without us, there is no service."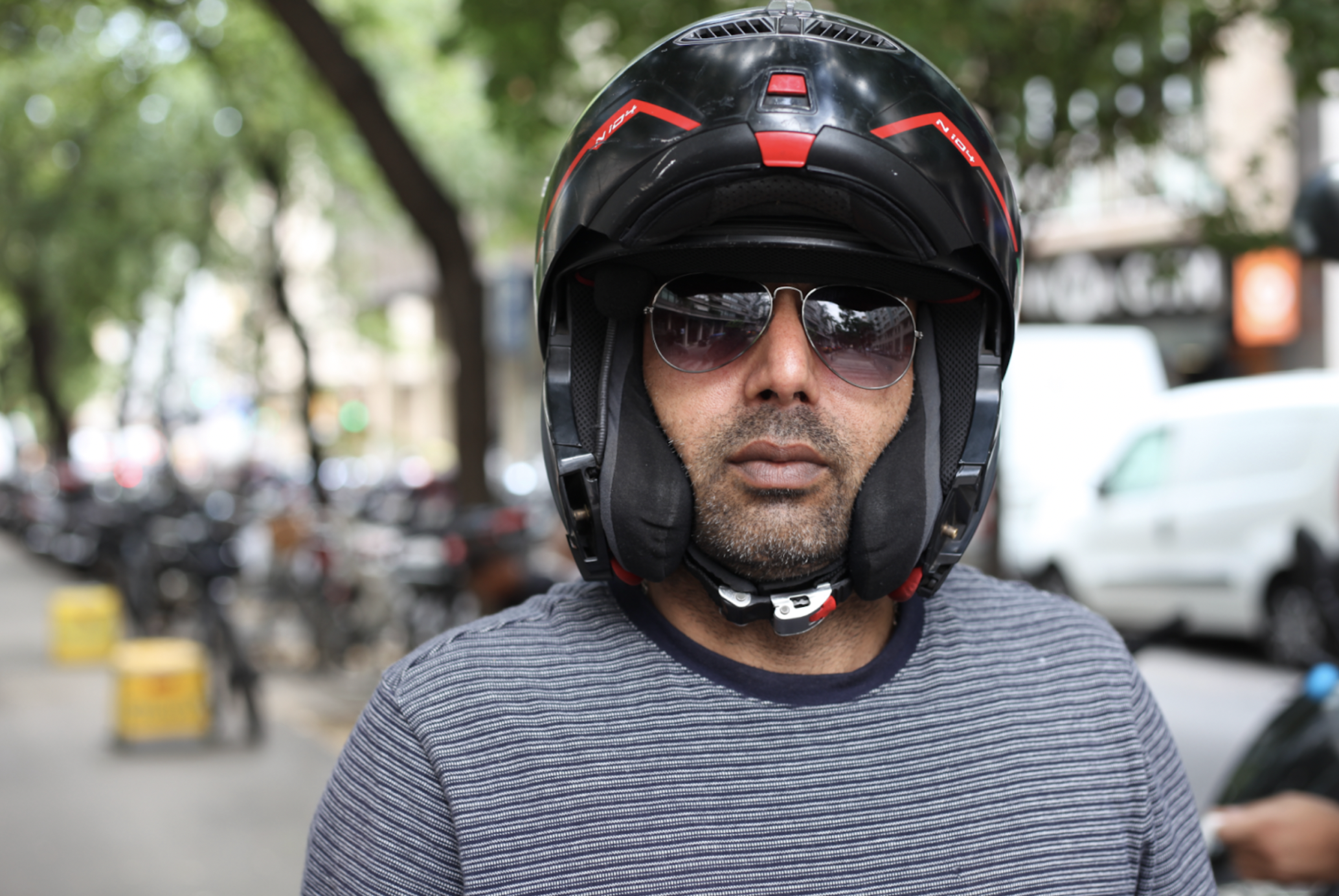 After trying our luck waiting outside four different restaurants and a "dark kitchen", two hours later Ahsan still hasn't been given any orders. 
"Two hours being out on the road and I make no money," he says, before suggesting that we head back home so he can have a nap before heading out later that evening.
What can the platforms do?
Many of the drivers I met suggested that a surcharge should be introduced during extreme heat. Drivers are already offered more money during rainy or stormy weather, to entice them out. All of them said that the large restaurants with app partnership agreements should, at a bare minimum, offer to give couriers water during high temperatures.
"We are not animals. We are human beings. Look, you have cycled for just 2km in this heat and you're thirsty," Ashan says, as I glug, trying to replace some of the water that I've sweated out. None of the restaurants we visited offered us a drop. "Why can't partner restaurants provide us with essential things?"
In response, Glovo told Sifted that it does collaborate with local restaurant partners to provide water to couriers.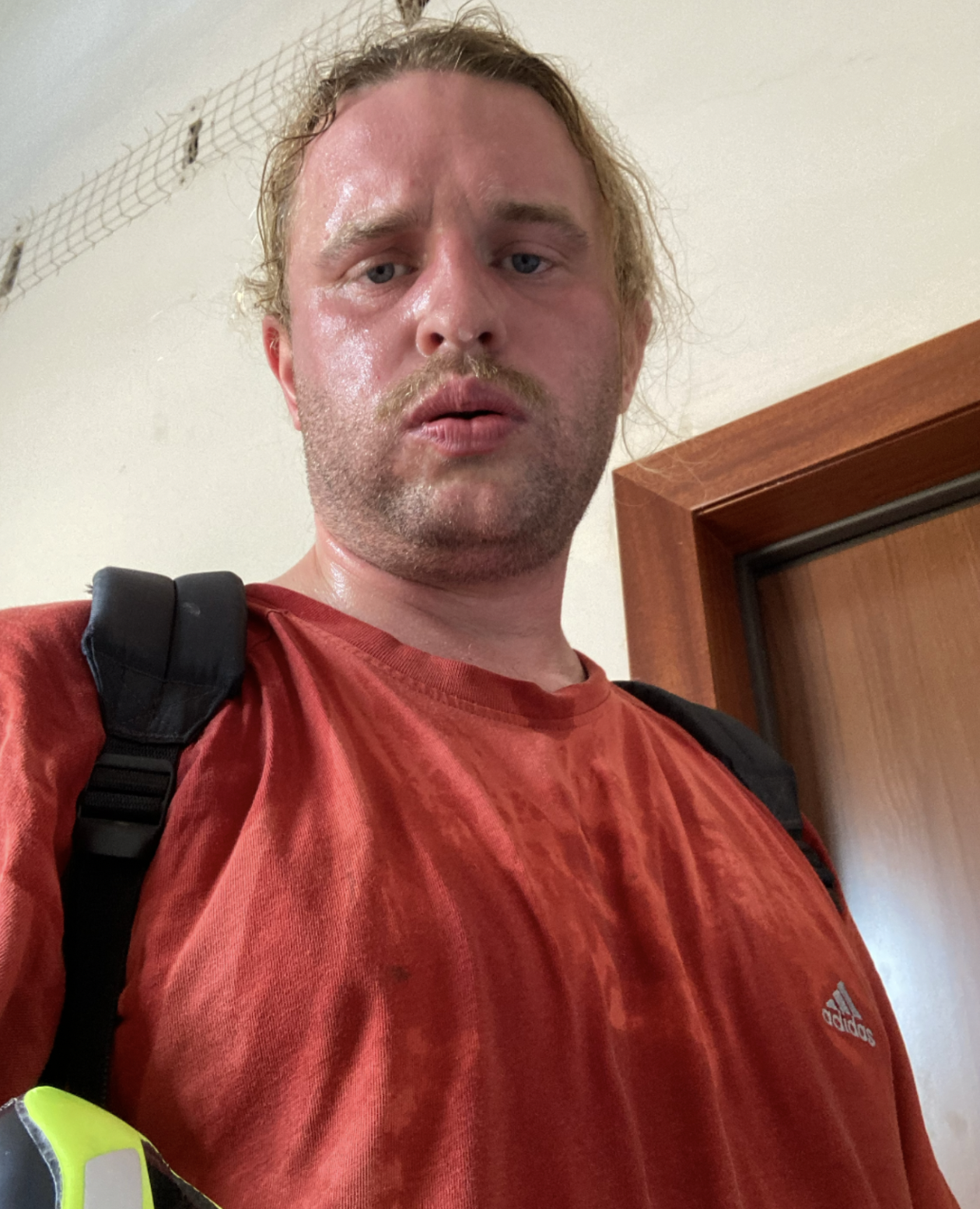 Sifted also asked a number of Europe's other biggest food delivery platforms what they've been doing to look after couriers working in extreme heat. Many repeat the mantra that, in most European countries, the couriers aren't their employees and they're not obliged to work during the extreme temperatures.
"Riders have the freedom to choose their shifts and opt to work during the cooler hours, yet we haven't seen a decline in riders at hotter times of the day," Delivery Hero (Glovo's majority shareholder) said in a statement.
Helsinki-headquartered Wolt has published tips on the importance of drinking water, wearing sunscreen and taking cold showers to its riders. 
Glovo offers similar advice: "We keep couriers informed about the importance of staying hydrated and indicate the nearest location where they can pick up water as well as the locations of public drinking water fountains."
But for labour rights activists — and for couriers themselves — these actions are just the tip of the iceberg of needs.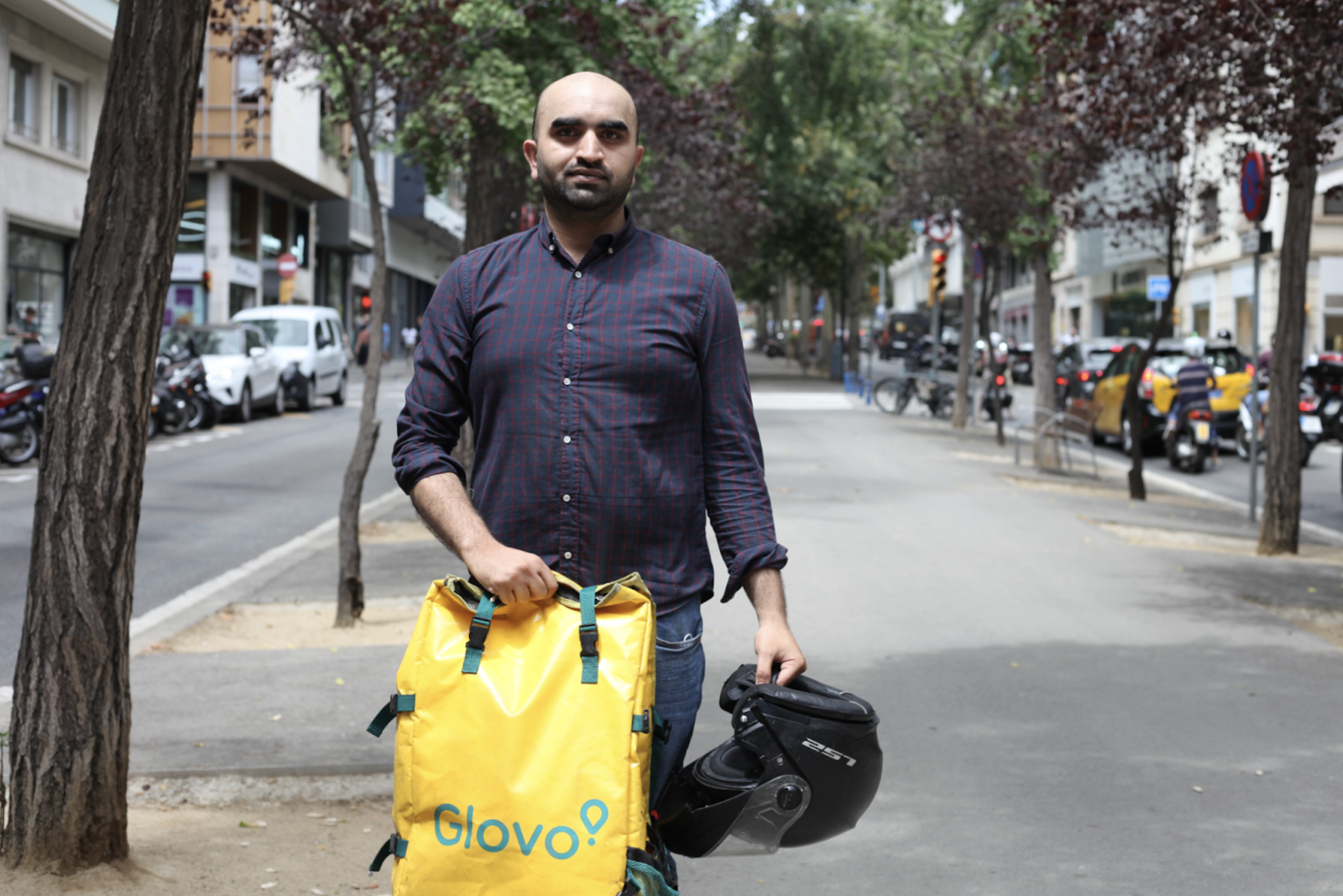 "Your parents can tell you things like: go take a cool shower, or make sure that you hydrate," says Oguz Alyanak at FairWork, an activist group which wants to improve platform workers' rights. "It's good that this advice is out there. But there's nothing else, nothing that we don't already know was really provided by the platforms."
He adds that in case of extreme heat, the delivery companies could do much more than just providing advice and free water. For starters, they could reduce the radius in which couriers operate to reduce physical exertion and allow them to get paid time off during the hottest hours.
"These are extraordinary circumstances," Alyanak adds. "When it comes to traditional workspaces, indoor workspaces, there are certain regulations that the workplace cannot exceed, for example, 26C. Do we have those kinds of regulations or do we have a body that really monitors those kinds of regulations in the platform economy? I haven't come across  one yet."
He stresses there should be EU-wide regulations that would ensure the safety of gig economy workers under extreme conditions, such as heatwaves. 
"We're not just talking about protection of workers," he adds. "We're talking about protection of human lives."
Tim Smith is Sifted's Iberia correspondent. He tweets from @timmpsmith 
Zosia Wanat contributed additional reporting. She tweets from @zosiawanat