Consumer fintechs which are not developing a corporate offering are setting themselves up to fail, according to the chief innovation officer of French bank Societie Generale.
In an interview with Sifted, Claire Calmejane said that challenger banks still lag far behind her employer because they tend to focus exclusively on retail users, where unit economics are poor.
"A lot of [consumer] fintechs were saying 'we're going to take over.' But very quickly...they were confronted with reality, and they understand that it's not so easy," she said. 
She argued that to survive, neobanks must develop business-to-business (B2B) capabilities — just like big banks did. 
"Fintechs can only [take] the opportunity if they have a B2B proposition," she noted, explaining "neobanks have to optimise the cost base."
A handful of companies are already doing this. UK digital lender OakNorth branched out from lending to selling its risk-analysis technology, Revolut is also building a payments stack for merchants, while Starling has dabbled with banking-as-a-service provisions.
Yet generally, fintechs suffer from a lack of diversification, thereby putting big banks far ahead, Calmejane says ("We [currently] do different things...we do more"). She added there's no evidence of the mantra that "incumbents are dead" and still thrive in areas like private banking, wealth management and trading.
By extension, she expects smaller consumer fintechs to eventually look for fire sales. 
Against the tide
Calmejane's diagnosis of how to save consumer fintechs is strikingly at odds with the broad consensus, which is rapidly moving towards specialisation — drilling down on set products. 
One well-known fintech founder recently told Sifted that if consumer fintechs can't keep up, they're better off closing rather than getting distracted by a B2B offering. 
"Consumer will come under enormous attack from big tech and big retail (like Walmart). Consumer banking will be so aggressive, that diversifying [and losing focus] actually risks success."
The person added: "If you can't make it work without subsidising, why are you doing consumer? Why not [just] do B2B?" 
Another approach taken by neobanks more recently has been to target very segmented audiences — again deviating from big banks' mass consumer play.
Yet while Calmejane's solution may be disputed, there is general agreement that consumer fintechs have battled to monetise their superior user interfaces. 
As such, investors are also starting to look to other areas where there are better unit-economics. A Sifted analysis showed that funding for B2B fintechs overtook consumer fintechs by $2bn last year.
A rising star
While Calmejane's perspective may not be popular, she is broadly admired in the fintech community, according to half a dozen founders interviewed by Sifted, who say she has helped break the bank's "innovation curse" since joining in late 2018.
In particular, the 36-year-old has earned herself credibility as one of the 6% of bank executives with a tech background (she's an engineer by training), and as a cheerleader of France's blossoming fintech scene.
Her role stretches from spearheading acquisitions, managing a cohort of 60 intrapreneurs, oversight of the bank's €150m fintech venture fund (which has backed 5 startups so far), and even giving small debt lines to new digital lenders like Mansa.
"There is not a day where I don't have contact [with fintechs]," she tells Sifted.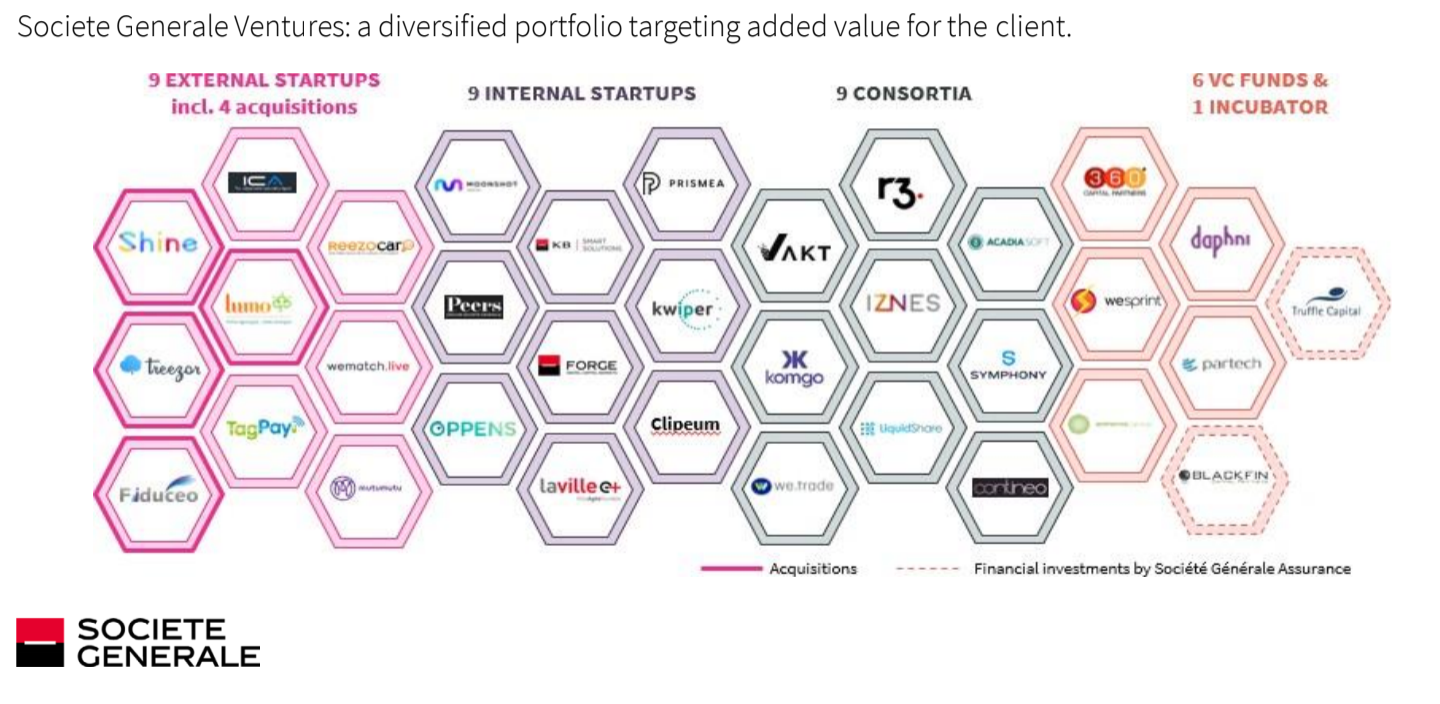 Calmejane also offers a reminder that the fintech ecosystem stretches far beyond digital banking. She muses on the rise on banking-as-a-service platforms and blockchain, for instance — both of which SocGen has dipped its toe into.
By extension, she says much of her attention is on finding B2B fintechs who can help defend, streamline and grow SocGen's main revenues lines — for instance, in 2020 the bank spent €4.4bn on IT. 
Indeed, Calmejane is among the bank's top echelons, reporting directly to the chief executive.
The acquisition warpath
SocGen has embraced a 'buy not build' approach within its retail arm, acquiring two online banking subsidiaries so far.
SocGen bought Boursorama in 2015, and then late last year, under Calmejane's stewardship, it bought Shine — a small but not insignificant neobank for freelancers.
"They seem to be one of the only banks who understands that it's probably smarter to acquire a good product rather than building one internally," Shine's Head of Product, Arnaud Babol, told Sifted.
Calmejane explains that SocGen bought Shine for its "brand" — a difficult asset to replicate — and, for now, the bank seems willing to keep it as a standalone entity.
Nonetheless, the purchase of several pre-profit neobanks has also raised some eyebrows.
"I wouldn't have paid €100m for Shine," one fintech founder laughed, referring to the figure SocGen is rumoured to have purchased it for.
Meanwhile, Boursorama still sits on legacy infrastructure, points out Hughes Le Bret — who sold his neobank Compte-Nickel to rival BNP Paribas.
"[Boursorama's] online bank operations are still processed on the Caixa old core banking system…[It's] nothing of a fintech even if they have good...online journeys," he told Sifted. 
The Boursorama division also posted losses of €50m in 2019, despite becoming SocGen's flagship digital retail bank and attracting 2m customers — making it the French market leader.
It's a reminder that acquiring fintechs is not a simple fix, echoing the fallout seen at Spanish giant, BBVA, following its acquisitions of Holvi and Simple.
Equally however, banks like RBS have struggled to build retail products internally, scrapping its £100m digital bank Bo less than 6 months after going live.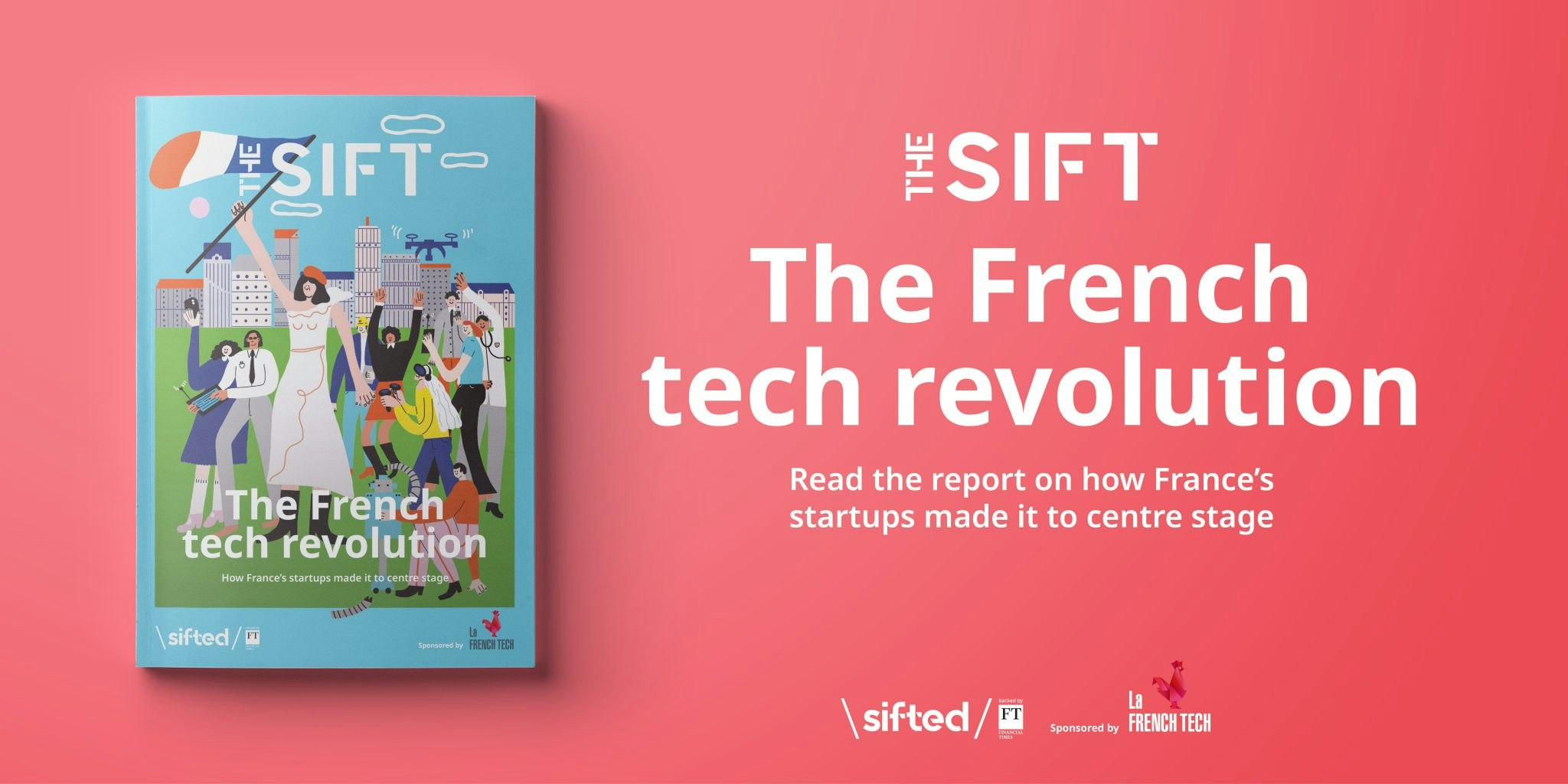 Tech: banking's secret weapon
In the longer term, there is a method to the madness behind SocGen's acquisition blitz, its sprawling fintech programme and even Calmejane herself.
SocGen has the smallest market cap of France's top banks, hence why it's working more intensely on its fintech projects, according to one French investor.
"If you look at the size of SocGen or Credit Agricole or BNP Paribas, SocGen is the smallest. So instead of competing with size, they have to compete with all sorts of different things," he tells Sifted.
"It's figuring out how to do more with less...There is tremendous rivalry."
Calmejane is clearly pivotal in this respect. 
She embodies technological ability and experimentation, positioning herself alongside fintech innovators at countless conferences.
Her challenge now is to make SocGen one of the few banks that can truly innovate, overcoming internal politics and digital headwinds in the process.
It can be done — look at Goldman Sachs, which has successfully launched its online savings bank Marcus, a partnership with Apple on its credit card, and is powering Stripe's Treasury project.
Nonetheless, SocGen still has a giant hill to climb if it wants to join Goldman, says the French venture insider.
"It's trying to do a Goldman [Sachs], but it's not as organised or performing quite as nicely...yet."