The battle is on for who will be top dog in the big fintech rebundling.
Curve, the London-based company that wants to unify all your bank accounts into one app, has just raised $55m in a Series-B round to help push forward its vision of becoming the "Spotify of banking."
The financing round, led by Gauss Ventures and including Creditease and IDC Ventures, values the company at $250m, putting it within spitting distance of Starling Bank in the UK (although quite a long way the Monzos, Revoluts and N26s of the sector).
N26 Group - funding so far €466m, valuation €2.4bn
Transferwise - funding so far €360m, valuation €3.11bn
Monzo - funding so far €390m, valuation €2.2bn
Revolut - funding so far €309m, valuation €1.89bn (2018 estimate)
Starling Bank - funding so far €280m, valuation €334m-€500m
Monese - funding so far €73.1m, valuation €14.5m-€21m
Source: Dealroom
Curve, which launched in February 2018 and has some 500,000 customers so far, isn't aiming to be a bank, but is building an over-the-top banking platform, that would combine any collection of traditional bank accounts and new financial services into one place to simplify what has become a fragmented customer experience.
"We are not telling you, 'hey, create an account with us, and move your salary to us'. We just ask you to connect all your existing accounts and cards into one through us," says Shachar Bialick, founder and CEO of Curve. This approach means Curve can manage with a smaller funding round, he adds.
"You need a lot of money to challenge [the incumbent] banks, because you need to spend a lot of money to acquire customers. You need a bit less money just to build a new category on top of them. We don't need all the regulatory compliance that [challenger banks] need as a bank."
Curve  aims to launch officially in France, Germany, Italy, Poland, Portugal and Spain later this year and aims to launch its operations in the US by mid next year.
The big rebundle
A big "rebundling" in fintech has been predicted for some time, similar to what happened in the music industry.
Some 20 years ago groups like Sony Music or Warner used to handle every part of the production of music, from scouting new artists to distributing the CDs to customers. Apple Music began to dismantle their business model with the idea that you could buy individual songs for 99 cents a piece, and music companies like Deezer and Pandora allowed fans to discover music without setting foot in a record store. Youtube made it possible for anyone (even Justin Bieber) to become a star from their bedroom, no music labels needed.
After a while, however, customers found the fragmentation confusing, says Bialick, an Israeli serial entrepreneur who talks at lightning speed as he explains the theory.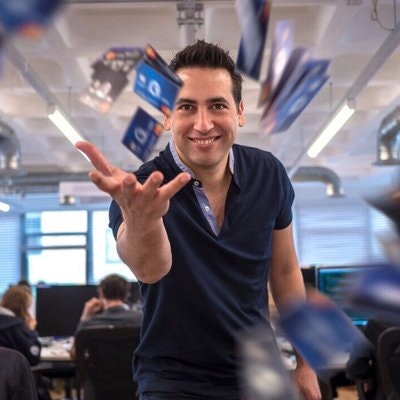 "Then Spotify comes along and rebundles distribution back together into one platform. Spotify is also starting to identify rising artists and pushing them to the discovery channel. So that fact of Spotify has become Sony or Warner Group Music, but as a different type of company," he says.
Fintech is going through the same cycle. For years fintech challengers have broken off and remade small niches of the banking sector: Transferwise for foreign exchange for example, MoneyBox for managing investments or PensionBee for tracking pensions.
Bialik's theory is that customers will want to simplify all these fragmented financial services into one place again, and he wants Curve to be the place they do it.
He's not the only one who wants to be Spotify, of course.
Who gets to be Spotify?
Challenger banks like Monzo and N26 also want to be the financial services marketplace, and everyone has been forming partnerships. Monzo and N26 Group offer their customers access to the Transferwise foreign exchange service, while Starling Bank offers its users access to pensions management app PensionBee and investments through MoneyBox.
Owning the customer relationship is crucial when it comes to the new fintech companies, says Alistair Newton, fintech analyst at Gartner.
"The new challenger banks don't charge a lot for day to day banking services, so it is difficult for them to make money from that. They are more interested in data - being able to analyse what you are spending on and recommend products to you based on that. The more data that flows through their platforms the more powerful they become," he says.
Revolut is your iPod, we are

Spotify.
Bialick is hoping, however, that Curve's status as an independent will help it gain an edge. "Revolut is your iPod, we are Spotify," he says.
The real threat, he adds, may be coming from places like Asia, where companies like Ant Financial, Tencent and Grab, have already been bundling financial services for some time. Everything from banking payments, lending and investment management (sometimes with a bit of ridesharing and messaging thrown in) is already thrown into one mobile app.
And if the big tech giants decide to make a play for this area in Europe, Curve will have a lot more than Monzo and Revolut to worry about.
"The concern I have is with the Googles and the WeChats of the world. Those giants will eat us alive if they move in this specific direction. The only advantage we have is that we are focused on one specific ball game," says Bialick.