In the startup world money talks, meaning the finance team is an essential part of any business. But 40% of finance professionals are thinking about moving on from their current role. 
Hoards of people are leaving their jobs in the Great Resignation, spelling big trouble for employers. So what's the best way to turn the tide? Do employees need more flexibility in their roles, or is it just a case of more free snacks? 
In our recent Sifted Talks, we asked our panel what startups can do to find and retain talent in finance teams. Our experts were: 
Xavier Castellana, chief financial officer of Typeform, a Spanish SaaS company which builds online surveys
Guillaume Nordlinger, portfolio finance lead of Partech, an investment platform for tech and digital companies
Erin Reiger Zas, chief people officer of Spendesk, a spend management platform for finance teams
Here's what we learned.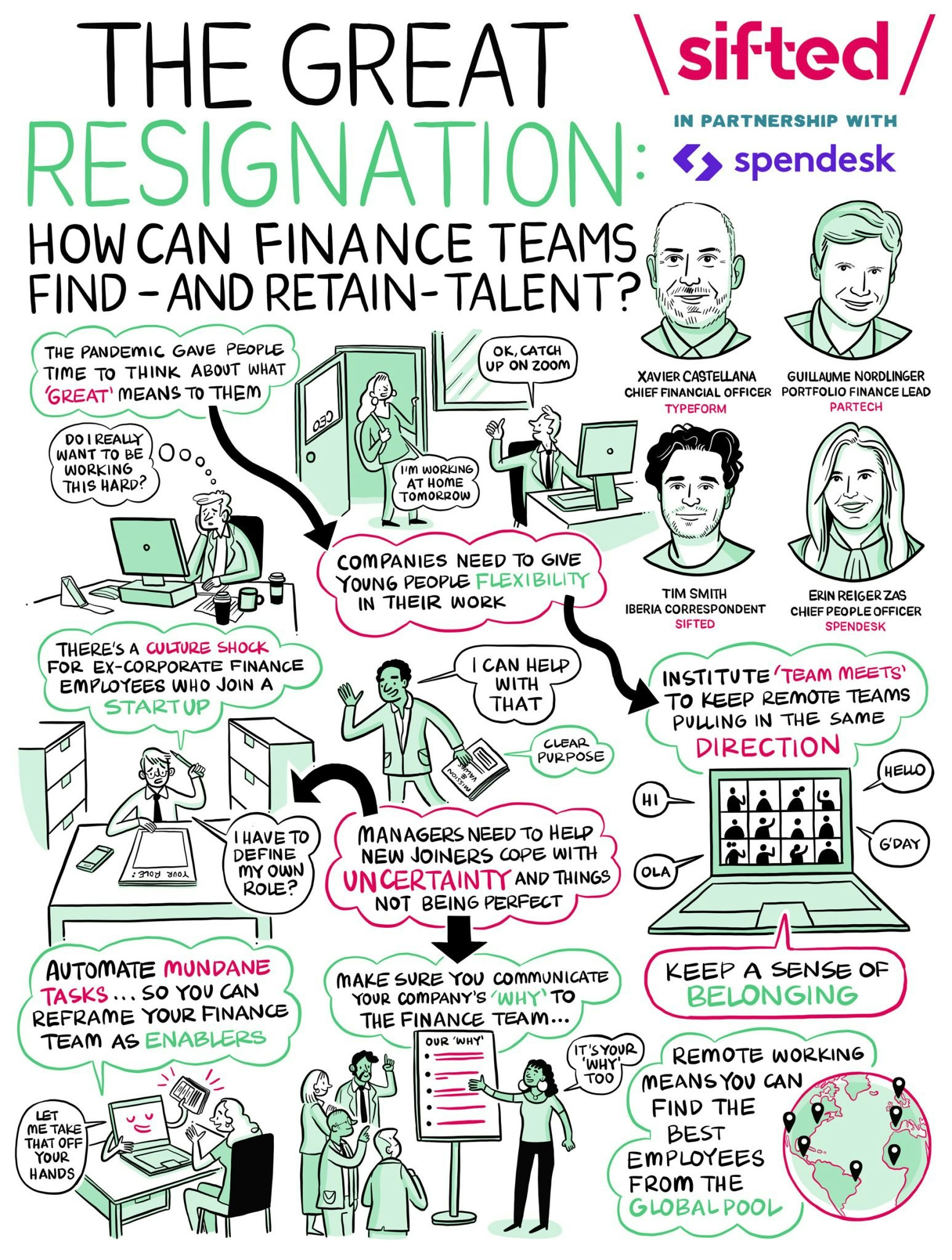 1/ Keep the finance team connected to bigger team — and big picture
In startups, it's common for employees to wear a range of different hats, meaning finance teams get stuck in on more than just accounting. But Castellana said finance teams sometimes need help to see how they fit into the wider picture.  
Nordlinger agreed and added that some finance professionals can be introverts, so it's extra important to have a culture of connection when employees are working remotely or based in different places. Daily meetings, for instance, can be invaluable.
During these check-ins, it's not important what they talk about. Sometimes it's about business, but sometimes it's just small talk. It keeps people linked. it's super important for finance people, especially as a lot of them are introverts" — Guillaume Nordlinger,

Partech
2/ Offer freedom and flexibility
Reiger Zas said employees want freedom and flexibility. This includes how, when and where they work. To achieve this, employers need to be clear from the start on what's negotiable — and what isn't. 
If we're still working in traditional ways that are pre-pandemic, from 9am to 6pm, and require several days in the office, young people are not interested in that. They have way too many options right now" — Erin Reiger Zas,

Spendesk
3/ There's no one size fits all
It's not just young tech and finance bros — our experts emphasised how the struggle to retain talent applies across a wide range of employees and sectors.
Reiger Zas said that a useful trick is for startups to think of employees as customers: there is no one-size-fits-all approach. For example, she said new mothers returning to the workplace might need extra time to adjust to the environment.
You need to create a space for diversity, you need to positively embrace diversity. Especially women leaders. It will help other people to mirror hiring practices in terms of gender, different ages and country of origin" — Xavier Castellana,

Typeform
4/ Startups aren't for everyone
Nordlinger said finance professionals often come from large corporate environments with a defined structure and job role… which, well, startups lack. Some people can find this overwhelming or frustrating. Castellana, who made a similar move earlier in his career, described it as a culture shock. 
To nip this in the bud, Zas said that startups can use the interview process to determine if prospective employees have the right mindset and use case studies to see if they are the right fit for a startup. 
It's important to help young people make that transition into ambiguity and uncertainty, but also interview against it. You need to be able to help young people go through and position themselves in this new environment and decide if they want to opt in or opt out. It isn't for everyone" — Reiger Zas,

Spendesk
5/ Automate, automate, automate
Nordlinger said that finance teams have to rely on basic tools such as spreadsheets to do their work when a startup is still young. This can leave employees feeling annoyed or bored. But he added there are many tools that can help with their workload and prevent it from becoming mundane.
We encourage finance teams in portfolio companies to work on reviewing processes. Really thinking through how we do things and where we could automate to free some time for most people" — Nordlinger,

Partech
6/ Be prepared to let people go
However, it's sometimes inevitable that employees will leave a startup, as remote working has opened up a pool of talent. 
Nordlinger said that the nature of a startup lends also itself to a high turnover of people. When a company first starts out, finance people need to be able to do everything. But as the company grows and scales, employees need to be more specialised and experienced in their roles and you have to let the early joiners leave. Startups need to plan for this, recruit differently and anticipate who they will need when. 
You need to make sure as a leader and chief financial officer that you are not creating a ceiling for your team. You need to think of what will be needed one year from now, two years from now, from yourself and your team. You need to help people have a proper career path in order to contribute to the objective of the company" — Castellana,

Typeform
Liked this and want more? You can watch the rest of the Sifted Talks here: