Female founders are more likely than men to attract later-stage venture capital funding, according to a new report from the Female Founders Forum.
The data from the UK shows that, once funded, the percentage of startups with a female founder that raised additional rounds of capital is 52%, compared to 51% for male-led startups.
While only a marginal difference, these statistics shine a stark light on how by far the biggest hurdle by far for female entrepreneurs comes in the initial stages of setting up a business, rather than later on.
In the early stages, the figures in funding are dismal for female-led startups, with just 21 per cent of female-founded startups winning any investment at all.
But after winning first-round funding the situation improves markedly, with female-founded startups even going on to raise cash more quickly than male-founded ones. 
For startups five or more years on from their first raise, 66.5% of female-founded startups secure a second funding round, compared with 62.8% for male-led startups. By this point, female-led startups are also slightly more likely to have secured a third funding round, with 42.8% having done so compared to 41.8% for startups without a female founder.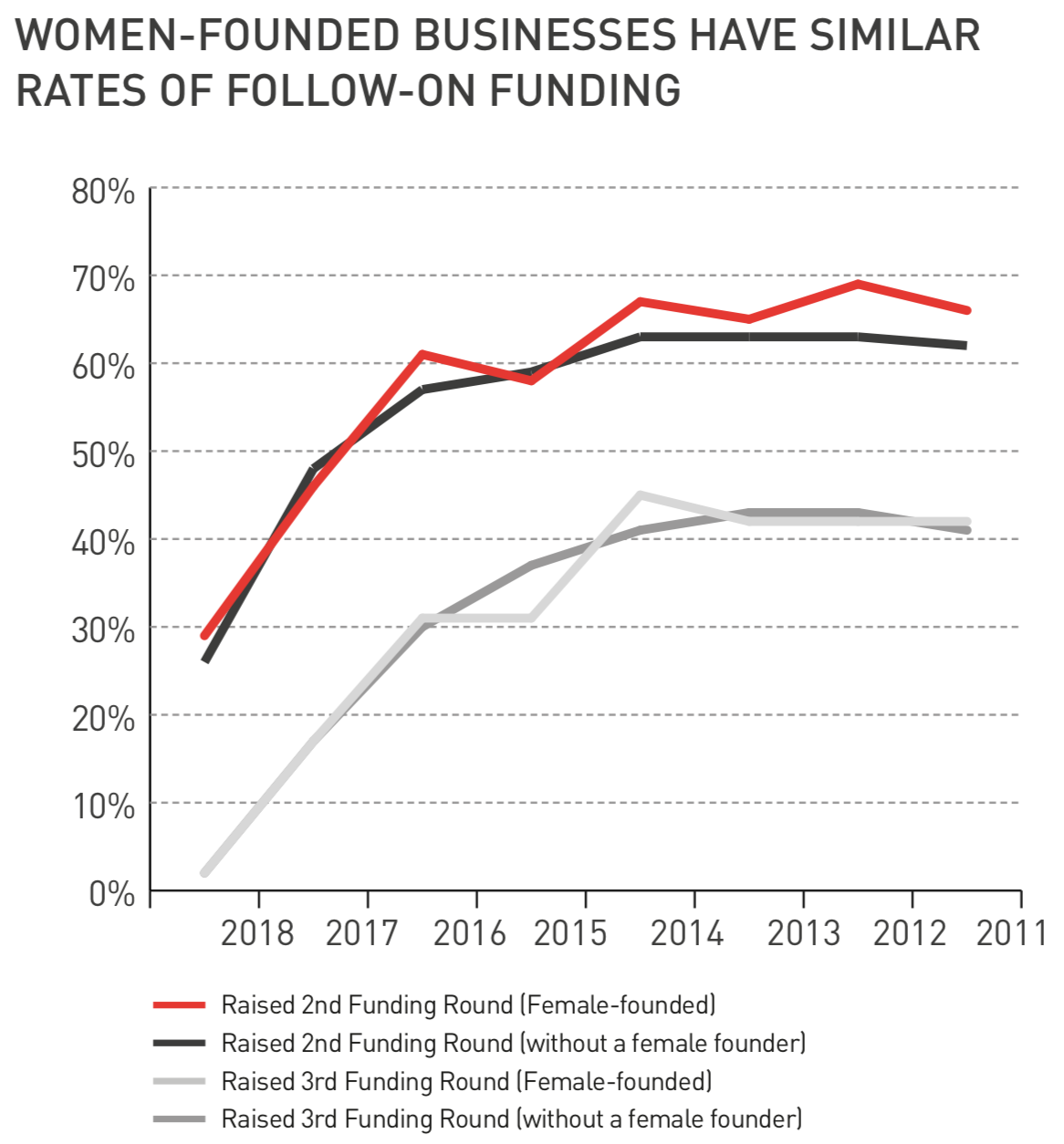 Source: Female Founders Forum
In this study female-founded businesses are defined as startups which include at least one woman in the founding team (even if it has a man too).
The report is based on UK data, but the same kind of pattern can be found elsewhere. 
Research released last week about the US startup ecosystem showed that, once funded, female-founded startups raise on average over 25% more in venture capital funding than those with all male teams. 
The US-based research found that this apparent advantage for female teams strengthens with each successive funding round.
To see our list of diversity support groups across the UK (and beyond) - click here.
In the UK, some of the biggest raises came from female-founded startups last year, including £117.5m from biotech startup Orchard Therapeutics and £38m from cyber defence company Darktrace.
Annabel Denham, head of the Female Founders Forum, emphasised the importance of female networks and role models. 
"We need more investment to pour into these firms, more female networks and many more role models to inspire the next generation," she said.