Across 2020, the limits put on the movement of goods and people by coronavirus has forced the mobility sector to reimagine itself.
Back in March and April, it looked like several of the much-hyped scooter and food delivery startups in Europe were going to have a very rocky year — but nearly all have bounced back again, buoyed by booming consumer interest in micromobility and online delivery. 
New data from VC firm White Star Capital shows that, despite these hiccups, the amount of funding going into the European sector in 2020 is nearly at last year's level. What's more, the continent's investment has dipped the least out of all areas around the world. 
Despite this, and despite consistent growth in investment going into European mobility startups across the last decade, the continent still trails Asia, where most investment goes, as well as North America.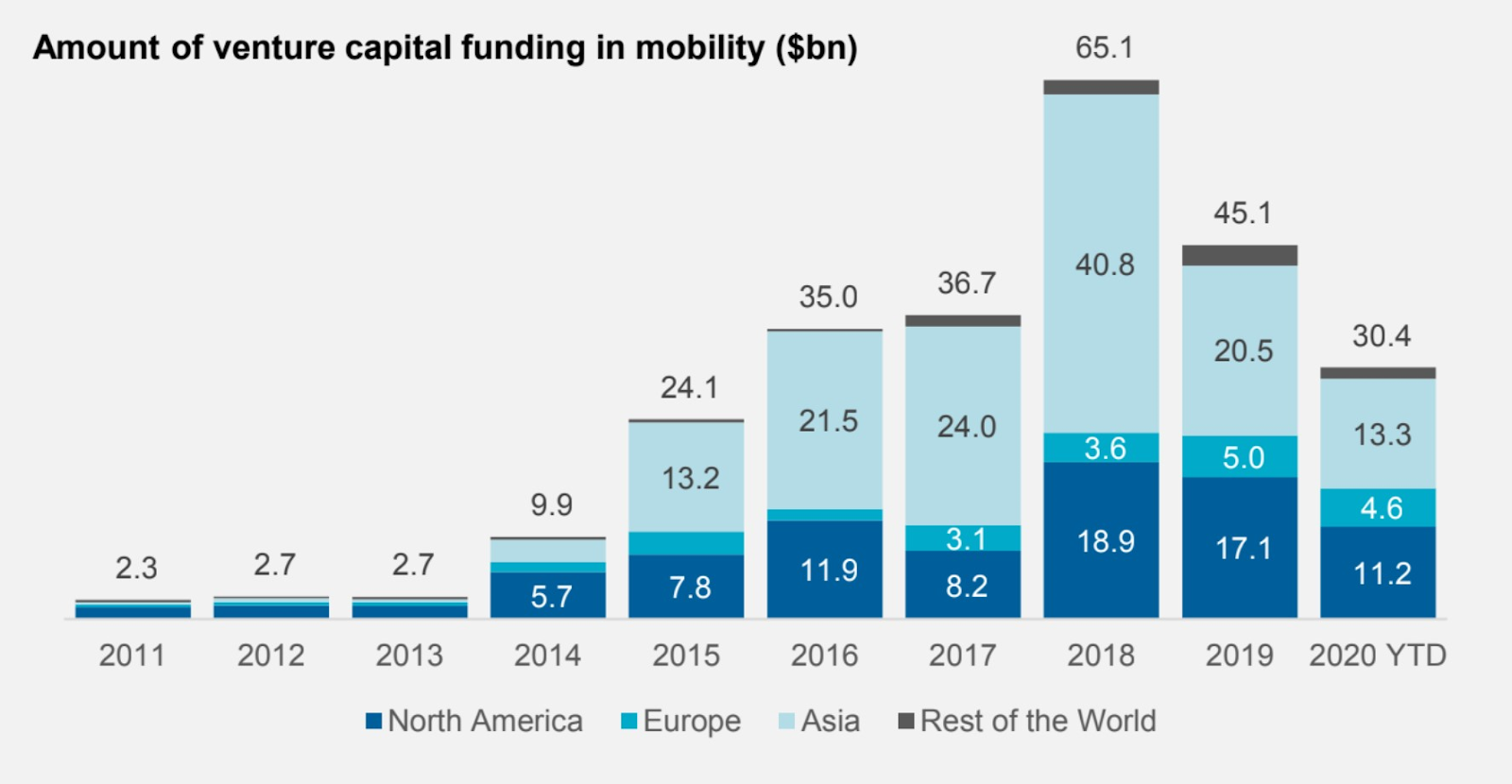 In 2020, Europe's seen the same number of deals so far as Asia, but the total value is considerably less. The US saw more deals than both Asia and Europe, but the value per deal was significantly less than Asia.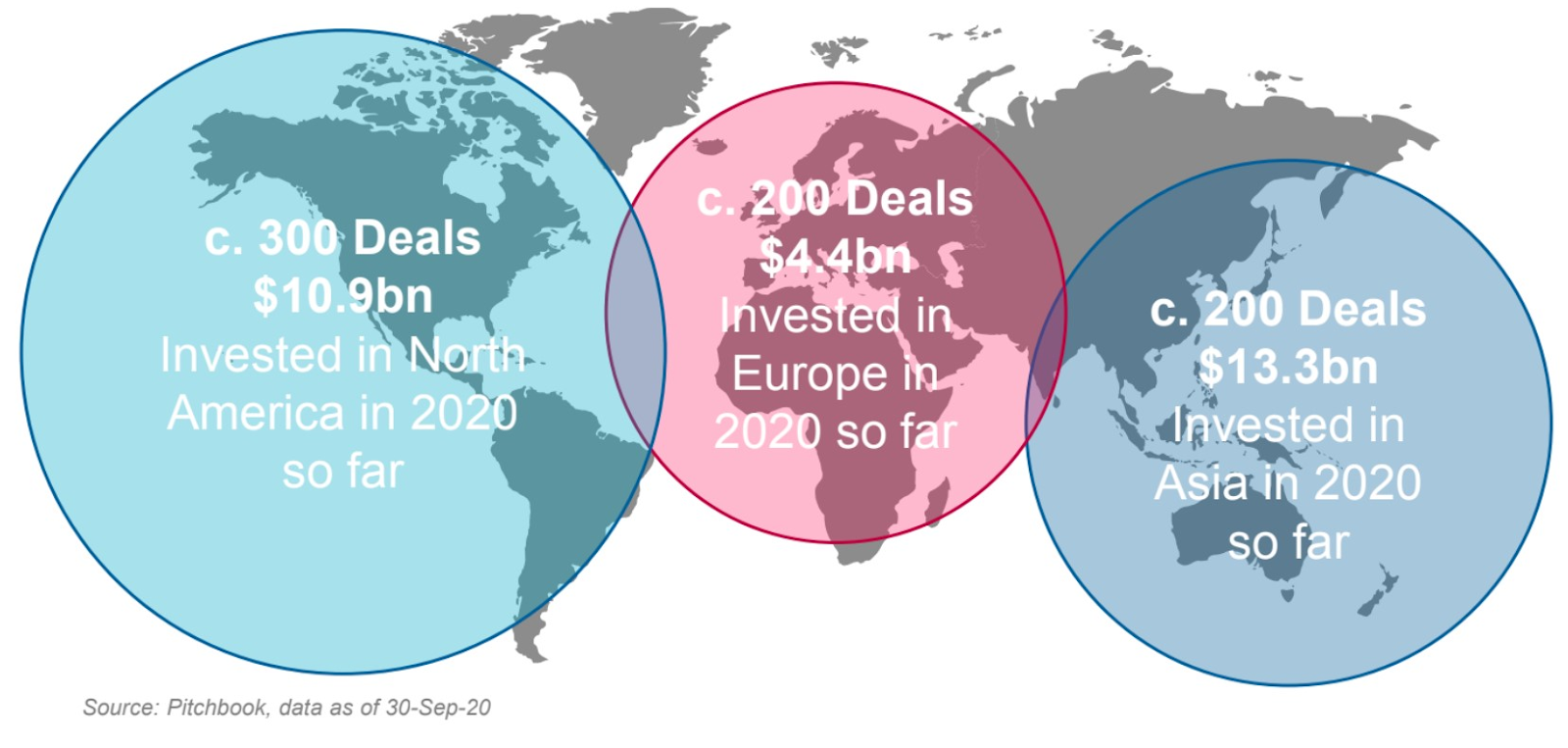 Europe's mobility sector is maturing
In line with the mobility sector around the world, Europe's mobility deal landscape is maturing, with more and more companies securing later stage deals.
20% of deals secured by European mobility companies are now at Series C stage or later, an 146% increase on the share that later stage deals represented in 2018.
Europe's unicorns
There are 89 VC-backed mobility unicorns around the world, most of which are in North America. 
Europe's home to nine of them. Three of those are from Germany: used-car trading site Auto1, long-distance bus service Flixbus and electric air mobility company Lilium. There are two from the UK, food delivery service Deliveroo and online car marketplace Cazoo. 
Then there are three ride-sharing/ride-hailing companies, Spain's Cabify, Estonia's Bolt and France's BlaBlaCar, as well as Sweden's Northvolt, which develops batteries for electric vehicles.
European exits
Along with North America, Europe has been the most active region in terms of the number of exits by mobility companies across the last decade.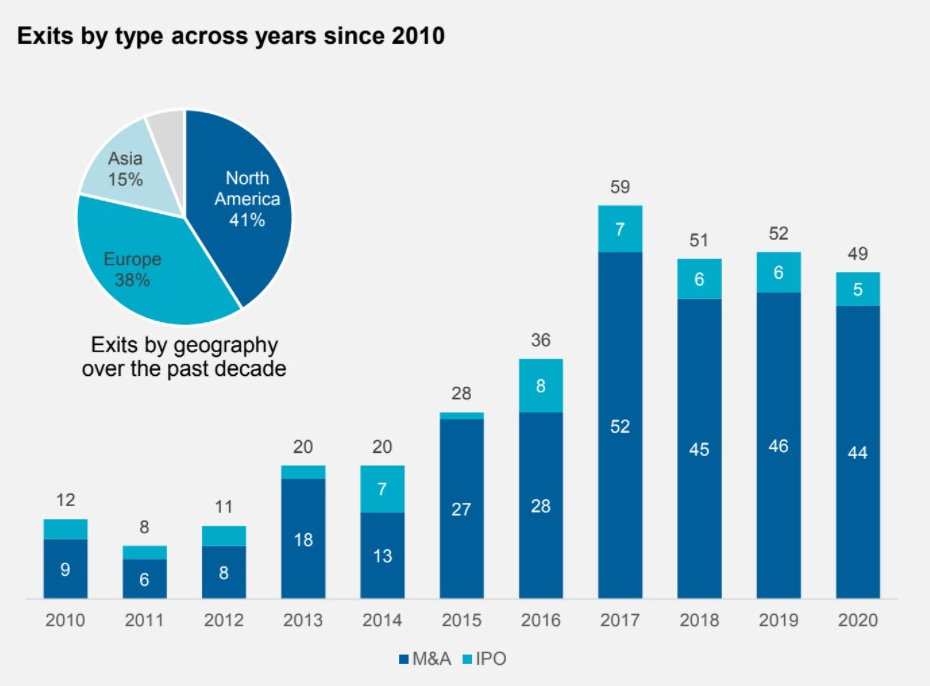 Notable European exits in the mobility sector include British company Just Eat which IPOed in 2014, valued at $2.4bn at the time, and Germany's DeliveryHero which went public in 2017 at a value of $4.9bn. 
Urban mobility
American companies like Uber and Asian companies like Grab dominate the urban mobility space — Uber raised $20bn whilst private and Grab's raised $10.5bn to date.
There are strong urban mobility players in Europe, however, like micromobility company Tier, from Germany, which has raised $360m so far, as well as fellow scooter startup Voi, from Stockholm. 
Micromobility continues to be a key area for European mobility more widely. European cities, on average, are three times denser than US cities, meaning they're ideally suited for micromobility options: 34% of trips are made by bike or on foot in Europe compared to 4% in the US. 
Clean mobility
China leads the way in terms of electric vehicles, but sales in Europe have risen — in the first quarter of 2020 they rose by 25% while sales declined in China and the US.
The increase in Europe was largely driven by German manufacturers Volkswagen and BMW, and encouraged by the European Commission's focus on reducing emissions by at least 55% compared to 1990 levels by 2030.
Long-distance travel
The travel mobility industry is also dominated by Asian and American companies, with large rounds secured by Traveloka, an online aggregator from Indonesia that's raised $1.2bn so far, and US company Airbnb that's raised $6.4bn. 
In Europe, the biggest is German company GetYourGuide, a platform for tours and travel activities, which has raised $655m to date. 
Delivery and logistics
Europe's delivery and logistics companies, although still only representing a small proportion of investment globally, are the only ones to have matched 2019's investment levels already in 2020.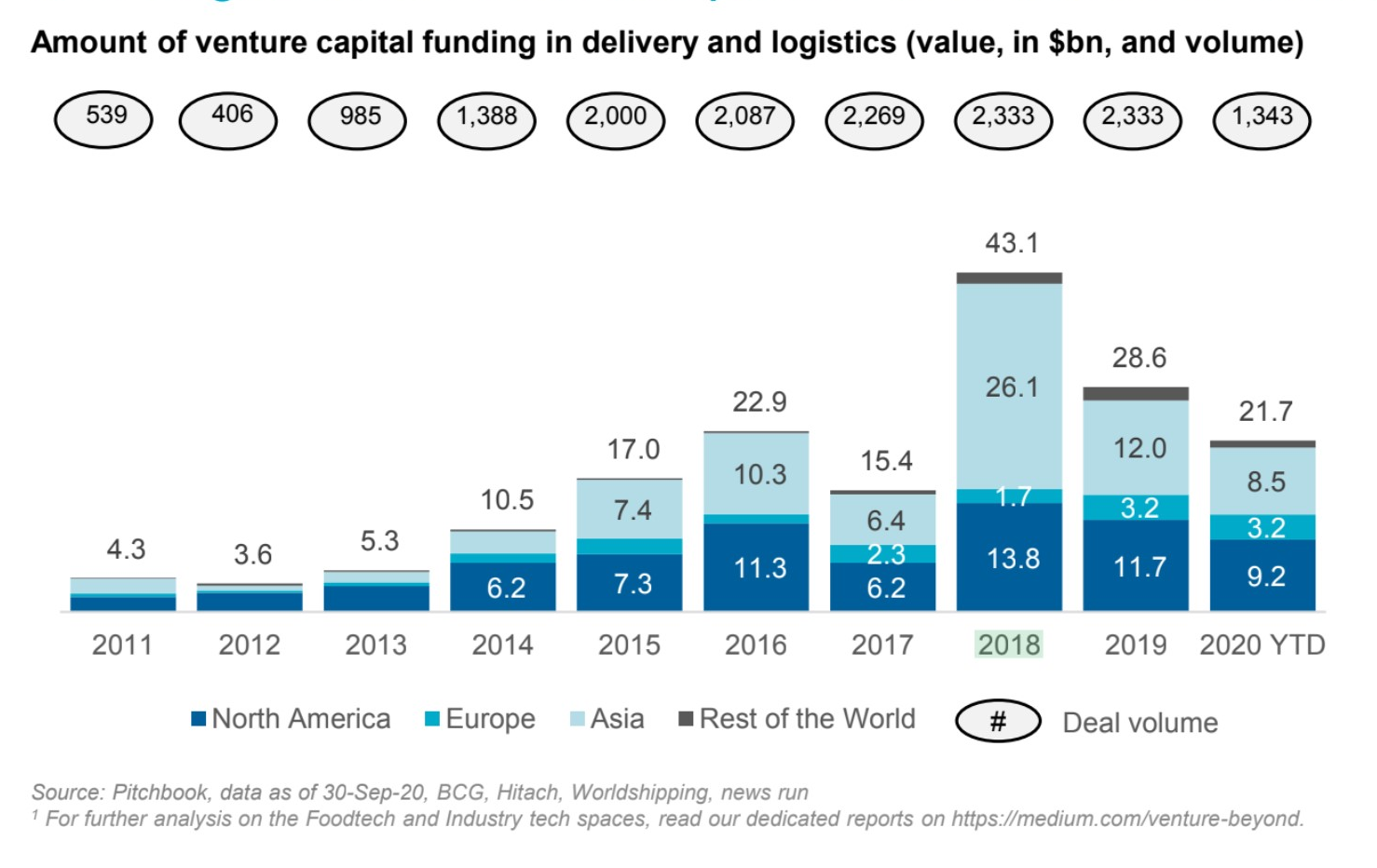 Two of Europe's key players in the food delivery space are Spanish company Glovo, which raised a $320m Series E round in September and Deliveroo, which raised a further $575m in April this year. 
In European logistics, there's sennder, a Berlin-based startup that acquired Uber's freight business in September and has said it anticipates reaching $1bn in revenue by 2024.