The path to take on the US — and win — doesn't look like it used to for European startups. They're heading to the US later than they used to, and that's a good sign. 
VC firm Index Ventures analysed the trajectories of 275 European and Israeli startups that expanded to the US in the past eight years, including 33 unicorn companies. It found that startups are delaying their move to the US: between 2008 and 2014, two-thirds moved before their Series A funding rounds, but between 2015 and 2019 that number had decreased to a third. 
"The roots to winning in the US have broken down," Index's Dominic Jacquesson told Sifted. "It's no longer the classic 'up your boots, pack your bags, go to the US'. Now you can win in the US remotely, or by growing in Europe first."
Startups are tending to base their research and development in Europe more than they had done before, and are putting more focus on growing their European presence before moving to America, by moving to London for example, Jacquesson explains. This is what Spotify did, for example — expanding to the UK, France and Spain before the US.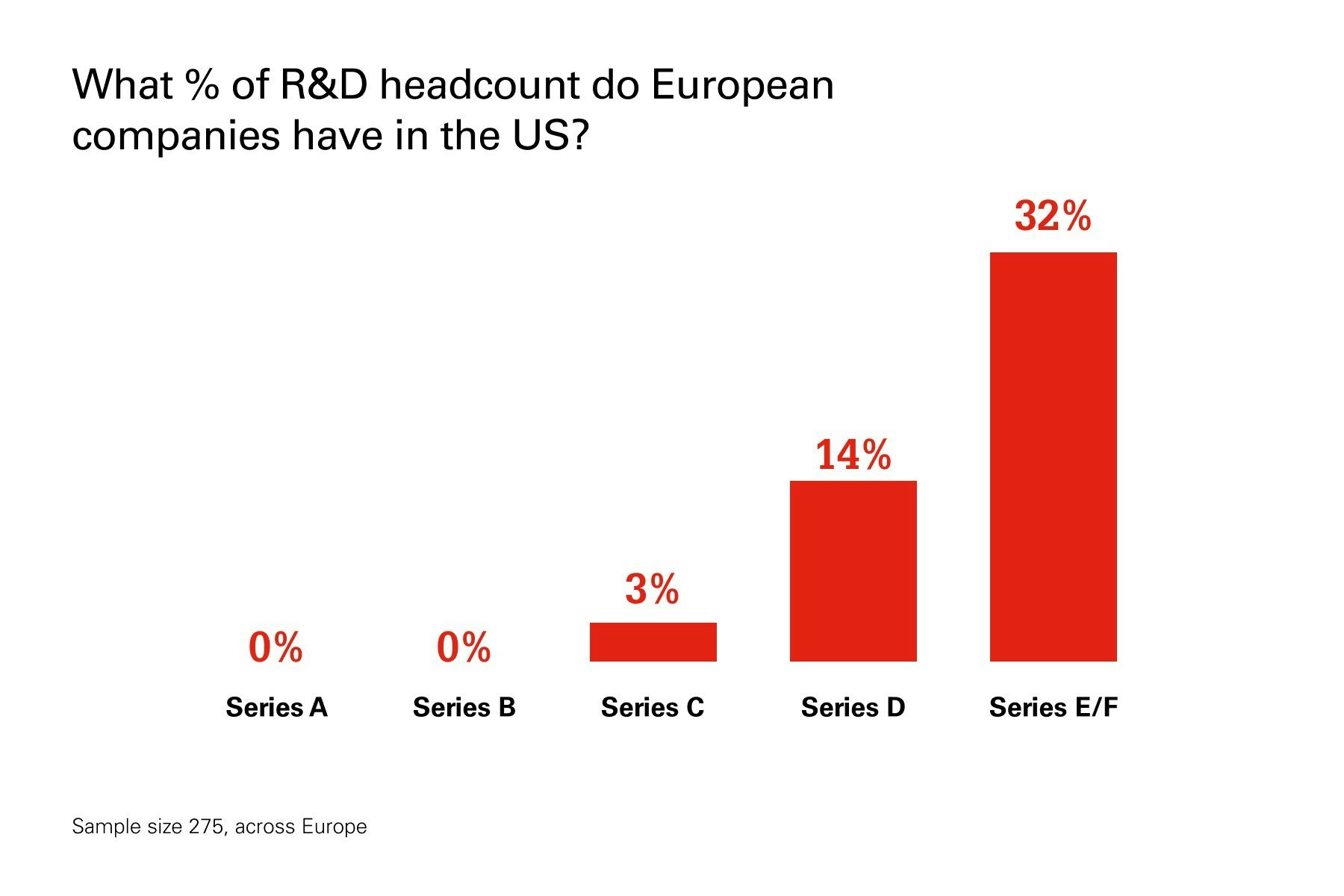 But why?
There are several reasons behind the shift. "The European ecosystem is maturing, European startups are getting more sophisticated at incentivising talent to work for them and there's better access to capital than before," explains Ari Helgason, Principal at Index. 
At the same time, changes in the US are making it less attractive to young startups. Immigration rules there make staffing harder, Jacquesson explains, and there's higher cost inflation for talent in the US too. 
"In the US, there's also eroding loyalty of staff," he adds. "In Silicon Valley, staff are moving around and chasing the next unicorn, making it harder to retain staff and grow deeper knowledge."
Leaders in the European tech industry agree with the analysis. 
Hold your horses
Spotify chief executive Daniel Ek says it's important for companies to grow in Europe first. "This will enable you to see nuances and learnings, and be able to raise the capital required to go after the US. You will see 10x the competition in the States, and you have to be ready for that," he says.
Spotify launched in the US in 2011, five years after it was founded in Stockholm. According to a shareholder report last year, 27% of Spotify's users are in North America and 35% are in Europe, but the number in North America is growing quicker than in Europe.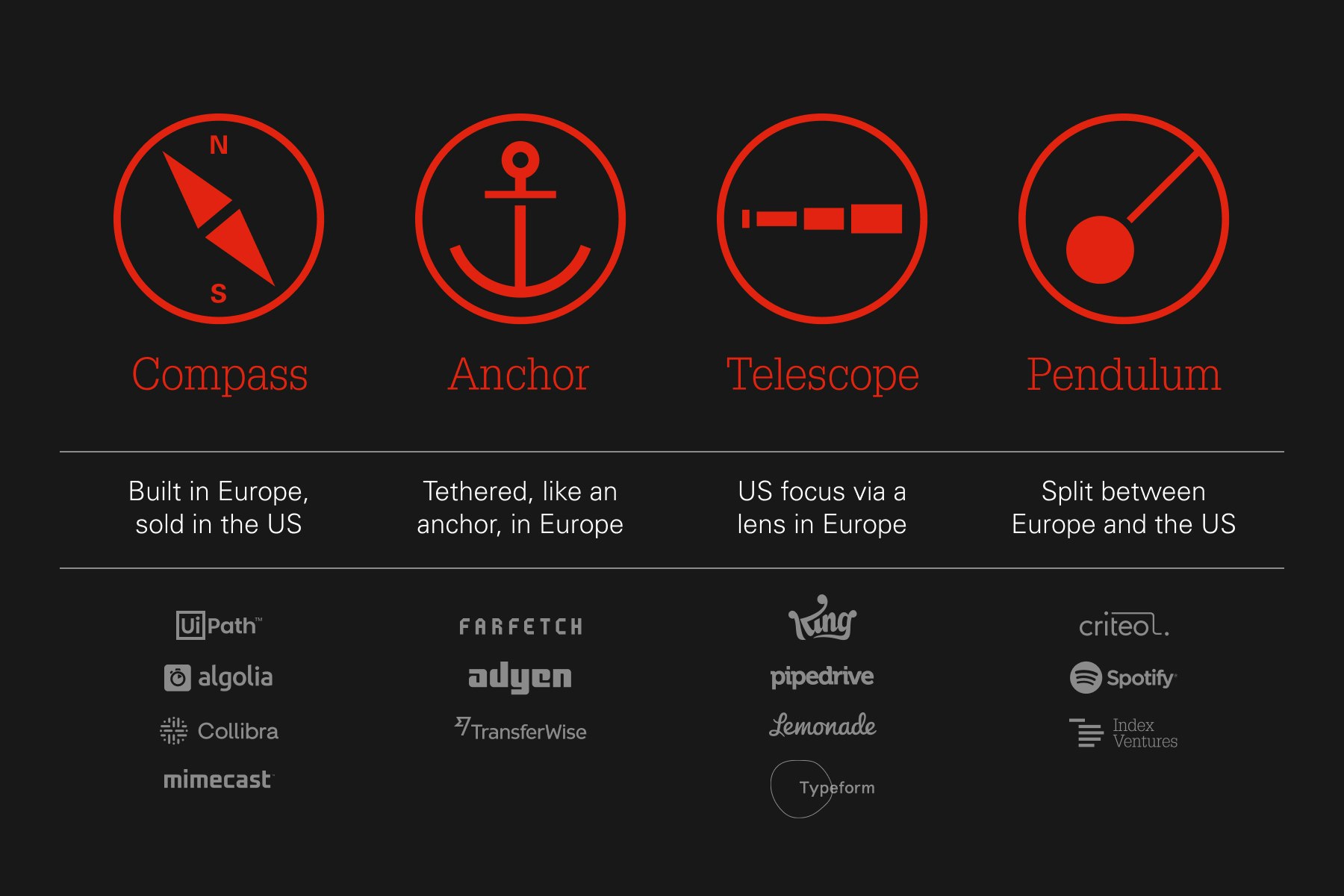 The shifts do differ based on industry, however. "If you're building something like a mobile app, you can have your main research and development in Europe and then a very small footprint in the US, just a partnership team," says Jacquesson. 
"But for things like B2B software companies, it makes more sense to be in the US," he says. For enterprise software, the US is a critical market; Index estimates that, in 2020, European companies will spend $106bn on business software, but the US will spend $240bn — more than double that. 
For this reason, data intelligence company Collibra, founded in Brussels, is now headquartered in New York, while French search engine tool Algolia is headquartered in San Francisco.
"They're similar sized economies, but business software investment is more than double in the US. Europe's weakness there is seeing tech as a cost rather than an investment."
Companies that do move to the US are tending to choose New York over San Francisco, Index's analysis also showed.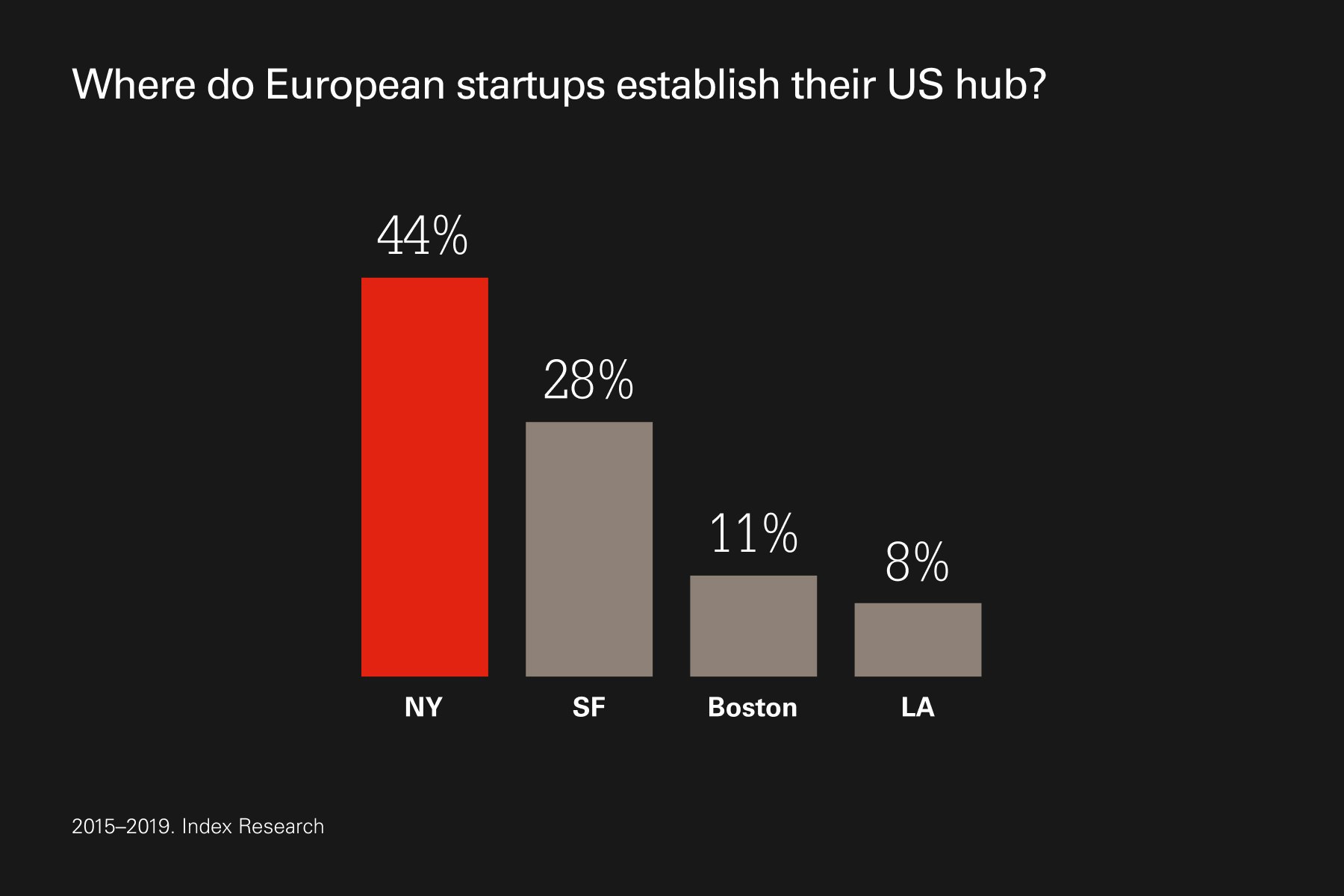 "Only go to San Francisco if you're selling to customers in San Francisco," says Abakar Saidov, chief executive of Beamery, a talent operating system headquartered in London. "The time difference is huge, making the East Coast a lot easier for a US beachhead."
But for David Helgason, chief executive of Danish company Unity Technologies, the draw of San Francisco is still there. "There is a gravity
 to the Bay area," he says. "By being there you're plugged into what's happening and what's on the horizon."
Predicting that the shifts they've identified will continue, Index Ventures has developed an app, Expansion Plan, which aims to help founders decide on the right expansion strategy and then visualise the journey from year zero to IPO, based on Index's analysis. 
"With each wave of startups in Europe, we see ambition growing and the system maturing," says Jacquesson. "The trends we've seen are pretty structural, and here to stay."