Europe's foodtech ecosystem has remained strong despite Covid-19 — but it hasn't exactly boomed. 
In 2020, European foodtech startups raised €2.7bn — exactly the same amount as in 2019, according to a new report from Paris-based DigitalFoodLab shared exclusively with Sifted.
So what's behind this plateau in funding? Which startups nabbed the largest funding rounds? Where's the investment coming from? And how has the European foodtech ecosystem changed as a result of the Covid-19 crisis? 
Let's take an European foodtech tour.
Europe gained two new foodtech unicorns
Although foodtech startups had a rough time when the pandemic hit in March 2020 — especially when restaurants had to close for safety reasons — they quickly adapted their offers to the new at-home working and living lifestyle. 
One of the winners of the pandemic were meal kit companies like the UK's Gousto, which reached a £1bn valuation in November 2020. 
In July 2020, the UK's dark kitchen rental startup Karma Kitchen secured the largest foodtech funding round in Europe of €291m. The second and third place were taken by France's insect-food startup Ynsect (€202m) and Swedish oat-based product company Oatly (€180m), which also reached unicorn status last year.
Investment in food delivery dipped while funding for agtech and food science shot up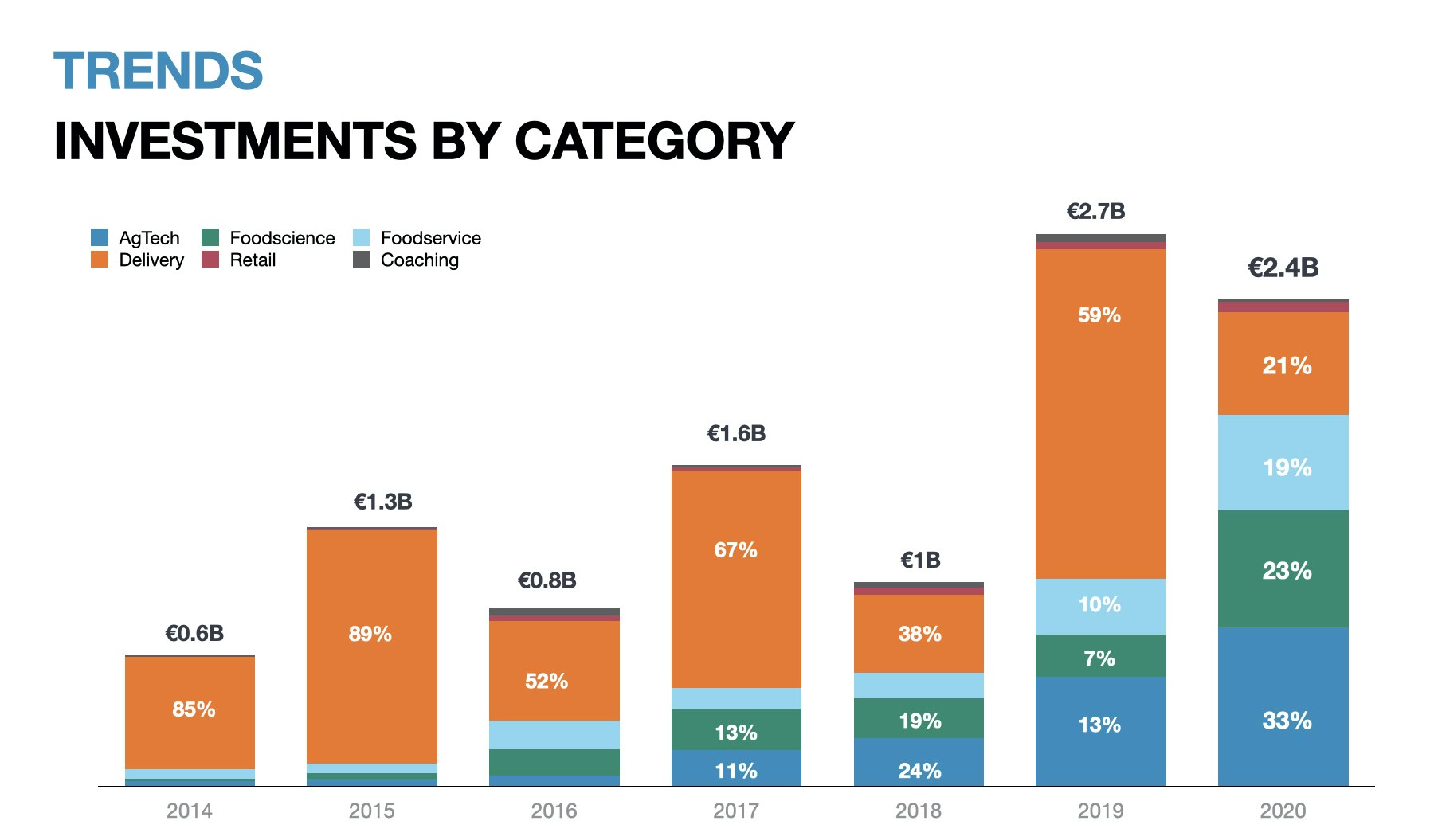 In 2018 and 2019, the largest rounds were mostly secured by food delivery startups such as the UK's Deliveroo, Spain's Glovo and the Netherlands' Picnic. But in 2020 the sector represented only 21% of the total foodtech investment in Europe, down from 59% in 2019. 
Although food delivery startups Wolt and HungryPanda raised significant rounds, food startups in agriculture and alternative proteins like Infarm, Ynsect and Innovafeed overtook them in terms of funding raised last year.
Funding in alternative protein startups increased by

178%.
What's more, funding in alternative protein startups increased by 178% — from €203m in 2019 to €566m in 2020. The sector recorded the most significant growth in European foodtech.
Big corporates played an active role in European foodtech
Despite Covid-19, 2020 saw a growing number of deals, collaborations and acquisitions between big corps and startups, according to the report. 
Dealroom's database shows that CVC funds plugged €223m into foodtech startups — that's 8% of the total European foodtech investment in 2020.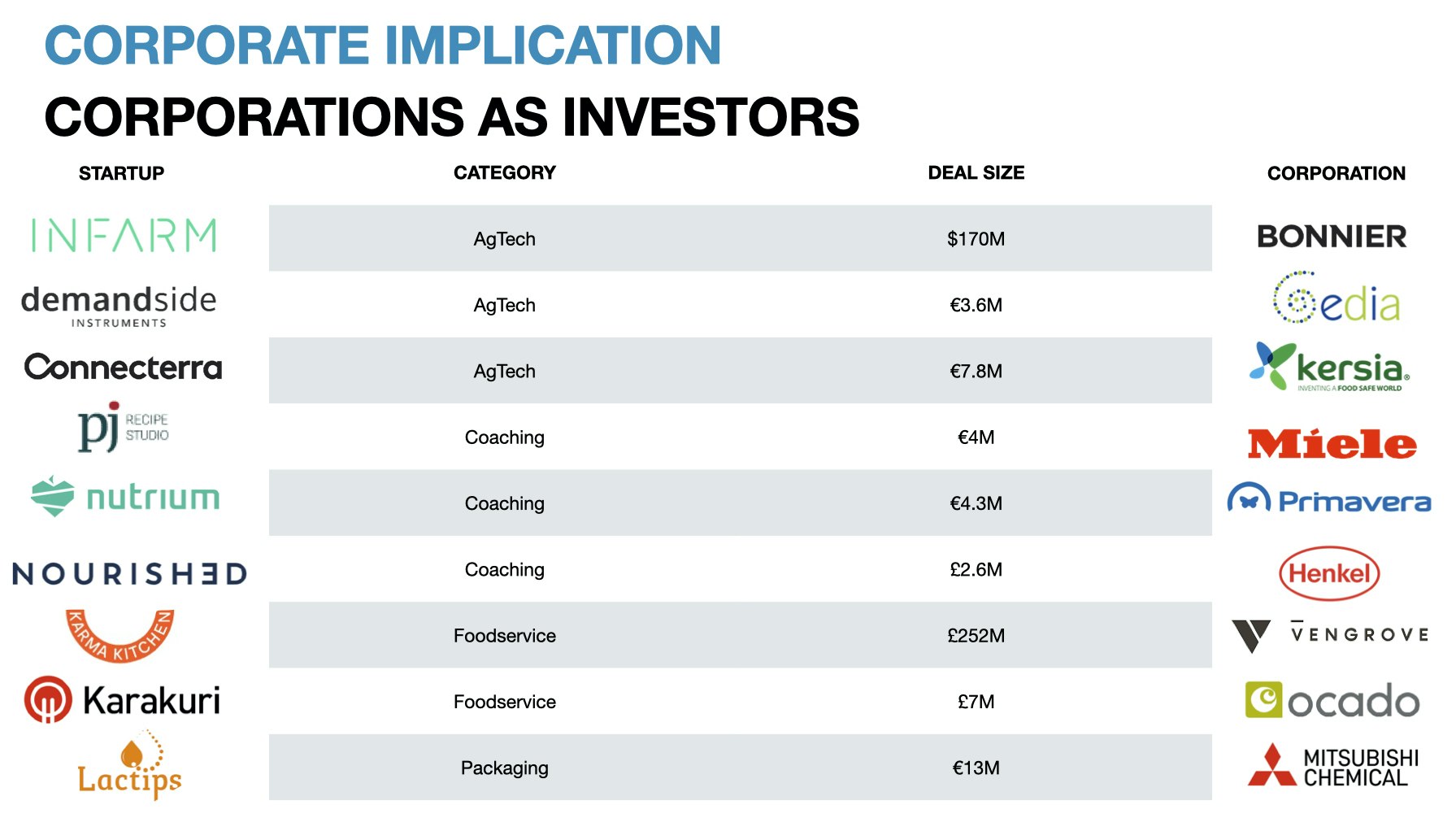 Several of the top 10 foodtech rounds of 2020, such as Infarm's $170m Series C, included corporate investors.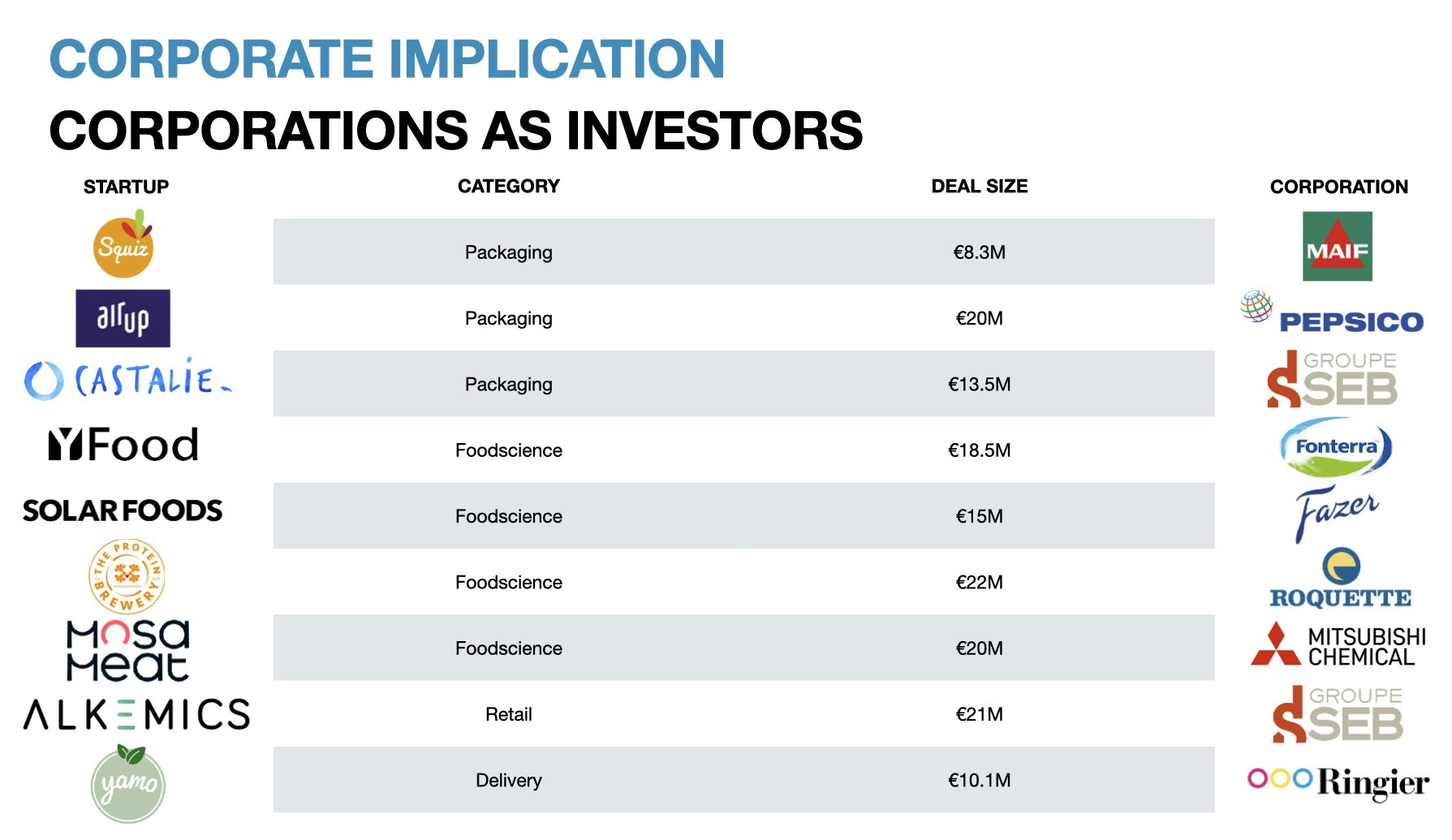 Active corporate investors included Germany's Mitsubishi Chemical, which invested in cell-based meat Mosa Meat and milk-based biodegradable packaging Lactips — and France's SEB, which backed filtered bottled water Castalie and retail collaboration platform Alkemics. 
The Covid-19 crisis didn't stop food giants from taking over small players either: the largest disclosed corporate deal was Germany's Dr Oetker acquiring beverage delivery startup Flaschenpost for €1bn.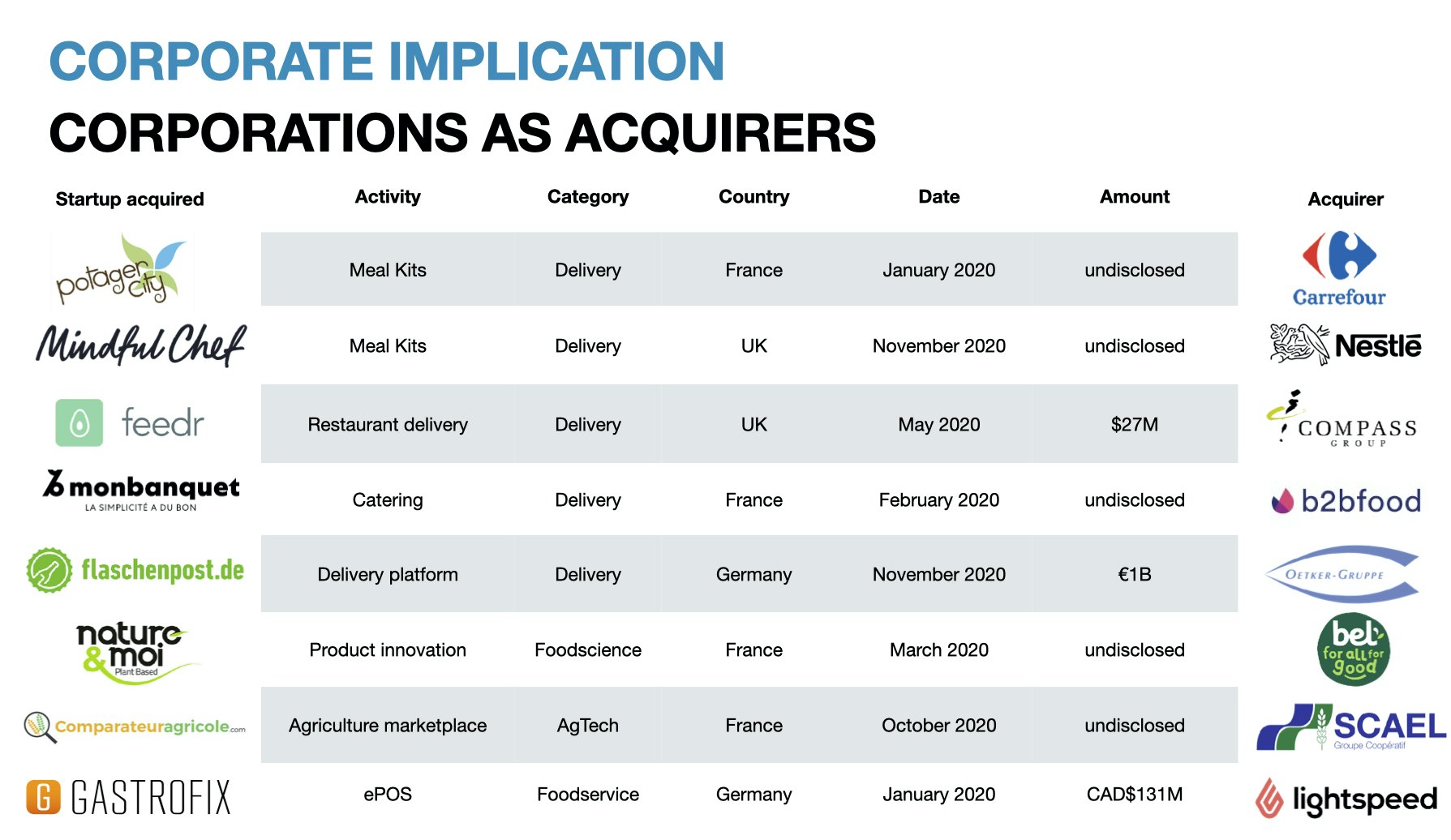 Meanwhile, Swiss food giant Nestlé went on a global acquisition spree last year: in Europe, it acquired the UK's healthy meal startups Freshly and Mindful Chef and the Swiss Aimmune Therapeutics, which focuses on food allergy treatments.
European foodtech startups raised more and larger funding rounds
Last year, the number of foodtech deals in Europe reached a record 480 and the median deal size went up to €1.2m — doubling since 2017. 2020 also recorded several large Series A rounds, such as speedy grocery delivery startup Gorillas' $44m raise, animal free protein product The Protein Brewery's €22m raise and insect-based animal feed company Tebrio's $54m raise.
Out of the €2.7bn raised, 30% came from Series A deals and 53% was raised by seed-stage startups — a shift from the 2014-2018 period when 70% of European foodtech rounds were at seed stage.
Europe's foodtech ecosystem remains a small player globally
But Europe's foodtech investment only accounts for 12% of global investment — down from 15.6% in 2019. 
Investment in Europe also stagnated in 2020, but grew 28% globally, led by the US, China and India, as the old continent tends to have fewer deals over $200m. 
Europe is more complicated; internationalisation is really complex with many tiny markets to conquer one after the

other.
"The [European] ecosystem started later and hence it still requires more time to generate such big ventures," explains Matthieu Vincent, cofounder of DigitalFoodLab. "Plus, Europe is more complicated; internationalisation is really complex with many tiny markets to conquer one after the other."
The UK leads but France is catching up
Last year, foodtech startups in the UK raised the most — €634m — although that was less than the €749m raised in 2019.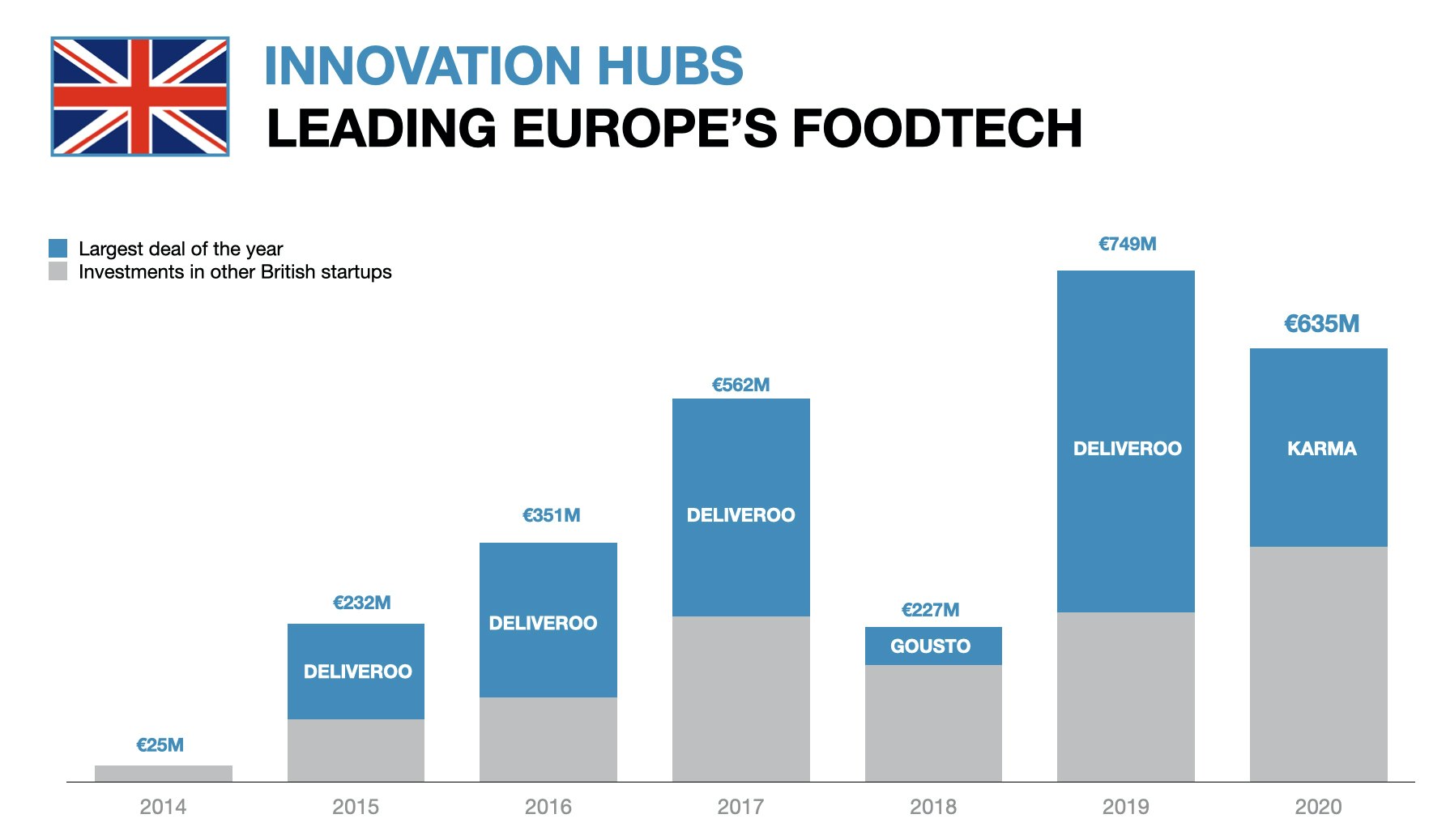 Foodtech funding in the UK has always been dominated by outsized rounds.
France is fast catching up with a whopping €600m raised in 2020, up from €400m in 2019. It has the most startups in top 10 European foodtech deals of 2020 — including two startups securing over €100m funding rounds. 
Germany remained in third place with a slight funding increase to €331m. 
Fuelled by Oatly's €153m's round, Sweden also saw a major bump in foodtech investment from €157m in 2019 to €264m in 2020.
The Nordics are becoming a foodtech hub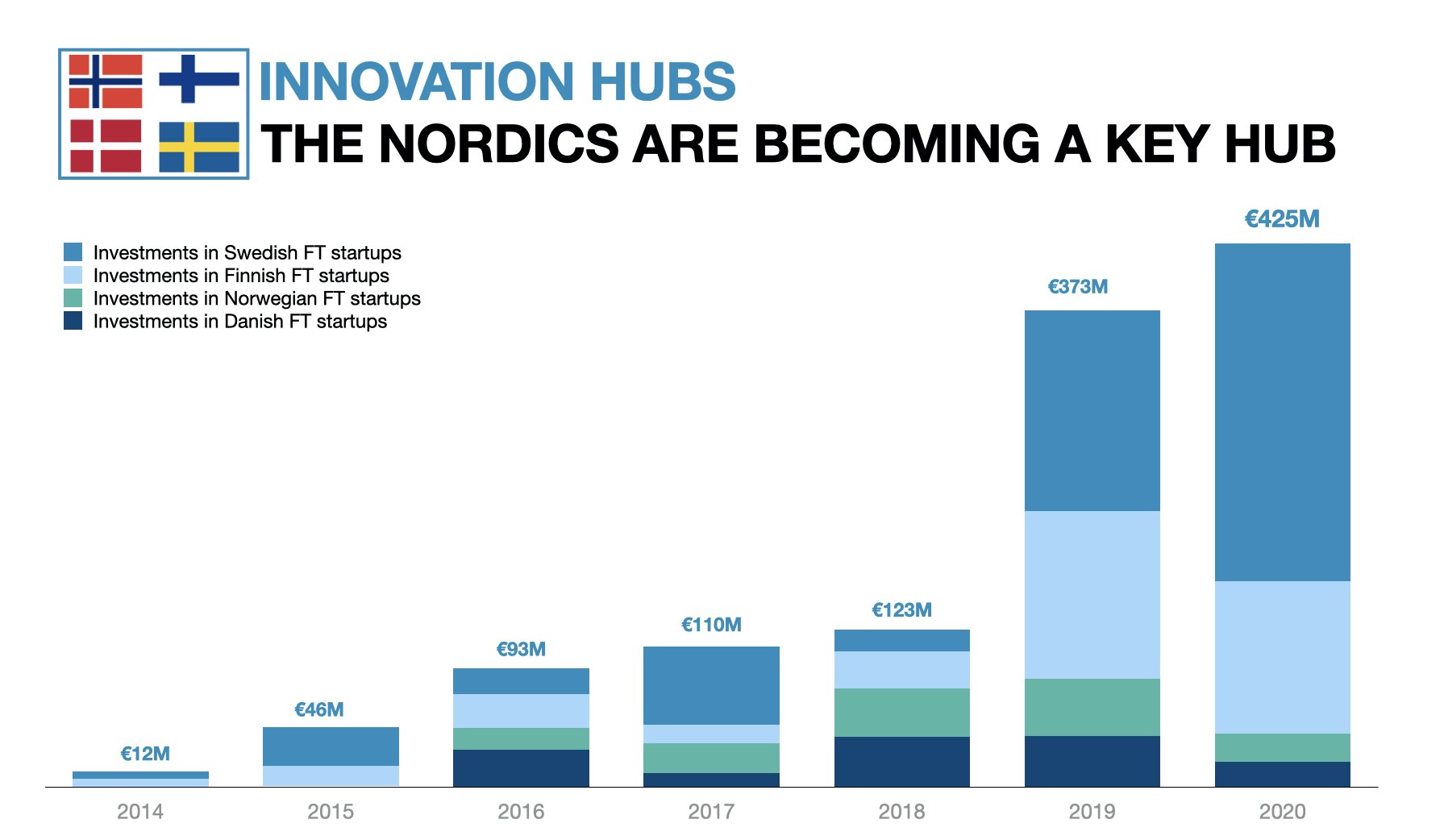 The Nordics secured a record €425m in foodtech investment in 2020 — 3.5 times more than in 2018. Sweden accounts for 62% of capital raised in the region, followed by Finland (28%). 
Many Nordic foodtech startups made headlines in 2020, from Danish vegetarian and vegan meal delivery Simple Feast's €40m fundraise and Denmark's Mosa Meat's $55m fundraise to Finnish Solar Foods product, which makes food out air. 
Norway has taken the lead in sustainable aquaculture and fishing tech in Europe and globally, according to Katapult Ocean's 2020 oceantech report — and is home to startups like fish feeding optimisation CageEye and marine monitoring equipment and software Innomar.
What's next for European foodtech?
One major trend that has been making waves this year is the rise of on-demand grocery delivery startups — a sector that's already produced two unicorn startups and raised $821m in the first quarter of 2021, according to Dealroom. 
DigitalFoodLab also expects major advancements in alternative foods including insect-based products and alternative proteins.