2021 has been a bonanza year for European tech. 
Most countries have doubled — and some tripled –– their startup investment, and have seen their early-stage rounds shoot up, like France. 
The total funding raised by European startups in the first half of 2021 skyrocketed to $57.5bn –– which is three times more than in the same period last year. 
Four companies raised funding rounds of over $1bn — Swedish fintech Klarna, lithium-ion battery startup Northvolt, German SaaS business Celonis and UK online car marketplace Cinch. Northvolt's $2.8bn raise was the second largest funding round in the world in the first six months of 2021, according to Dealroom.
So which European startups brought big money home? 
We dived into Dealroom's database to bring you the top investment rounds per country.*
The UK –– the most capital raised
UK startups have landed a whopping $18.9bn in the first half of 2021, which is double what they raised in the last six months of 2020 ($9.6bn). 
Five of the UK's top 10 funding rounds came from fintechs: neobank Starling Bank, cryptocurrency blockchain and payments startups SaltPay, Checkout.com and Rapyd.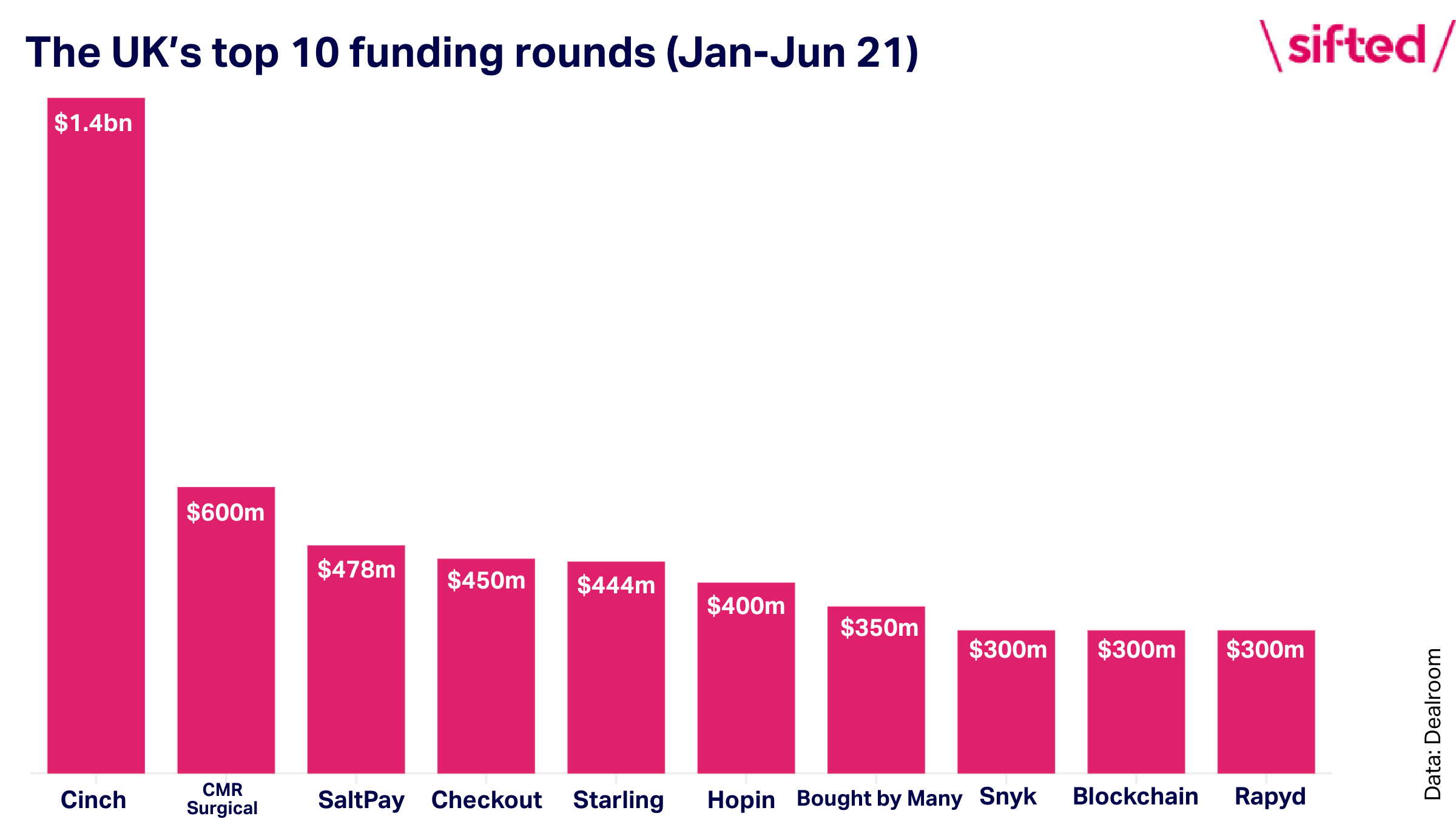 Sweden –– the largest funding rounds
Not only did Sweden's Northvolt raise one of Europe's largest funding rounds, but the country is also home to the world's second most valuable fintech: Klarna. 
The fintech raised two mammoth rounds in the space of six months: a $1bn round in March and a $639m investment led by Softbank in June 2021. It's now valued at $45.6bn. 
With these three massive rounds, Sweden has seen its total raised capital triple from $2.4bn in H2 2020 to $7.4bn in H1 2021: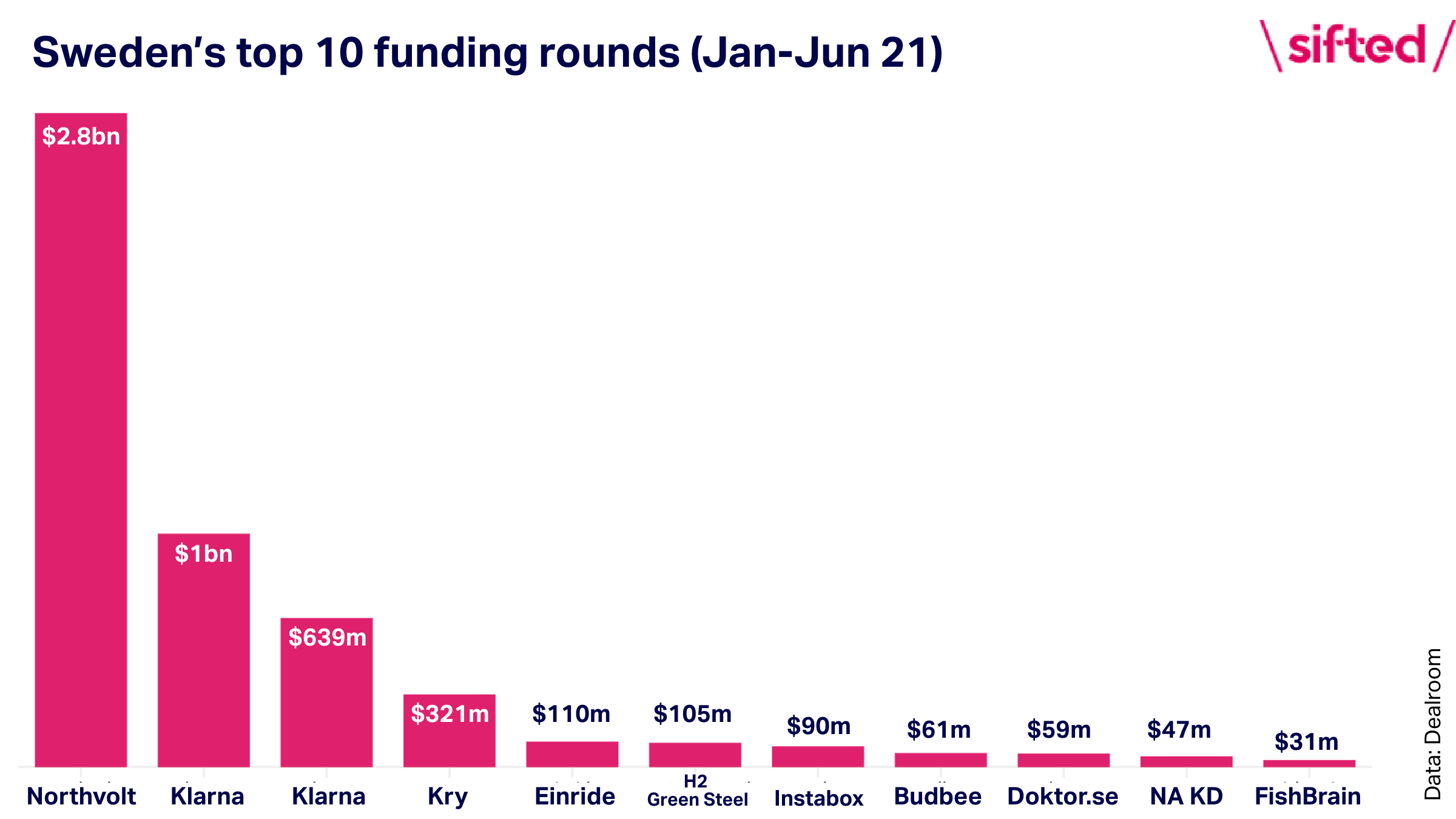 Spain –– the biggest funding growth
After a big drop in funding in 2020, Spain's tech scene is slowly recovering from the shock of Covid-19: Spanish startups have raised a record $2bn this year –– 3.2 times more than in H2 2020 and 1.7 times more than its previous record of $1.2bn in H2 2019. 
Food and grocery delivery startup Glovo nailed Spain's largest round ever of $534m in April. 
The country's top 10 funding rounds are also the most diverse, in terms of sectors, in Europe.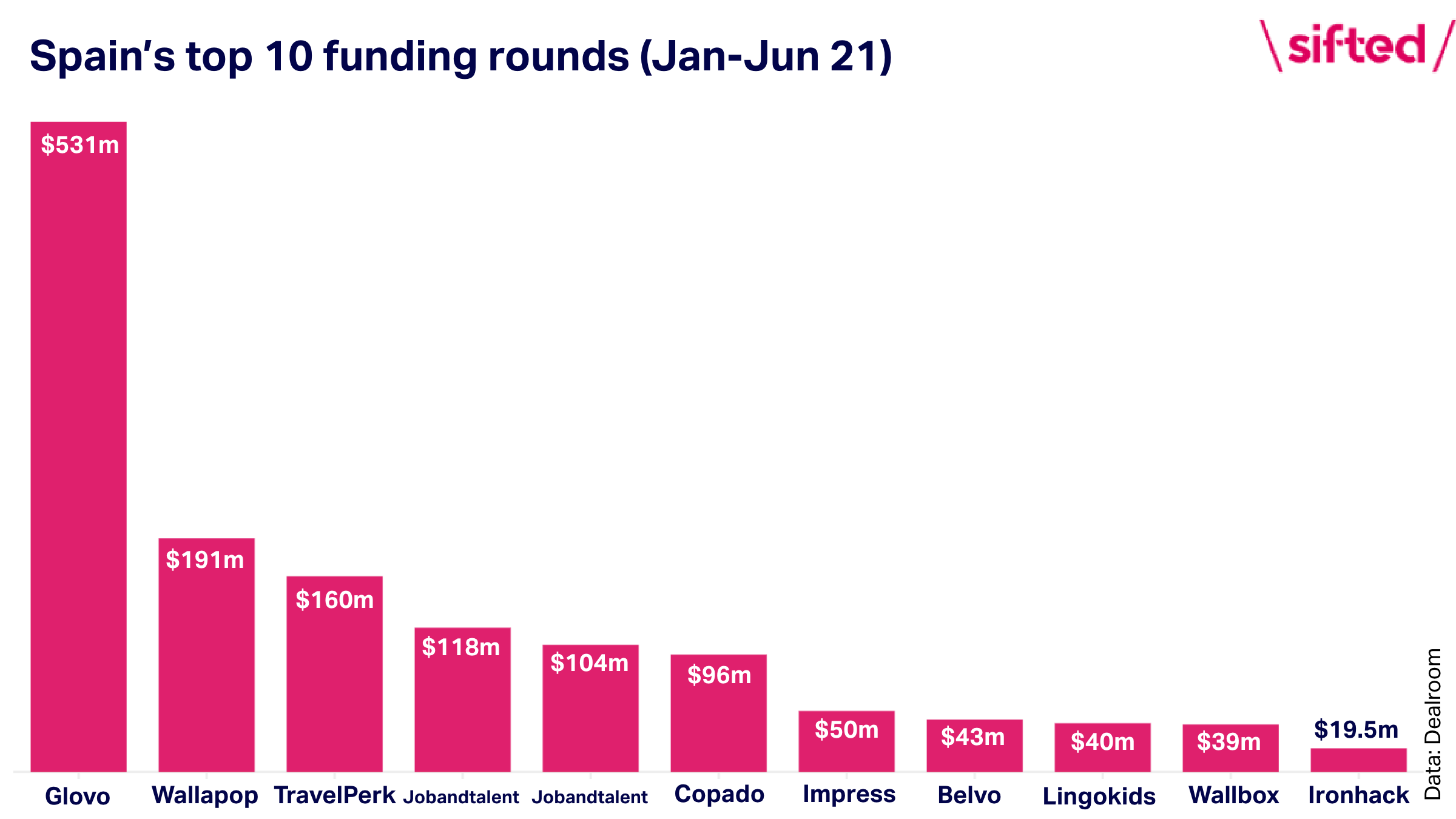 Germany –– takes three of the largest rounds in European tech
With an investment jump from $3.9bn in H2 2020 to $9.1bn in H1 2021, Germany is growing an interesting pool of startups in fintech, mobility and logistics and climate tech. 
Along with Sweden, Germany has the most startups in Europe's top 10 funding rounds for H1 2021 — business process execution software company Celonis raised $1bn, neobroker Trade Republic landed $750m and insurtech wefox secured $650m.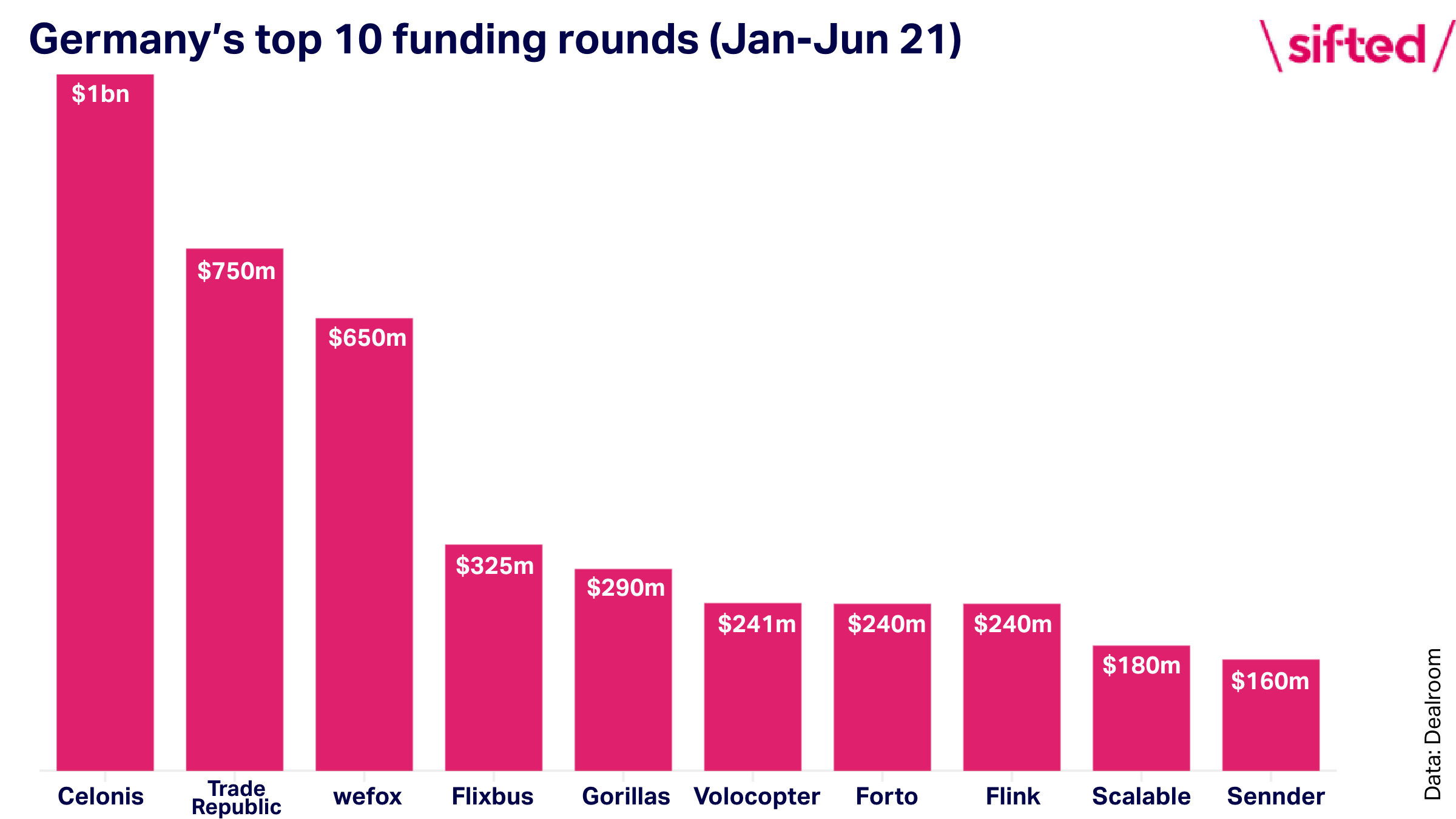 France –– doubled its average Series A size
VC investment in French startups has gone wild: in the first six months of 2021, they've secured twice the investment raised in the whole of 2020, from $935m to $1.8bn according to Eurotech.vc. 
Overall, the average size of a Series A round in France has increased by over 500% over the past decade and is now at $17.3m. Paris-based Mnemo Therapeutics secured the country's largest Series A of €89m. 
The top 10 funding rounds were: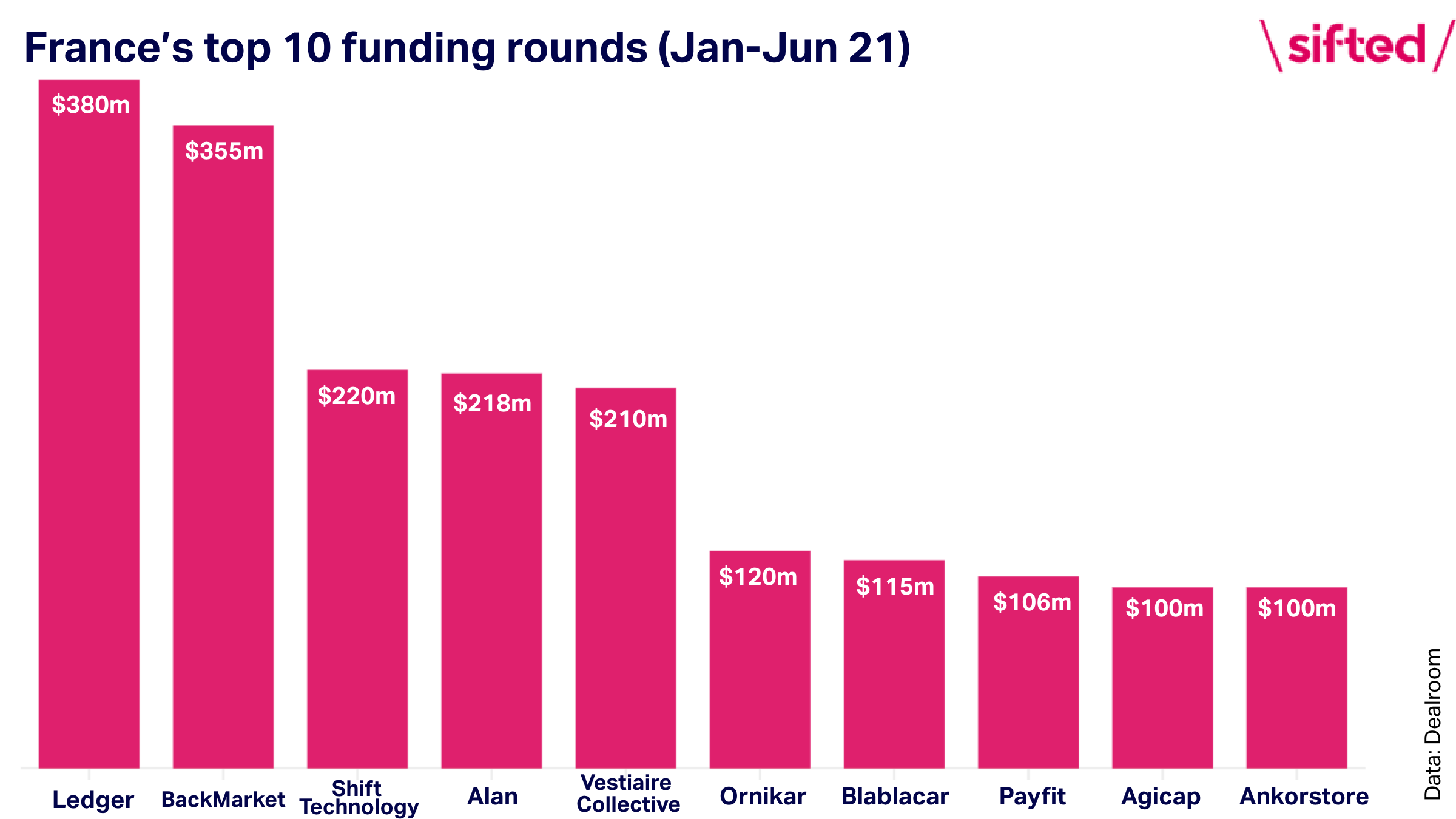 Netherlands –– becoming a mobility and fintech hub
Two of Netherlands' largest fundraises are listed on Europe's top 10 funding rounds: fintech Mollie and enterprise social network MessageBird, which both raised $800m. 
The country saw its total funding more than double to $4.6bn in H1 2021, from $1.4bn in H2 2020 –– most of its funding went into mobility and fintech startups.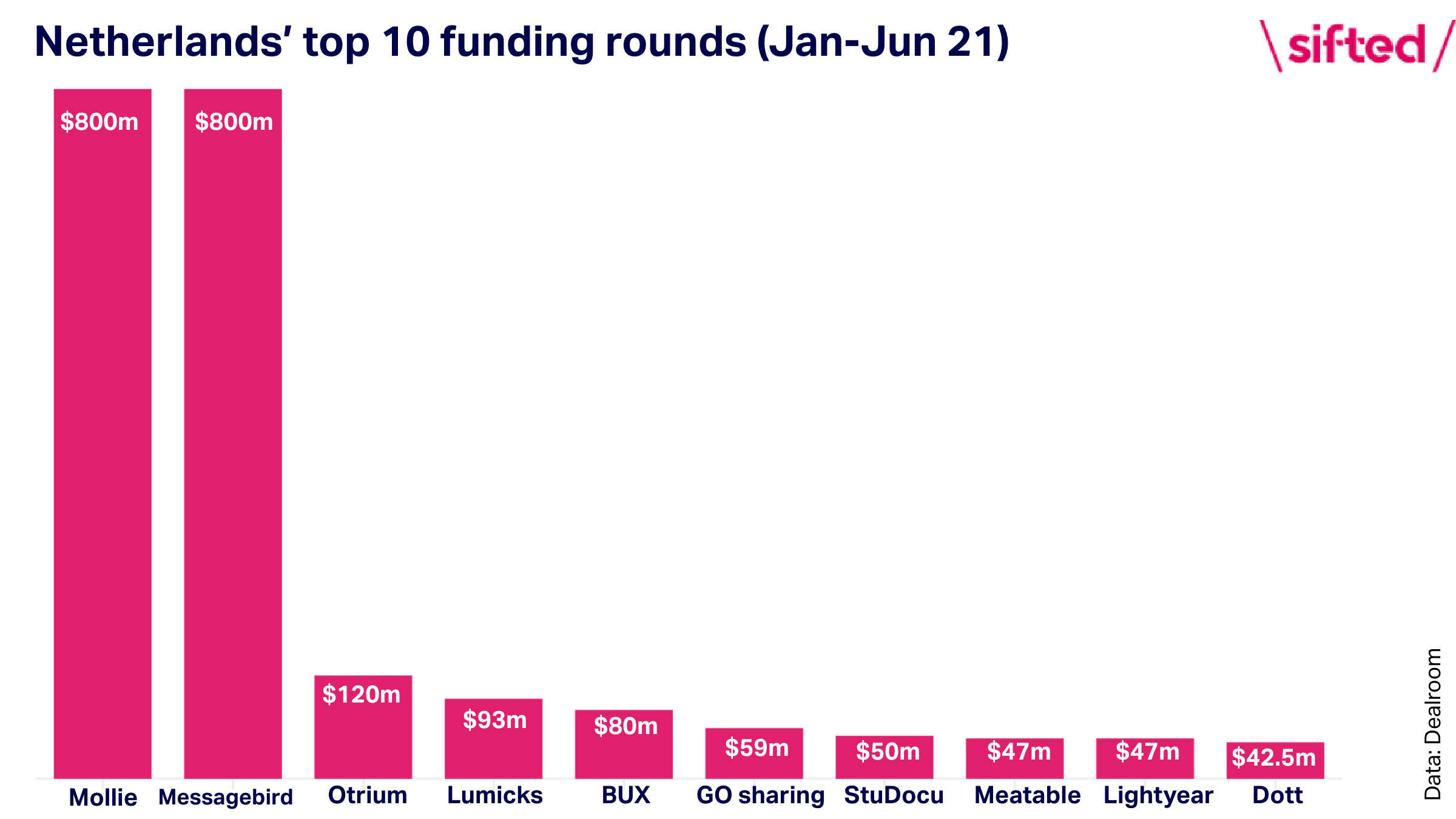 Finland –– An evergrowing startup investment hub
Finland's tech ecosystem is on a roll: investment in Finnnish startups almost doubled between 2019 and 2020 and Helsinki saw its VC investment grow 62% in 2020. 
In the first half of 2020, Finnish startups brought home a record $1.4bn –– two times more than the $788m raised in H2 2020, including three megarounds for grocery delivery startup Wolt ($530m), healthtech startup Oura ($100m) and open source data platform Aiven ($100m)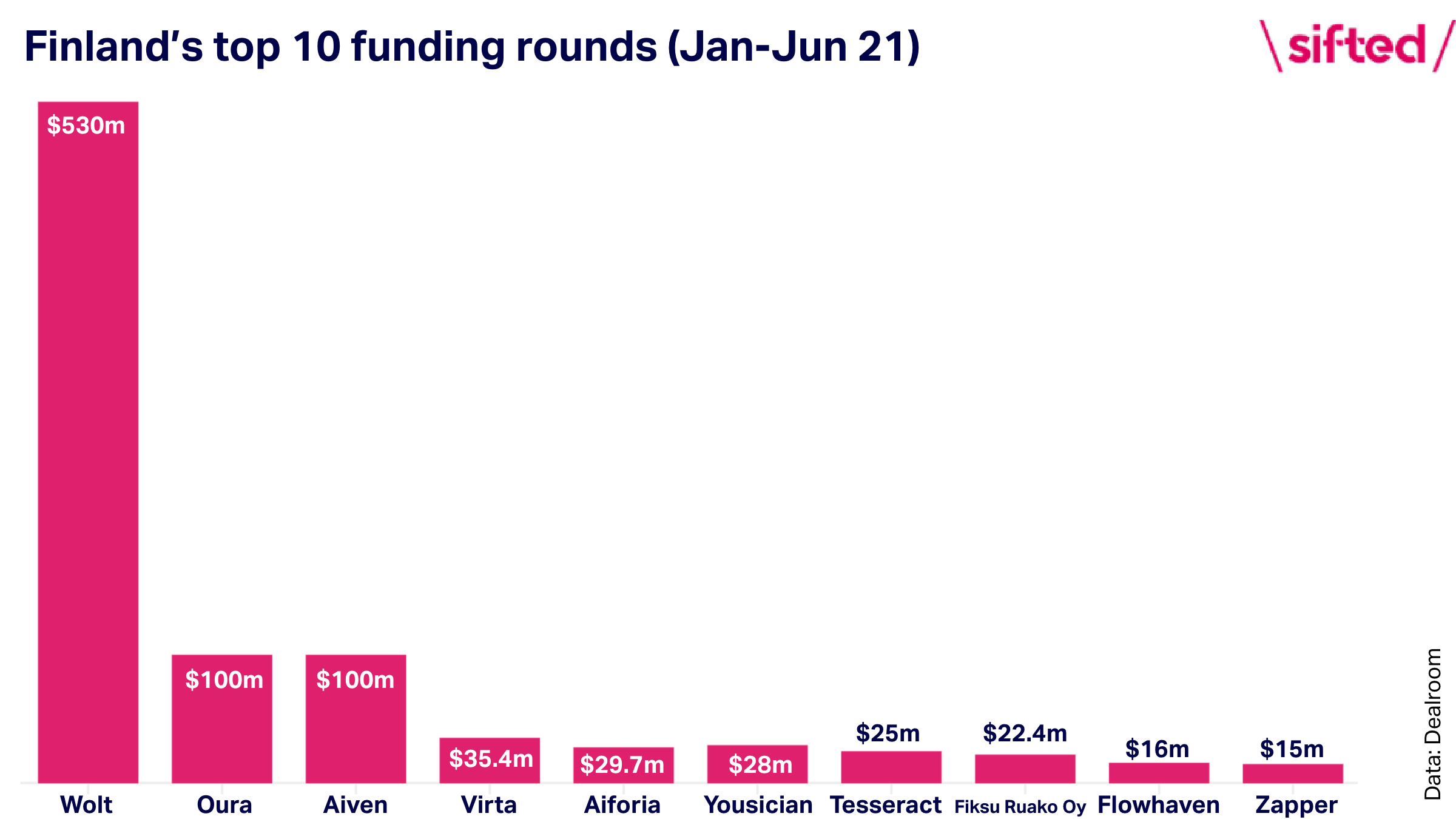 Switzerland –– carving a space in European fintech
The tiny country shows us again that size doesn't matter. From $1.2bn raised in the last half of last year, Swiss startups have secured $1.8bn in H1 2021.
Known for its dynamic biotech sector, Switzerland is also developing a fintech scene, with half of its top rounds –– excluding biotech –– raised in the sector. 
But not all countries have experienced funding growth in 2021: Estonian startups, for instance, have raised just $177m in H1 2021, which is a lot less than its $275m raised in H2 2020. 
Now, the million dollar question is whether this investment growth is going to continue at the same pace –– and which innovations will work out and make plenty of investors filthy rich.