Consumers embraced ecommerce during the pandemic and decided they loved the convenience that came with it. Last year 74% of consumers said they would continue to shop online even as restrictions eased globally. 
For online retailers, this is great news. But in an increasingly crowded marketplace with competitors just a click away, what can businesses do to win new customers and keep their existing ones?
In our recent Sifted Talks, we asked our panel what startups can do to thrive online. Our experts were: 
Rob Cassedy, CEO, Wallapop, a Spanish platform to buy and sell secondhand goods
Adrian Frenzel, COO, Gorillas, an on-demand grocery delivery service
Emma Ridderstad, cofounder and CEO, Warpin Media, an immersive technology company that helps brands with augmented reality 
Tina Aird, industry and audience manager EMEA, Microsoft Advertising, an online marketing platform
Here's what we learned.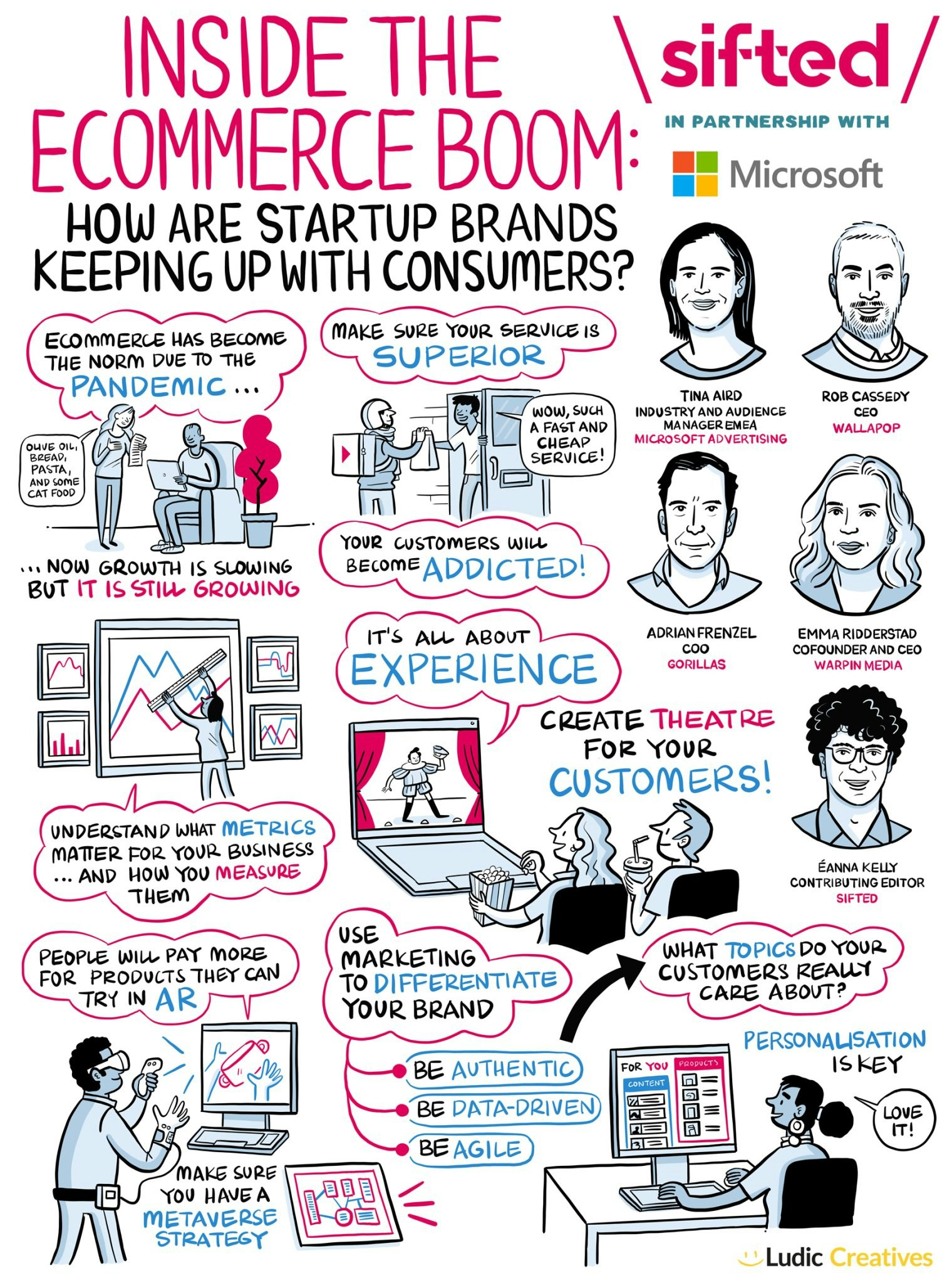 1/ Make it personal
Cassedy said it's more important than ever that companies find out what each of their customers want and tailor the shopping experience to them. The key to a truly personalised experience is collecting data and mapping their customers.
Ridderstad added that new technology has allowed consumers to personalise their products. She cited the launch of a Star Wars film in Tokyo, and a collaboration with H&M that allowed customers to personalise their clothes at in-store design stations. It created an experience for customers while also producing a lot of useful data — ecommerce brands should be looking to recreate this kind of experience online. 
Almost half the Spanish internet population comes to Wallapop every month. We are a true horizontal, you can buy yourself almost anything. Using personalisation, we can make using almost a daily habit. Every time you come, it is better tailored to you... When I open Wallapop it should feel like I am walking into my local record store" — Rob Cassedy,

Wallapop
2/ Up your service game
Customers may have embraced ecommerce during the pandemic, but Frenzel warned they could go back to old, in-person shopping habits. Online and app-based retailers need to go above and beyond to retain customers once life returns to normal. 
He added that people became addicted to the convenience offered by companies such as Gorillas. The pandemic made many people rethink their lives and they now value their leisure time more, so companies that help people save time and effort will keep their customers. 
The pandemic helped us implement habit changes, it was an accelerator but did not fundamentally change our business. What we offer is superior service to what is currently in the market. That I think is the driving force behind why we are not concerned about the pandemic situation" — Adrian Frenzel,

Gorillas
3/ Diversify your marketing…
Cassedy says it's hard to reach Gen Z through traditional marketing means like TV and pay-per-click adverts. Wallapop has experimented with different media to reach this age group, like launching a podcast and working with designers at fashion shows. It also divided its customers into different groups and tailored the content and messaging to each segment.
Aird says firms should not overlook product reviews as a marketing tactic. Four out of five people are more likely to buy something after reading a good review than if an influencer promotes it. 
We have got a lot better at using econometric modelling to understand the impact. In the past it was difficult to understand how things like influencers affect us. Are they efficient channels, and just nice to have for PR? By getting data driven and building our understanding, we are learning that these channels are quite efficient" — Cassedy,

Wallapop
4/ … but not too much
While it may be tempting to try all the new marketing online methods out there, Aird said that companies need to quickly figure out what works for them via performance data. 
She pointed out that firms, such as UK department store Debenhams, suffered during the pandemic as they were unable to adapt to changes. Smaller firms and online companies can use customer data to be more agile and survive in a changing market. 
You need to invest your budget smartly. Fragmenting your marketing budget too far means you lose control a little bit. You lose your messaging, it is harder to measure, I would recommend you don't fragment your budget too much and you use AB testing to test different platforms" — Tina Aird, Microsoft

Advertising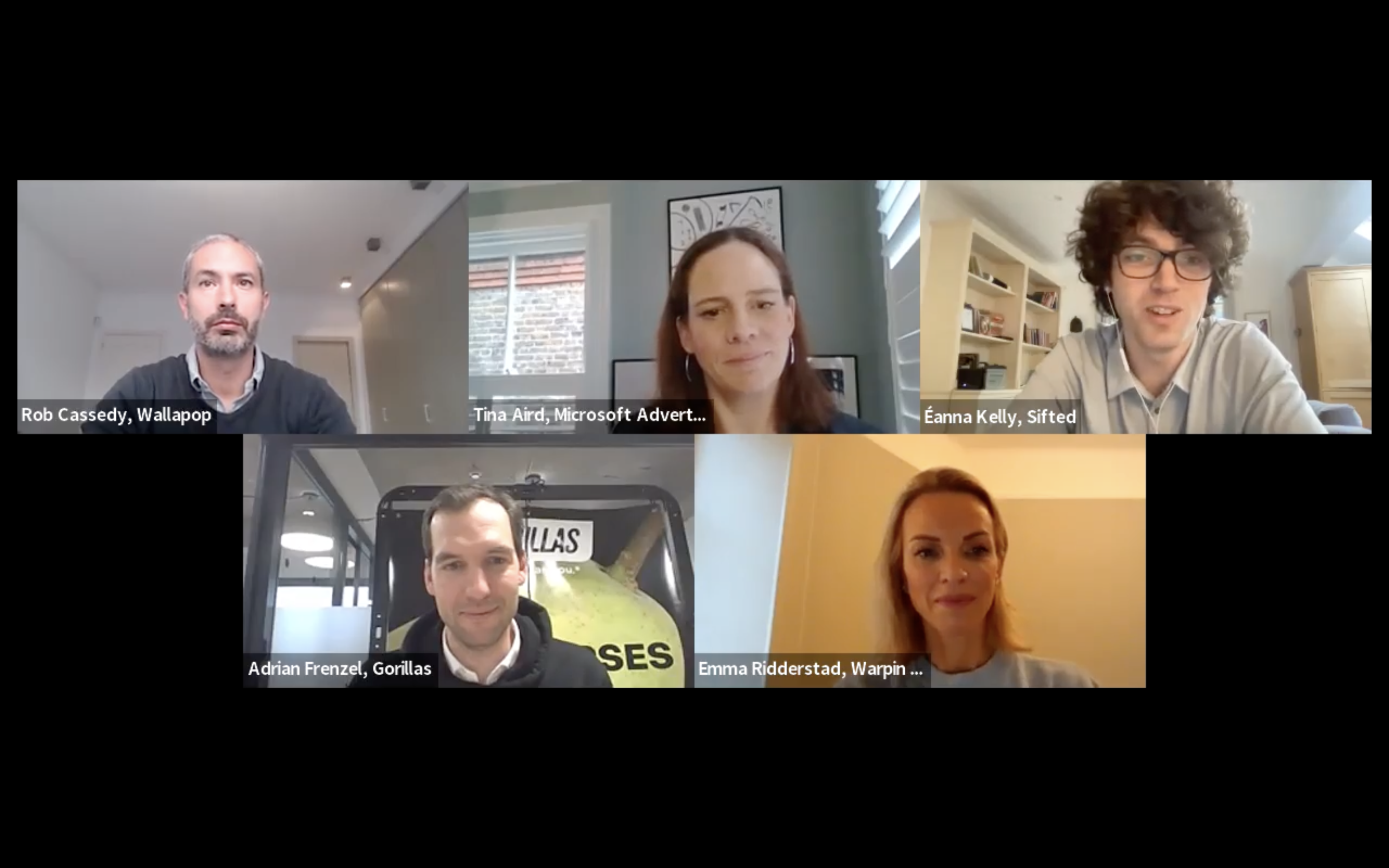 5/ Dip your toe into the metaverse
While full implementation is still a few years away, Ridderstad said companies should already be taking their first steps into the metaverse. During the pandemic, people started to engage with the metaverse through things like virtual concerts, proving they're open to it increasingly encroaching into their day-to-day life.
Ridderstad says there are ways companies can make purchasing a product more exciting by using the metaverse, such as allowing a customer to virtually try on clothes. Ridderstad said consumers are willing to pay 40% more for a product they have tested in the metaverse and 80% of customers are more willing to buy a product when it has been tailored to them. 
"There are different layers. You don't have to go in on the big brand experience and virtual and augmented reality. You can also work with your existing strategies. If you have a product, you can AR enable that product, tell the story about  it in a more interesting way, through your phone for example" — Emma Ridderstad, Warpin

Media
6/ Stay true to your values
The panel agreed that sustainability is increasingly important to consumers, and they'll go out of their way to support businesses who act sustainably. Aird said companies need to work out what values are important to them and live them internally so they become ingrained into the brand. 
Be true to yourself, act responsibly. We are at a crossroads with consumer data and cookies. Consumers are pushing us to be responsible citizens. Really make sure you are being open and honest with your marketing. 56% of Gen Z will support a company which thinks about social responsibility. They will boycott a business if they don't believe you are living your values" — Aird, Microsoft

Advertising
Like this and want more? Watch the full Sifted Talks here: