According to data compiled by Pitchbook, the aggregate value of European unicorns has dropped for the first time in five years. 
With VCs less likely to part with capital for later-stage startups, what's the measure of success in the current economic climate? How have funds changed their activities in the past 18 months? And how has the investor-founder working relationship changed? 
We put these questions to our expert panel on the latest edition of Sited Talks. 
Our lineup included: 
Dinika Mahtani, principal at Cherry Ventures
Namratha Kothapalli, a principal for climate tech investments at Speedinvest
Shikha Ahluwalia, principal at Balderton
Dan Polonka, senior product marketing manager at Affinity, a CRM that allows VCs to automate and control their deal flow
Here's what we learnt: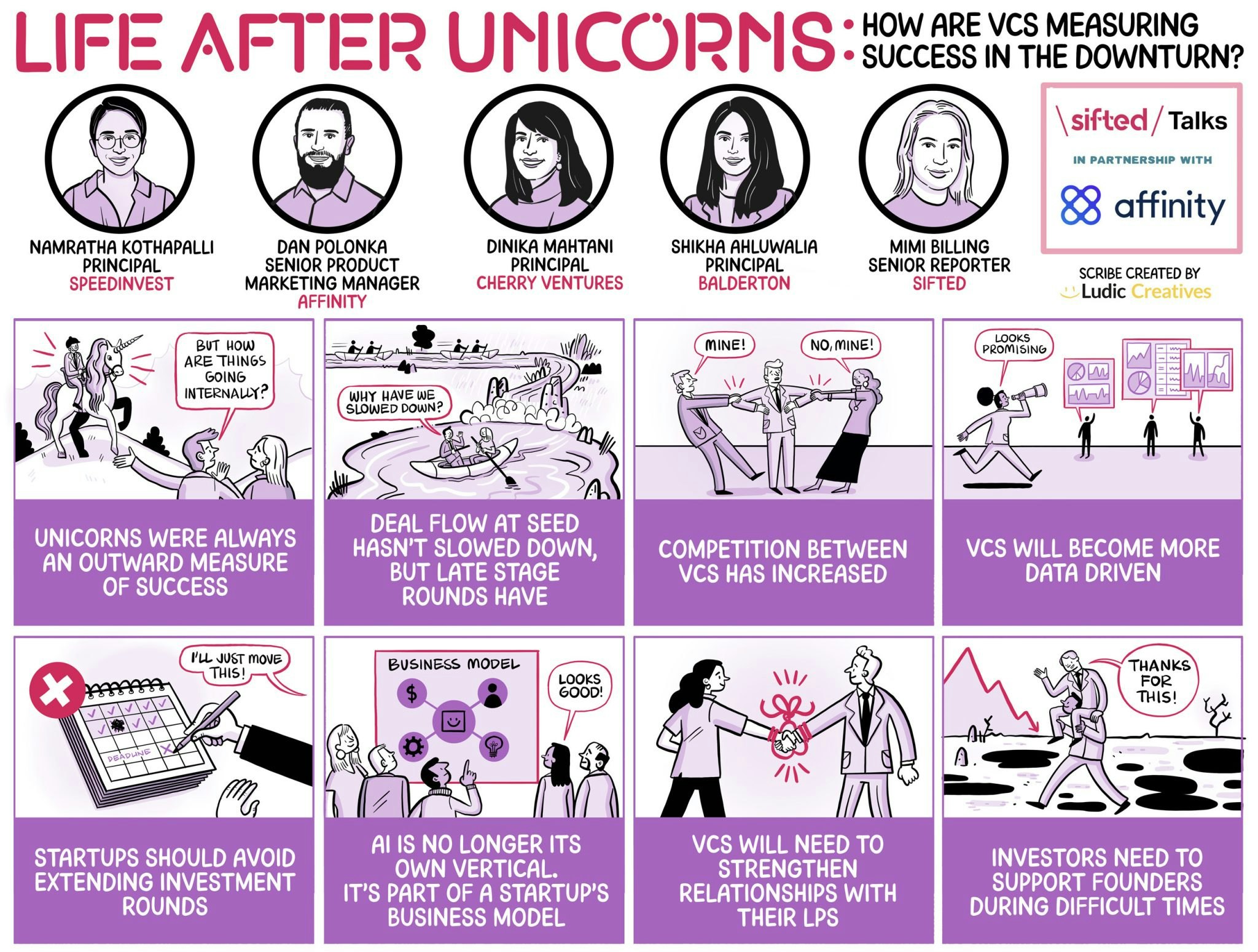 1/ Unicorns were always an outward measure of success
When it comes to the merits of using the number of unicorns as a metric of a firm's success, Mahtani said it had only ever been an outward measure of success — a paper metric that obfuscated the most important concerns for VCs. The priority has always been delivering returns for LPs regardless of valuations.
Ahluwalia agreed, saying the goal of VCs largely hadn't changed. It's about finding the best founders in frontier tech, and helping them to build the best team possible. 
The measure of the number of unicorns in every VC portfolio, became a very outward measure, over the last few years. It's something that people marketed, it's something that journalists talked about a lot" — Dinika Mahtani, Cherry

Ventures
2/ Deal flow at seed hasn't slowed down, but late-stage rounds have
Increased due diligence from VCs has slowed down the process of deal-making, but the effects haven't been uniform. 
Ahluwalia said that for the most part, the process at pre-seed or seed had remained largely unaffected, while businesses that received handsome valuations from Series A onwards would need time to grow into those numbers before they accessed more capital. 
For those later-stage startups, building and leveraging relationships with their existing VC partners will become increasingly important. Affinity's upcoming benchmark report into Europe's investment ecosystem backs this up, with Polonka reporting that 45% of investors said they would prioritise investing within their network in the immediate future. 
People are investing in the relationships that they have, and who they can trust to provide them the proper insight and steer them in the right path" — Dan Polonka,

Affinity
3/ VCs will become more data-driven
With less available capital, there were fewer great companies for VCs to invest in, said Ahluwalia. That meant competition for later-stage investments was increasing. 
Polonka said that the ability to make more data-driven decisions will be the key differentiator for investment firms. He quoted data suggesting that 84% of VCs want to become data-driven — defined as employing one data engineer and building an internal reporting tool — yet just 1% of firms are at this level of capability. 
There is a huge competition, the person that has the most data, the person that has the most intelligence, is going to be ahead of the game" —

Polonka
4/ Startups should avoid extending rounds
There has been an increasing trend of seed companies extending their initial round to leverage a sharp increase in their valuation.  
Ahluwalia said Balderton rarely invested in these "seed+ rounds" as the business hasn't been de-risked. She would rather see a business that waited a further 12 months before returning to the market, as it gave the company time to prove its valuation. 
Kothapalli agreed, pointing out that runway and path to profitability had become increasingly important to VCs during the downturn. 
There's value in proving to future investors that the founding team can manage the runway well enough to ride out the downtown, without relying on a lot of external funding" — Namratha Kothapalli,

SpeedInvest
5/ Investors need to support founders during difficult times
When asked about how the startup-investor relationship had changed in the past 18 months, Mahtani again referenced runway, saying it's often the first topic brought up during board meetings. 
Ahluwalia and Kothapalli took a different tack, instead looking at the ways in which investors could better support their founders. Kothapalli said it was about increasing the number of touch-points with the founder, providing them with mentors and peer-to-peer support from successful leaders in their respective spaces. 
At Balderton, the focus is now on creating high-performing leaders, who doesn't necessarily need to work themselves into the ground to be considered a success. 
A high performing founder is ultimately like a high performing athlete. Yes, they have a host of advisors around them, and that includes board members and mentors. But that also includes a balance of physical activities and wellbeing" — Shikha Ahluwalia,

Balderton