Gopuff, the US delivery app, is in talks to acquire Dija, the London-based 10-minute grocery delivery startup, according to two people close to the conversations. 
The deal is not yet finalised, but is expected to close in the next week or two. 
It should be a good exit for the Dija founders, Alberto Menolascina and Yusuf Saban, who only launched the business in London in March of this year and raised $20m in a seed round in December, at around a $100m valuation. 
For its main investor, London-based VC firm Blossom Capital, the acquisition could also work out nicely if it ends up with shares in Gopuff (valued at $8.9bn in March). 
Dija declined to comment.
Gopuff heads to Europe
The acquisition will not be Gopuff's first in Europe. In May, it agreed to acquire UK-based delivery startup Fancy for an undisclosed amount (speculated to be around $40m), which has dark stores in multiple cities around the country. 
"Acquiring Fancy is an important first step as we accelerate expansion in the UK and Europe and quickly accelerate our investment in the international market," said Daniel Folkman, Gopuff's senior vice-president of business at the time. 
By acquiring Dija, Gopuff will also take a step into Spain and France, where Dija has several dark stores. 
Gopuff is currently hiring for several roles in Europe — including recruiters in the UK and Germany, and a UK general manager. According to LinkedIn data, Dija more or less stopped hiring in June, adding just seven people to its team, in comparison to around 40 people in each of the preceding three months.
Since 2013, Gopuff has grown to 250+ dark stores in the US, which each stock around 2,500-3,000 items (similar to Dija). If the Dija acquisition goes ahead, it would also have dozens across Europe.  
Sifted Newsletters
Sifted Newsletter
3x a week
We tell you what's happening across startup Europe — and why it matters.
A competitive field
Gopuff is entering a fiercely competitive field, however. More than €2bn has been invested in online grocery startups in Europe already this year and dozens of competitors are expanding fast.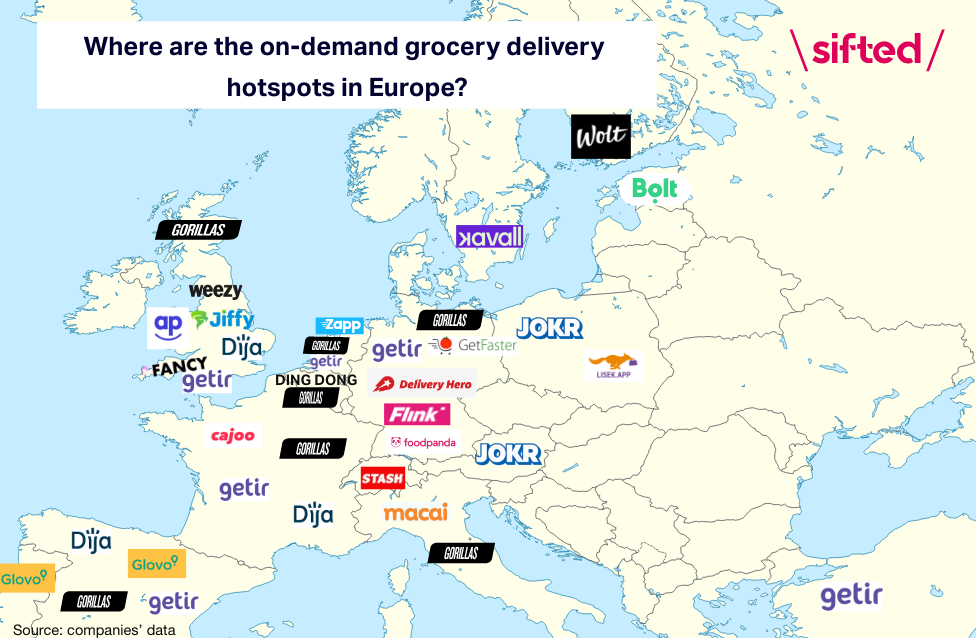 Consolidation is well underway. Last week, Turkey's Getir acquired Spain's Blok in order to enter the Spanish, Portuguese and Italian markets. Dija itself acquired a smaller company, Cambridge-based Genie, earlier this year too. 
Last month, Insider reported that Dija had held sale talks with Gorillas and Gopuff and Bloomberg reported that Dija was in talks with undisclosed parties over an acquisition or a new funding round.