Digital banks have stormed into the retail market with the promise of doing "banking better" — including slicker app interfaces and speedier features.
Now, a comprehensive study by app experts Built for Mars is testing how far ahead digital banks really are; logging every click and minute spent across 12 UK banks accounts — including challengers Monzo, Starling and Revolut.
The first series in the study, published last week, assessed the number of days it took to open an account (all three challenger banks performed above average, alongside high-street banks Barclays, Lloyds and Metro).
Built for Mars have now released the second research instalment, looking at how long it takes to send money domestically on each account.
The results, shared exclusively with Sifted, show that UK digital banks are all faster than average, but are neck-and-neck — and even overtaken — by a handful of incumbents.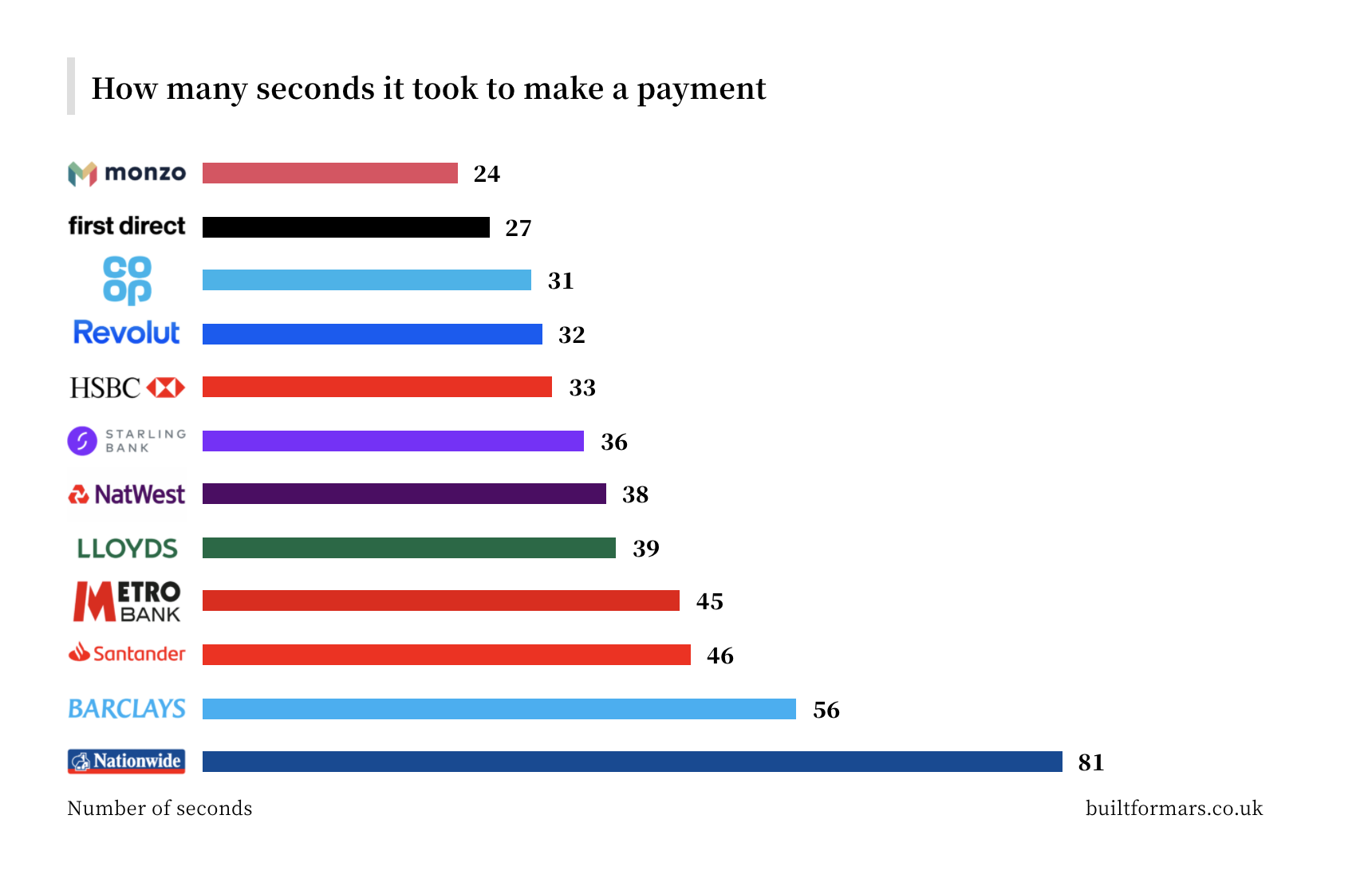 "Broadly speaking, there's a lot of room for improvement," Built for Mars founder Peter Ramsey tells Sifted. "We like to think that the challenger banks have amazing day-to-day user experience, but as I've shown in the case studies, that's not always true... Some other banks aren't far behind at all — maybe they're as good."
He singled out Monzo as being the easiest and quickest overall (it is three times faster than Nationwide), but noted that Lloyds and Barclays were hot on the digital banks' tails.
In addition, the final chapter of the study — set for publication on the Built for Mars blog in June — compares the ease of doing international payments, revealing that all 12 banks, digital or not, are seriously lagging.
"The international payments one is a bit of a slogfest to be honest. They all do such a horrendous job... I think people will laugh," Ramsey said.
While Monzo and the like have built cult-like followings for their enhanced user experiences, Ramsey says he wanted to apply a degree of scientific rigour to the field.
A former startup founder himself, he concludes all banks still need to address "really basic issues" in the payment experience, listing suggestions in his blog.
Still, he credits digital banks for starting to address these at least, putting visible effort into keeping ahead of the curve.
"It's clear that the challenger banks have made a conscious decision to prioritise the experience," he says, pointing to added perks like total app-functionality, security-features, faster notifications and fewer clicks on average.
Is speed enough?
Although the digital banks are slightly more efficient than most high-street peers, it's difficult to draw conclusions about whether improved user experience is converting full-time customers.
The Current Account Switching Service (Cass) shows in the second and third quarter of last year, Nationwide Building Society, HSBC and NatWest had the highest net switching-gains.
Yet these banks are also some of the worst-performing banks in Ramsey's first two datasets.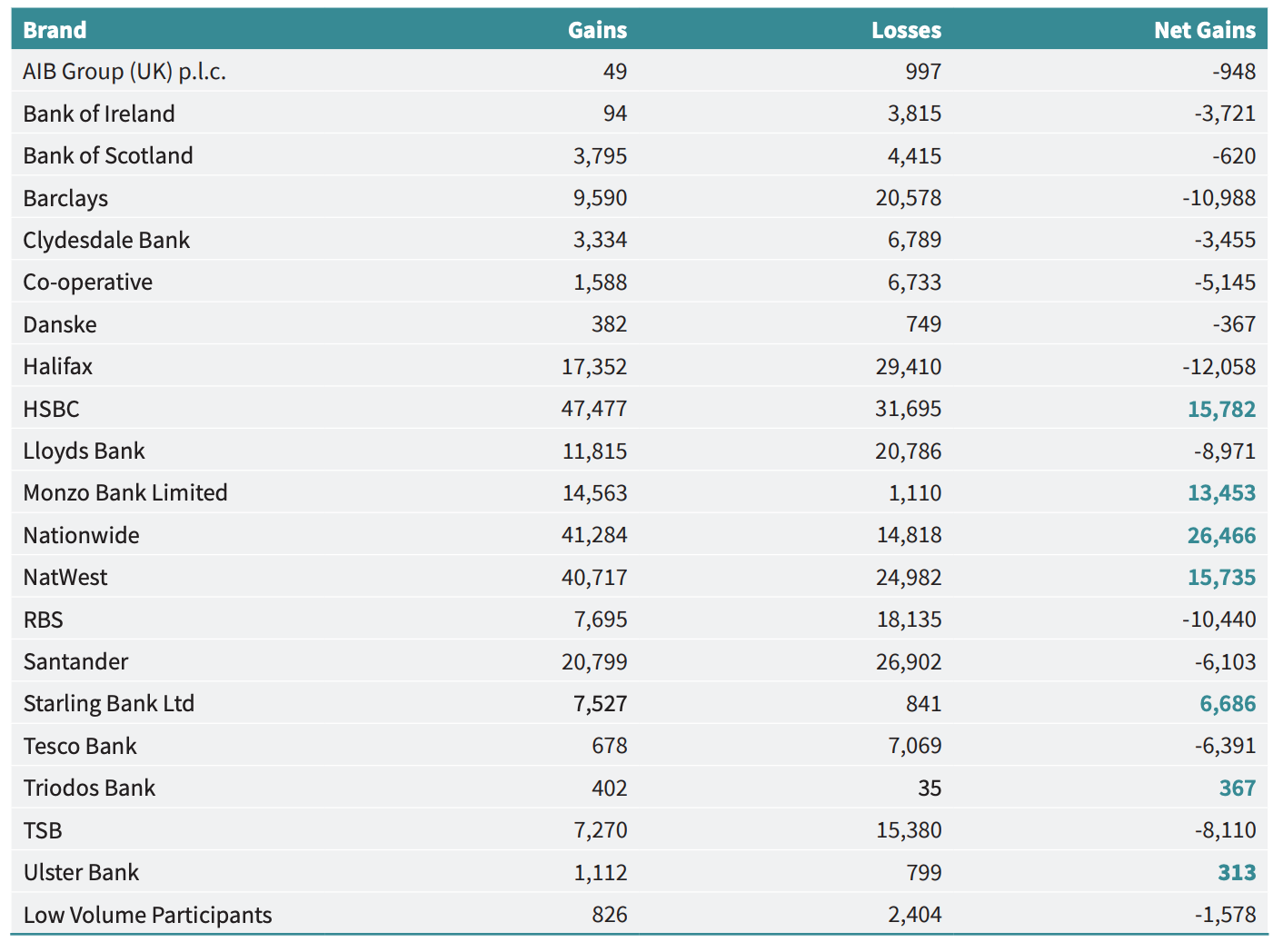 Part of this may be because users are being swayed by switching perks like switch bonuses, for example NatWest's £211 offer, and continued unease around using digital banks as primary accounts (i.e. where their salaries are paid into).
Nonetheless, the trend could be slowly reversing, with the Cass data in the final quarter of 2019 showing Monzo on top for the first time. Monzo saw 20,843 net consumer switches, followed by Nationwide (14,959), Lloyds (13,243) and Starling Bank (9,247).
Still, given Nationwide still came out in the top two, it suggests that better app interfaces are still not a big variable in swaying most consumers.
Overall, the race for incumbents to keep up with the digital banks seems to be getting closer.