Early investors in Deliveroo could make around a 60,000% return on their investment when the food delivery company floats on the stock exchange in the coming months — an example of the staggering returns that are possible when tech investments go right.
Back in 2013, Deliveroo cofounder Will Shu was riding around on his bike delivering pizzas while attempting to win over restaurants and investors to his idea. He ended up doing a 'family and friends' round, raising just over £115k at a £1.5m pre-money valuation, according to people with knowledge of the deal.
For those who were wise enough to write a cheque, it turned out to be a good deal. Deliveroo earlier this month announced its intention to float on the London Stock Exchange, with reports that it will aim for a valuation of as much as £7bn. This price would mean that the value of the whole company will have risen by around 4,666x from that first round.
Deliveroo has been the greatest investment of my life... by a hell of a long

way.
That does not mean that early investors will get anywhere close to a 4,666x multiple on their money as with every new funding round percentage ownership of the company would have reduced. But according to sources, data provider MarktoMarket and Sifted estimates, the investors who held onto their stake would be likely to get somewhere in the region of a 600x multiple on their initial investment at IPO assuming a £7bn valuation*.
Of course, not all of these early investors will have all the shares they initially bought. Many will have sold some along the way. But it's still a remarkable investment, made even more so by the fact that the original friends and family round was done under the UK's SEIS rules, meaning that roughly half the initial investment was a tax writeoff from day one.
One person speaking to Sifted on the condition of anonymity who was an investor in the early few years of the company, said: "Deliveroo has been the greatest investment of my life... by a hell of a long way."
VCs made the biggest bets
While the biggest headline winners in terms of multiples will be those in the 'friends and family' round, the most money in absolute terms will go to those VC funds who were both smart and lucky enough to have backed the company early.
London-based fund Index Ventures perhaps has the most bragging rights, as it led the £2.75m Series A round at a £9m pre-money valuation, with London-based Hoxton Ventures also being in the same round. That initial investment would be worth around 100x more than what they paid, assuming a £7bn valuation at IPO, according to Sifted calculations*.
Sifted Newsletters
Sifted Newsletter
3x a week
We tell you what's happening across startup Europe — and why it matters.

Index and Hoxton put more money into the company in later rounds as well, meaning the value of their final stakes will be even more. Index led the Series C round as well, and its partner Martin Mignot sits on the board. Other big investors have been Amazon, Accel, General Catalyst Partners, DST Global, Fidelity, T.Rowe Price and GR Capital.
Today, the biggest Deliveroo shareholder, according to company filings, is the US ecommerce giant Amazon with 15.8%, which at a £7bn valuation would be worth £1.1bn. The next largest is global investment firm DST with 10.5% followed by Index Ventures with 10.3%. Will Shu, who owns a 6.2% stake in the business, according to company filings, could stand to gain a payout of £431m if it goes public at a £7bn valuation.
Back from the brink
Deliveroo, which declined to comment for this piece, is an incredible story of hypergrowth. Shu and his business partner Greg Orlowski signed up their first two restaurants back in 2013. Today it says it has 100k across the world. It is a market leader and a pioneer in areas such as dark kitchens, which is changing the food delivery game.
But the company has also been tested in the last year. The pandemic initially looked like it could be a deadly blow as many of its key restaurants shut up shop and the company did not have the same war chest as rival Uber Eats or the same scale as Just Eat Takeaway. Deliveroo needed to find capital, which it found in the form of a £575m investment led by ecommerce giant Amazon, but this was then blocked by the Competition and Markets Authority (CMA), the UK's competition watchdog, for almost a year.
The investment was eventually cleared, at least in part because the CMA worried that Deliveroo would have to stop trading without it. But after some dire moments, the company has bounced back with more people using the service than ever. Deliveroo is now playing a leading role in not only the £9.8bn takeaway delivery market in the UK but the global market as well.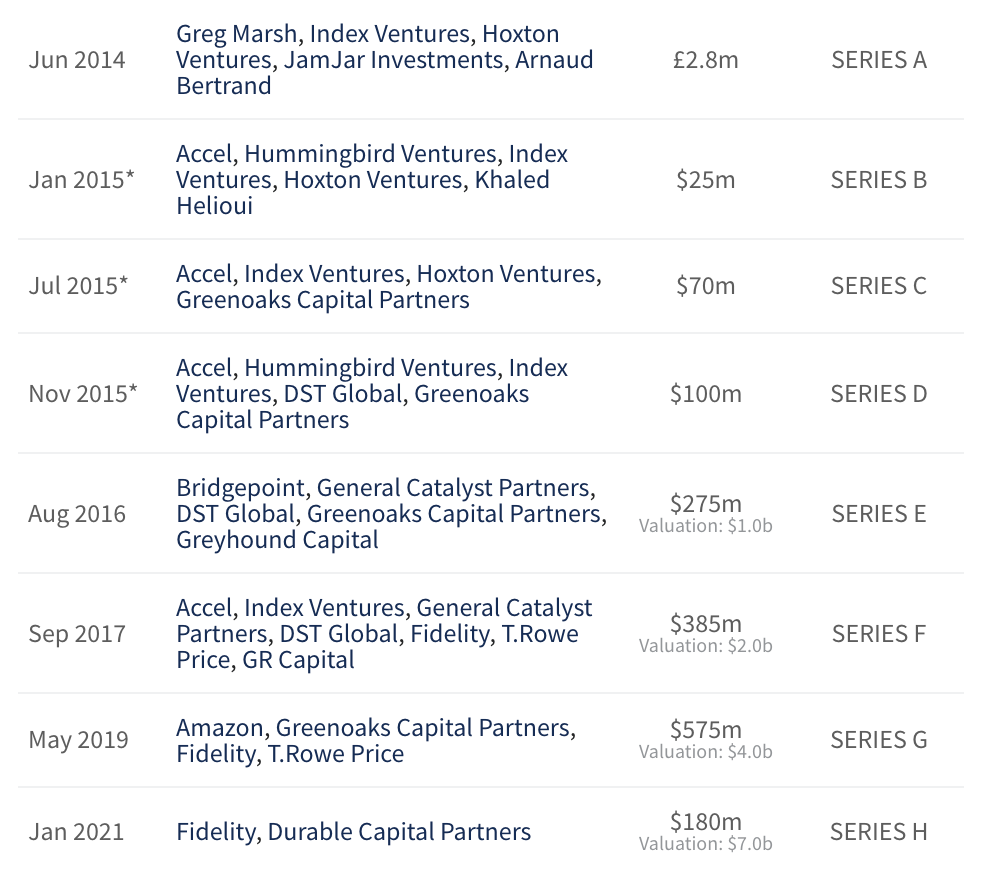 Greatest ever venture deal?
The Deliveroo deal was a pretty good one for investors, but it was not the best ever in Europe. That title, at least as far as Sifted can work out, goes to the seed investors in the Romanian software company UiPath.
Those investors are set to generate more than a 220,000% return on their money when the company lists in New York in the coming months, turning $1.6m into at least $3.5bn.
*A note on the calculations
The calculation for working out the returns for early investors in Deliveroo involves a little educated guesswork.
But essentially, if you know that the £115k 'family and friends' round was done at a £1.5m pre-money valuation, then you know what percentage of the company they owned at that time.
From that, using largely public data and the share register via Companies House, you can do the maths about the dilution of each investor at every point with just a little educated guesswork.
There is also the data provider MarktoMarket, which gives the share price at the family and friends round at £1.50 a share and the valuation of the Series H round at £646.38 a share.
Assuming an IPO at £7bn, which is 32% more than the £5.3bn Series H round, that would mean a share price of around the £855 mark at IPO. The rise in share price from £1.50 to £855 is 570x, which gets to a similar range.