With 75m cats and 65m dogs in Europe, pet tech is a market ripe for hypergrowth. It stands at the crossroads of several trends that startups can capitalise on: millennials putting off having children and adopting "fur babies" instead, healthy, eco-conscious eating being extended to pets as much as people, the growth of direct-to-consumer deliveries, plus a pile of tech and telecoms advances that make new types of tracking and on-line communications possible for pets.
Add to that a covid pandemic that has inspired so many people to adopt cats and dogs that animal rescue shelters were emptied out for the first time. Around 24% of households in the EU own at least one dog, and 25% own at least one cat. We know this instinctively, too — we've seen them walking across everyone's Zoom screens recently.

But we've yet to see very large pet tech companies emerge in Europe. The US has seen a number of startups such as Rover and Wag receive large funding rounds and high valuations, but the European market appears to be at an earlier stage, with smaller deals and a more dispersed market.
What needs to be done to create Europe's first pet tech unicorn?
We gathered a panel of experts including Alex Thurstan, cofounder of gourmet pet food company Different Dog, Andre Jordao, cofounder and CEO of food and veterinary advice company Barkyn; Staffan Helgesson, general partner at Creandum (investor in FirstVet) and Garyth Stone, managing director at Houlihan Lokey (who sold Tails.com and Lily's Kitchen to Nestle) to answer the question.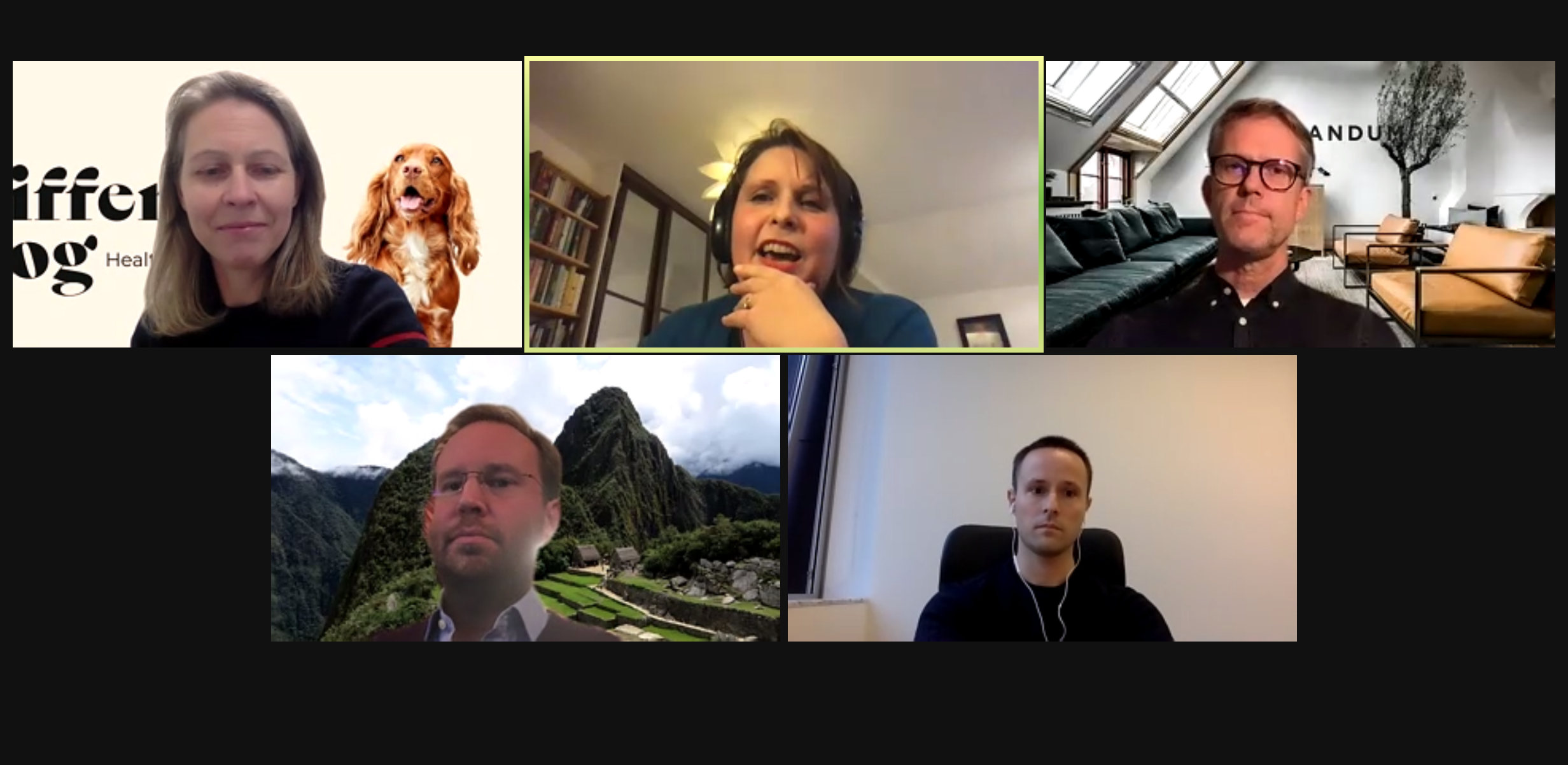 These were some of the main takeaways from the discussion
1. Investors are looking for startups that can really own the end-to-end customer relationship.
This is what initially attracted Helgesson to Firstvet, the telehealth company offering veterinary consultations over video. Creandum, which has backed Spotify, IZettle and Kry, hadn't invested in pet tech previously but saw in Firstvet the makings of a business that could become a truly trusted platform for customers.
"People are always talking about becoming a platform," says Helgesson. "But it is hard to do in reality. What we always try to look for is a combination of services that make the end consumer really delighted and that you own the end consumer relationship. If you have those two things combined you have a fair shot at being a platform."
Once you have the customer's trust, it is easier to build up and add other services.
Porto-based Barkyn has taken this approach by combining personalised pet food with veterinary consultation services. Jordao says this has helped build trust with customers and significantly increased retention rates. Adding other services is on the company's radar.
2. You have to be single-minded about being number one or two in the market.
"At the end of the day in each market, there is a really small amount of companies that capture a very large proportion of shareholder value. All revenue is not created equal," says Helgesson. "Being number one or maybe number two — but definitely not number three or number four or number five — in a category is critical. Shareholder value will concentrate on the winners."
Sifted Newsletters
Sifted Newsletter
3x a week
We tell you what's happening across startup Europe — and why it matters.
All revenue is not created

equal.
This means being willing to think big and play the long game. Spotify was unprofitable for years because they kept ploughing money into expansion rather than settling for being a regional leader in the Nordics or Europe. They faced a lot of criticism for it, but eventually, the gamble paid off.
"That's how they became a $50bn company. Without that, they wouldn't have been valuable. They would have been profitable but they wouldn't have been valuable. They went for it, that's what you have to do to get this unfair share," says Helgesson.
3. That doesn't always mean spending a huge amount of money.
Sometimes outsized investment is needed. But the pet tech community is also accurately aware of the warning example of Wag.com, the US-based pet-sitting startup that raised a $300m investment from Softbank, but later fell into difficulties. Softbank has pursued a strategy of supercharging its portfolio companies with money, but it doesn't always work, especially as startups often end up spending most of that on Google and Facebook ads, says Stone.
By raising a large amount of money and spending it on marketing, all you are doing is making Google and Facebook shareholders

richer.
"If you tell your marketing department you have $10m to spend they will spend it, but they may not spend it in the cleverest way that drives the best results. By raising a large amount of money and spending it on marketing, all you are doing is making Google and Facebook shareholders richer, you are not actually helping your own business," he says.
Thurstan at Different Dog says she has tried to focus spending strategically on the most valuable customer segments. For example, Different Dog focuses on winning over the puppy market. Handholding a family with a new dog through those precious but anxiety-filled early days can often turn them into customers for life, more easily than someone with a more established dog.
4. Customer acquisition cost to lifetime value is the key measure you need to watch.
Now that Barkyn has gone past its very early, scrappy stage and raised a €5m Series A funding round in June, the problem that keeps Jordao awake at night is figuring out the most effective way to acquire new customers.
"Finding the right acquisition model and the right angle to acquire customers at scale," is his key current challenge, he says. "Once you have cracked retention and getting people to stay in your bucket, you need to find ways of unlocking huge streams of new customers."
That stream of customers needs to come at the right price, says Stone. "If you are spending so much and your customer acquisition ratio drops below an acceptable level, that is telling you you aren't being efficient with your money," says Stone. On the other hand, if you are growing but maintaining customer acquisition costs, it's a sign you can press on the accelerator and go big.
5. The secret ingredient is...community.
Every investor wants a fast-growing business that stands out from the competition and can't be easily copied. This is not easy, with some areas such as tailored pet food, for example, starting to look crowded with dozens of new startups. A key way to stand out is community. This may sound warm and fuzzy, but it actually makes hard-nosed business sense.
"What is really important is to create this sense of community. You've got to have an emotional connection with your customers," says Stone. " Community is a super important word here. If you feel part of a community your purchasers want to be seen as a Barkyn consumer, a Different Dog consumer. That makes it easier to share incremental products or services with them because they trust them. That is the ideal that investors want, because that enables you to scale."
Many of the new crop of pet tech startups do put a lot of effort into community, trust and authenticity. It can be down to very basic things — everyone who works at Different Dog, for example, owns a dog or at least regularly looks after one.
"Everyone is passionate about their dog, And that exudes that passion to your customers," says Thurstan. The community is so tight-knit that some of Different Dog's early customers ended up coming on board to work for the company.
Once customers love what you do, working out how to scale is "a good problem to

have".
Thurstan admits that this might be tricky to maintain as the company grows bigger. "The biggest challenge will be making sure you can translate that message effectively at scale," she says. Continuing to invest in the team is one way she is trying to make sure those values remain in place.
Similarly at Barkyn, customer service can be quite a high cost, labour intensive operation, with a lot of real human contact, especially with new customers. To make people comfortable with online vet advice, for example, Jordao says Barkyn makes sure that real humans are available to consult, not just chatbots.
Later, as customers become more used to the platform, some of these communications can become automated to help the company scale up, but the initial investment in human interaction is important, says Jordao.
"We have only one original concept — how to deliver value to our customers, period," he says. Once customers love what you do, working out how to scale is "a good problem to have", Jordao says.
This article first appeared in our monthly Unleashed Pet Tech newsletter, a collaboration with Purina Accelerator Lab. All content is editorially independent. Sign up to our newsletter here to keep up to date with the latest goings on in the European pet tech industry.