To try and keep global warming below 1.5C, as called for in the Paris Agreement, UN member states are committed to cutting carbon emissions by 2030 — with the aim of reaching net zero by 2050. 
With innovative solutions required, climate tech is topping the agenda for European investors and $15bn of capital was raised last year. 
What solutions are emerging from this influx of investment? How are policymakers driving change, and supporting innovative companies? 
To answer these questions, we put together a panel representing different stakeholders in the journey to net zero on our latest edition of Sifted Talks.
Our panel included: 
Michal Nachmany, CEO and founder of Climate Policy Radar, a not-for-profit using AI to unlock data and insights about climate law and policy, helping decision-makers design more effective strategies
Wey-Len Lim, senior VP and head for energy resources and environmental sustainability for the Singapore Economic Development Board
Yoann Berno, partner at climate-specialist venture capital firm Climentum Capital
Shilpika Gautam, CEO and founder of SALT Climate Tech, a financing platform for climate-focused startups 
Here's what we learned: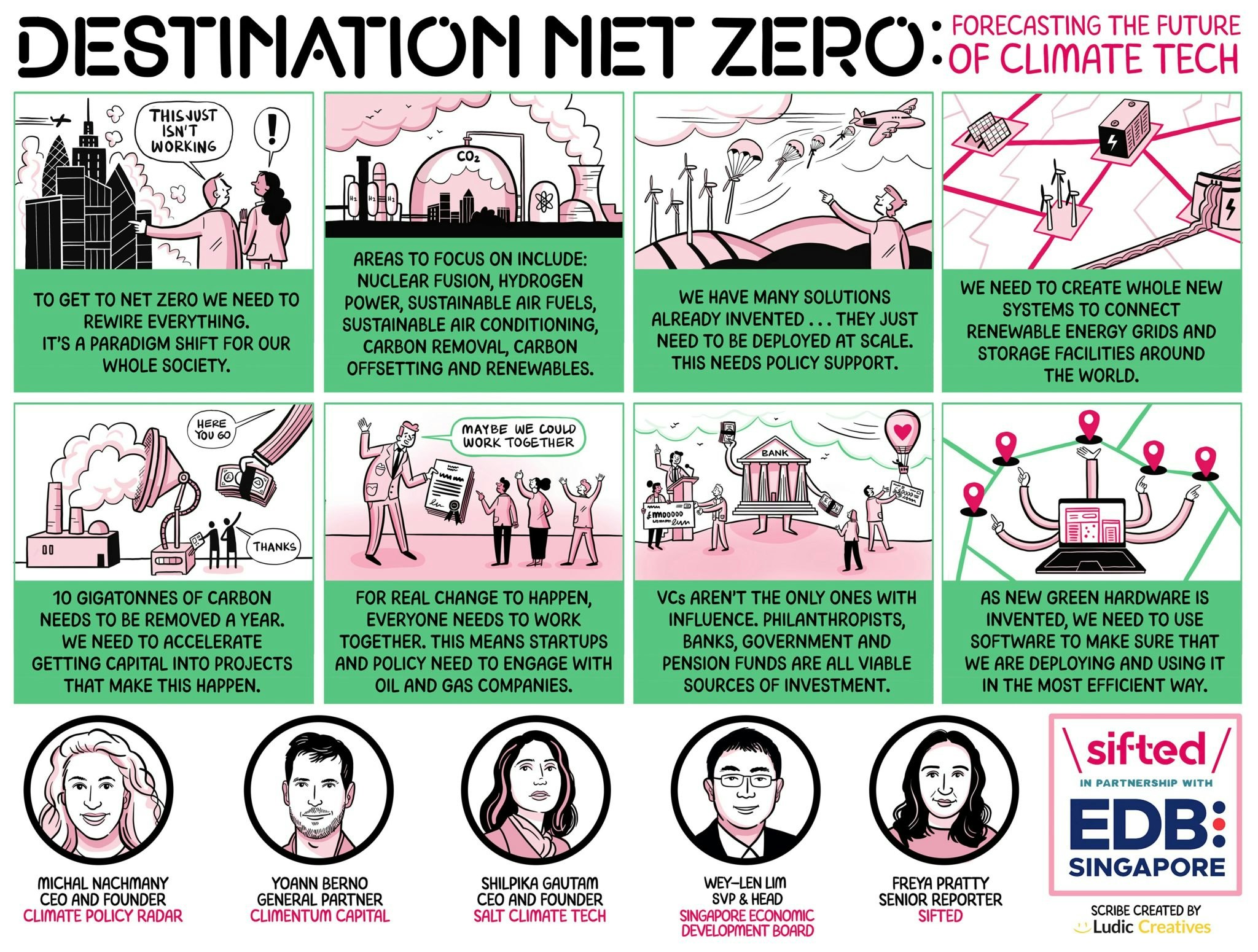 1/ There's no one solution
Because climate change is such a big issue, a coalition of different sources need to be involved. This includes corporates (including oil and gas companies), pension funds, non-profits, VCs and policy. 
Berno agreed and said he thinks policy and government-led reforms are more important than private funding in driving change. He pointed towards EU guidelines on single-use plastics and legalising insect-use in animal feeds as examples of legislation essentially creating viable markets. All of the panel extolled the success of America's Inflation Reduction Act (IRA) bill, which earmarked $369bn of investment in climate-focussed companies. 
Lim gave some indication of the steps individual countries can take in their climate efforts. To reach the goal of net zero by 2050, Singapore (a city-state) is aiming to increase its renewable energy use and invest in hydrogen fuels, while also increasing its carbon removal efforts. It has also ringfenced $140m of capital to invest in low-carbon energy research.
"We have a very large energy and chemical sector in Singapore, and many of these are essential products. So we must look at ways to decarbonise the industry at scale by moving into more sustainable fuel products like sustainable aviation fuels, petrochemicals and bio feedstock" — Wey-Len Lim, Singapore Economic Development

Board
2/ VCs are looking for businesses that shift the paradigm
Berno called on investors to be bold and invest in technology that might not currently be commercially viable, but could change the world. 
As such, he suggested the renewable energy market is too saturated for VCs to find value or drive meaningful change. He instead cited areas such as nuclear fusion, hydrogen fuels, sustainable aero-fuels and air-conditioning.
"We need to be daring, to really be bold, and invest in the sectors that might not be commercially viable as of 2023. But they certainly have a track to commercial viability in the next five to seven years" — Yoann Berno, Climentum Capital
3/ Carbon removal and sequestration presents a big opportunity  
Carbon removal — the process of capturing CO2 from the atmosphere and "locking" it into the earth or other materials — has clear interest from investors. Berno reported the market has grown by 150x in the past two years, and he believes there will be increasing investment from oil and gas companies looking to mitigate their climate impact. 
Gautam said the total cost of removing 10 gigatonnes of CO2 from the atmosphere per year — the estimated figure to reach net zero by 2050 — will cost around $1tn. So the opportunity and need for companies, investors and governments to collaborate is clear.
"We need to find ways to accelerate the deployment of capital into projects, we need to find partners in the ecosystem and scale them, we need the right policy, we need cooperation amongst entrepreneurs" — Shilpika Gautam, SALT Climate

Tech
4/ Offsets need to be high quality
When it comes to carbon offsets, Lim said they are one of the ways the world can look to decarbonise but they need to be high quality. 
He said that in Singapore, research is being funded to look into projects, specifically focussed on habitats around the country such as rainforests, mangroves and peatlands.
"I have no interest to allow the emitters in Singapore to buy low quality offsets to offset their liability…we know methodology is a big issue here, so we have also started to fund research" — Lim
5/ A lot of the solutions are already here
While these new innovations will be needed to aid in the journey to net zero, a concerted effort towards deploying existing innovations and infrastructure will be equally important, Nachmany said. 
She pointed out that we're currently on track to reach 1.3C of heating by 2030, and that the adoption of new solutions is currently lagging behind the necessary pace. 
Lim agreed that a lot of solutions — particularly energy based solutions — are already commercial and viable. He added it's now about connecting different resources from different countries and regions together. In Singapore, for example, the aim is to import more renewable energy.
"There's almost two layers here. There's the deep innovation that needs to happen. And there's the deployment, which has to be innovative in itself, because we've never deployed things at such speed" — Michal Nachmany, Climate Policy

Radar
6/ Startups and not-for-profits must look past VCs to other investors
Gautam said that producers of climate tech hardware are less suited to the typical VC model. Production of the technology often requires large up-front investment in infrastructure, manufacturing and rent costs, and doesn't necessarily present a clear return on investment. 
Nachmany also believes these sources of capital are crucial for not-for-profits, who can help share best practice and data with entrepreneurs from countries that are more vulnerable to the adverse effects of climate change.
Philanthropists, banks, government and pension funds are all viable sources of investment, but they must understand the time these projects will take to see returns, Gautam said. 
Berno also pointed out the role angel investors can play in taking those moonshot risks on pre-seed businesses that VCs might not prioritise in the current market.
What's really different, exciting and important about climate hardware is that it doesn't always fit very neatly into the VC model" —

Gautam
Like this and want more? Watch the full Sifted Talks here: