Most VCs are on the hunt for the next unicorn, but an increasing number are also looking for a gigacorn. They're startups that can reduce one gigaton of CO2 while still being commercially viable.  
But in an increasingly crowded sector (investment into European climate tech startups doubled last year, to $10bn from $5.4bn in 2020), how can investors distinguish the green from the greenwashing? 
We asked our panel of experts how to spot a gigacorn in our recent Sifted Talks. Our experts were:
Hampus Jakobsson, general partner at Pale Blue Dot, a seed-stage VC fund focused on climate change. 
Lubomila Jordanova, cofounder and CEO of Plan A, which supplies software to businesses allowing them to monitor and reduce their emissions. 
Jia Hong Shaw, investor at Turn Off Turn On Ventures, a project which involves him cycling around Europe meeting early-stage investors and startups active in reversing climate change. 
Danijel Višević, founding partner at World Fund, a European VC focused on climate tech. 
Here's what we learnt.
1/ Fully understand the science
While an increasing number of people are aware of the climate emergency, many investors lack the specialised knowledge to recognise which startups are actually best to invest in. 
Jordanova said there were instances where she had seen publications on climate change issued by VCs. But when she dug deeper she found out they were put together by someone without a science background, or even an intern. She added that an investor cannot be fully supportive of a startup they're investing in if they don't fully understand the issues. 
To address this, Shaw said, investors need to be educated step by step and ought to be hiring specialist scientists. 
We're nowhere close to where we need to be. The moment when it gets a bit more sciency, the moment where it gets more complex as a product not understood by mainstream investors, it hinders the capacity for this field to develop fast" — Lubomila Jordanova, Plan

A
2/ Some startups are greener than others 
There are also some startups (and even sectors) that can fool you into thinking they're green — even if you think you've done your background research. 
For example, Višević said transport accounts for about 14% of global emissions and some companies are trying to cut these emissions by offering escooters for some journeys. 
But Višević pointed out that many people who use these escooters were previously using public transport so their emissions actually increased. Jordanova added that sometimes these scooters can't be recycled or repaired. 
You have sectors that are polluting, but people don't invest in them at all. Then you have sectors that are polluting a bit, but they are massively over-invested. For example, people transportation as a sector, especially short range, has received way too much money for its pollution potential. It's a sector that shouldn't be in climate tech"  — Hampus Jakobsson, Pale Blue

Dot
3/ It takes work to find a gigacorn
Once you understand the science (and the red herrings), what are the things that investors should look for if they want to put their money into a truly green company?
Jakobsson said he uses a variety of methods to assess a startup. He asks himself: "Is this a company that will enable the world's population to become more climate aware?" 
He also talks to the startup's founders to figure out what they want and to see whether their product will be polluting later down the line. 
Višević said that when looking at companies, he requires them to have a threshold which requires them to save 100 megatons of CO2. This is equivalent to removing both private and public transport in the UK. He said that 85% of the startups he looks at are unable to meet this requirement. 
It would be great if you invest in a startup that in the future will be able to save a gigaton of CO2. But then there is also the question: Is it on a yearly basis, or is it aggregated? On a yearly basis, there would be too few startups and technologies that you can invest in" — Danijel Višević, World

Fund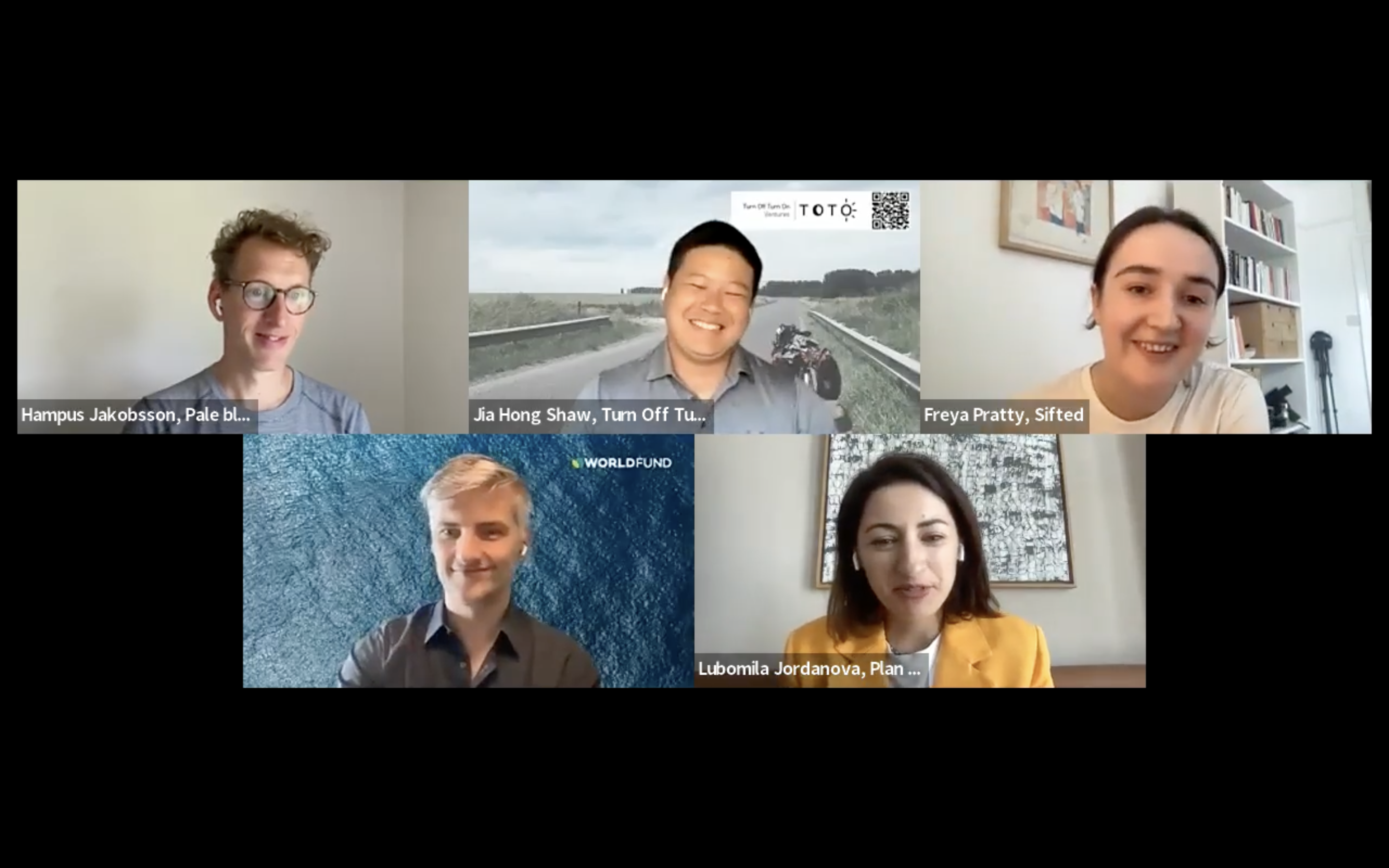 4/ Mind the funding gap
While interest in climate tech has increased amongst generalist VCs, some climate tech startups are finding it hard to attract investment. 
Jordanova said there's a lack of angel investors specialising in climate tech. She added that startups at Series B and beyond need to spend time testing hardware and many VCs are reluctant to fund this. 
However, Višević said that in some countries like Germany, Series B startups had managed to get government funding to develop their products. 
Shaw said that generalist VCs usually have concerns about how startups will survive in the early stages. Because of this, he's noticed some founders have been forced to hand over more of their company to get funding than two years ago. 
This space requires a lot of patience. Generalist investors who are newer to this space, need to understand that patience a bit more. Most of this is hardware and hardware takes time. This is where angel investors provide the very first bridge and will get you to a place where you are VC investable" — Jia Hong Shaw, Turn Off Turn On

Ventures
5/ Profit still trumps everything else   
Gigacorns are great for the planet — but are they any good for investors' wallets? 
Jakobsson said that there's a spectrum of gigacorns. While some climate tech companies are easier to understand and profitable for generalist VCs, others require long-term investment and won't provide a return for at least a decade. 
He added that every single one of his companies had gone on to raise money from VCs not focused on climate change. While these VCs were interested in the ESG aspect of these startups, Jakobsson said that most VCs had invested based on the financial accounts.
We are still a for profit business. I think it is really important to stop speaking about climate tech businesses as charities… We have a business model that is incredibly ambitious to hit 100 million in revenue in the coming years and this is where we are headed" —

Jordanova
Like this and want more? Watch the full Sifted Talks here: