At the start of this year, an inconspicuous German fintech announced it had raised €69m led by Tencent, one of Beijing's most preeminent tech groups.
In the same breath, it was reported that China's Ant was setting up a $100m fund in Berlin to invest in Europe's fintech and blockchain startups.
But these aren't one-offs. They're part of a growing trend of Chinese investors embedded in Europe's fintech story, having already funded top players like Klarna, N26 and WeFox. 
We've taken a deep dive into China's growing love affair with the continent, and what to expect next.
We also look into which investors are leading thlile charge, and what this means for the ecosystem.
Top investors
So far, Europe's fintechs have attracted a small but powerful pool of Chinese strategic investors.
The following list showcases the investors that have been the most active among European fintechs since 2010. This is based on how many rounds they've participated in (as opposed to total amounts invested or the number of individual companies invested in).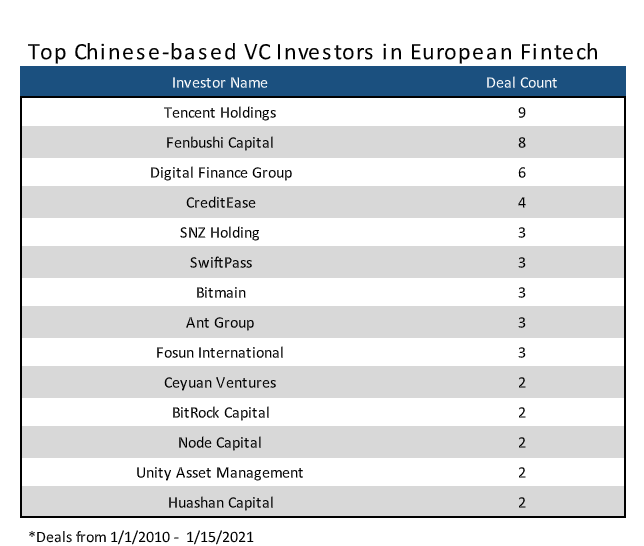 The list broadly falls into two camps: corporate VCs and crypto funds.
Leading the pack is Tencent — one of China's biggest tech companies.
Like Google, Tencent has a prominent venture arm, boasting over 100 unicorns globally. In Europe, it's managed by Ling Ge and Alex Leung. Tencent's most recent European fintech investment was in the German insurtech, Clark, which raised a €69m round in January.
In addition, there are also countless Chinese angels, VCs and private equity firms who back fintechs indirectly, such as LPs in large European tech funds like Firstminute and Atomico. Sources say China's sovereign wealth fund has also considered becoming an LP in Europe.
Chinese financiers are also linked to several key Hong Kong's investors. Among them are QBN Capital, Horizon Ventures (which backed N26 and WeFox) and Convoy, (investor in Tandem and Nutmeg).
More to come
Analysts now expect a boom in Chinese capital into the sector — fuelled by changing political and regulatory tides.
"The geopolitical tension with Trump has led Chinese investors to look further afield in international markets...The investment agreement between Europe and China looks like it could open a lot of doors for investment firms," Lillian Li, a former investor at Eight Roads and a UK-China specialist, tells Sifted.
Europe's strengths include strong regulators and EU rules around licence passporting, says Tao Tao, a former lead for Chinese tech giant Ant in Europe. He too predicts that tension with the US "will further benefit European fintech." 
European fintech also offers an attractive hedge amid growing pressure at home from Chinese regulators, according to fintech analyst Alessadro Hatami.
"China is going through a big moment with everything happening with Jack Ma [Ant's CEO] and an unpredictable regulator," he tells Sifted. "Exports are China's whole economy...they want customers...Europe is big, it's developed, and it's regulated centrally."
Early signs 
Data shows that Chinese investors have already started doubling down on the sector, while diverting funding away from the US.  
GP BullHound found that fintech was China's top investment focus in Europe for Q1 2020. 

This has been driven by the likes of Chinese fintech specialists Lingfeng Capital, who have also recently announced a €150m fund focused on Europe.
The Chinese are also starting to sit in on later-stage deals in Europe, injecting tens of millions in one go. By extension, last year, Chinese investors partook in deals that provided 19% of the total raised by European fintechs, according to Pitchbook.
The funding graph below also suggests that cumulatively, Chinese influence has bloomed in European fintech over the last five years — with more funding on the way.
It's worth stressing however, that the Chinese still write far fewer cheques than their US counterparts. Last year, Chinese investors took part in just 2.2% of European fintech deals, albeit very important ones.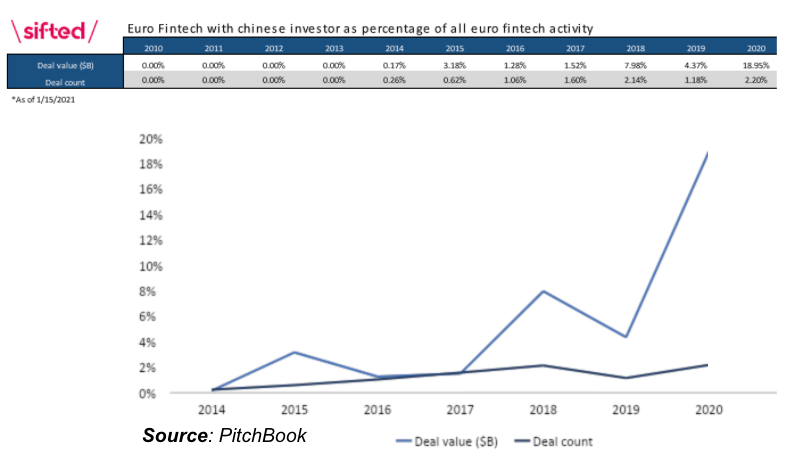 The opportunity calculus
When it comes to fintech, China is the world leader, meaning Beijing investors aren't short of local talent.
So why are they looking for here, and who will they target next?
The existing pool of European fintechs with Chinese backers provides some insight into their interest.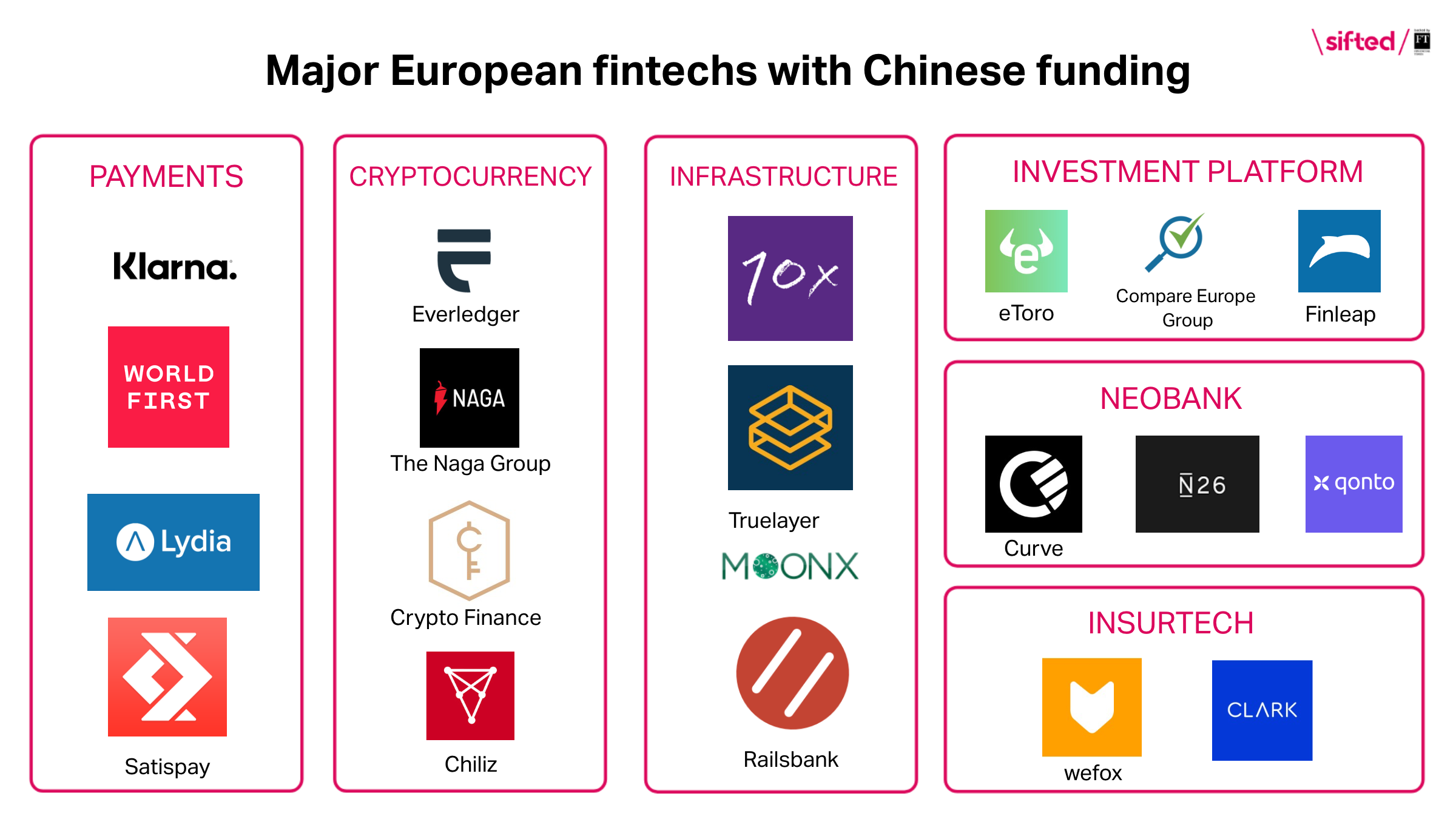 Within this, payments startups have boasted the biggest deals.
"Payments is the biggest focus," says Zennon Kapron, a Singapore-based finance analyst. "The market in China is a red ocean. It's super competitive and the margins are very thin. But if you look at mature markets like Europe, the margins are much bigger," he told Sifted.
Within this, Chinese investors have also learned towards Europe's consumer offering, with one exception — the UK's top digital banks.
Nonetheless, infrastructure and B2B startups could be the next target. In 2019 Tencent invested in open-banking startup TrueLayer. Meanwhile, Ping An Ventures' $1bn fund pumped €41m into troubled German incubator, Finleap, as well as core banking startup 10X. 
 Tencent declined to comment on their ambitions in Europe.
In terms of geography, Kapron also predicted that Eastern Europe is deemed a welcome refuge for Chinese funds.
Influencing from afar
It's little surprise that the world's second-largest economy is looking to plunge its capital into Europe tech.
But China's growing influence in European tech has split opinion.
In the UK, there are now calls for tougher 'screening processes' for Chinese investors. This builds on the dispute in the US around TikTok's use of consumer data, and fed into the government's decision to ban Ant's acquisition of MoneyGram in 2018.
"It's a trojan horse," says analyst Spiros Margaris, arguing that Chinese funding in Europe is a vehicle for soft power.
In a similar vein, after Ant invested in Klarna last year and took a 1% stake, The Times asked: "Do we really want the Chinese accessing so much data about our spending?"
Politics aside, there are also concerns about Chinese investors' protocol. London founders say they carry a reputation for "pulling term sheets." The hyped £500m Chinese incubator Cocoon also quietly closed in the UK without any serious investments.
Meanwhile, London fintech LendInvest mysteriously bought back its £22m stake from Chinese billionaire Zhou Yahi in 2016.
Still, others hail the Chinese as the key to fixing Europe's "funding gap" and a way to boost valuations. A recent report estimated the UK has a £2bn venture gap for scaleups, which Chinese funds could help bridge.
More broadly, UK fintech champion and founder of Level 39 Eric Van der Kleij says investment deals are an opportunity for Europe to create stability with China.
"Investment creates mutual dependency — it's an exchange of culture and an exchange of prosperity," he told Sifted. "We're also less likely to see copycats if the Chinese have skin in the game, and they're more likely to help European fintechs over in China, even as LPs.'
If that's the case however, regulators will need to get their story straight when it comes to China, says Hatami.
"It's ok to have Chinese money, but not Chinese technology?"