Fintech founders have carved out a reputation as techy entrepreneurs, who use their engineering wizardry to redefine financial services.  
But most founders of digital banks don't have professional tech backgrounds, according to an analysis by Sifted and CFTE.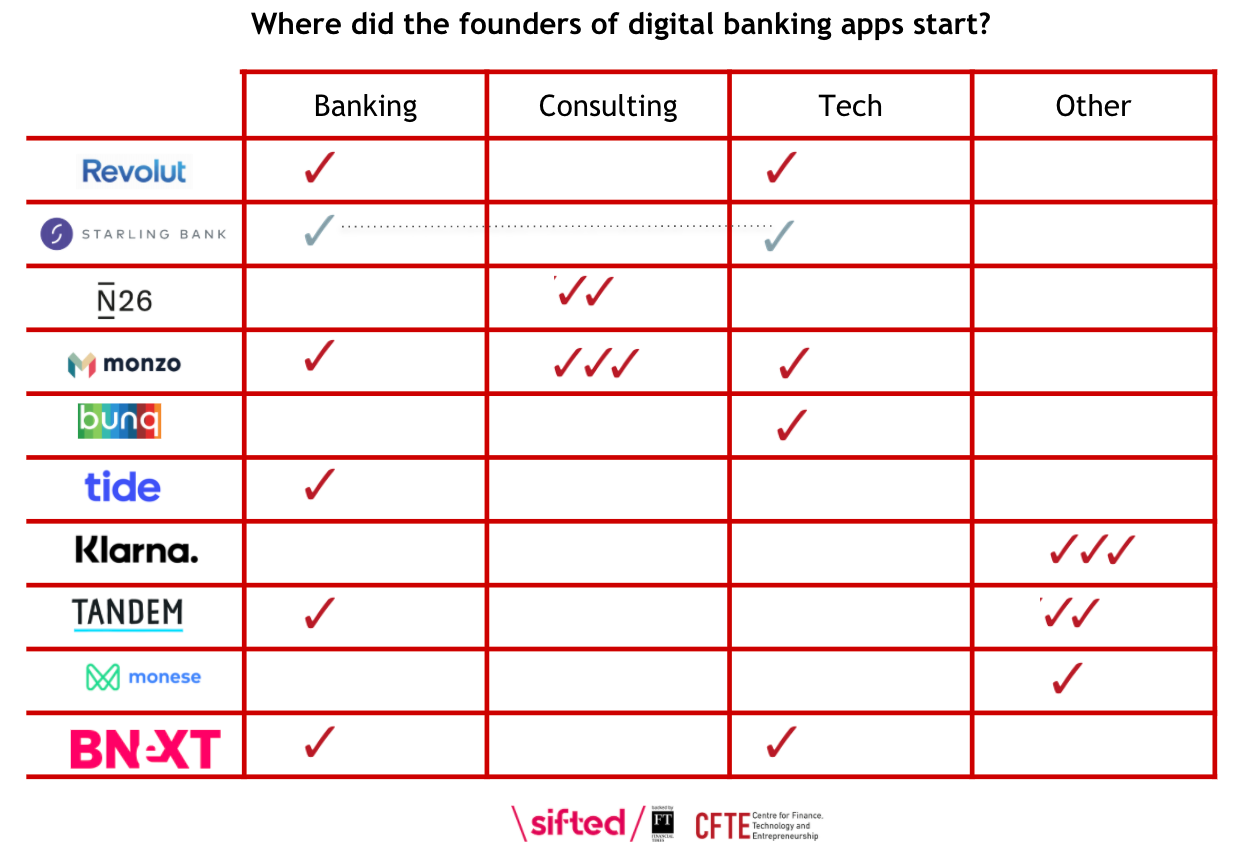 Large incumbent banks have an even starker lack of tech expertise (only 3% of CEOs of leading banks have professional technology experience, according to a study by Accenture).
But it begs the question whether the criticisms hurled at incumbents also apply to the founding teams of digital banks.
Conversely, a handful of founders at digital banks had little or no professional background in financial services.
Still, limited experience in the core pillars of fintech — finance or tech — hasn't stopped investors backing these founders, or customers flocking to their apps in the millions. So does experience matter when it comes to fintech founders?
"The most disruptive companies are rarely founded by deep domain experts, because those are the people who can see all the potential pitfalls and reasons why the company may fail," said Martin Mignot, a partner at Index Ventures and early investor in Revolut.
"As a founder, you need a healthy amount of ignorance. You ignore the fact that someone has tried it before, that it didn't work and failed 50 times before. More common is that a founder has experienced the problem themselves [as a customer] and set out to solve it for themselves, and have been so passionate and relentless that they succeeded where all others have failed."
Sifted Newsletters
Fintech
Every Tuesday
From banks to bitcoin, get all the gossip and analysis in your inbox.
Indeed, in Klarna's case, the three founders were recent graduates in their early 20s with neither banking nor tech experience outside their studies. Klarna eventually went on to secure a Swedish bank licence.
Ed Lascelles, a partner at Albion, also suggested the fund was agnostic on founders' backgrounds, but was drawn to a good regulatory grounding.
"We wholly subscribe to the mantra of founders running fast and breaking things — it's so hard breaking up the incumbents in long-established industries. However, you can't break the regulations, so having the right approach to risk-taking is more nuanced in fintech than for other industries. We look for calculated risk-taking."
No bank, no win?
Tech aside, several founders in this space don't have a solid background in banking.
But Anne Boden, the founder of Starling, argues it's a basic criterion to avoid problems down the line. She prides herself on her 30 years' experience on the frontline of banking and, by her own assessment, that means she's less "naive" than her peers, who have softer backgrounds in finance.
"I'm a bit different. I've got a lot of knowledge," she told Sifted last year.
Although Starling has been overtaken in customer numbers by both Monzo and Revolut, Boden is confident that Starling will win the race; having attracted greater deposits from her users.
Starling's competitors also seem to have come around to her philosophy, bulking up their leadership team with banking experts in recent years as the fintechs have matured. 
For instance, Monzo's five original founders (mostly former consultants) have now all left the board and veteran banker TS Anil recently took over from Tom Blomfield as chief executive.
"Businesses with lots of techies are hiring bankers," said Alessandro Hatami, a former executive at Lloyds — pointing to a similar trend seen at Revolut, Apple Pay and Zopa to bolster compliance and satisfy regulators.
Nonetheless, he warned that bank-first founders equally have to deal with a tech knowledge-gap, which is harder to rectify.
"Techies often don't like working for bankers," he told Sifted.
Hatami also suggested that the dominance of bank-led founders in fintech meant it was less likely to see the frontiers of finance pushed forward.
"We are getting better versions of the bricks-and-mortar bank, [but] not the transformational bank (aka Spotify of Banking)."
Brendan Bradley, an angel fintech investor, echoed the same concern, noting that "established retail bankers fall into legacy thinking."
Anyone's game
The results broadly show that most fintech founders are closer to being "finance people" than they are technologists.
But beyond that, there seems to be little rhyme or reason for who rises to the top in fintech. Students, seasoned entrepreneurs, consultants, all form part of the tribe.
And Laura Connell, partner at Balderton, believes "going forward, the diversity of backgrounds for founders setting up digital banks will only increase."
This is partly because fintechs can now outsource the core components of their tech stacks to third parties like ClearBank and Solarisbank. This somewhat compensates for the lack of native tech experience, and is becoming a particularly popular shortcut for earlier stage companies.
"The historical barriers to entry in this space get smaller by the day," Connell added.
That could provide a shot of optimism for wannabe fintech founders, who worry their lack of experience will be a hindrance.
Nonetheless, Lucile Cornet, an investor at Eight Roads, says that the best exits come from a combination of experienced and ambitious founders.
She points to her investment in French fintech Compte Nickel, which sold to BNP Paribas for €260m in 2017.
Compte's cofounders included Ryad Boulanouar ("the relentless inventor"), and Hugues Le Bret, a member of the banking establishment.
"It took a very diverse team and a mix of technology and vision," Cornet noted.
Note: The graphic has been updated to reflect the hybrid-roots of Starling's founder, Anne Boden. Her career began at Lloyd's Bank as a computer scientist, "help[ing] architect CHAPS." She also held technical positions as head of Systems and Process at Standard Chartered and CIO at Aon, as well as going on to traditional banking roles.