European startup Paebbl has raised €8m to bring its carbon-negative construction material to market.
Carbon capture and storage tech (CCS) is big business these days — but very little of the carbon that gets captured actually gets used for anything.
Enter Paebbl.
It uses carbon captured from industrial facilities, or from the air itself, to develop a carbon-negative material for construction — an industry which accounts for 38% of global carbon emissions.
Investors like the sound of this space: UK startup Carbon Clean, which transitions carbon to materials used as for example fuel or stored as carbon-heavy gas in abandoned gas wells, raised a whopping $150m Series C in May.
Well-known founders
Paebbl was founded in 2021 by Dutch scientist and mineralisation expert Pol Knops, Sweden-based investor Jane Walerud, former Northzone partner Marta Sjögren and former Slush CEO Andreas Saari — the latter three all well-known figures in the Swedish and Finnish tech ecosystems.
Walerud was one of the first investors in Klarna, and is now running a deeptech VC firm, Walerud Ventures, with her husband and daughter. Sjögren worked at VC firm Northzone for eight years, while Saari headed up tech conference Slush from 2018 to 2019.
How does Paebbl use carbon?
Paebbl adds water and ​​ground silicate rocks to carbon captured at industrial sites, producing a powder that can be used as a filler in construction and to make paper, alongside a range of other applications.
"The world is using four billion tonnes of cement every single year which stands for some 8% of global CO2 emissions. We can replace part of the concrete mix with this material," says Saari. That means Paebbl has a big market to tap into.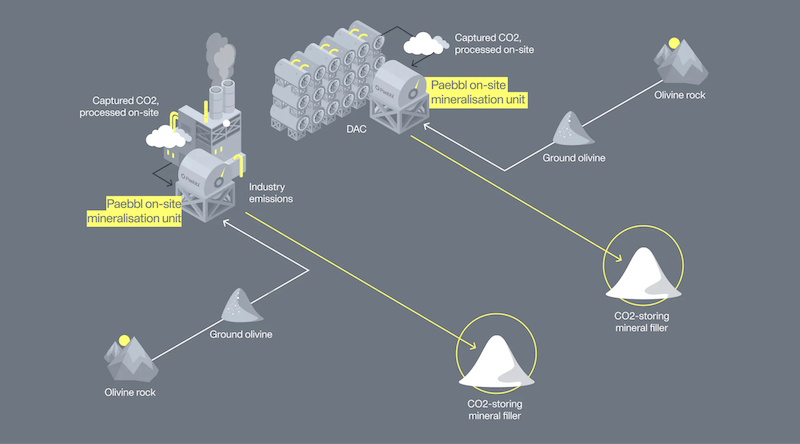 So far, Paebbl isn't making a lot of this new material — this year, it'll make one kilo a day from its pilot facility set up in the Dutch town of Rotterdam. But with the right partnerships, the founders have big plans.
"By February, our capacity will be 100 kilos a day. At the end of next year, it will probably be something like 300 kilos a day. And then we're looking to scale up by a factor of 10 every 12 to 24 months," Saari says.
Unlike some other new materials companies, Paebbl can be competitive on price as well as offering something else, says Sjögren. "There will be a brand value attached to carbon storing or carbon negative materials. We think we'll be able to charge a premium but we can definitely go break even and have good gross margin even on the current commodity prices around fillers."
The investors
So, who believes in this?
Swedish climate-tech fund Pale Blue Dot
French evergreen fund 2050
US-based climate-tech fund Grantham Foundation
Walerud Ventures
Sifted take
Carbon capture and storage is growing, though its use in oil and gas production has attracted some criticism for perpetuating the use of fossil fuels. No matter what your view on CCS, however, it is true that only a small part of the carbon that is currently being captured is being used, and this is where Paebbl is trying to make a difference.
The key will be to show industrial players that its new material is financially viable for them, that it can produce it in large quantities and that the material is at least as good — and as affordable — as existing products.
Although houses built from carbon-negative construction materials is a great sell, there probably won't be a huge demand for it until it becomes a legal requirement — which is likely to take years.
Mimi Billing is Sifted's Nordic correspondent. She also covers healthtech, and tweets from @MimiBilling
***
Looking for digestible insights into the carbon capture sector? Sifted's Pro Briefing on the industry will get you up to speed fast on what you need to know. Check out what Pro membership can offer you here.