Startups with big ambitions invariably think about expanding out of their home market. As the biggest economy in the world, the US is an obvious target, but increasingly, many companies are looking to Canada for their North American base.
What are the benefits of choosing Canada over the US? What are some of the common stumbling blocks for expanding companies in both countries? How does the investment picture differ on the other side of the pond? 
We put these questions to our panel of experts on the latest edition of Sifted Talks. Our guests included: 
Neeraj Gupta, cofounder of legal training platform Lawcubator, an Indian startup which has opened an office in Calgary.
Rick Christiaanse, chief executive of Invest Alberta, an organisation which helps connect startups to investment in the Canadian province.
Jenny von Podewils, cofounder and co-CEO of the people enablement platform Leapsome, a Berlin-based startup which opened a New York office in 2022.
Saroosh Gull, CEO of Eventcombo, an events asset management company that relocated from the US to Calgary earlier this year.
Watch this Sifted Talks here or read about what we learnt: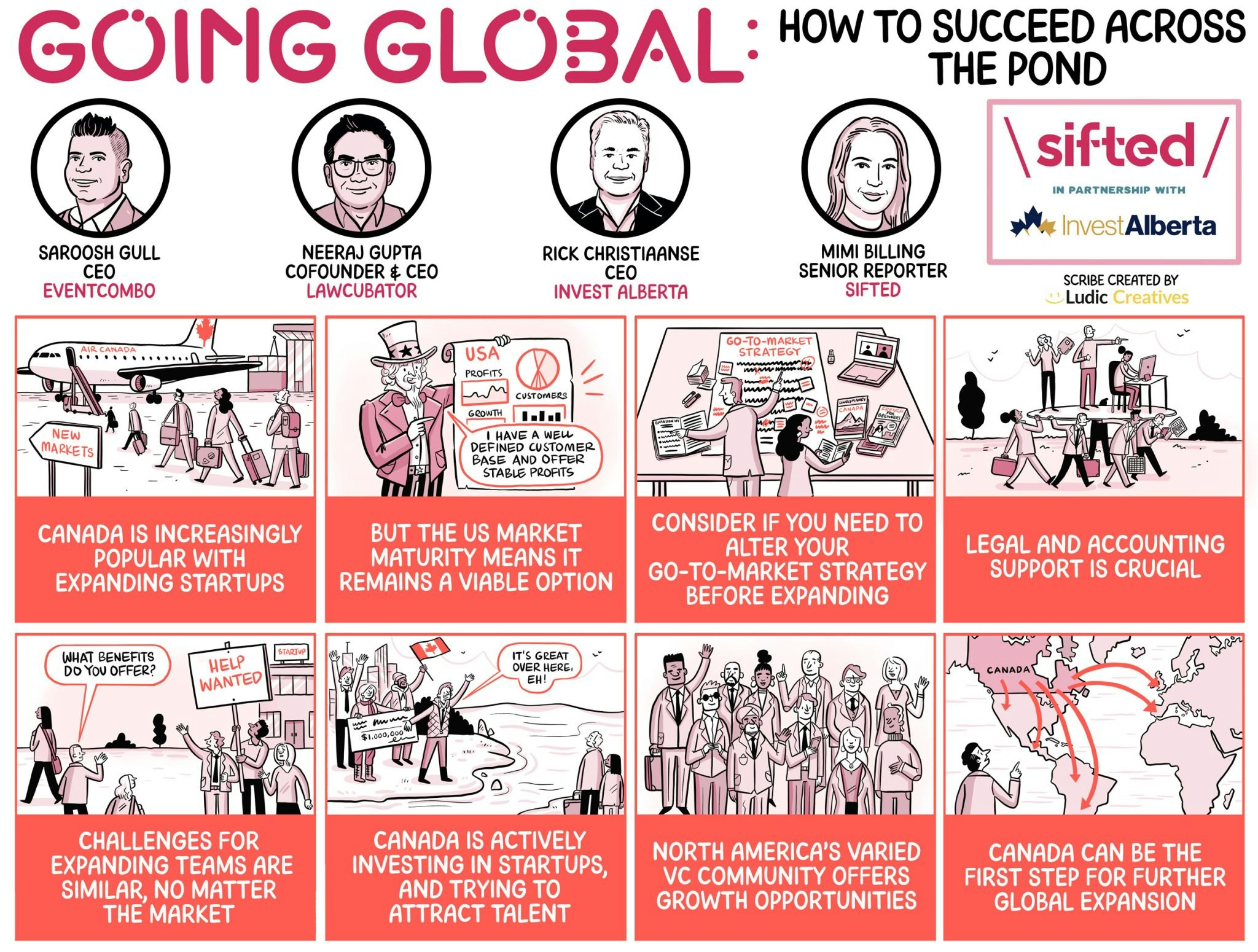 1/ Canada is increasingly popular with expanding startups
The conversation started with a look at the benefits of Canada compared to the US. Christiaanse explained that Canada's flexible immigration policies, free-trade deals with markets across the globe and limited bureaucracy make the country an attractive proposition. 
Gull added that lower real estate costs, access to talent and employee retention (thanks to quality of life) also makes the country popular with startups. Also, as a smaller market than mature tech hubs such as New York or San Francisco, it's perfect for scaling companies that are looking to gain attention within the local ecosystem. 
The main drivers are around access to talent, access to markets, and getting things done quickly. That allows us to bring more and more people into the market and drive success" — Rick Christiaanse, Invest

Alberta.
2/ Consider if you need to alter your go-to-market strategy before expanding
However, the maturity of the US still attracts many European startups. For example, von Podewils said Leapsome wanted to be in New York rather than Canada or San Francisco as it signalled to investors the company could thrive in a top-tier tech hub.
She said that companies should consider if they need to localise their product or alter their go-to-market strategy before expanding. In some cases, companies can access these markets without having to open new locations. 
We were looking to tap into a very specialised and mature SaaS talent pool. New York City, just given its software startups and scale up history, has that specialised and mature market" — Jenny von Podewils,

Leapsome
3/ Legal and accounting support is crucial 
Von Podewils highlighted the hidden costs that come with expansion. Seven members of her team relocated to the New York office to help smooth the transition, delivering training and instilling company culture. While she said this was a success, there were many hidden costs associated with finding office space, housing staff and simple administrative processes such as acquiring social security numbers. 
Gull pointed out these costs are common in any expansion, not just the US or Canadian markets. But Christaanse added that European companies usually adjust better to Canada, as it is more culturally and legally similar to the UK than the US. 
The panel agreed that the most important support to seek for relocating companies is legal and financial support, as getting these processes wrong can have serious consequences. 
When you're shifting, all the challenges that come up in Alberta come up in New York. All the challenges come up in New York, come up in Munich, and in Paris" — Saroosh Gull,

Eventcombo
4/ Canada is actively attracting global talent
Throughout the conversation, our panellists highlighted the importance of talent in choosing the right location for expansion. 
Christiaanse said the Alberta government is aggressive in trying to foster innovation in the province, in particular focussing on sectors such as agriculture, cleantech, fintech and aviation. As the local government consistently runs in a surplus, it is able to invest in these sectors, and is actively attracting talent to service these industries. 
This is a province that's made up of immigrants. And that creates a whole different atmosphere. I moved here a couple of years ago for this role, and people just welcome you and want you to succeed" —

Christaanse 
5/ North America's varied VC community offers growth opportunities
How does the investment picture in North America differ from Europe? Many companies based in the EU, von Podelis pointed out, have garnered investment from VC across the pond. She shared that Leapsome has used the expertise of their primary investor in their $60m Series A round to help with their go-to-market strategy in the region. 
Gupta gave a succinct overview of the market. He said that Canada has a bevy of family offices that are active in the pre-Series A market, while many companies then look to the US to access larger scale investment in their Series B and C rounds. He also noted that Canada offers non-dilutive capital to innovative companies, through its Strategic Innovative Fund. Gupta's previous company, Attabotics was given $35m of investment during the Covid pandemic.
It's a mix of everything. You cannot ignore US investors, but Canada, I feel, is a great place to raise money" — Neeraj Gupta,

Lawcubato
Like this and want more? Watch the full Sifted Talks here: