Buy now, pay later (BNPL) now makes up £6.4bn, or 5%, of all ecommerce transitions in the UK — that's up at least 60% from the previous year.
Its challenge to credit card companies and glossy appeal to young consumers make it one of the hottest and most controversial areas in payments — some argue it "glamourises debt" — but what's next?
In our recent Sifted Talks, we picked the brains of a hand-curated panel of experts to discover where the opportunities lie in the deferred payments space. Speaking were:
Anthony Drury, UK managing director of BNPL firm Zip
Olga Shikhantsova, principal at Speedinvest, one of Europe's early-stage investors
Sandrine Zhang Ferron, founder and CEO of Vinterior, an online marketplace for vintage homewares
Here's what we learnt.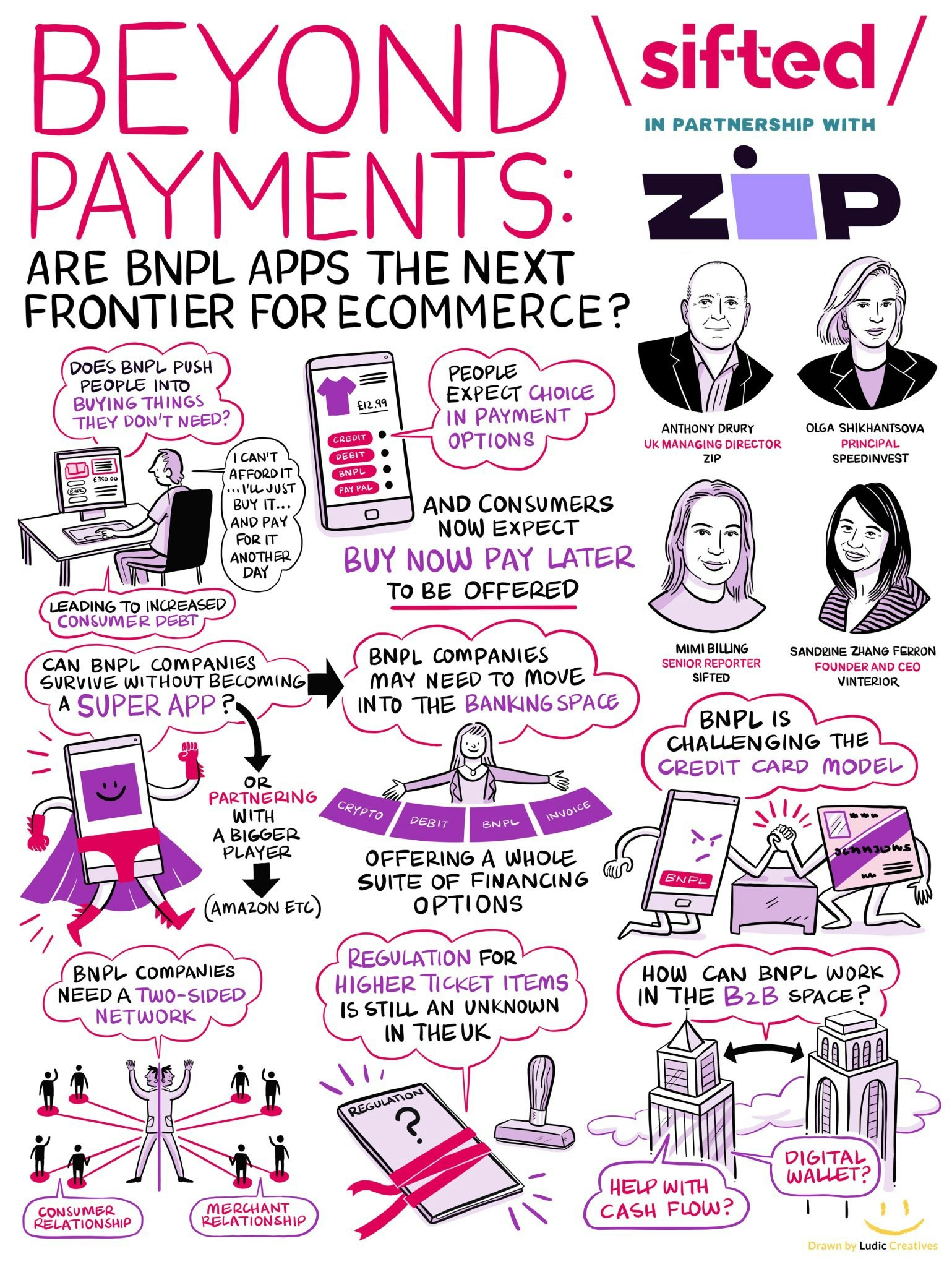 1/ BNPL has huge B2B potential
Until now, end customers have been the main target for BNPL companies, and the B2B market has been largely neglected. But Shikhantsova says the opportunities for BNPL firms to innovate and cater to B2B clients are huge, as the market is just bigger. 
Partnerships are springing up and looking to offer businesses the same exciting options consumers have. Shikhantsova cites the partnership between BNPL giants Klarna and Billie, which will allow ​​online stores to offer their business customers Billie's BNPL payment methods through Klarna integration.
If you look at anything B2B, the whole user experience is broken. Trades are done and closed by sending an invoice by email... but the B2B volume size is five times bigger than B2C" —  Olga Shikhantsova,

SpeedInvest
2/ Not just for fast fashion
BNPL has an association with Gen Z and millennials buying fast fashion — but that's changing. Drury says he's increasingly seeing consumers use BNPL to buy household items, and the typical users are getting older. 
In Australia, grocery is one of the major categories. It's not seen as being that instant gratification, it's seen as being a product added to your financial toolkit. Not only as an individual but also as a family, because ultimately it is challenging the credit card market and there is no interest for the consumer" — Anthony Drury,

Zip
3/ Merchants must pivot to meet demand
Shikhantsova says if a merchant wants to move their business to the global stage and be active in a specific region, it needs to provide those local payments. This means offering BNPL options in local currencies or cryptocurrencies.
Drury says it will take a few years for merchants to include crypto, but some companies are already accepting them as payment. Zip, for example, worked with an airline to implement crypto. Other markets and industries have different payment methods, such as loyalty points, and merchants need to take this into consideration. 
If you think of the digital wallet and the ability of it to convert crypto, loyalty points and any other tangible or convertible currency into a pair of trainers, the system and technology can do it" — Drury,

Zip
4/ It might not be suitable for everyone
Ferron says research shows that BNPL can attract customers and increase the amount they buy — but certain aspects of BNPL may be at odds with a company's ethos and customers' views.
Ferron, for example, has not implemented a BNPL option on Vinterior, as sustainability is a key part of their mission and she says nudging people to buy things they don't need is harmful to the environment. 
Being at the heart of the circular economy and the preloved trade, we have some considerations about being true to our mission and being mindful not to push people to buy things they don't need. We see Buy Now Pay Later as being strongly associated with fast fashion. We have to consider whether that's in line with our mission" — Sandrine Zhang Ferron,

Vinterior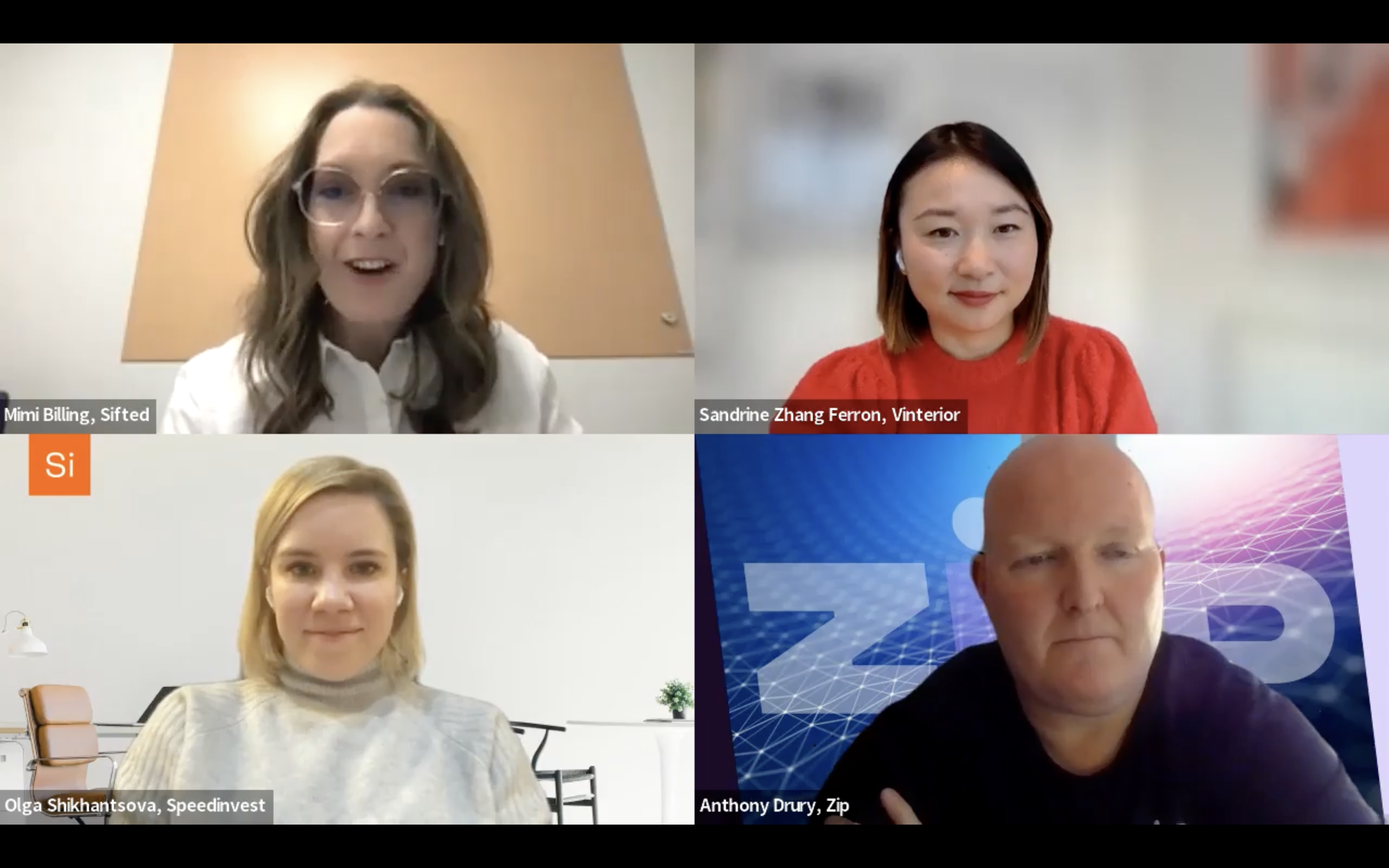 5/ Launch that app
Drury says all BNPL providers have the necessary software to make them easy to integrate into a website's checkout page, and launching an app is the natural next step for payment merchants. Businesses could form affiliate partnerships with these apps, which could lead to new customers and increased sales.
However, Ferron is skeptical if these partnerships will produce more revenue for companies. She says consumers like to have a tailored and curated experience. Businesses need to build loyalty through a brand and not via a certain payment method.  
When you have the app, you aren't reliant on the consumer going to that merchant website. You have allowed the consumer to download your app and it opens up a whole range of opportunities, from servicing content where you may have leveraged affiliate channels and also through virtual card utilisation" — Drury,

Zip
6/ Watch out for regulation
At the moment, many providers have the same business processes in each country they operate in. Regulation regarding BNPL is similar across the EU. However, this could change as new regulation will be introduced in the UK later this year. 
BNPL providers are currently exempt from being regulated by the UK's financial watchdog, the FCA. But following concerns from debt charities and a review by the government, the UK government has decided that this exemption will no longer apply. 
Drury says that BNPL firms will have to wait and see exactly what this new regulation is and make necessary changes to their business processes. 
If it's done properly, it's OK. If not done properly, it will create barriers to entry around other vendors coming to market. Regulation will definitely play a part in where things end up in terms of how many vendors are in the market and what they are all doing" — Drury,

Zip
Like this and want more? You can watch the rest of our Sifted Talks on BNPL here: