It's been a mad year of disruption for Europe's speedy grocery sector. VCs have pumped billions into companies like Getir, Gorillas and Zapp, which promise to bring fresh groceries to people's homes in a matter of minutes.
Getting fresh vegetables, fish and meat that quickly might make sense, but there's a whole part of the weekly shop that doesn't need to be delivered at speed and which can be predicted in advance. 
It's things like toilet paper, dishwasher tablets, laundry detergent, pet food and non-perishable cupboard staples.
Now VCs are starting to back companies working on disrupting that side of the weekly shop too. 
British startup Bother is one of them — it's just raised a $6m seed round from Hoxton Ventures, the investment firm that backed Deliveroo early on.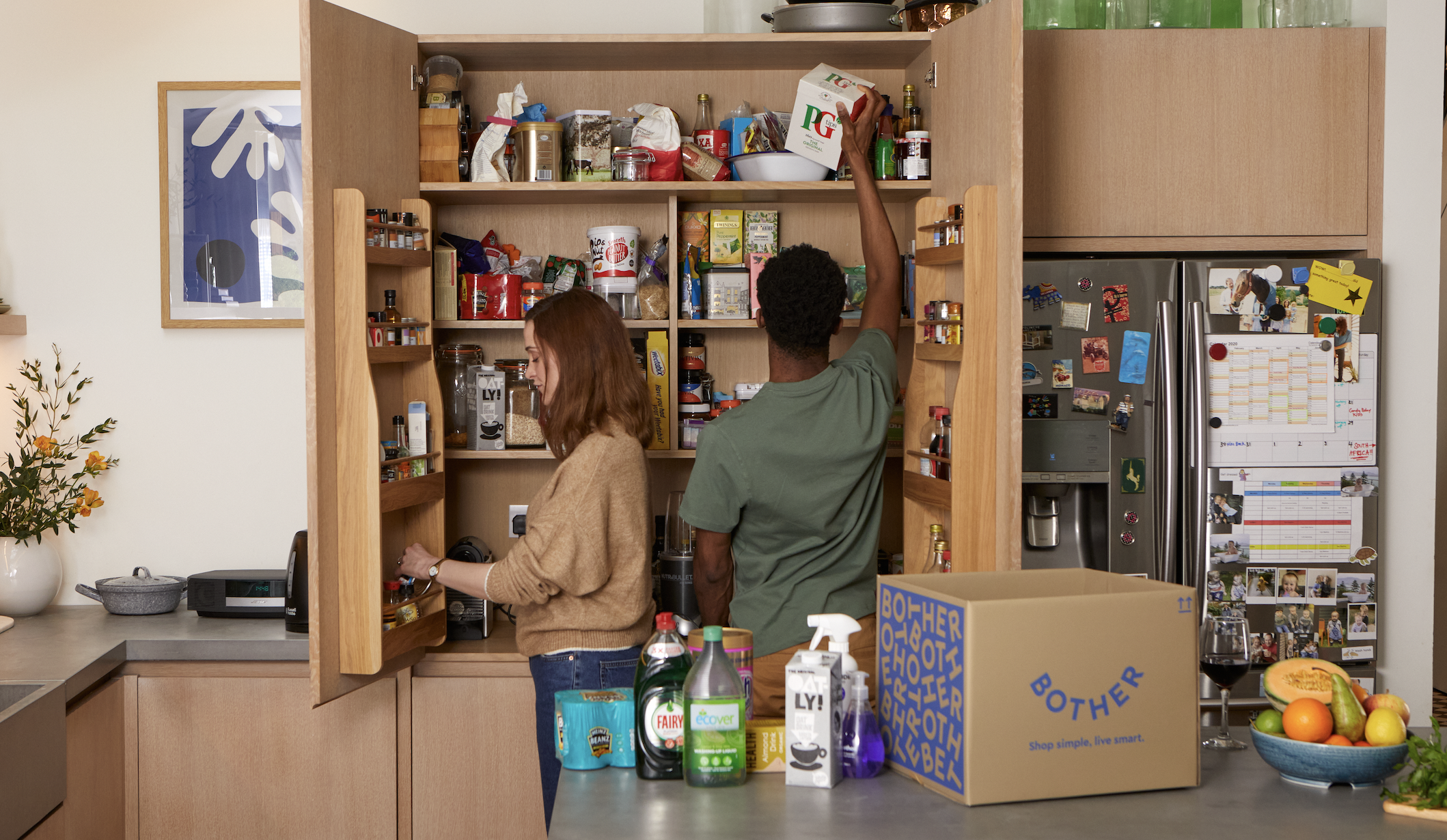 Bother offers next day delivery and uses AI to pre-fill customer's baskets with the items it thinks they will have run out of based on previous buying frequency. Customers click a button to order the basket and their toiletries, household goods and cupboard essentials are replenished.
"This is the area that causes the most hassle when people shop," says Douglas Morton, founder of Bother. "It's high-utility products that have high cash margins and are easy to predict."
Alongside Bother, there are a few other startups working on the non-perishable part of the weekly shop. There's Good Club, also based in the UK, which is working on cupboard staples delivered the next day, and The Society Company, which offers locally sourced non-perishable goods.
There are also companies focused on specific parts of the weekly shop — like Instagram-famous Smol, which does laundry detergent delivery subscriptions.
So why should part of the shop be slower?
Fresh groceries and the non-food side of the weekly shop are two totally separate things, Morton says, and to deliver them through the same avenues makes no sense environmentally, financially or efficiency-wise. 
"It's just so inefficient on every level to have these two completely separate things sent through the same channels," he told Sifted.
Groceries need to be transported in refrigerated vans, kept at the right temperature and delivered within a specific time slot to make sure the customer's present to put things in the fridge. 
Offering specific delivery slots means companies can't consolidate food deliveries together, making the emissions produced per item delivery are higher. 
The largest carbon footprint of UK households comes from travel, and 20% of that comes from doing the weekly shop in the

car
Bother offers next day delivery, meaning it can use one centralised store and send out deliveries to a whole neighbourhood in the same journey. At present it uses the postal service.
"The largest carbon footprint of UK households comes from travel, and 20% of that comes from doing the weekly shop in the car," says Morton. 
If everyone in a neighbourhood switched to getting a delivery that could be facilitated by the same truck, and that replaced a whole series of different car journeys, it could make the weekly shop a lot more sustainable.
Bother's tried to work sustainability into the core of its business — it suggests eco-alternatives to bigger brands to the consumer and uses reduced amounts of packaging. It's also just achieved its B-Corp status.
Is this just the next version of the Amazon Dash button?
"We are trying to solve the same problem as Amazon was with the Dash button," says Morton. 
The Dash button was a physical button linked to a customer's Amazon account that they pressed every time they needed a new order of something.
The problem with the button, Morton thinks, was customers didn't like that you couldn't see the price of the item you were reordering.
Bother's AI generated basket is trying to recreate some of the convenience that the buttons brought, but with the price visibility that Morton thinks they lacked.
Making money
Bother is "approaching profitability" Morton says, and the fact that it doesn't need to invest in high-cost real estate in the centre of cities to use as distribution centres like the speedy grocery companies will help. Slower grocery companies also save money on bike couriers and can have a smaller workforce.
"We're eighteen months in and we've got the same run rates that Deliveroo had but we've had half the capital invested compared to them," says Morton. Bother's total investment so far is $12m, including a $5.8m pre-seed round in March this year.
The company's started looking at expanding into other European countries. "But the opportunity in the UK market alone is insanely large," says Morton. "Ocado, for example, has 1% of the market, and it's worth £12bn."