Austrian startup Arkeon's secret sauce is a minuscule microbe found in an underwater volcano. It's a high-pressure, high-temperature environment with very little nutrients, where microbes feed off the nutrients in gas. 
Arkeon is harnessing that power to turn CO2 emissions into amino acids — using it in gas fermentation to transform the harmful emissions into food.
"If you want to find microbes like that you don't start searching on your desk or in your garden," says Gregor Tegl, cofounder and CEO of Arkeon. "You need to look somewhere where there are microbes with properties we don't yet know about, like in the bottom of a volcano."
This little microbe could have a big impact. Food production is responsible for about a quarter of all greenhouse gas emissions. Gobble down a beef burger, for example, and you've produced 2kg of CO2. 
Arkeon's tech offers the possibility of flipping the whole thing on its head and, rather than producing CO2 to make food, make food from CO2.
Feeding microbes on gas
Gas fermentation is a similar process to precision fermentation — a trend foodtech investors have started to jump on recently, investing $133m in 2021 and $90m last year, predominately at seed stage. 
Precision fermentation uses DNA splicing to introduce animal genes into yeast microbes — meaning when they're brewed, in a similar process to beer brewing, they produce a milk-like liquid. The microbes are fed on carbohydrates and sugars.
Arkeon's gas fermentation process isn't so different, Tegl explains. "It's very similar but instead of using sugar-based nutrients, which you have to grow on agricultural land, we use carbon dioxide and hydrogen as our feedstock."
Sifted Newsletters
Climate Tech
Every Thursday
The green transition is underway — meet the startups driving it.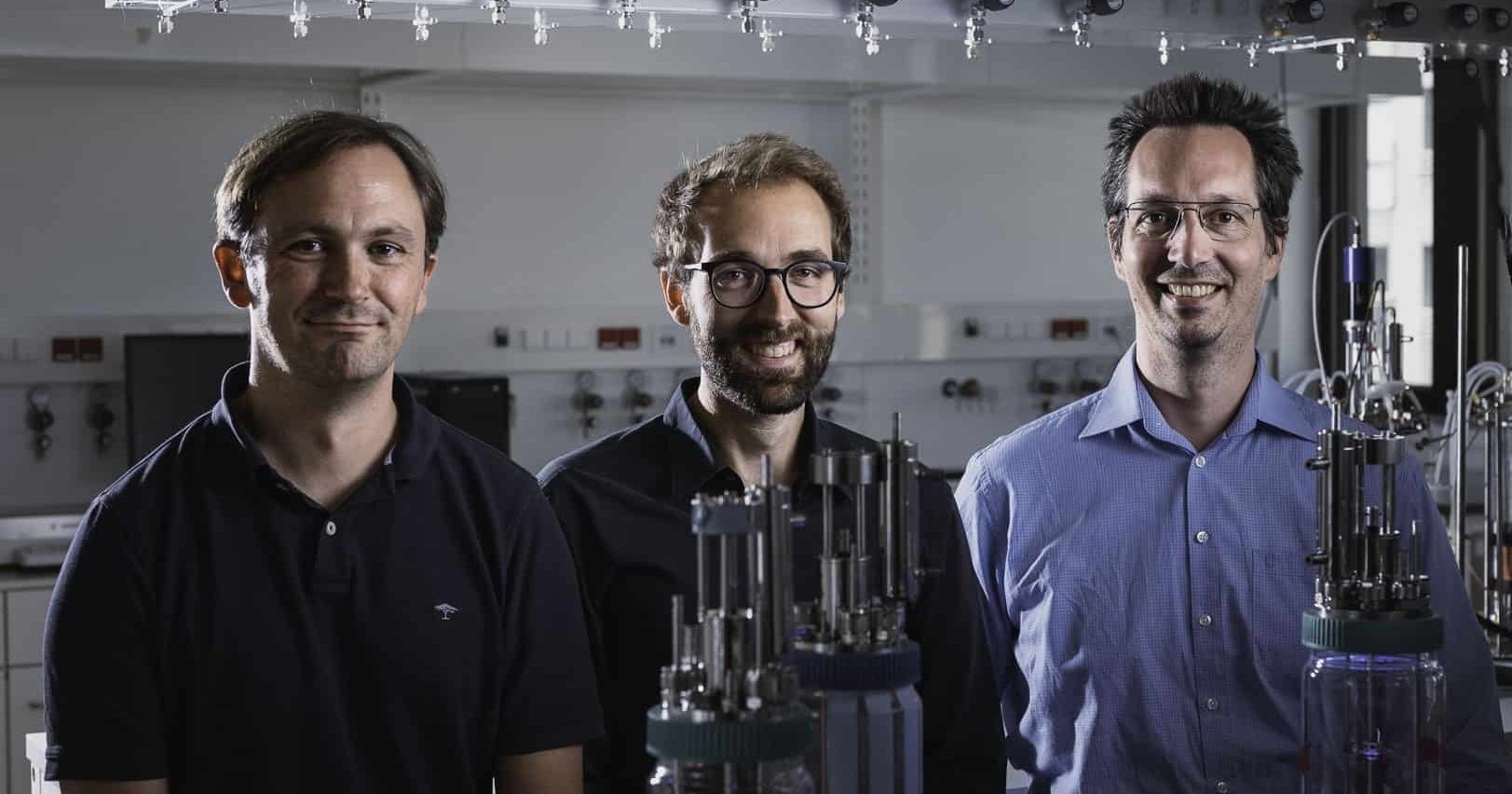 The climate win
If it can scale up, gas fermentation could offer an even bigger climate win than precision fermentation — reducing the land and emissions needed to produce food and recycling emissions at the same time.
Arkeon's process produces amino acids, the building blocks of protein, in powder form. Tegl says the end product could be sold for use in protein powders and alternative protein products, or to the cosmetics industry.
At the moment Arkeon is sourcing its CO2 from breweries, but Tegl says it may be possible in the future to get the gas from energy producers — something they ought to be keen to provide, to help them comply with emissions regulations. 
Tegl says it's not yet clear if amino acids produced through gas fermentation will have to go through the European Union's novel foods approval process, which regulates foods like cultivated meat and precision fermentation.
Europe's bubbling gas fermentation sector
Arkeon isn't the only startup working on gas fermentation. There's Finland's Solar Foods, which has raised $76m and had its first products approved for consumption in Singapore. Solar Foods is slightly different to Arkeon; its protein is made from the microbes themselves, rather than the amino acids they produce.
There are also companies working on converting CO2 into animal feed, like Deep Branch, based in Nottingham in the UK, and Calysta, based in the US. 
Calysta's raised $30m from BP — showing energy companies' interest in the recycled CO2 value chain.
There are also companies like Second Circle, based in Berlin, which is using gas fermentation and a microbe found in horse manure to transform CO2 into chemicals to use in the chemical industry. 
Bioreactor shortages and hydrogen woes
Arkeon is aiming to bring its cosmetics-ready amino acids to market in 2024, and then bring its food products to market in the following two years.
Before that can happen, Arkeon needs to scale up production enough to get closer to price parity with incumbent amino acid producers. The bioreactor shortage is one hurdle — the uptick in demand for them, combined with steel shortages, has resulted in a backlog of orders. 
Ultimately, if you have tech that is a painkiller rather than a vitamin, you won't have an

issue
More critical, Tegl says, is the cost of hydrogen, needed to feed the microbes — exacerbated by the shortage of green hydrogen. "It's our biggest cost; it accounts for 60% of production costs," he says. 
Given the soaring cost of food across Europe, there's some concern over the fate of innovative foodtech companies — symbolised, for many, in the sharply declining share price of American alternative meat giant Beyond Meat, which fell 83% across 2022.
Tegl is confident, however, that gas fermentation will continue to receive investor backing. "Ultimately, if you have tech that is a painkiller rather than a vitamin, you won't have an issue."