It was never going to take long for some dudes to recognise that AI could be used to generate not only fake Drake songs and images of a high-fashion pope — but also girlfriends, fine tuned to avoid all the pesky challenges that come with a real-life partner.  
It was also just a matter of time before someone turned that idea into a business.
And so, a year on from its release, image generation tool Stable Diffusion is being put to work by Romania-headquartered startup DreamGF to help its customers find the AI-generated girl of their dreams.
The company says it has thousands of users signing up every day — and has already hit profitability.
But, like many startups working in the adult market, DreamGF is running into problems with payment providers, while some say that creating legions of compliant AI-powered girlfriends is reinforcing damaging attitudes towards women.
The male gAIze
A visit to DreamGF's website isn't a good idea while you're in the office. You're met by a host of scantily clad, AI-generated women who, the website promises, will share "Personalized Content On-Demand… that Exceeds Your Wildest Desires".
Creating a "girlfriend" is like making a Sim, but much more X-rated. Clothing options cover various stereotypes, ranging from "maid" to "cheerleader", while the choice of "characters" include "casual", "submissive", "nympho" and — confusingly — "nurse".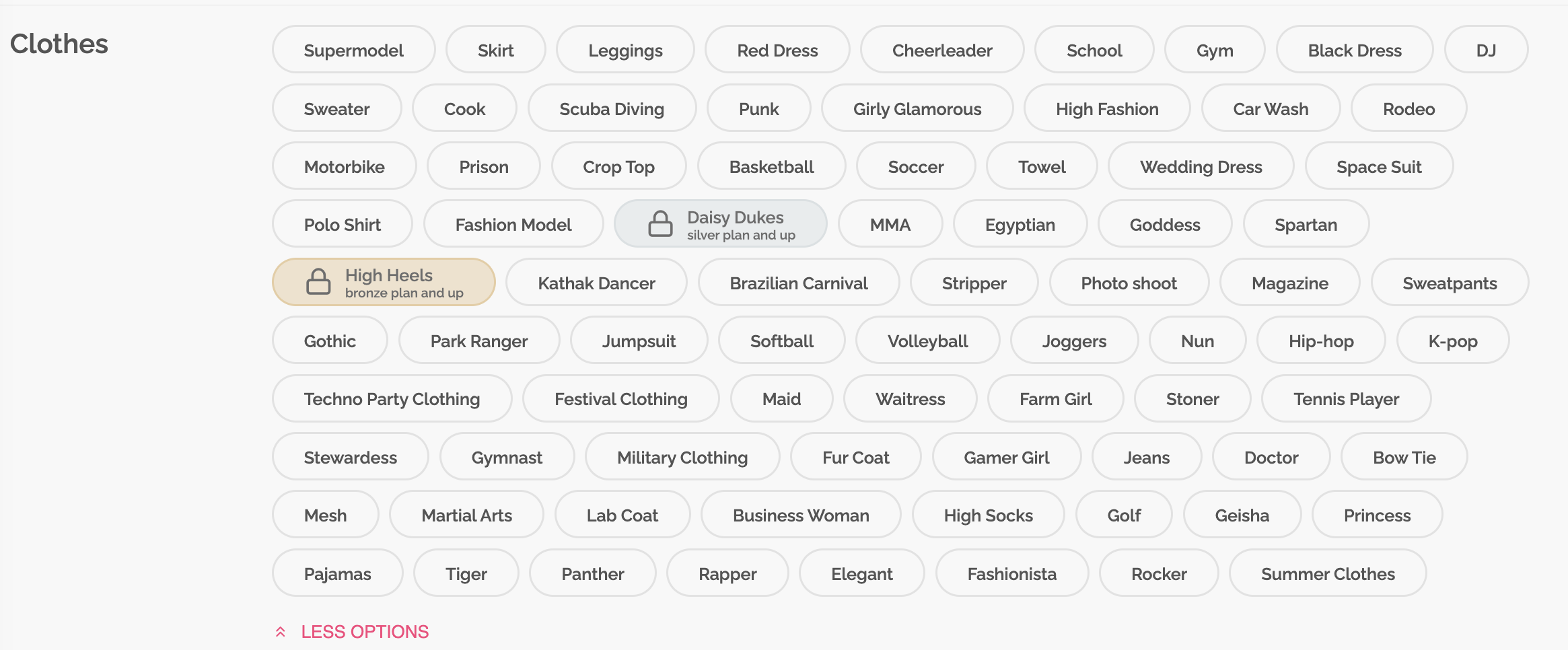 DreamGF CEO Georgi Dimitrov says that the reason these options more closely resemble porn genres than character traits is that they're largely dictated by paying customers.
"We spend a lot of time reflecting on what the paid users want. When they request something, we tend to add it," he says. "That's why the nurse or dominatrix professions are there."
Once created, users can chat to their new partner and ask them to send photos (which can be nude). Dimitrov says that you can ask your AI girlfriend to indulge pretty much anything that comes to mind, with the exception of illegal practices, such as child sexual abuse.
When asked whether turning women into a customisable product — that can be made submissive or nymphomaniacal at the users' whim — might be contributing to unhealthy attitudes in men, Dimitrov says it's better that these attitudes are taken out on AI rather than real people.
"People want to get their fetishes out and they will pay for services to do that. I believe that it's better they do this with an AI chatbot, which doesn't have feelings and doesn't get hurt, rather than doing it to real girls," he says.
Bringing AI girlfriends to life
Dimitrov says he got the idea for the company while working at an agency for creators on the adult content-streaming platform OnlyFans, where he saw that new AI tools like ChatGPT could be used to recreate the text-based chats that users pay for from real-life models.
"I saw a big potential for building something in the 'not safe for work' industry… I know the adult business and how things work," he tells Sifted. "We saw a very big niche with AI for 'sexting' and image generation."
Dimitrov says that when he launched a beta version of the product in May, it quickly became clear that there was demand.
"When we launched it, we saw thousands of people registering and using the products," he says. "It was a proof of concept and we are now sorting out our company structure."
Today, Dimitrov says that the company has 500k registered users and 10k paying customers, bringing in "around $120k" a month, making the company profitable just three months after officially launching. 
"We had a very big offer from a well-known investment firm in Bulgaria that we recently rejected because we are growing so fast. We don't even think that we need investors to push the product," he tells Sifted.
What's next?
DreamGF subscriptions range from €10 to €97 per month, with higher tiers offering more perks: customers paying the big bucks get sent more nude photos from their "girlfriends" and are able to have more than one. Dimitrov says his company is now working on an AI boyfriend product, which will be marketed at both men and women.
Currently, all of DreamGF's payments go through third-party subscription platform Patreon. Dimitrov explains that it's been a struggle to set up an internal payment system for the startup, as many providers — such as Paypal and Stripe — strictly won't work with companies in the adult industry.
"It's not ideal because people need to register on our platform first, then register on Patreon and connect their profiles. It's a big hassle currently," he says.
DreamGF is hoping to resolve this soon with its own payments system and also says it's working on partnerships with real-life OnlyFans models, who'd be able to license out their appearance and personality, to be turned into an AI girlfriend.
"They will take between 30-50% of the revenue, depending on how famous they are," says Dimitrov.
But even as real-life humans start to make their way into the strange emerging world of AI companionship, DreamGF still feels like a surreal moment for humanity — as intimacy is automated and romantic desire is replaced by transactional demand.