It feels like a lifetime ago that Visa announced it was acquiring Plaid, a Californian fintech focused on banking infrastructure, for a whopping $5bn.
That was in January 2020, at the drawn of a new year. Fintech pundits swooned at the pricetag, and cynics sat up.
But over the next 12 months, the fintech sector was dealt not one but two curveballs.
First came Covid.
Jobs were cut, investors stalled, and growth dived. Serious, existential questions surfaced in the early days; how does the fintech space survive this? Who wins? Who needs help? What happens to the planned expansions, launches, and hiring sprees that clogged up reporters' inbox months ago?
Then, in the summer, came the collapse of Wirecard.
The UK suspension of the payment processor plunged European fintech into its worst weekend of 2020; an inglorious title made all the more stark by a year of countless dark moments.
But unlike most, the fintech sector will end 2020 stronger than it started the year (broadly speaking).
Indeed, fintech has maintained investor confidence, nurtured its credibility, and accelerated its path to prominence amid the shift online.
It has also broadly shifted from claiming it "revolutionises consumers' lives" to a more realistic position of providing smart infrastructure in the name of financial services.
These crowning achievements will seep into next year, alongside 2020's two major hiccups, prompting a welcome wake-up call and more targeted investment for fintech.
Sifted Newsletters
Fintech
Every Tuesday
From banks to bitcoin, get all the gossip and analysis in your inbox.
To be clear, that doesn't mean the past year been the most innovative, inspiring, or smooth. Nor has it been free of casualties, not by a long shot.
I'm also in no rush to proclaim that 2021 will be 'the year for fintech'.
Instead, fintech has simply withstood its first real big test. That should be the main take-away.
To wrap up this unforgettable year, and to guide you into 2021, here's a recap of Sifted's 7 top fintech stories, scoops, and analyses from the last 12 months.
UK bank RBS spent over £100m on Bo, its retail digital bank project.
But it collapsed in May over internal politics and flawed execution.
The announcement in the height of lockdown meant the news all but got forgotten and forgiven. But RBS will have given other big banks a lesson for how not to experiment, and fintechs a reason to gloat...
At Sifted, we love to dive under-the-radar and report on little-known people that quietly pull the puppet strings on Europe's startup sector.
Ian Osborne is one such example, providing an overview of his high-profile fintech portfolio and his route into the sector.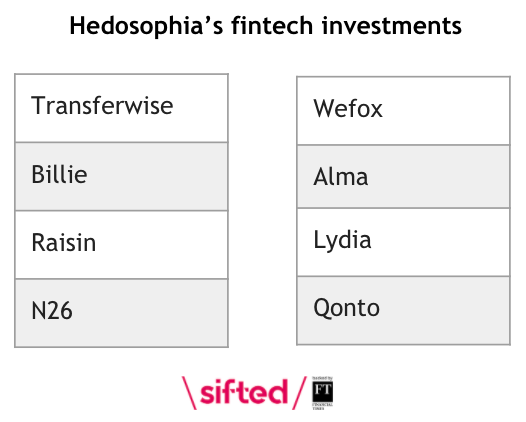 A deep-dive into the fast-growing, increasingly competitive army of banking platforms.
This category of fintechs (known as 'banking as a service' players) are the backend operators that quietly rent out their banking infrastructure to power your pre-paid cards and lending apps.
Investors expect them to become profitable, billion-dollar companies in the next five years, so it's a space to watch.
This also feeds into another report by Sifted that found B2B fintech investment overtook B2C investment in 2020!
Inside the online tactics of consumer fintechs, who are taking their marketing drive to social media, using influencers to promote their brands.
One of our highlights this year: coining the phase 'fin-fluencer!'
Tandem was once listed alongside Monzo, Starling and Revolut as the darlings of British fintech.
But 2020 firmly ended Tandem's reign as one of the 'top 10 digital banks' in the UK, after announcing the end of its consumer credit card programme. Sifted reported this was part of a major restructuring, which Tandem's new investors told us involved making the company a specialised lender rather than a savvy consumer bank.
Oh, and far from being a unicorn, the new buy-in gave Tandem a valuation of ~£90m.
Sifted also took the opportunity to compare the available statistics around the inclusion of women among fintechs across different European countries. We found some surprising results and flagged the leading women in executive roles
A new generation of consumer fintechs is on the horizon — and they're trying a radically different business approach to their predecessors.
We shed a light on how newcomers are focusing on profitability and niche offerings rather than "growth at all costs." This comes in light of accumulating losses at older digital banks.