Buy now, pay later disruptor Zilch has become a unicorn after closing its Series C at a $2bn valuation — less than a year after the London-based fintech burst onto the scene.
The raise offers a particularly big windfall to founder Philip Belamant and new cofounder Sean O'Connor, who still own 50% of the company between them. That puts the cofounders' combined paper wealth at $1bn.
As Zilch's original architect, Belamant holds the lion's share of the founders' holding, according to Zilch's last Companies House filings. They also show that most of Belamant's shares are held in an off-shore vehicle called Angleterre Investments.
Belamant confirmed the size of the cofounders' stake in Zilch in an interview with Sifted. He also said that O'Connor, who has not yet formerly joined Zilch, will take a more public role in the coming months.
For cofounders to still own 50% of a business at the Series C stage is unusual. One of the rare European examples is cryptocurrency exchange Bitpanda, whose three founders still owned half the business when it closed its Series C in August this year.
Zilch's founders likely avoided heavier dilution partly due to the speed at which the company — which has over 200 employees — has grown.
It was founded in July 2018, meaning it has become a unicorn in just 40 months. That narrowly makes it the fastest European fintech ever to hit the $1bn mark, according to a Sifted analysis.
The previous record-holder in Europe was WeFox. The German insurtech hit the milestone in 41 months.
Zilch's pace of growth is even more noteworthy given it only closed its Series A in September 2020. Soon after, in March this year, it nabbed a $500m pricetag — meaning its value has jumped 300% in just eight months.
It takes the average fintech unicorn seven years to reach the $1bn dollar mark, according to one study.
Zilch's new raise, which stands at $110m, was led by Ventura Capital, which has previously backed Alibaba and Spotify.
Interestingly Belamant's father, Serge — who is a pioneer in payments based in South Africa — is registered as a director in Zilch.
Zilch to worry about
Zilch's new capital puts it in a strong position to take on the increasingly competitive BNPL space, which is dominated by Klarna, Afterpay, and newer rivals like Monzo and even Mastercard.
It has tried to differentiate itself from the crowd as "an American Express for millennials and Gen Z", offering users a card with a personalised credit line which is then paid back in instalments. Most BNPL businesses present the option at checkout instead, making them merchant agnostic.
Zilch has some other advantages, including the fact it is already regulated by the UK's Financial Conduct Authority and it mandates hard credit checks on its users using open banking. Other BNPL providers without this regulatory security will be at the whim of the Treasury as it decides on what action to take on the sector.
The fintech now has 1.2m customers — 40% of whom Belamant says are active on a monthly basis.
Reaching 1m users only a year since launching is exceptionally quick, considering it took the likes of even hyper-growth fintech Revolut around three years to reach that milestone.
The largest category of Zilch users is the under-35s, but Belamant tells Sifted that Zilch is seeing growing popularity among those aged 35-45.
"That [user base] is really interesting," he says. "Right now everyone is talking about this 'young millennial/Gen Z' customer. But actually, what we're seeing is there's more and more interest in this product for non-discretionary purchases like groceries."
The company is using a "hyper-targeted" marketing strategy, meaning only its target audience is exposed to its brand.
That's also reportedly helped keep default rates — when debt isn't paid off — to under 1% of sales. Unlike credit cards, there is zero interest and zero late fees for those who can't pay. The only penalty is defaulters are banned from returning to the app, with a "one strike and you're out" policy.
Earlier this year, Zilch secured a $125m debt line from Goldman Sachs. The fintech has so far only deployed around 20% of that, meaning it's got plenty of space to grow. In particular, the company wants to focus its funds on cracking the US.
Zilch has already opened a Miami office and says it plans to launch in the country early next year — again, relying on social media advertising to keep costs concentrated. Not being the first mover in the US also gives Zilch a huge advantage, Belamant says.
"Timing and education is a huge deal here... We are very thankful to Klarna and Afterpay who've done a phenomenal job [there]. Investors always ask, 'are you going to do product-market fit?' And I'm like 'Guys, they've already done it for us.' "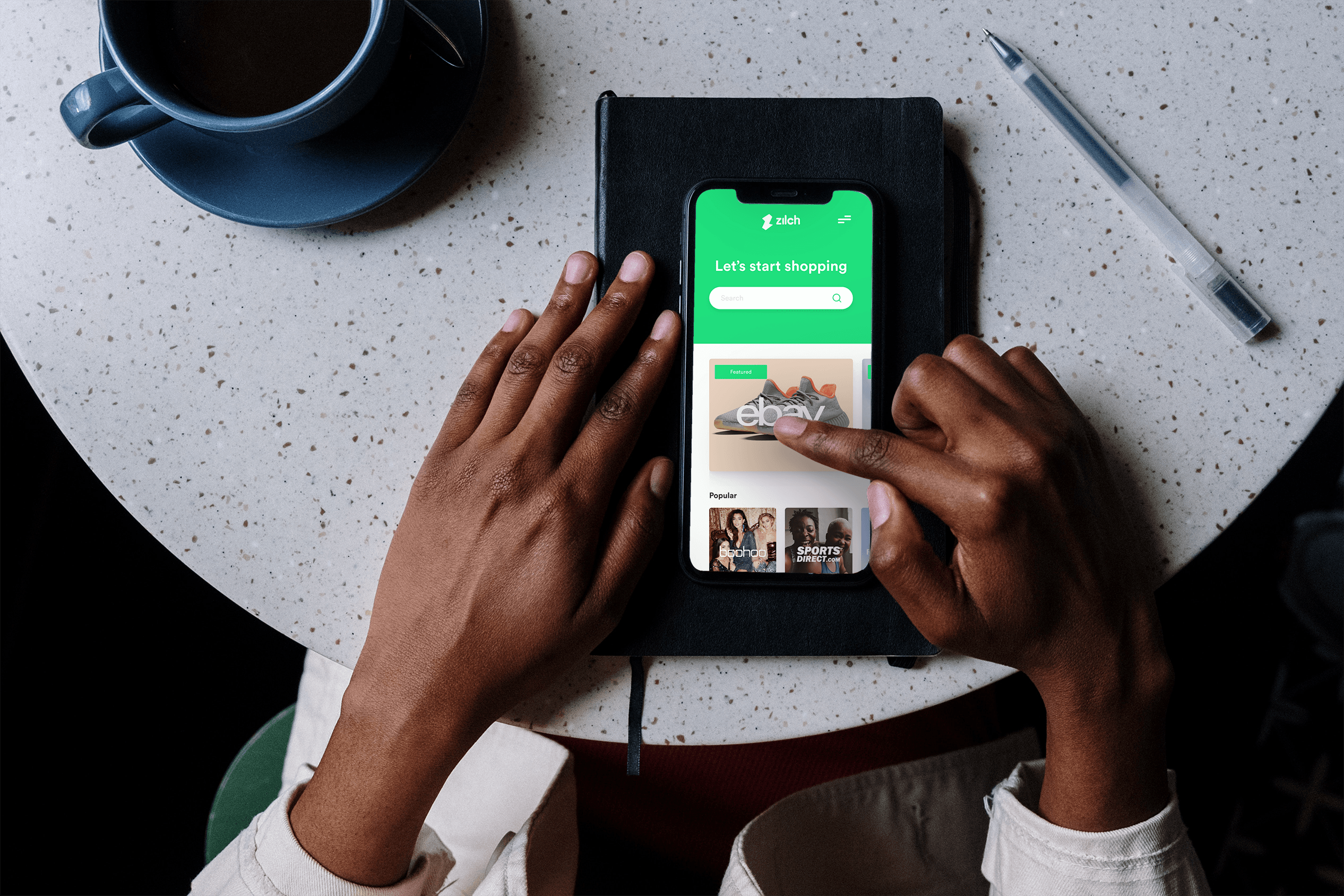 As for making money, the company says it makes 80% of its revenues from commission. Merchants pay Zilch to display their site in the app and provide a cut with each purchase made. As a result, Belamant says that the cost of acquiring a user is paid off within four months.
Don't expect Zilch to stop there, however. In the pipeline are plans to make the Zilch app into an Instagram-style feed, becoming a de facto shopping app. The company will also allow ordinary users to take a commission on any product links shared with their network — creating "Zilch influencers".
Belamant also says the company is focused on ESG and plans to roll out rewards that users can donate to causes of their choosing or offset their carbon footprint. The company currently employs three people in the ESG team.