Money has never been the exclusive province of men — although, given the number of financial services that cater for the other half of the population, you'd be forgiven for thinking it is. Around 40% of the world's wealth belongs to women. However, women rarely try to increase their savings — unlike men, who make up the majority of users of investment products — leading to an 'investing gap'.
That's bad for women — and bad for the global financial industry, which loses $700bn a year by not attracting a female audience.
However, things are finally changing, and the days of ignoring female finance are over. Where big players have been blind, female investment startups are flourishing. This could be a tipping point; the stickiness of digital products and their ability to change people's behaviour could benefit both businesses and consumers while empowering women to ever greater financial independence and wealth.
Female-focused finance
As an investment company, Digital Horizon watches and analyses trends in fintech services around the world — and it's clear that the fintechs which are best catering to women are those making a very deliberate effort to do so.
Reducing the size of the minimum investment amount helps both women and men take the first step in an investment. For example, in the US, investment apps Acorns and Stash aim to make the process of selecting investments, like stocks and exchange-traded funds, quick and easy for beginners where you can start investing with just a few dollars.
The Dutch investment app Peaks (which is also available in Germany, Spain, the Netherlands and France) lets you start with as little as €1 and helps users automatically deposit small amounts of money into their account with rounds-ups, monthly or per day deposits, and transfers from friends. The money is then invested in a globally diversified portfolio with sustainable index funds.
There's also Oval Money, an award-winning European automated saving and crowd investing marketplace, which has investment solutions for people with little sums of capital. These fintechs have significantly more female customers than the average for the market, even though they are not positioned as specialised services for women.
Another type of solution that helps move from a savings strategy to augmenting funds is hybrid services that combine different products, such as deposits and investment accounts.
For example, British fintech Plum, which positions itself as a service for women and novice investors of all sexes, automatically puts aside 'change' from purchases, analyses the best prices for utility payments, selects the optimal amount for investments and analyses risks.
The Canadian Wealthsimple offers both robotic investments 'on autopilot' and the support of real financial advisors, helping to overcome the uncertainty of novice investors, leading to 33% of Wealthsimple users being women.
Meanwhile, the crypto service Aximetria helps people — and not just, as many assume, men — easily invest in cryptocurrencies. Aximetria consciously tests all changes in the product — interfaces, new chips and more — on both men and women, leading to a quarter of its users being women.
Non-standard investments
If there were more women in the product development teams at financial service startups, we'd no doubt see more products tailored to women.
Modern realities would be reflected. There are single women, women with partners, women with husbands, women with wives and women in all kinds of scenarios and situations. Today's digital products and services can be infinitely flexible, and the companies that realise this and offer solutions to suit will find willing customers — of all sexes — wanting to better manage their finances and end up in win/win positions.
Digital products can make investment decisions more affordable and at the same time, individual, offering users an experience similar to a private consultation with a financial adviser. On one hand, services take into account the characteristics of a person's life trajectory, on the other hand, they allow you to create an investment portfolio that meets the user's values.
Today's digital products and services can be infinitely

flexible.
For women, such a targeted approach is especially important. Traditional financial strategies assume that a person's income will constantly grow over many years, but this development is more common for men than women. Women often sacrifice careers altogether or take breaks to take care of children and loved ones, so there are times when their income falls or is completely absent. Fintechs take these points into account. For example, a questionnaire by the robo-advisor Ellevest, which already manages a portfolio of $356.5m, looks like this: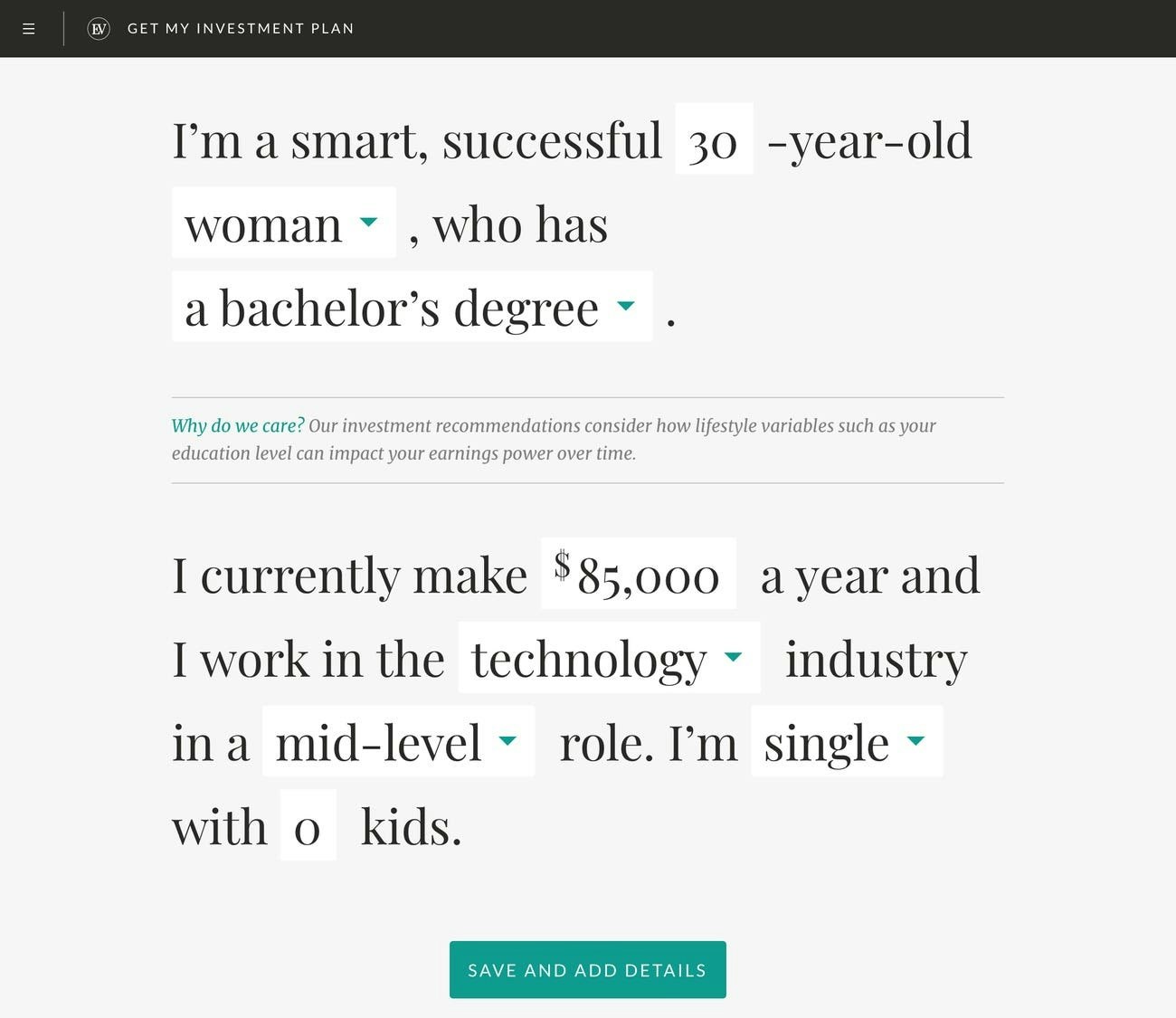 Some digital services also take into account that women tend to invest in companies that have values ​​they share and that conduct business more responsibly and ethically, with Plum offering 10 thematic investment funds and Fidelity offering investments in securities of companies that support women's leadership.
Ellevest has also developed investment portfolios aimed at combating climate change, protecting the rights of representatives of the LGBTIQA+ community, and others.
Creating products, communications and targeting the offer as per 'normal', without thinking which users will not be able to use it, is of course easier. But removing barriers opens up new possibilities — both for fintechs and for all users. Services that try to make investments more accessible and attractive to a female audience, with an inclusive approach to product design, will reap the benefits.
It's also incumbent upon women to demand and expect better financial products and services that put them and their needs first and foremost.