The coronavirus pandemic created a surge of grassroots groups and experts offering their expertise in the crisis — everything from designing DIY ventilators to doctors sharing notes on the best treatment methods for patients.
There was just one problem — how do you organise all this information so that it is easy to find and you don't end up duplicating efforts?
A team at Newspeak House, a London-based collective of political technologists, have created the Coronavirus Tech Handbook, a sort of Wikipedia for Covid-19, which anyone can add to, but where the information is organised and sorted to make it easy to use.
"It looks very familiar and simple, just like a big word document, but you know it is quite hard to build something that looks simple," says Nathan Young, who has been masterminding the project.
Behind a seemingly simple list of tools — everything from technology for epidemiologists to tools for mourners — are multiple layers of information and links to WhatsApp groups where you can get in touch and collaborate with the people working on a particular solution.
Newspeak House focuses on technologies that can be used to organise politics and civil society in new ways, and had already been experimenting with the handbook concept before the pandemic began.
Open-source collaboration has become commonplace in the tech community over the last twenty years, with developers familiar with the concept of sharing code with each other on sites and iterating on top of the others' work.
The same idea could be applied to other areas, from the public sector to business, says Ed Saperia, dean of Newspeak House. The Covid-19 crisis has only served to put it into sharper relief.
Saperia recalls seeing his Twitter feed filling up with people asking about the same coronavirus resources — enthusiastic but chaotic. The team dropped all other projects to put the handbook together as the crisis began to gather pace.
"In a crisis like this you need someone to coordinate activities. But an actor that steps in needs a lot of legitimacy in order to say 'everyone listen to me'. A library doesn't have that legitimacy problem, it is something that everyone can add to and use," says Saperia, who previously worked with the Wikimedia foundation.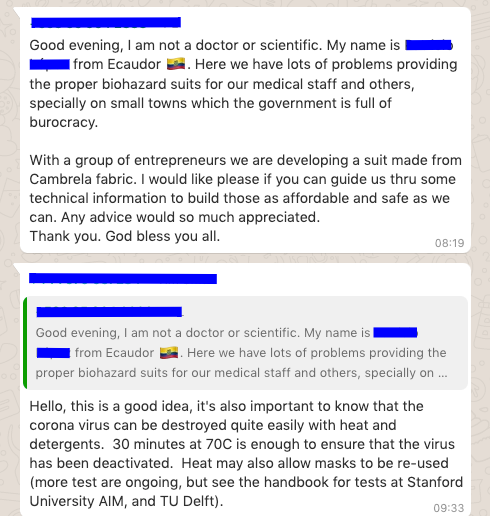 Public libraries have historically had an impact on society in democratising access to information — and have been places where people met to create new business ventures and political movements. This new form of organising information could have a similar effect in the modern age, says Saperia.
The Coronavirus Tech Handbook received an initial grant of £50,000 from Nesta, the UK-based innovation foundation, to get started, but is now launching a crowdfunding campaign to raise a further £27,000 to continue developing the tools.
Even when lockdown ends, the world will be working on Covid-19 problems for some time to come, says Saperia.
"We are still at the early stages of this, trying to understand the breadth of the problem. It is not just about providing equipment to hospitals, it is about the economics, problems with distribution, homelessness that will stretch on for some time," he says. "There is a good chance we will still be thinking about coronavirus in a few years time."