Fashion
Second-hand speeds up
Hubert Burda Media, one of Germany's largest media companies, led the €128m funding round for Vinted, the Lithuanian secondhand fashion site. The deal makes Vinted Lithuania's first unicorn and underscores the point that there is a lot of money to be made in the circular economy.
As brands such as Primark, H&M and Zara have built businesses around fast-fashion, a countertrend of second-hand clothing has arisen, spearheaded by scaleup companies like Depop. Vinted is growing fast — sales have grown fourfold in the last 17 months and it expects to sell €1.3bn in clothes this year.
LVMH looks inside for inspiration
LVMH, meanwhile, is taking an intrapreneurship approach to innovation. The luxury goods group runs an internal pitch competition called Dare (Disrupt, Act, Risk to be an entrepreneur) and held the latest edition of it in Japan recently. Some 6,000 employees in the Asia-Pacific region were invited to submit ideas, of which 60 were selected to go through to the competition. Three winning ideas will get funding to be developed.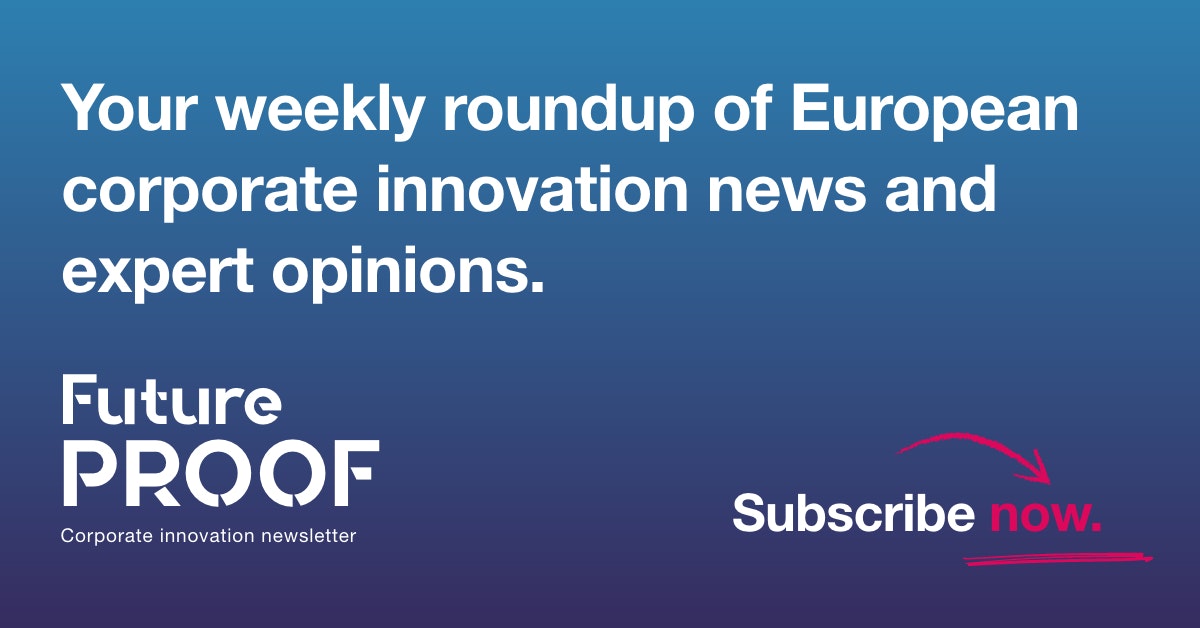 Financial services
Up the creek in a Dinghy
Allianz, the German insurance group, has announced a partnership with Dinghy, the startup providing cover for freelance workers. Financial services for gig economy workers is one of the hottest areas in fintech at the moment — it is an underserved market and the numbers are growing. In the UK alone there are now estimated to be 4.7m people working through some kind of services platform, nearly double the number in 2016.
Food and drink
Food robots
Picnic, the Dutch online grocery store, raised a €250m Series C financing round, much of which will be used to build a robotic processing centre in Utrecht to fulfil customer orders. At 42,000 square meters, the facility will be one of the largest of its kind in the world. Picnic develops much of the technology itself — and interestingly claims to run its operations with close to zero food waste too.
A lot of money is being spent on automated grocery warehouses now. In the UK Ocado has been a pioneer in this with, in some cases, more advanced robots than even Amazon has been able to build. Ocado's idea is that the technology built for picking and packing food items can be applied to many other industries as well.
This makes companies like Picnic an interesting investment beyond just food retail. Picnic's backers include NPM Capital, part of SHV Holdings, the privately held Dutch trading company whose portfolio of brands includes Calor Gas and the Makro warehouse clubs.
Whisky-selecting AI
Not sure what kind of whisky you might like? Well now a machine learning programme launched by Diageo will tell you based on your answers to a series of questions, including how often you eat bananas and how you feel about chillies.
Though the Diageo programme is clearly a bit of a sales gimmick, quite a few drinks companies are experimenting with using artificial intelligence, including Carlsberg, which is using it to speed up the testing of beer flavours and aromas. Stay tuned — drinktech is something we will write a bit more about in Sifted soon.
Washing the dishes with beer
Following the zeitgeist of sustainability, Anheuser-Busch is looking for new ways to use its waste products. Spent grain from brewing has long been sold to farmers for cattle feed, but the world's biggest brewer is also considering if it could be used to make plant-based meat alternative for humans. And it has recently started a new project to turn waste alcohol into washing-up liquid for Ecover, the environmentally friendly cleaning products brand.
Healthcare
New company to tackle bladder cancer
Swiss pharmaceuticals company Ferring has teamed up with US investor Blackstone Life Science to create a new company focused on developing immunotherapy treatment for bladder cancer. Ferring and Blackstone will together invest up to $570m in the new company, FerGene
FerGene is developing a new treatment for bladder cancer that is unresponsive to the current standard treatment, known as BCG. At the moment if BCG doesn't help the outlook for patients is pretty grim. It is early days for the FerGene treatment, but the fact that Ferring and Blackstone are willing to put up serious money into backing the project is a positive sign.
Logistics
Connected ships
Maersk Growth, the investment arm of Danish shipping company A.P. Moller-Maersk, has taken a stake in Onomondo, a Danish startup that helps connect the internet of things through mobile phone networks across the world. Like many shipping and logistics businesses, Maersk is looking for the best way to connect its fleet of containers, ships and cranes. Maersk said it liked Onomondo for its simplicity and security.
Mobility
New mobility, new insurance
Swiss insurer Mobiliar took part in an additional €10.4m funding round for Carvolution, the Swiss car subscription startup. Carvolution is providing an alternative to traditional buying and leasing for vehicles — customers pay a flat monthly subscription fee for the use of a car from the startup's fleet.
Mobiliar is part of a wave of insurance companies investing in mobility startups. Allianz, for example, has invested in Heetch, the ride-sharing startup, while Munich Re has a stake in Fair, the US company pioneering the 'car-as-a-service' concept. Motor insurance is a $880bn market globally and insurance companies are keen to understand what different car ownership models are likely to mean for the business.
Good reads:
Know your platforms
Apple, Google, Microsoft, Amazon — all the world's most successful businesses at the moment are platforms, i.e. companies where it is not so much about the product they buy and sell but being the place where the buying and selling happens.
So how do you turn your company into a platform? Harvard Business School professor David Yoffie summarises some of his research in this article (from a few months ago but still an excellent read).
The first thing to note is that becoming a platform is risky business. Yoffie charts 209 platform failures between 1995 and 2015 and only 45 successes. Pricing, timing, creating trust etc. etc. are the predictable tips for creating a successful platform.
But the really interesting one is this: make it really hard for people to "multihome" or switch between your platform and another. Make sure your ecosystem is not interoperable with anyone else's (Apple's charger department clearly read that memo). It's the kind of thing that all consumers loathe. But if you pull it off you can have a great monopoly platform. Interestingly, the second half of the article talks about platforms and their potential to be used for evil.
The hourglass model
How does an established business keep existing systems running perfectly while also scanning the horizon for new technologies and business models? What is the right ratio of resources to allocate to the things that matter today and to future-proofing for tomorrow?
One theory to try is the Hourglass Model, explained in this Forbes article by Peter Hinssen. A lot of resource goes into discovering exciting new things, then there is a tight squeeze to weed out the ideas that aren't worth scaling, and finally a big push again on those ideas that make the cut.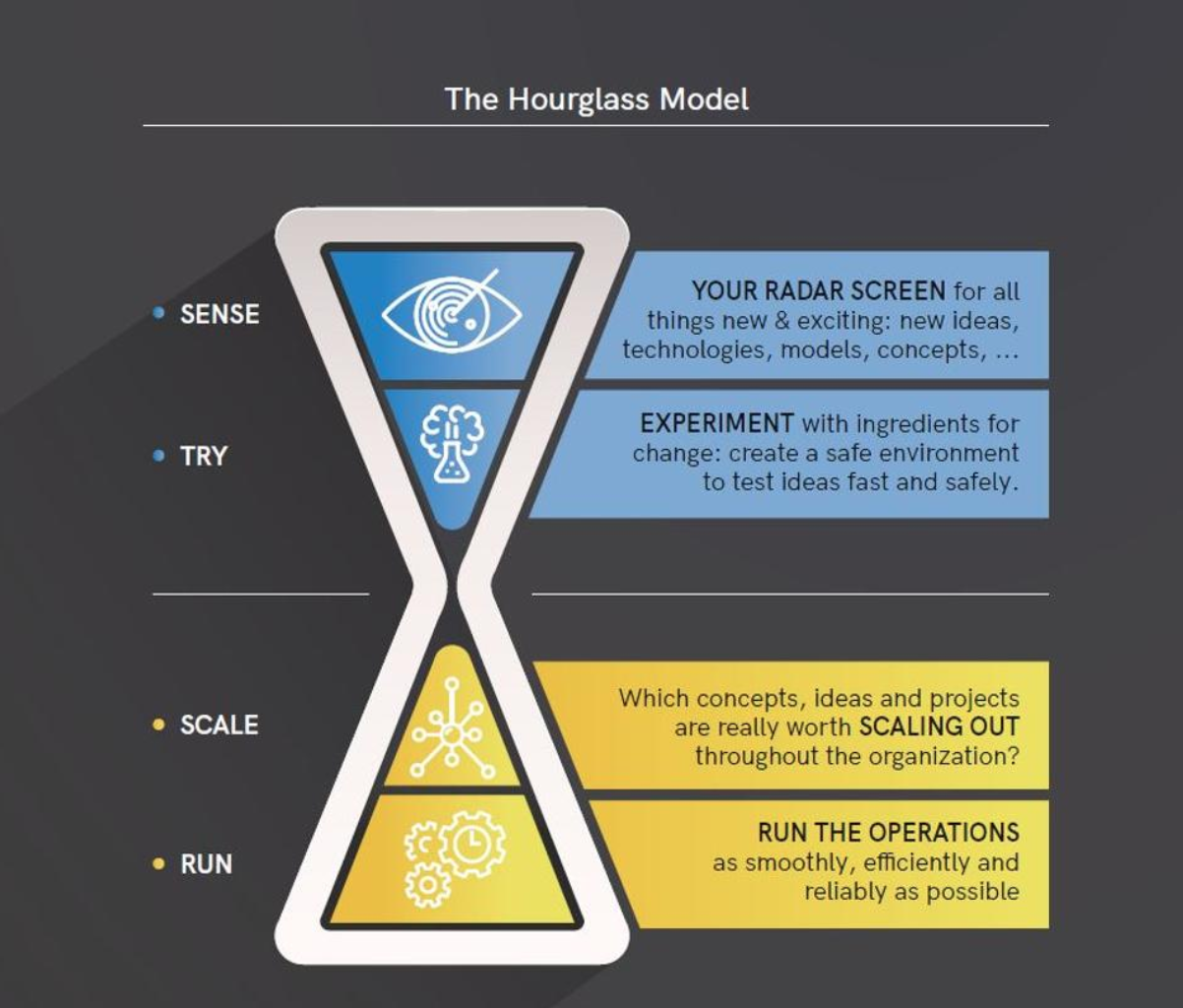 Forget innovation and think about your customers
Big companies aren't always going to lose to startups is the message of this Guardian article. In fact, big companies can be in an excellent position to pivot, especially as they often command deep customer loyalty. Everyone knows that Amazon began as an online bookseller, but did you know that Samsung started as a grocery store? And Nokia once sold rubber boots... well maybe Nokia is a bad example to bring up. But, the point is that some of the most successful big companies started out as something completely different and switched up plans several times. The key to doing it right, though, is to not think about being "innovative" but about how to serve customers best. If you are doing that right the innovation will follow.