Today Spanish startup Wallapop is announcing its latest international expansion, launching its app-based marketplace for unique and second hand goods in Italy.
The company has won impressive market dominance in Spain, becoming the leading marketplace app in the country by transaction volume, ahead of Amazon and eBay.
But the move into the Italian market is a big one for Wallapop, as the company's been going through a period of consolidation — following a withdrawal from the US in 2018, after just one year of operating there.
Commenting on a bumper €157m funding round in February (at a €691m valuation), chief executive Rob Cassedy told the Vanguardia newspaper that the money would be used to "further strengthen the company's position in the Spanish market" after already having had "an experiment in the US."
So why the new experiment?
Two countries, one marketplace
The answer seems to lie in Wallapop's latest major product development, its own shipping service 'Envíos', which allows users to easily trade goods from different places.
Cassedy told Sifted that before Envíos, each city operated as a distinct marketplace, whereas now, a product listed on Wallapop in Barcelona can seamlessly be bought by a customer in Madrid. This long distance trading will also be possible between Spain and Italy.
We think cross border trade is a really interesting way for us to enter [a

market].
"We think cross border trade is a really interesting way for us to enter [a market]," he explains. "In the past when there wasn't Wallapop Envíos, you needed to win every city independently. So winning in Barcelona didn't help you win in Milan. And now with the ability to move inventory across the market, winning in Milan helps you win in Rome, and winning in Barcelona helps you win in Milan and in Rome."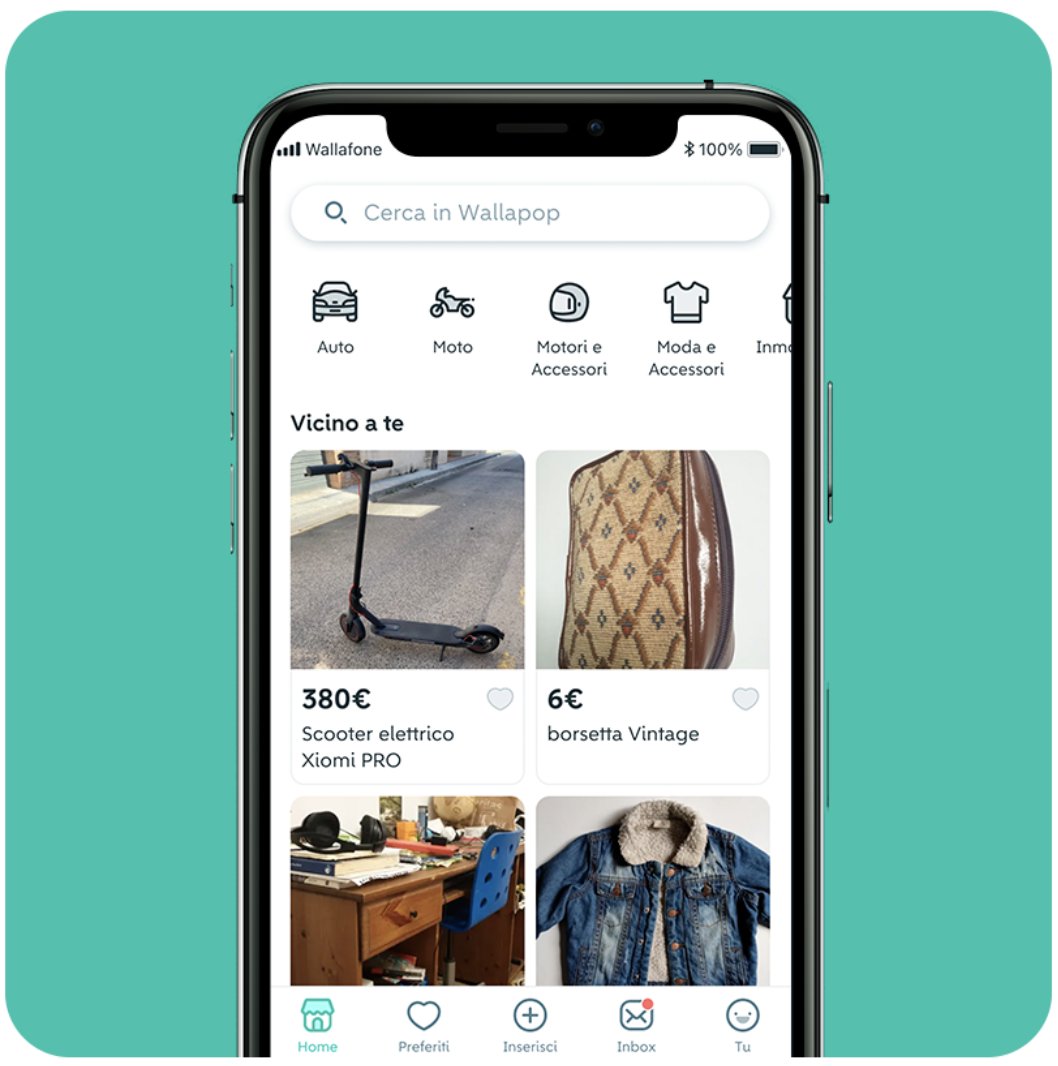 Wallapop won't be opening any physical office space in Italy, or making any local hires, pointing to the fact that the company sees it as more of an extension of its home market, rather than a new market entirely.
Lessons from failure
Cassedy joined Wallapop as chief executive in October of 2018, taking over from cofounder Agustín Gómez who became president of the company, two months before it transpired the company had sold its stake in US-based LetGo.
The merger between the two was Wallapop's second big move in the US, after acquiring New York-founded Sell It in 2017.
But while Wallapop wasn't able to realise its ambitions of taking on the US and winning, Cassedy denies it was a total failure.
"The US stuff gets framed in a negative light. To be honest, we actually ended up providing quite a bit of shareholder value from that adventure. From what was put in compared to what was returned to shareholders, when we sold the stake to LetGo, it was actually a good return for them," he says.
"Did we win the US? No, but did we provide good returns? Yes."
That said, Cassedy accepts that there are lessons to learn from Wallapop's false start in the US. He says that one of the main takeaways was trying to have a more focused business model, and that Italy presents a great opportunity due to its close resemblance to the Spanish market.
"It's not a scattershot approach. We see a lot of similarities in the markets, and we believe we can be successful in Italy in the same way that we've been successful in Spain," he says.
Cassedy also believes that Wallapop will offer greater brand and product differentiation in Italy, particularly due to the introduction of Envíos and cross-border trading.
Giant killer
The timing of Cassedy's takeover as CEO signals that Wallapop's unsuccessful US launch took its toll on cofounder Gómez, who had steered the company through remarkable growth over five years.
For a tiny Spanish startup to come and defeat the incumbents is truly an incredible

story.
"The Wallapop story, it's hard to find other stories like that anywhere," says Cassedy. "One of the interesting things about our industry is that the network effects make it very difficult to win. And so for a tiny Spanish startup to come and defeat the incumbents is truly an incredible story."
"I think that also came with incredible efforts. And so I think it was a natural time for Agus, having piloted the company through this incredible, but extraordinarily intense time."
Cassedy previously led eBay's German classified ads platform, eBay Kleinanzeigen, and says his experience of scaling the service domestically made his introduction a good fit for Wallapop, as the country concentrated on its home market.
And after a tough start to 2020 during confinement, where buyers were less likely to go out and meet others to pick up items, Wallapop ended the year with a year-on-year revenue increase of more than 50%.
Cassedy is also buoyed by the introduction of Korelya Capital as an investor, as the fund is backed by Korean search engine and ecommerce giant Naver, who are already lending valuable expertise to Wallapop.
"It's interesting because most people in Europe and the US don't know Naver, but when you learn about them it's quite an amazing company, and one of the world's most successful tech companies," he says. 
"They occupy a really unique place where they're search leaders and ecommerce leaders in Korea, so there's a tonne for us to learn from them both on the search side: how do we better match custom buyers and sellers? But also on the ecommerce side: what does the next evolution for us look like?"
Wallapop believes it's riding on the favourable prevailing winds of conscious consumption, where buyers are more likely than ever to search for second-hand or artisan goods, rather than mass produced alternatives.
And given Italy's proximity to Spain both geographically, and in terms of national ecommerce habits, Cassedy is hoping Wallapop's second international expansion will be more successful than its first.