Hundreds of e-scooters are picked up from waters around European cities every year. In Stockholm, the lake cleaning organisation Rena Mälaren has picked up 355 in total in the last couple of years. In Paris another organisation, Guppy, has picked up 235 over seven excursions.
"A quarter of all the metal crap we pick up is electric scooters," says Sacha Kleynjans, the chief executive of Guppy, which has a team of professional divers who fish out waste for businesses.
A quarter of all the metal crap we pick up is electric

scooters.
That's neither good news for the environment — nor for Europe's scooter startups.
Each e-scooter is worth a few hundred euros and the newer models have a predicted lifespan of three to five years. Apart from lost earnings, every time one is lobbed into a canal or river it also damages the scooter operator's relationship with the local authorities.
But one scooter startup has come up with a new plan to tackle the problem: a drowning button.
Not waving but drowning
Voi, the Stockholm-based scooter operator, is in the process of unveiling a new scooter with features such as indicators. It is also likely to have a feature which is the scooter equivalent of an SOS signal.
"That is the plan. We just have to work out the functionality," says Kristina Hunter Nilsson, communication manager at Voi. She hopes the feature could also be retrofitted to Voi's older scooters too. "Some of these things are software-driven which means that we can add it to the older models as well. And it is in everyone's interest that we have that."
When an electric scooter ends up in the water it loses its connectivity and is therefore difficult to find. The drowning feature will alert Voi when a scooter ends up underwater and the hope is that, in many cases, it can then be rescued before too much damage has been done.
But exactly how long a scooter survives underwater is something that Hunter Nilsson cannot say for sure. "That really depends on a lot of things and I wouldn't want to give you an exact number of days," she says.
In Stockholm, the waterways are not too busy and the waters around the city are pretty accessible. However, in Paris, it takes a lot of organising to dive for scooters in the river Seine, which could make it tricky to rescue a scooter before its time is up.
"The waters are very busy; there is a boat passing every 10 seconds," says Guppy's Kleynjans.
"A drowning button sounds good but even if the e-scooters had a signal telling us where they are, it would be very difficult to enter at such a specific point in the water."
Vanquishing the vandals
Still, a drowning button won't help the electric scooter companies locate all the old scooters already hidden underwater — or prevent the "vandals" from chucking them in in the first place.
To reduce the number of its scooters which end up taking a swim, both the Amsterdam-based startup Dott and the Berlin-based startup Tier have introduced heavier scooters and a wheel-locking functionality that makes it difficult to move a parked scooter. Like several other startups, they also use geofencing that makes it impossible to finish a ride next to the water.
However, this does not stop scooters ending up in the water. Voi's Hunter Nilsson spent Monday diving for drowned scooters with Rena Mälaren in the waters around Stockholm.
"The model that we picked out today was a recent model and had similar specs to Tier's," she says. "The scooters today are all heavier and more robust and therefore more difficult for people to throw in. I am amazed that they still do it."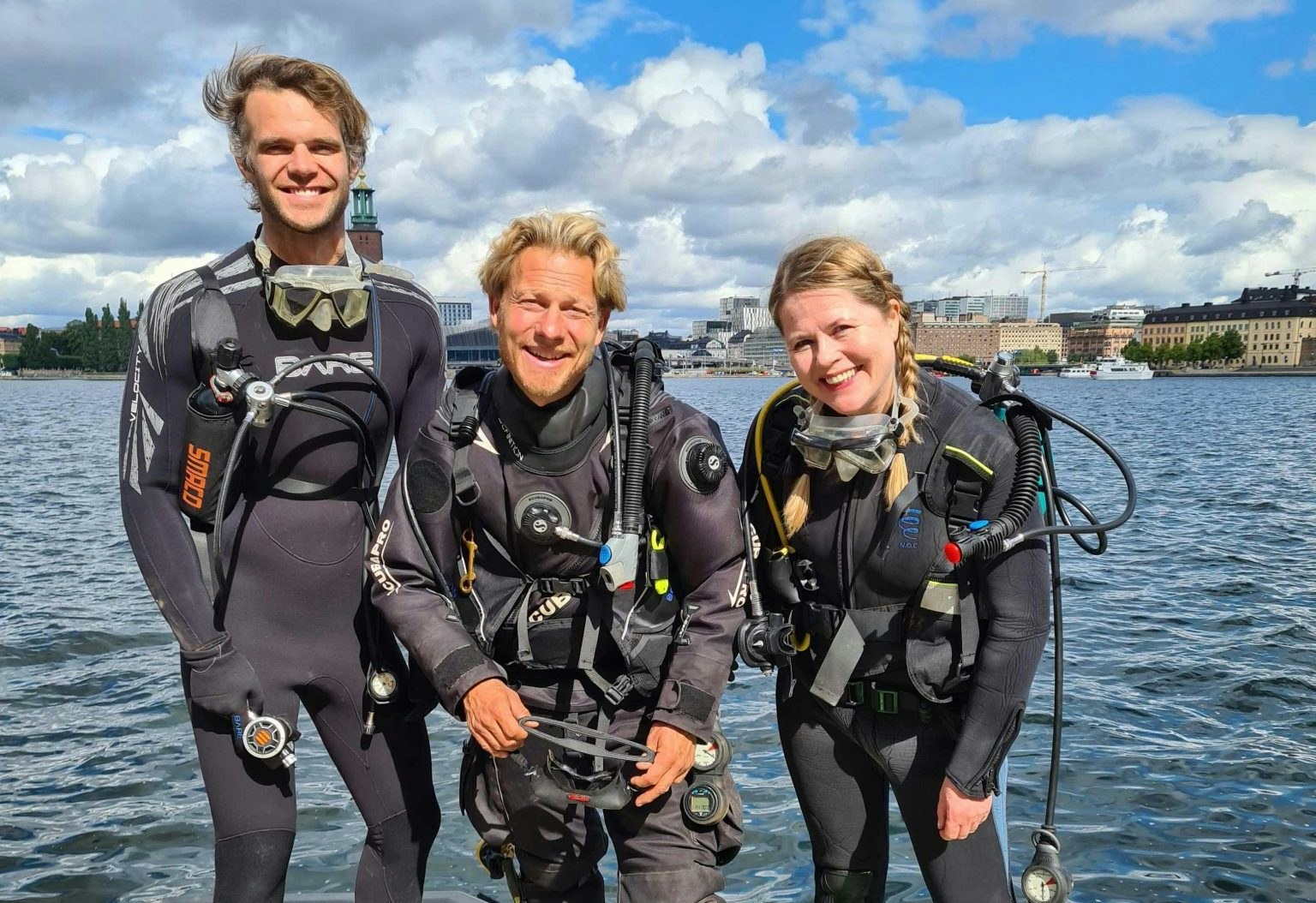 Since February, Voi has joined forces with Rena Mälaren in Stockholm and Guppy in Paris and Marseille to fish out as many scooters as possible. It is also planning to partner up with other organisations in cities surrounded by waterways.
Tier and Dott have also been working with Guppy since the organisation started up. Tier's rescued scooters are, for safety reasons, dismantled and then used as spare parts, if still functioning. For Voi, the scooters that have only been in the water a short time have another future.
"The scooters we picked out today [Monday] will be repaired and then go back on the street," says Hunter Nilsson. "But it depends on how long they have been underwater."
"Clearly, scooters do not belong in the water and we want to make sure that we can get them back up as quickly as possible. For us, every scooter counts and it is not okay to pollute the sea beds," she adds. Taking a diving tour in Stockholm is a chance for Voi to show just how much it cares about the environment — and a brilliant PR opportunity as well.