This is part three of a four-part series on the future of fashion, exclusively for Sifted members. Read part one, on the startups making the industry more sustainable, and part two, on fashion's experiments in NFTs and crypto.
The fashion industry has been relatively slow to digitise.
"If we think about film, music or photography, they all have these really strongly established digital cultures. And fashion is just different because it's very much an industry that operates on tradition and heritage," says Michaela Larosse, who heads up creative strategy and communications at The Fabricant, a Dutch "digital fashion house". "There's a right way to do things and a wrong way to do things."
The fashion industry had dabbled before with things like AR fashion, Snapchat filters, VR runway shows and CGI influencers. But now, the arrival of the metaverse and non-fungible tokens (NFTs) may bring about more sweeping changes.
As a notoriously exclusive, non-diverse and tradition-bound industry, a bevy of European startups are looking to shake things up with genderless digital fashion, AR social media filters, AI-generated models and more.
Virtual clothing walked so NFTs could run
Even the traditional luxury brands are embracing the hot new trend of NFTs — last month, Dolce & Gabbana auctioned off a nine-piece NFT collection for a record $6m.
But pre-NFT, smaller fashion houses and designers were already creating virtual assets, inspired by video game avatars, and their early customers were mainly fashion houses looking for new ways to virtualise their collections.
The Fabricant was founded in 2018 by Kerry Murphy and Amber Slooten, who came from film and fashion backgrounds respectively.
"[The Fabricant was] the first-ever digital fashion house — it didn't really exist as a concept prior to that, and certainly there was no such thing as a digital fashion industry," Larosse says. "The founders said, 'Well, you know, fashion doesn't have to be physical to exist,' which has always been The Fabricant's mantra. And they just set about proving it in various ways."
Sifted Newsletters
Sifted Newsletter
3x a week
We tell you what's happening across startup Europe — and why it matters.
Initially, The Fabricant set out to recreate 3D visualisations of existing brand collections to be used as marketing assets and as a virtual solution to wasteful sampling — when designers develop early iterations of future collections to model design ideas, finalise patterns for production and sell to buyers.
One of the most accessible ways to wear digital fashion right now is via an AR

filter
But today, The Fabricant's business model has evolved into three components: an agency that works with brands to create 3D campaigns, a digital fashion house label and, as of September, The Fabricant Studio, a collaborative platform that allows anybody to create, wear and trade their own digital fashion NFTs, regardless of their technical ability.
Their campaigns are often interactive, incorporating AR social media filters, like the one they made for Vogue Singapore, which was the first-ever digital-only cover for a September issue of Vogue. The headdress from the cover is inspired by traditional headwear from Singaporean and Malay culture, and users can try it on with an Instagram filter too.
"Utility is a key factor for our pieces, as we don't just want our garments to be pretty pictures," Larosse says. "One of the most accessible ways to wear digital fashion right now is via an AR filter, of the kind we're all familiar with through Snapchat, so you can instantly see yourself wearing a spectacular or perhaps physically impossible item on your phone screen."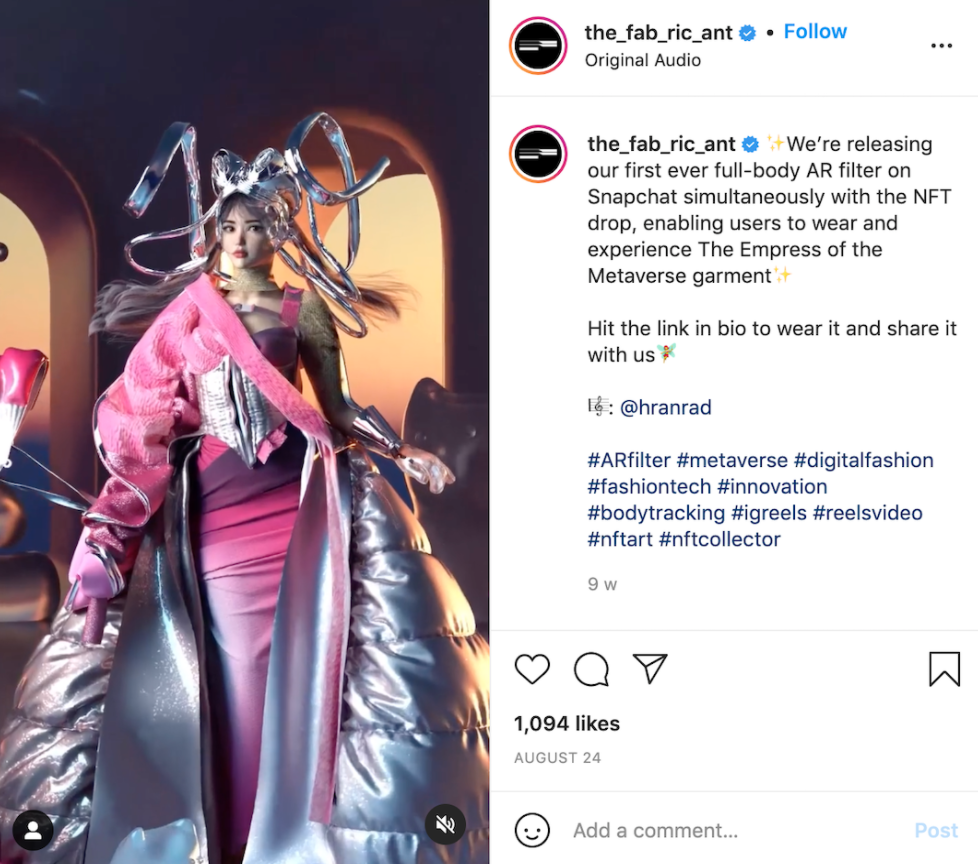 Another digital fashion brand is the Croatia-based and anonymously founded Tribute Brand, an early pioneer of "contactless cyber fashion". Every Tribute Brand garment is custom "fitted" to the photo the user uploads by a team of fashion designers, CGI 3D modelers, UX designers and coders.
The user can then upload and wear the digital garments on social media.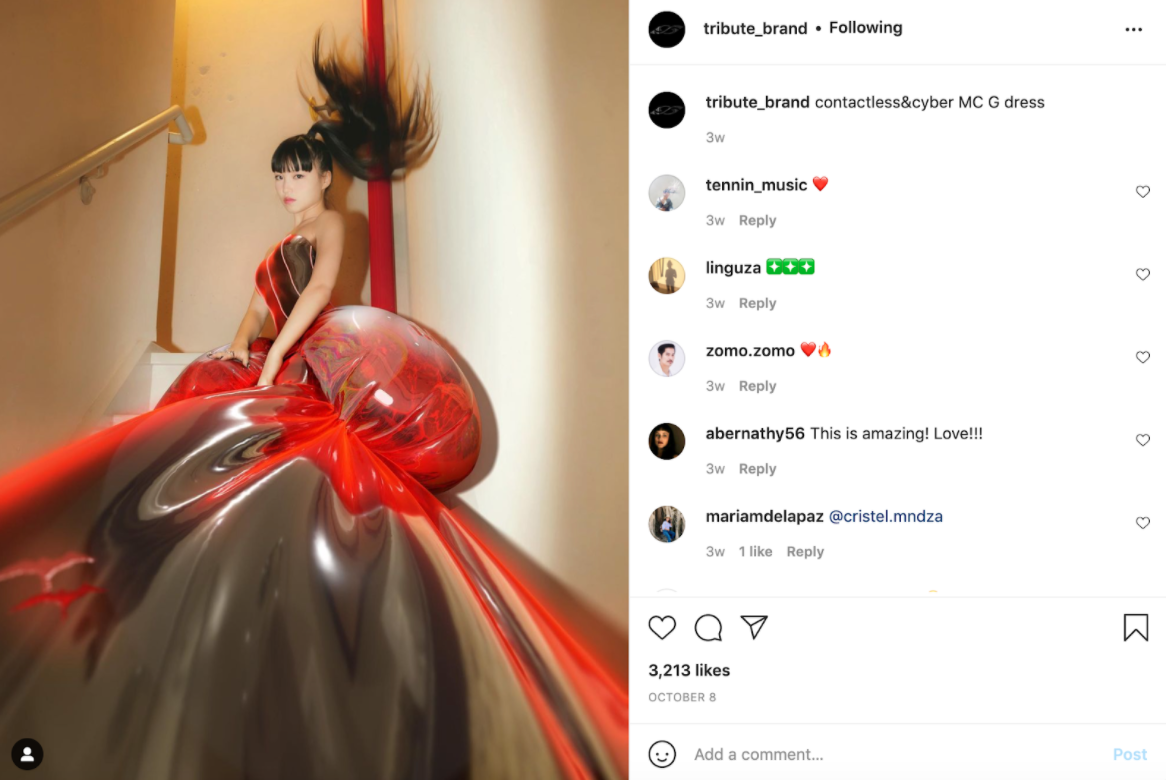 While most of Tribute's products are digital garments that can be fitted to photos, the brand dropped its first six-piece NFT collection in June in collaboration with The Dematerialised, a UK-based experimental marketplace.
The collection, titled The Real Deal, is a "phygital" collection — one that combines digital garments with a physical, made-to-measure counterpart. Buyers eventually receive a physical garment, but first, they receive a digital version in three phases: first as an evocative audio file (sent to the buyer before they've seen it at all), secondly as an NFT and thirdly as an AR skin, which is accessible via Tribute's app.
Will digital garments make high fashion more accessible?
Digital fashion makes a lot of promises in terms of inclusivity but it can get pretty expensive, sometimes even more so than physical clothing.
Gucci's first-ever NFT, a short film presenting their Aria collection, sold for $25k worth of ethereum earlier this year, which some claim is the most expensive single item the very very expensive designer has ever produced.
The Fabricant similarly prices its virtual garments high, which Larosse says is because they employ classically trained fashion designers in their digital atelier.
It's also credited with selling "the first-ever digital fashion NFT", the Iridescence dress, for 54 ethereum as part of a collaboration with CryptoKitties in 2019. That was worth about $9.5k at the time, Larosse says, "but would of course be even more expensive today".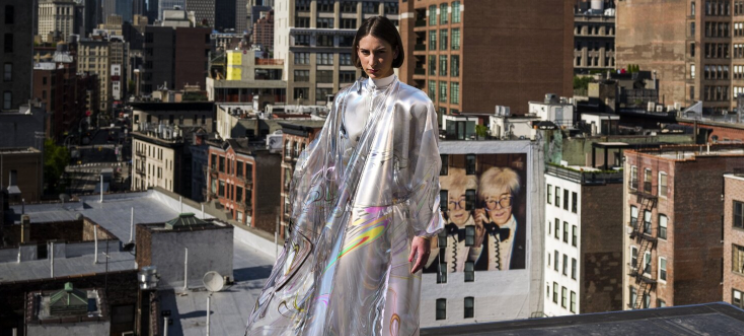 It is expensive, but as Larosse says, it's nowhere near as expensive as IRL couture: "There are lots of access points for digital versions… and even the couture expressions are much cheaper than obviously buying a physical couture garment."
Price points for Tribute's virtual non-NFT garments, for example, largely sit in the $100-$200 price range, with one evening gown going for $665, which is certainly higher than the high street but well below the asking price of most high fashion brands.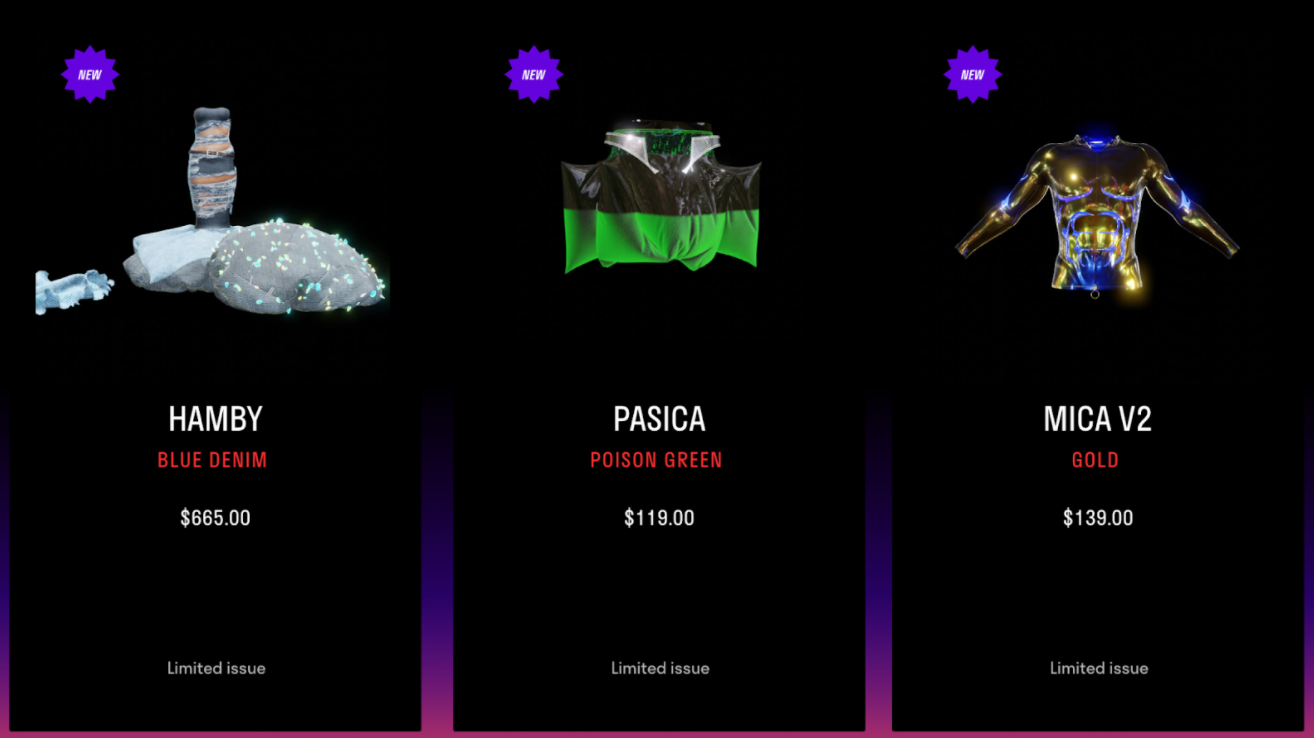 "A garment made of thunderstorms"
As everyday life moves further online and into the metaverse, virtual spaces will become a key frontier for identity experimentation. Digital fashion's bigger promise, beyond price accessible couture, is one of gender inclusivity, body inclusivity and self-expression.
"Curating your identity is going to be really key, particularly when the metaverse gets to its fuller expression," Larosse told Sifted. "In those environments, we'll have to create an avatar, we'll have to dress those avatars with some kinds of garments. Those garments will be appropriate to whatever situation — so maybe something like this professional moment, there will be something more realistic. But when you're hanging out at [virtual] gigs or in concerts, you can let your imagination run wild. You can be whoever you want to be and wear a garment made of thunderstorms."
No shipping. No waste. No sex. No

size
Gender inclusivity and disruption is similarly a cornerstone of Tribute, whose motto is: "No shipping. No waste. No sex. No size."
An anonymous source from Tribute tells Sifted that, before launching the brand, they were running a fashion label that was "oriented towards fashion criticism and irony. So even from the beginning, we were always going to change the fashion system which, as we all know, has gone the wrong way and needed someone to push the reset button."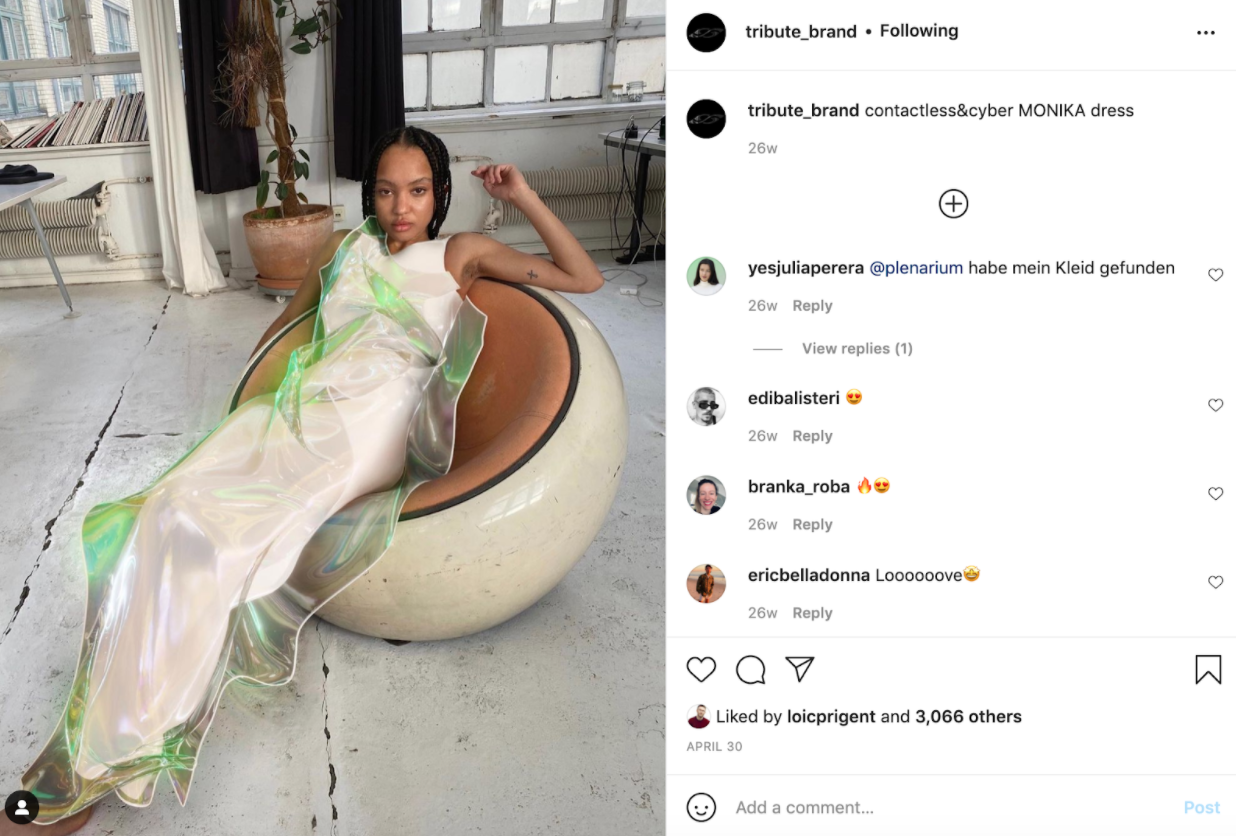 Tribute also offers custom orders via its "TB Taylor Made Cyber Services", which means users can request their own designs, or a physical design, be transferred into the virtual world. So clothing that, for example, was designed to only fit a narrow scope of body sizes can be made far more inclusively in digital form.
When physical constraints such as patterns, production lines and a notoriously slow-to-change trillion-dollar industry exist, limiting choice to one of two genders or a certain set of sizes and body shapes will always be more cost effective for designers. With virtual custom-made fashion, this goes away.
There's no boundaries, there's no gravity to adhere to… this can be a fabric that's

alive
"There's no boundaries, there's no gravity to adhere to… this can be a fabric that's alive. It can be a fabric that evolves. And your garment can receive data, it can be coated with information. It can tell stories, it can express belief systems," Larosse says. "There's so much to explore in this space. And that's why we believe it's incredible."
Diversity through digital models
Clothes themselves are just one small part of the fashion industry's diversity problems. Modelling has notoriously been one of the least inclusive industries, not only for a lack of body diversity but also racial diversity, ageism and ableism.
This was the inspiration behind Lalaland, a B2B Dutch startup that creates AI-generated models for fashion brands and ecommerce platforms, and counts Stieglitz, a Dutch designer, and Wehkamp, one of the largest Dutch retailers, as customers.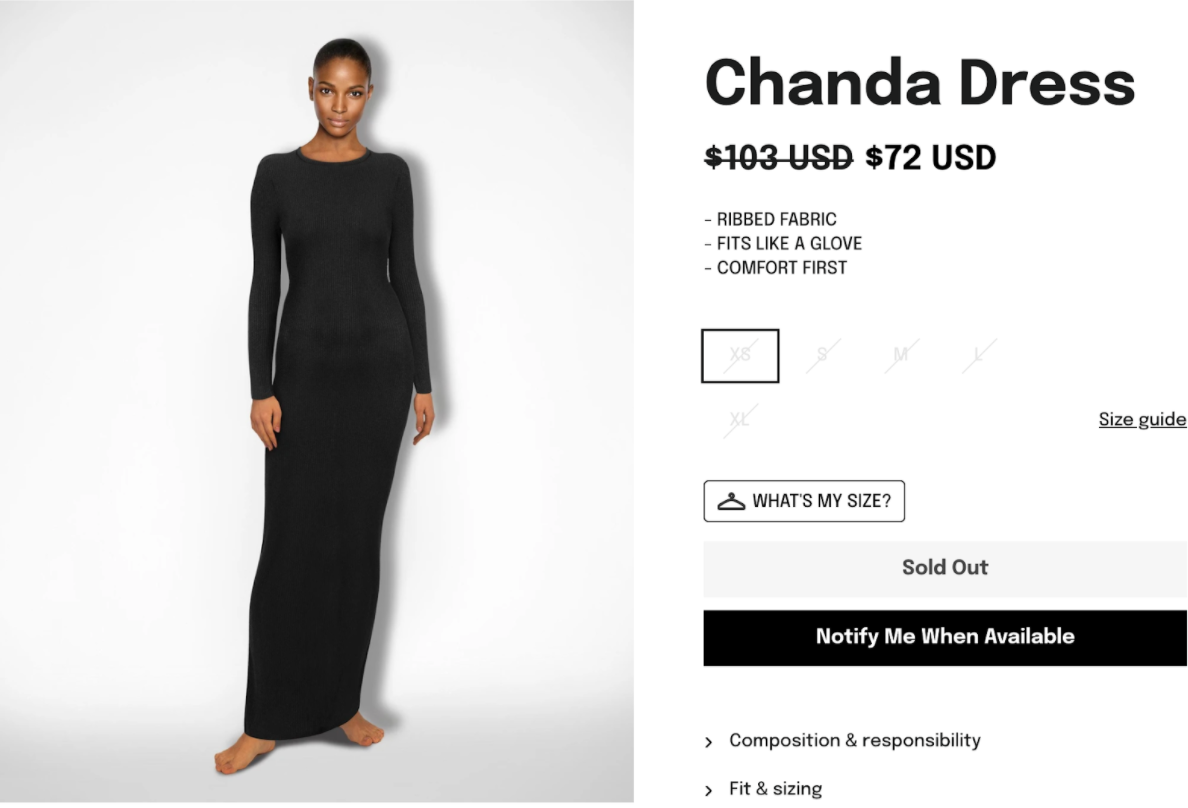 "What we offer to these different ecommerce brands is a world-class platform where they can actually customise different models based on different complex hairstyles, body size, body shapes, and upload the collection," Michael Musandu, Lalaland's cofounder, tells Sifted.
The company was founded in 2019 by Musandu, who was born in Zimbabwe and raised in South Africa, and Ugnius Rimsa, who considers himself a plus-size person. Both struggled to find representation when shopping online.
A webshop manager or content production manager can use Lalaland's platform to generate different AI models based on data points they've gathered from their customers, which Lalaland also helps collect.
When customers can identify with a model, they're more likely to buy and less likely to

return
"This could be just a pop up on the webshop, where they ask the consumers — so our customer's customer — which model relates to them the most, which type of hair type relates to them most, which type of body shape. So all of this data that the current CRMs and cookies don't have is what we usually collect," Musandu says. "And based on this is what we would then recommend to them 'currently, on your webshop you're shooting this type of model, but your customer identifies with this, this and this'. This is what they would then choose from, and then A/B test to see if it's the case."
They operate off a monthly subscription model, where clients are charged based on the number of AI-model images per month they receive. Higher levels of the subscription fee provide more access to things like industry trend insights and dedicated project managers.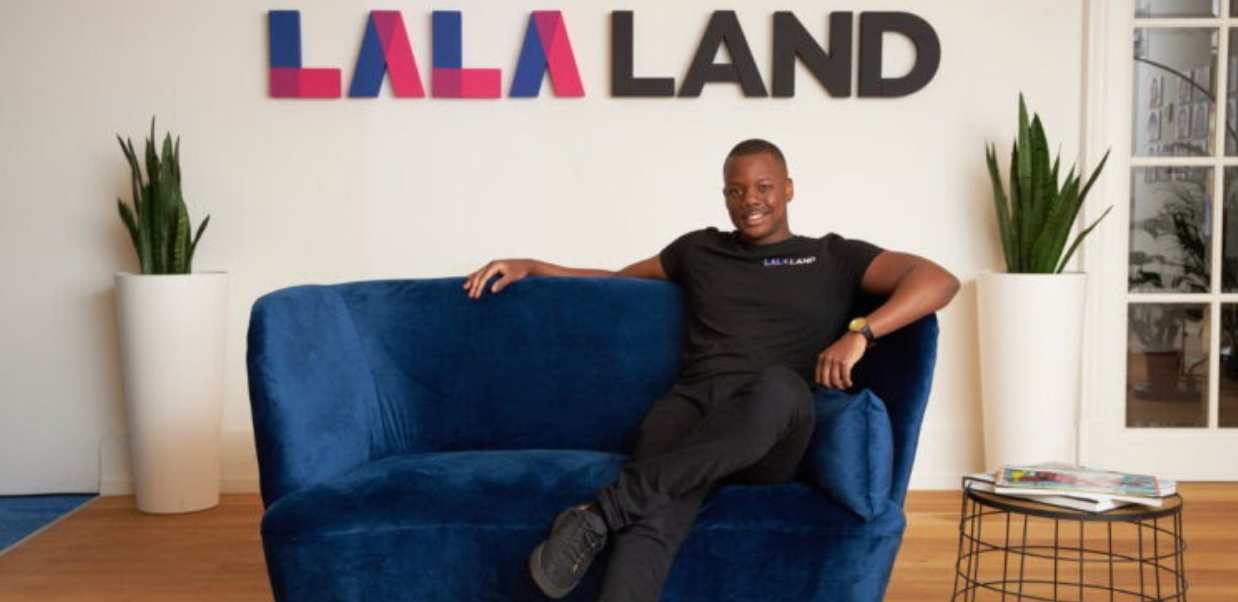 Musandu says Lalaland is based on social empowerment, but it's also good for ecommerce businesses' bottom lines; when customers can identify with a model, they're more likely to buy and less likely to return.
"We're proven every time, in terms of keeping up the metrics of boosting sales [and] reducing return risk," says Musandu. That's also good for the planet — in the US,  2.2m tonnes of landfill waste is created by fashion returns every year. "So it's helping reduce this margin," he adds.
Into the metaverse
But what about the uncanny valley? AI models can look a bit creepy, but Musandu says the "magic" behind their hyper-realism is data-hungry algorithms; they use neural networks to capture variation within huge proprietary datasets of real people. "Based on this, [the algorithm] is trained to then output what's then generated in different parameters, which could be from different sizes, different types of hair, etc, and different poses."
Lalaland's product offering, and the vast majority of the fashion industry, is still based on selling physical clothing — but he sees the startup playing a big part as the sector heads into the metaverse, where avatars wear haute couture while real-life bodies are in simple uniforms.
Lalaland's use cases could then extend to creating online personas.
"With the type of models we create, they look real enough... which is going to add to this expression layer. [In the metaverse] you can be expressed as a person that looks real, but it doesn't have to look like you. You can customise it," Musandu says. "We definitely see ourselves taking a big part in this. We've done some cases with fashion modelling agencies where they've now made virtual models with us. You could also see the deployment of this in the metaverse."
Want more? Here are a few more European virtual fashion startups to watch:
Wanna (Belarus) — A Minsk-based fashion-tech company that builds AR ecommerce experiences.
Aglet (UK) — Referred to as fashion's answer to Pokémon Go, Aglet is an AR-based sneaker shopping game.
Presize.ai (Germany) — AI body scanning software that lets people accurately "try on" clothes virtually.
Metail (UK) — A virtual fitting room B2B service that lets customers create 3D models of themselves to try on clothes.
BigThinx (Netherlands) — A deeptech startup specialising in AI to create virtual people, digital clothes, immersive fashion shows and virtual shopping experiences.
The Dematerialised (UK) — An "experimental marketplace" for fashion NFTs.