Lithuanian secondhand fashion unicorn Vinted has raised a further €250m at pre-money valuation of €3.5bn. The Series F round will be used to expand into new markets as well as invest in products and staff.
Europe's largest online consumer-to-consumer platform, Vinted claims to have more than 45m global members, and around 300m items listed on its sites.
"Fundamentally, we're focused on enabling more people to buy and sell secondhand, and in doing so, keep clothes and other items in circulation longer," Thomas Plantenga, Vinted's chief executive, tells Sifted.
Lithuanian unicorn
Vinted became Lithuania's first (and so far only) unicorn in November 2019, after the company raised €128m in a Series E round led by Silicon Valley VC fund Lightspeed Venture Partners. 
At the time, Vinted had 25m registered users across 11 markets, with 300 employees. Now the company is active in 12 European markets as well as the US — with a headcount of over 700. The team has grown by roughly 75% in the last year alone.
This latest funding round was led by EQT Growth, with participation from Accel, Burda Principal Investments, Insight Partners, Lightspeed Venture Partners and Sprints Capital, each of which led a previous investment round.
"Our investment approach focuses on investing behind long-term macro trends," Carolina Brochado, a partner at EQT Growth who is joining Vinted's board, tells Sifted. 
Brochado says they see the space Vinted operates in as a €100bn+ market. Growing at more than 35% a year, its "supported by secular mega-trends, including increased focus on sustainability and greater demand for circular fashion."
Sifted Newsletters
Sifted Newsletter
3x a week
We tell you what's happening across startup Europe — and why it matters.
She adds: "With marketplace models, scale enables continued competitive advantage and network effects, which we clearly see in Vinted versus competitors."
Barely surviving
Founded in 2008 as a way to help one of its cofounders clear out her wardrobe before moving house, Vinted grew fast. However, for a while it wasn't clear the company would survive.
Plantenga, a former executive at online marketplace OLX, was brought into the team in 2016 — a time when the eight-year-old company was struggling to keep its head above water.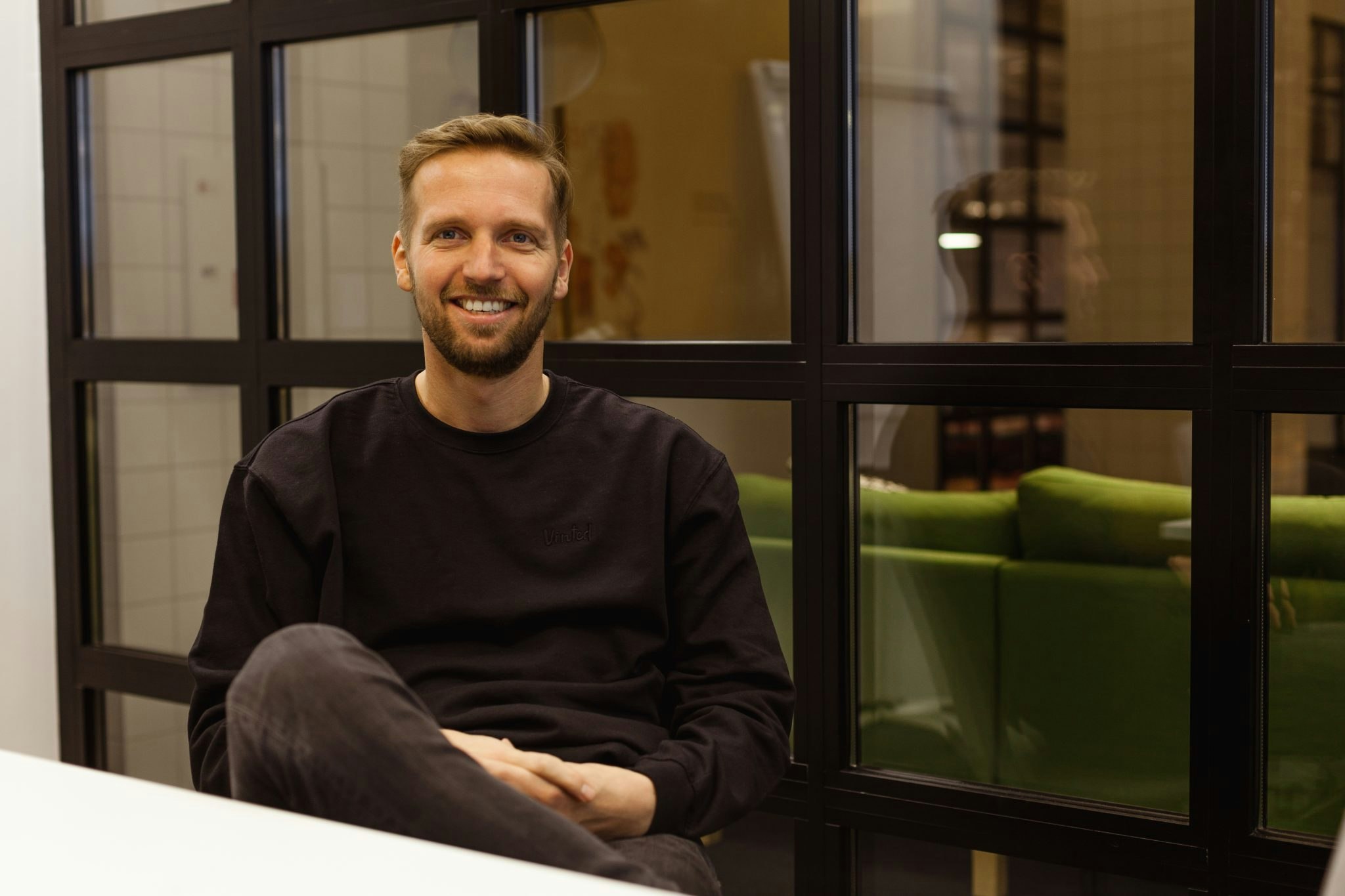 After embarking on a major overhaul, which included job cuts and office closures, as well as reducing costs for users, he was made chief executive in 2017. (Vinted has no seller fees but charges a small buyer-protection fee for transactions complete on its sites.)
The days of struggling are long behind it, with Vinted now one of the biggest secondhand fashion marketplaces in the world.
Pandemic buying
The market for secondhand clothes had been on the rise long before the pandemic, driven by people's desire to declutter while making some money, alongside a desire to make more conscious fashion decisions.
Plantenga says they have an attractive, simple user proposition. "We are focused on secondhand fashion, and we allow members to sell and buy from a wider pool of products than anywhere else in Europe. Our members can sell items for free, so they keep 100% of what they make." 
Still, the pandemic has had a noticeable impact, as consumers increasingly look for ways to shop that fit with their new work-from-home routines, and also efforts to make more conscious buying choices.
"I think the pandemic has accelerated a trend that was already very much underway," says Plantenga.
Vinted initially paused operations in some markets when the pandemic began, but quickly saw an increase in demand. "Lockdowns, WFH patterns and conscious buying choices increased people's desire to declutter, make a little extra money and buy in different ways," he says.
Across Europe
Since its last funding round, Vinted has launched in Italy, expanded its international platform, and acquired Dutch marketplace United Wardrobe.
"We have made significant progress in establishing a pan-European business," says Plantenga, who adds that there's still plenty of potentially for growth in Europe.
With its latest raise, Vinted plans to expand its Berlin office, which will serve as the location for key teams like engineering and product. The company has offices in Berlin, Prague and Utrecht, as well as its headquarters in Vilnius.
Ultimately, Plantenga believes that Vinted is on the right side of a global trend. 
"I think we are doing something really great here, and only hope that Vinted continues to help shape consumer behaviours in a way that makes shopping a more sustainable, considerate and worthwhile experience," he says.