London's tech companies attract more than twice as much venture capital investment as ones in rival cities across Europe, according to figures published this week by London and Partners, the city's promotional agency (based on numbers from Pitchbook).
Here's how London looks compared to some of its nearest rivals: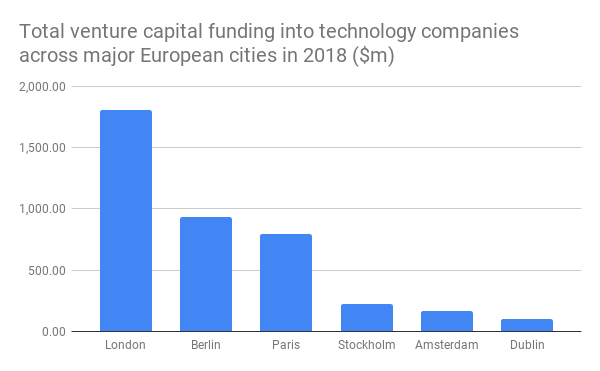 So far, so good. It would seem that Brexit uncertainty has not dented investors' appetite for London-based tech. But is it an unambiguously good news story for London?
Actually, investment in London has fallen in the last year, from $2.5bn in 2017 to $1.8bn in 2018 — a 29% drop — while investment in Paris and Berlin has grown.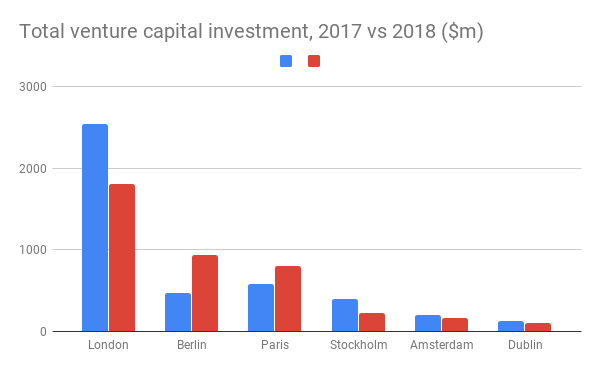 So perhaps some of the fears about Brexit are pulling startups and investors out of the UK.
But then 2017 was arguably an exceptional year for tech fundraising in London, with a number of super-sized deals including Improbable (£391m); Deliveroo (£364m); TransferWise (£211m) and Funding Circle (£81m).
Take a slightly longer timescale and London still seems, overall, to be on a strong upward trajectory: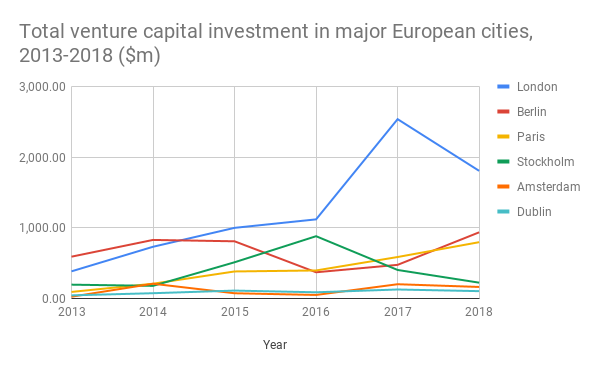 Although Paris and Berlin are catching up, London is far more dominant in VC investment than it was in 2013 and 2014, when it was playing second fiddle to Berlin.
Stockholm's downward-trending VC investment numbers are the other thing that jump out from this chart. In 2016 it looked set to challenge London for the VC crown, but the drop-off over the last few years has been dramatic.
Sifted Newsletters
Sifted Newsletter
3x a week
We tell you what's happening across startup Europe — and why it matters.