Last year Ready Player One hit the cinemas, a movie about an awesome virtual reality game played by pretty much everyone in the year 2044.
But while we at Sifted were convinced that we were gazing into the not-too-distant future, European investors were apparently less persuaded.
Venture capital funding for virtual reality startups in Europe tanked in 2018, falling 18% from the previous year to €300m, according to Dealroom's 2018 trend report released this week.
After the hype of 2016 around VR — remember all the breathless stories about Oculus? — the figures show that VR technology has fallen well out of favour.
This VR nugget was just one takeaway from the Dealroom report, which Sifted read so you don't have to. Here are eight others from Carly Minsky:
1) 2018 was a record-breaking year for VC funding in Europe and Israel: €28bn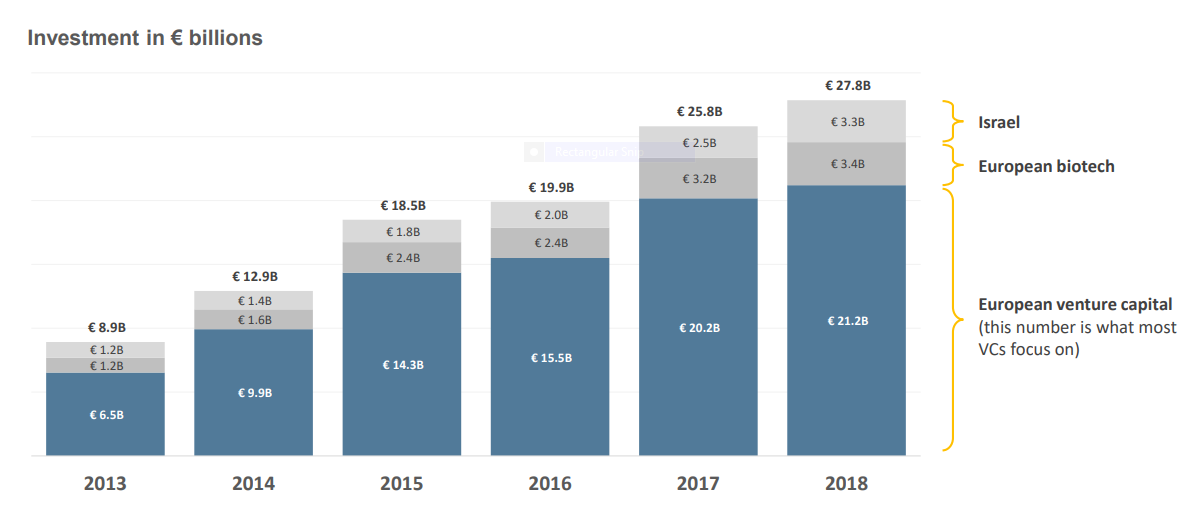 European startups, European biotech companies, and Israeli startups all received more money than ever from venture capital firms. In total, just under €28bn of VC money was invested in Europe and Israel.
2) More of the funding was spread across smaller investments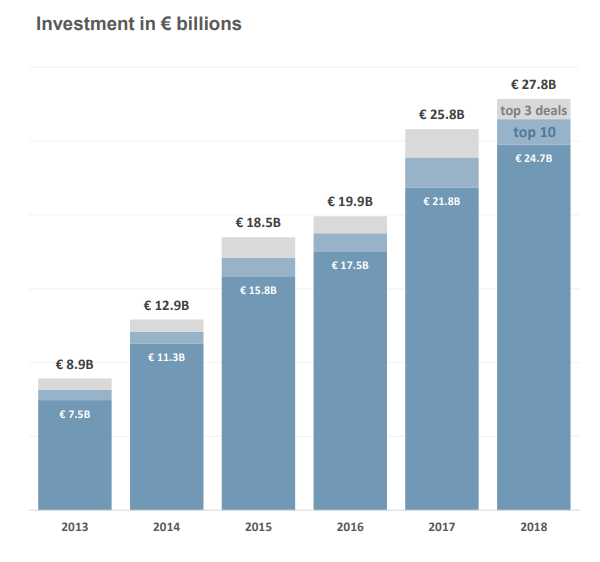 Last year, 89% of VC funding was invested outside the top 10 biggest deals. In 2017, 85% VC investment went to smaller deals.
Germany bucked the trend this year, however; almost 40% of funding raised by German companies was generated by a few big deals over €100m, compared to only 24% in the UK and 16% in Israel.
Sifted Newsletters
Sifted Newsletter
3x a week
We tell you what's happening across startup Europe — and why it matters.
3) Israel is catching up with France, Germany and the UK for attracting VC money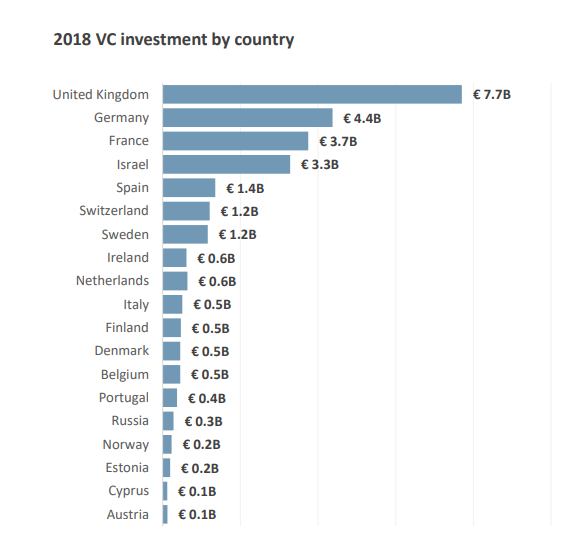 Although Israel had significantly fewer VC funding rounds (265) than the UK, France and Germany (all over 500), it's is close on the heels of France in terms of total investment.
4) Europe is attracting more international investors, but not from Asia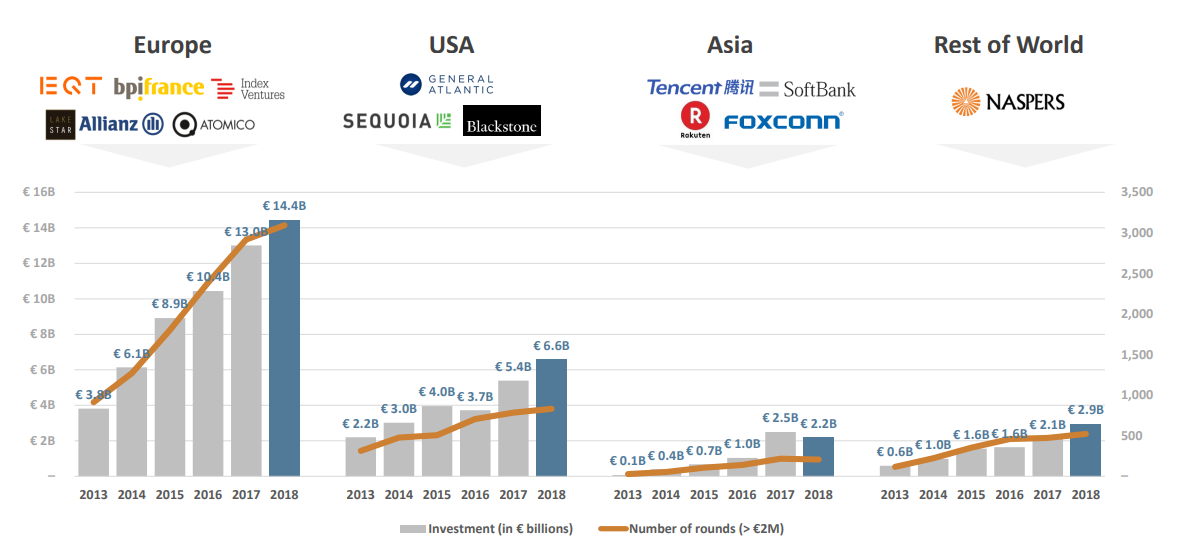 While 2018 showed an increase in funding from the US and the rest of the world (outside Europe), it also marked a drop in investment from Asia — down from €2.5b in 2017 to €2.2b in 2018.
5) Angel investments and crowdfunding is falling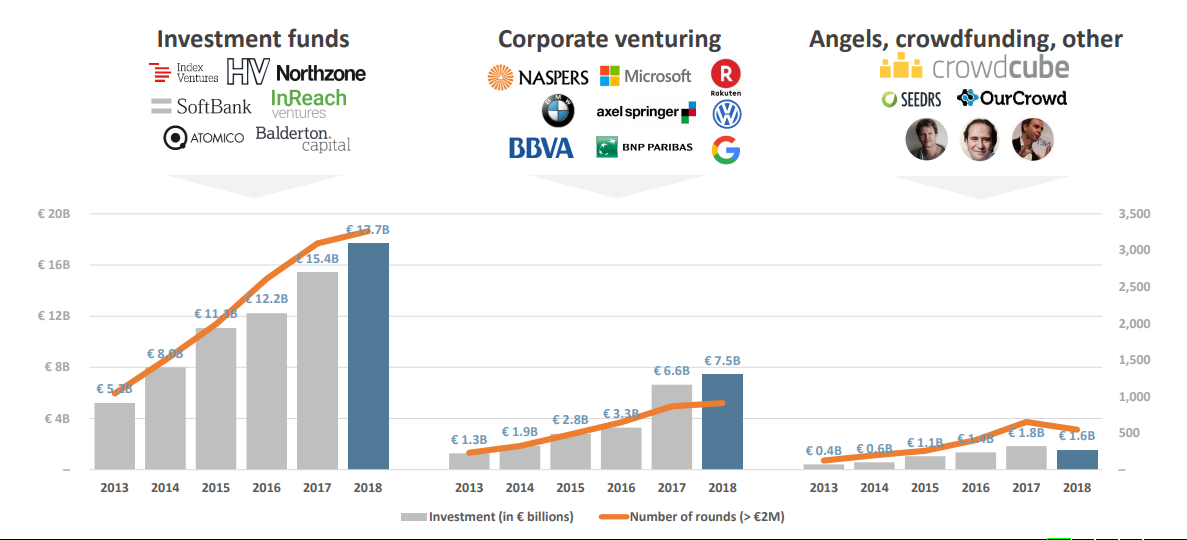 Europe's funding from investment funds and corporate ventures grew in 2018, but the early stage investments from angels and crowdfunding sources decreased, both in terms of money and number of rounds raised.
6) Deep tech was by far the most popular theme for investors
More than €8bn flowed into startups with a deep tech spin — almost twice the amount invested across the entire fintech sector, often said to be Europe's (particularly London's) flagship tech success.
7) Apps are still gaining traction, but software-as-a-service (SaaS) and manufacturing startups raised more money

Even though app-based startups only raised €3.3bn compared €10.1bn for SaaS and €7.3b for manufacturing businesses (see previous chart), mobile apps experienced the biggest growth in investment in 2018
8) 2018 was a huge year for European exits

2017 was a poor year for big European exits, but Europe bounced back with a record-breaking 2018. Transaction values totalled €105bn across all European exit deals, largely driven by big public listing like Sweden's Spotify, and venture-backed exit deals in the UK, Sweden and the Netherlands, which had €81bn of exit transactions between them.